Stockton News - March 11, 2022
WHAT WE'RE TALKING ABOUT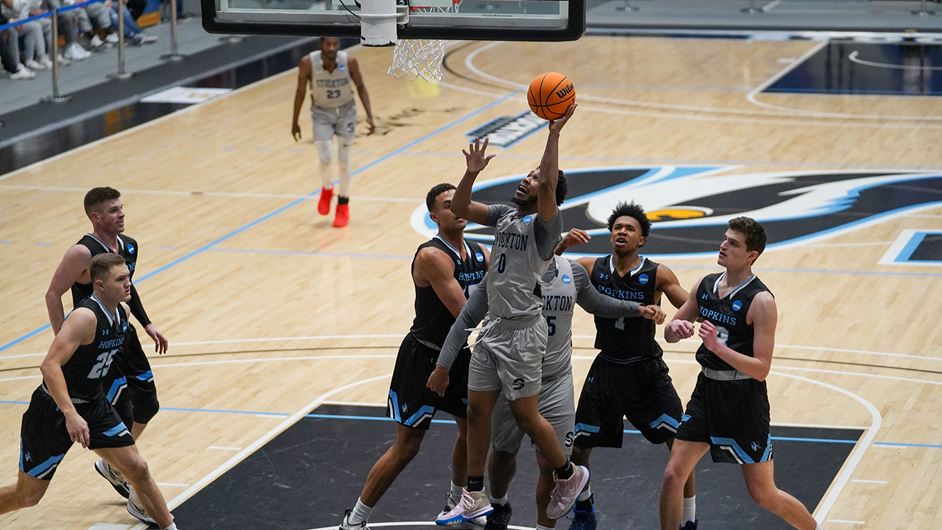 Stockton Looks to Continue NCAA Tournament Run
Stockton University (26-4) won their 10th straight game with a hard-fought 70-63 over #10 Johns Hopkins (23-4) on March 5. The Ospreys look to continuetheir NCAA Tournament run when they face Christopher Newport in a sectional round game at Marietta College (Ohio) today at 4 p.m. The winner advances to the NCAA quarterfinals tomorrow.
Stockton is trying to reach the NCAA quarterfinals for the fourth time in school history (1987, 1996, 2009). The Ospreys enter the matchup against Christopher Newport with a 10-game winning streak. After five straight home games at The Sports Center, they are playing on the road for the first time since Feb. 16.
🎥 Watch today's game on Livestream here.
📰 In the News: The Press of Atlantic City
---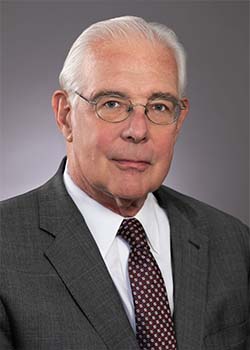 Attorney Explains Rights and Limits of First Amendment
The First Amendment to the Constitution protects speech regardless of how offensive the content, said Frank L. Corrado, an attorney and adjunct professor at Stockton University speaking to faculty and students on March 2.
Corrado engaged Stockton University students and faculty virtually in discussing "Back to Basics: The First Amendment in the College Classroom."
"You at Stockton are protected by federal and state constitutions," Corrado said.
Restrictions of speech at colleges and universities isn't only considered censorship, but a First Amendment violation, he said.
---
Stockton Poll: New Jerseyans Concerned About Economy
Most New Jersey adults have maintained or improved their financial status as COVID-19 surged and waned in recent months. But as inflation rises, a majority are pessimistic about economic conditions, according to a Stockton University poll released March 8.
Daily COVID-19 cases, hospitalizations and death numbers started rising in December. The surge peaked in January with 35,000 new cases and 6,000 hospitalizations a day. Lower numbers earlier in the pandemic had spurred massive job losses and economic decline.
---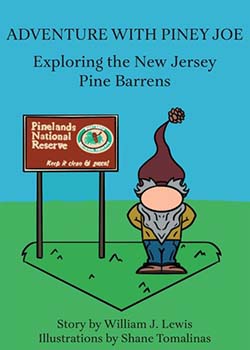 Book Takes Kids on Tour of Pine Barrens
A new book titled "Adventure with Piney Joe, Exploring the New Jersey Pine Barrens," by author William J. Lewis of Ocean County, is geared to help children learn about the New Jersey Pinelands and is the first young-adult book published through the South Jersey Culture & History Center at Stockton University.
The books' main character is Piney Joe, described as "the last gnome in the woods." Piney Joe takes readers on a walk through the New Jersey Pinelands National Reserve, discovering places full of wild and mysterious scenery.
STOCKTON UNIVERSITY ATLANTIC CITY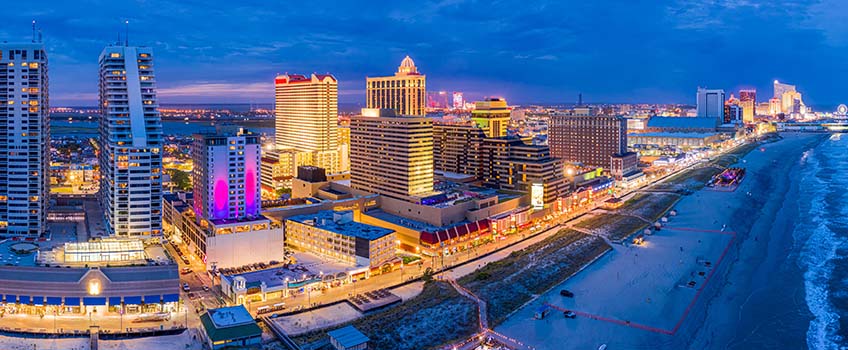 LIGHT Surveys Show Trends for Atlantic City
Atlantic City would benefit from a coordinated marketing plan and events that can attract more and younger visitors and emphasize the assets of the city including casinos, beaches and restaurants, according to the results of three recent surveys produced by the Lloyd D. Levenson Institute of Gaming, Hospitality and Tourism (LIGHT) at the Stockton University School of Business.
---
Spring Break Shuttle Schedule
The shuttles between the Atlantic City and Galloway campuses will be operating on a reduced schedule during Spring Break.
Attached, find the modified Atlantic City shuttle schedule for Spring Break, March 13-20.
Regular service will resume Monday, March 21.
Galloway shuttle service will not operate from Sunday, March 13 through Saturday, March 19. Galloway shuttle service will resume at 3:30 p.m. Sunday, March 20.
SPOTLIGHT ON: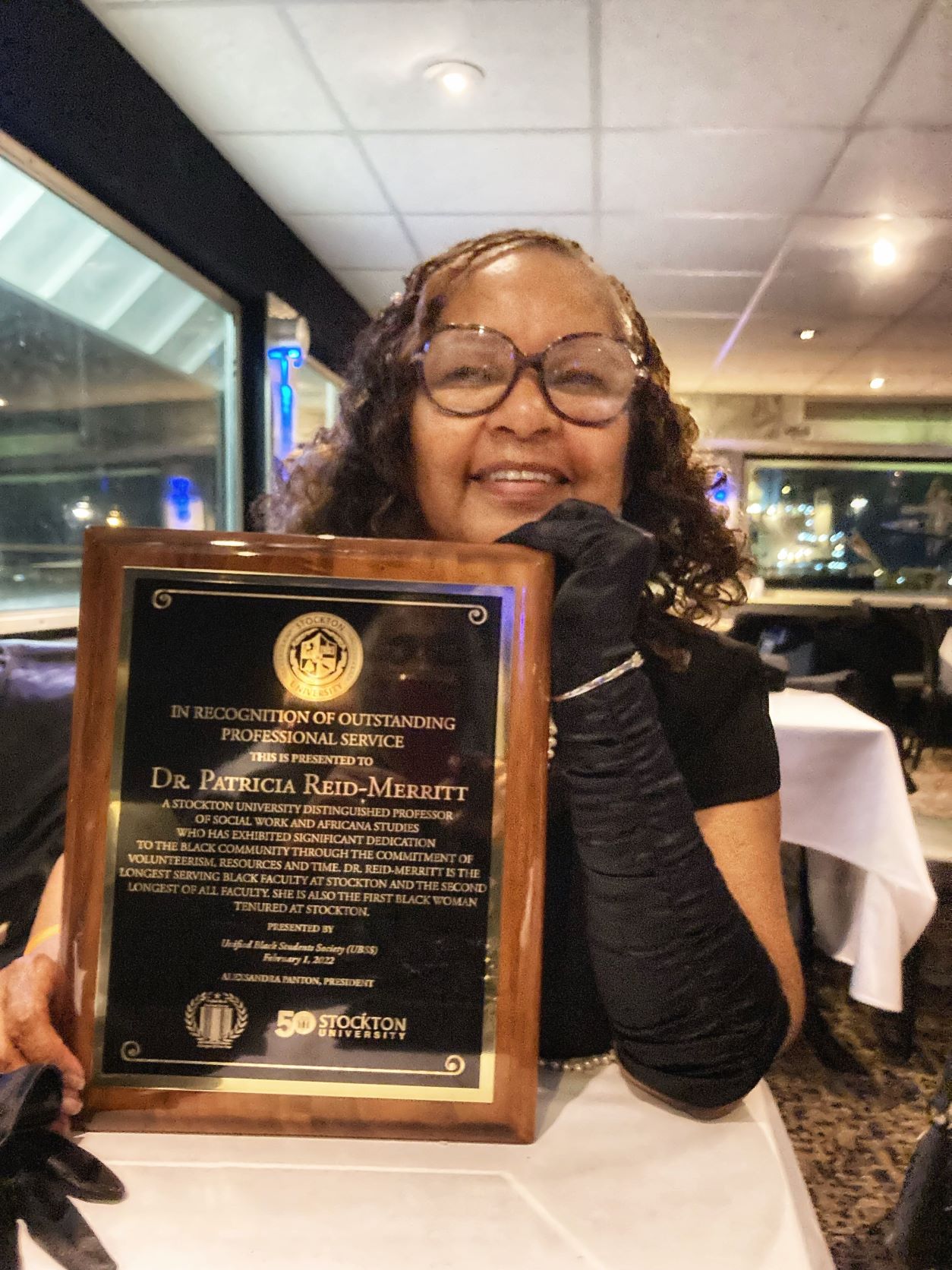 Reid-Merritt Receives Outstanding Professional Service Award
Patricia Reid-Merritt, Distinguished Professor of Africana Studies and Social work, was honored on Feb. 25 at the 3rd Annual Black Gala on the Spirit of Philadelphia. The event is hosted by the Unified Black Students Society (UBSS).
Reid-Merrit received the Outstanding Professional Service Award in recognition of "significant dedication to the Black community through commitment of volunteerism, resources and time."
She was also congratulated on being the first Black female tenured and promoted and one of the longest-serving faculty members at the university.
When asked how she felt about receiving the award, Reid-Merritt reflected, "Honestly, I was a bit stunned and completely caught off guard. It left me speechless. Over the years I have received many commendations from UBSS recognizing my contributions to the organization and the University, most recently during the Flag-Raising Ceremony. I wasn't prepared for being recognized again. I greatly appreciate the honor."
FRAME-WORTHY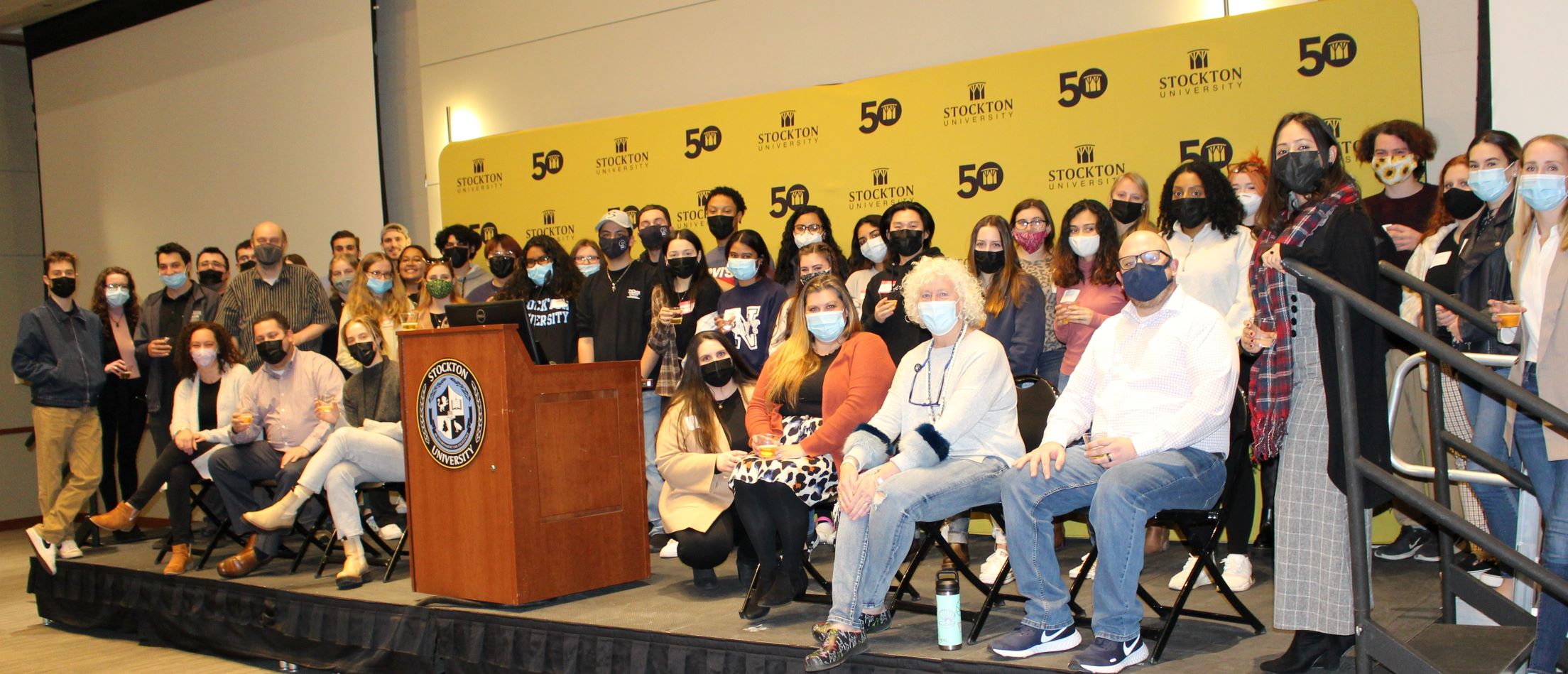 Campus Center Celebrates 10th Anniversary
Some 40 former and current Campus Center student workers and staff celebrated the 10th anniversary of the Campus Center with a reunion in the Event Room on March 4. The center, which formally opened in Fall 2011, transformed the campus, creating a central hub where students could find all essential services and meet with friends.
The 154,000-square-foot building has LEED Gold certification for energy efficiency. Highlights include the massive paintings by Professor of Art David Ahlstead that represent the four seasons in the Pinelands and the fireplace etchings by Larry Kirkland.
"There was so much support for this building," said Joe Lizzo, who was associate director for university events from 2007-2019. "It created a hub for student life, and that is what it's supposed to be." Learn more about the Campus Center on its website.
WHAT'S TRENDING

@ #STOCKTONU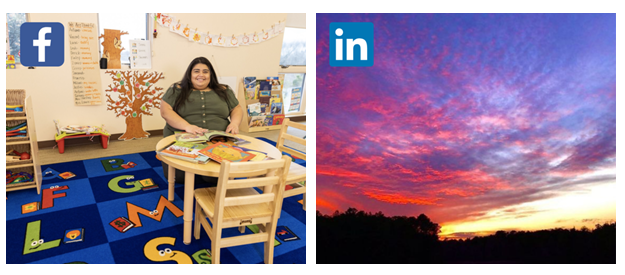 Facebook: Lisbeth Espinal, a senior Psychology major, found her home away from home at Stockton University.
LinkedIn: Gorgeous sunset over campus after the controlled burns last week 💛💙 #BeautifulStocktonU
FROM THE SIDELINES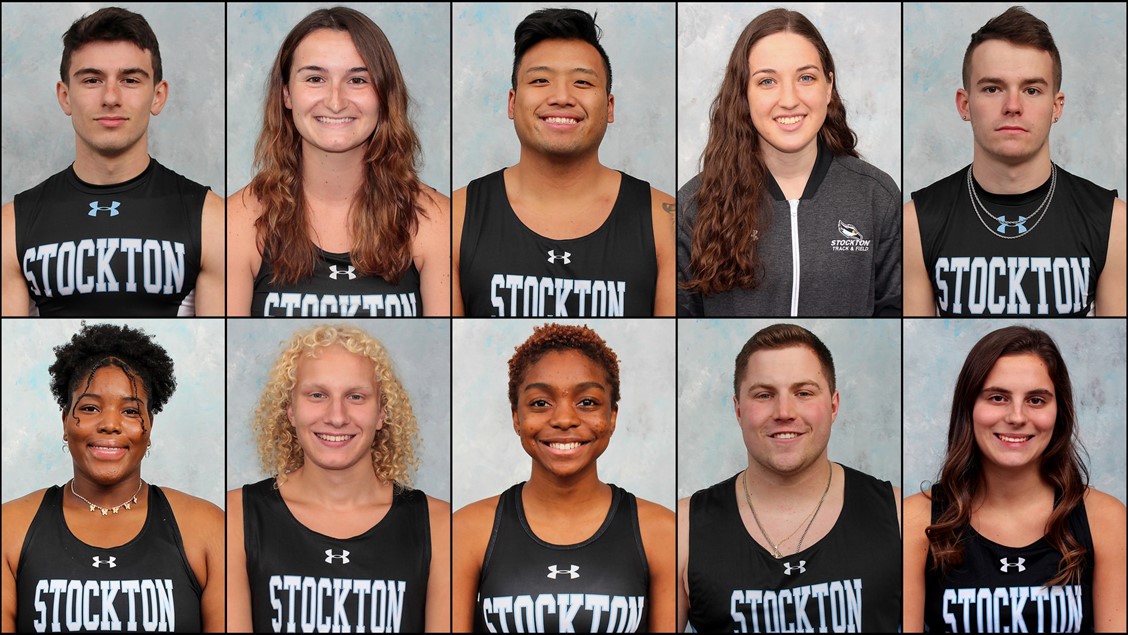 10 Ospreys Qualify for USTFCCCA All-Region Honors
Ten Stockton University track & field competitors earned All-Metro Region accolades from the United States Track & Field and Cross-Country Coaches Association (USTFCCCA) for the 2021-22 indoor season. To qualify, competitors needed to post a mark that ranked in the top five in the region in an individual event or top three in a relay.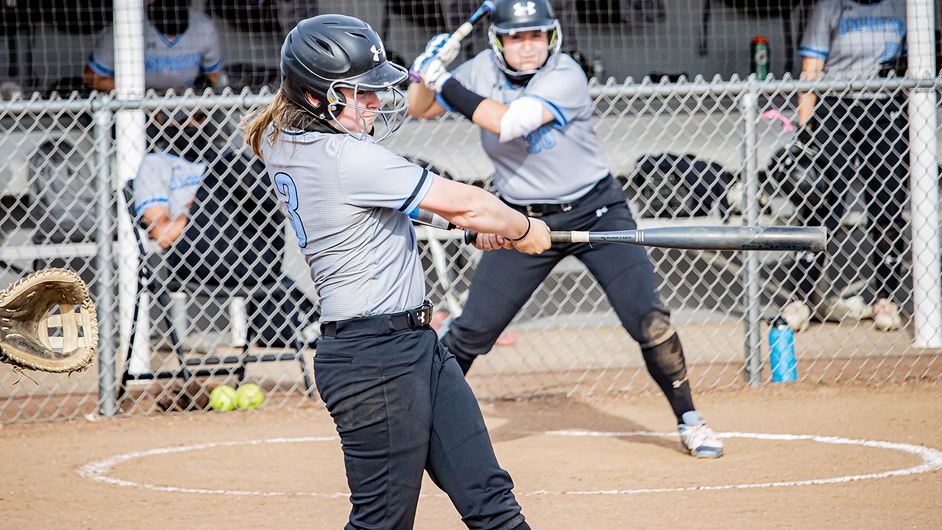 Stockton Rallies in Each Game to Sweep Stevens
Stockton University (2-0) came from behind in each game for an opening day sweep of Stevens (0-6) on March 8. The Ospreys erased a 4-0 deficit to win the first game 6-5 in eight innings and then rallied from 5-2 down to take the nightcap 11-10.
Lilly James totaled three hits, including a home run and a double, plus five RBI, two runs and a walk on the day.
🗓️ View the full schedule of upcoming athletic events here.
WE'RE HERE TO HELP
COVID-19 Information
😷 NEW MASK UPDATE: The university will relax indoor mask mandates effective March 28. Masks will not be required in indoor public spaces. Faculty may continue to require masks in their classes. KN95 and surgical masks remain available at the Campus Center Information Desk, Wellness Center, Division offices, the library and off-site Stockton locations. Details are in the Campus Operations FAQ. Read a message from President Kesselman here regarding the update.
🧪 FREE COVID TESTING: Free COVID-19 testing for the public at the Chris Gaupp residence hall is available from 7 a.m. to 7 p.m. daily through Praxis. The site at the Carnegie Center in Atlantic City is open from 12-5 p.m. on Thursdays, Saturdays and Sundays. COVID-19 screening for unvaccinated employees is still held at Pomona House.
💉 BOOSTER REQUIREMENT: Employees are now required to receive a COVID-19 booster dose. Proof should be submitted immediately or within two weeks of becoming eligible. Use the Employee tab in the Portal to update your booster status or submit to Joyce.Wilson@stockton.edu in the Office of Human Resources so that your status can be confirmed. Should you have any questions, contact Mamta.Patel@stockton.edu.
💉 VAX UP!: AtlantiCare will hold COVID-19 vaccine clinics in West Quad 103 through March. Boosters are available. Details and dates are on the COVID-19 website.
Resources for Faculty and Staff
🧠 Stockton provides faculty and teaching staff with professional development, training, teaching ideas, resources and individual consultations via the Center for Teaching and Learning Design. Upcoming events include: Show Up & Write with FAWN sessions, Organizing Course Content in Blackboard for Face-to-Face and Hybrid Courses, March 17; Your Legal Rights as Educators, March 24; and 15-Minute Splash of Community Engagement, March 24. Visit here for event Zoom links and more information.
OSPREY NOTES
State Aid Renewal Deadline April 15
All students who have previously filed a FAFSA are required to file the 22-23 FAFSA before April 15 to be considered for state financial aid programs for the 2022-2023 academic year.
Eligible students who miss this deadline could miss out on free money from programs including the Tuition Aid Grant (TAG), the Educational Opportunity Fund (EOF) and the new Garden State Guarantee (GSG), which offers eligible students a $0 net price for tuition and fees.
Students who receive the Stockton Promise Grant must also file by April 15 to be considered for the grant in the 22-23 academic year.
Remember, the state won't wait! Students can apply at fafsa.gov.
---
Stockton Sentiments and Memories . . .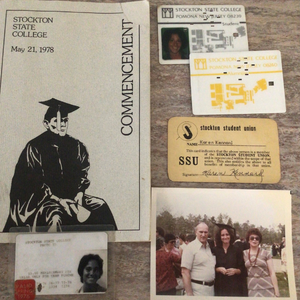 "I loved studying the ecology of the pine barrens up close through my four years at Stockton. From 1974-1978 I met lifelong friends, appreciated environmental science, and embarked on an educational quest that would eventually lead me back to Stockton as an adjunct professor."
- Karen Rosnick '78
Have a memory you'd like to share in celebration of Stockton's 50th anniversary? Submit it here.
UPCOMING EVENTS