Stockton News - March 10, 2023
WHAT WE'RE TALKING ABOUT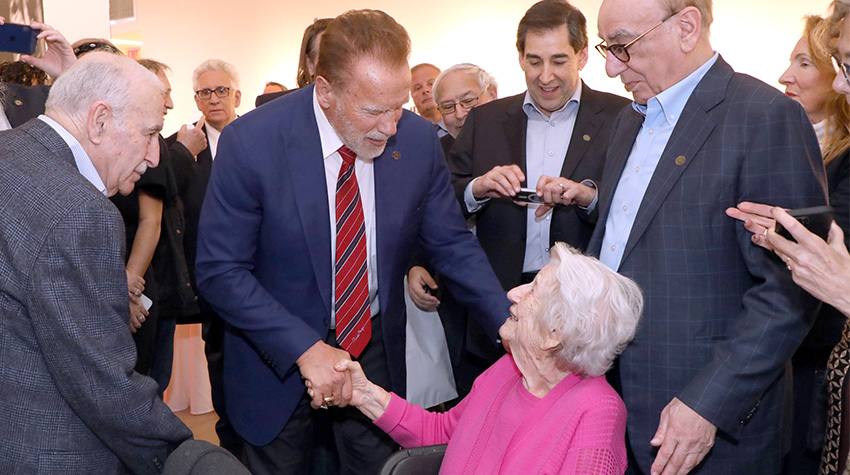 Schwarzenegger Brings Message of Strength Against Hate
Arnold Schwarzenegger has spent most of his life helping people build their strength.
"Your muscles only grow from resistance. It wasn't easy. It was uncomfortable. Your mind and character are no different than your body and muscles," the former bodybuilder told Stockton students and guests during his presentation centered on terminating hate Monday, March 6.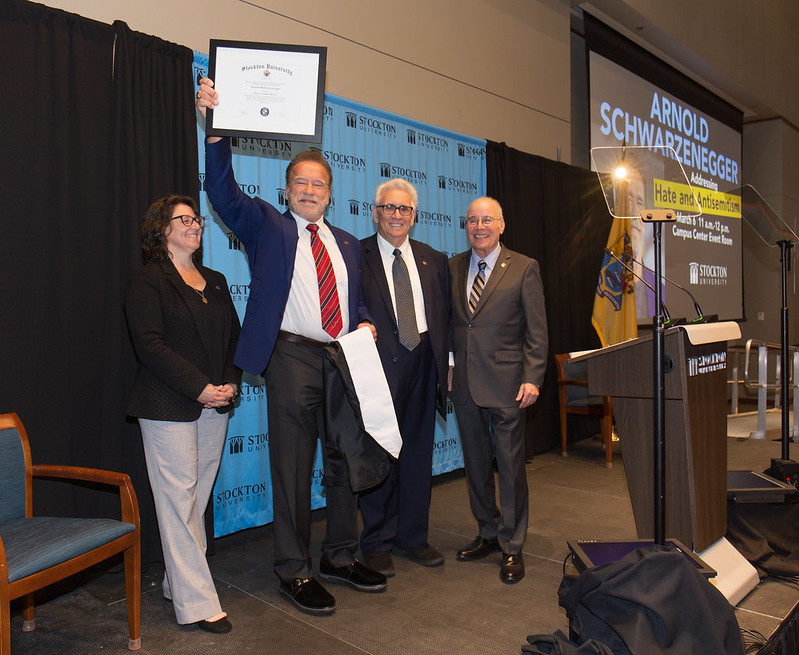 "It is easier to hate than it is to learn. Easier isn't better," said Schwarzenegger, star of several blockbuster films including "Twins," "Kindergarten Cop" and "Predator."
More than 600 students, faculty, staff and invited guests, including Holocaust survivors and their families, turned out to hear Schwarzenegger's message.
📸 View more photos on Flickr.
ICYMI: 🎬 View Arnold's presentation here. (Or watch it again, it was that good.)
📰 In the News: The Algemeiner, Patch.com, CBS Philadelphia, NBC 10, The Press of Atlantic City, News 12 The Bronx, Ocean City Sentinel
---
High School Esports Students Visit Campus Gaming Facility
Going to college hasn't really been on Keyoni Benjamin's mind.
The Middle Township High School senior said she was perfectly content graduating and just getting a job. But that changed on March 6 after visitingStockton's esports facility.
"It's really cool here. I think I might go," said the 18-year-old from Vineland who loves playing Overwatch. "At first, I was like I don't really want to go to college and just get a job. But after looking around the campus and seeing the esports team, I think I might come here."
Stockton esports supporters hope Benjamin is the first of many students who see the university as not just a great place to play video games and compete in events, but also to take classes leading to a possible degree or a career in the growing field.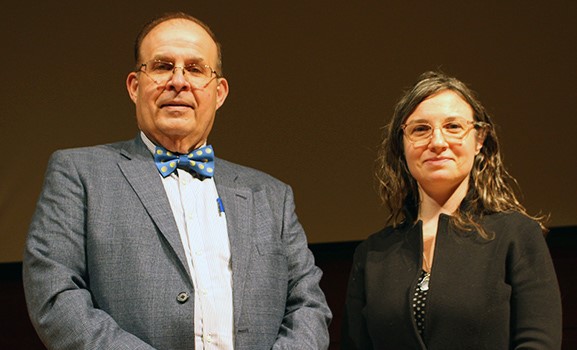 Judge: Criminal Justice Reform Necessary and Working in NJ
Criminal justice reform may not be perfect, but it's necessary to create greater fairness for defendants and help alleviate the huge costs involved with this country's prison system.
That was the main point of a recent talk by retired New Jersey Judge Julio Mendez on March 2 at the fourth annual Criminal Justice Lecture Series. The series, sponsored by Stockton's School of Social and Behavioral Sciences, was held at the Campus Event Center Theatre and focused on current developments in the criminal justice field.
SPOTLIGHT ON: BRENT ARNOLD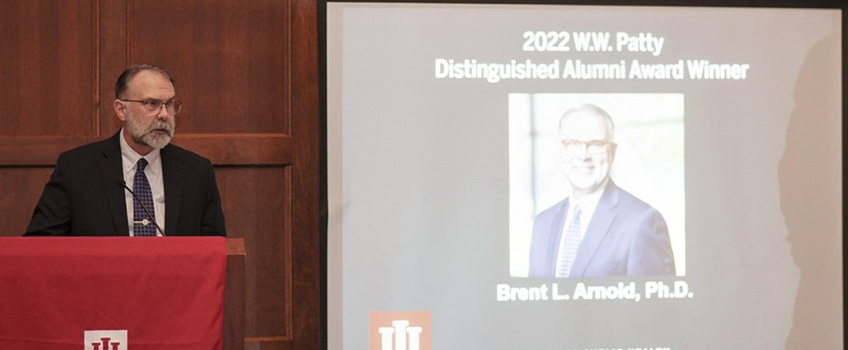 Brent Arnold began his career at Stockton in the summer of 2021, taking on the role of dean of the School of Health Sciences. He previously was chair of the Department of Health Sciences at the Indiana University (IU) School of Health and Human Sciences. He led several successful curriculum changes and managed Indiana University and Virginia Commonwealth University academic programs.
He recently was awardedthe W. W. Patty Distinguished Alumni Award from IU, the oldest of the school's distinguished alumni awards. It is presented annually to graduates of the School of Public Health-Bloomington and its prior incarnation as Health, Physical Education and Recreation who have demonstrated outstanding personal and professional achievement in fostering the wide-ranging missions of public health.
Arnold, who graduated from IU in 1996, majored in Athletic Training but was also working on a minor in biology so he could eventually teach high school biology.
FRAME-WORTHY 💜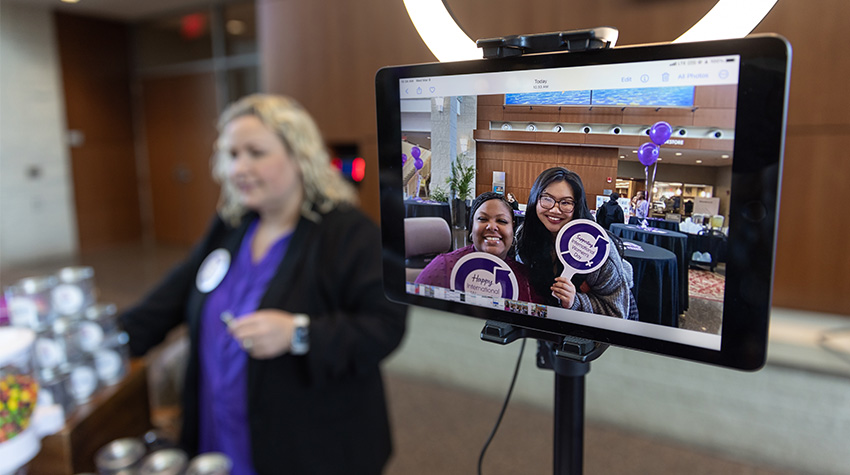 Stockton Embraces Equity for International Women's Day
As Beyoncé, Demi Lovato and The Pussycat Dolls blared from the speakers, students, staff and faculty took a moment to check out the tables, food and purple decorations lining the Campus Center Grand Hall on March 8.
For this year's annual International Women's Day celebration, Stockton's Women's, Gender and Sexuality Center (WGSC) hosted a casual, drop-in mixer for students to peruse in-between classes.
Once in the Grand Hall, the community was encouraged to think about and shout out women who inspire them, enjoy the famous gender wage gap cupcakes (80 cents for women and nonbinary students and $1 for men) and learn more about different organizations on campus like the Queer and Trans People of Color Society and the Coalition for Women's Rights, also known as Women's Co.
Women's Co.'s president, Economics major Yamirah Williams, and vice president, Business major Nimrah Jahan, were ecstatic about both the celebration and the opportunity to raise awareness for their upcoming programs.
📸 View more photos on Flickr.
WHAT'S TRENDING

@ #STOCKTONU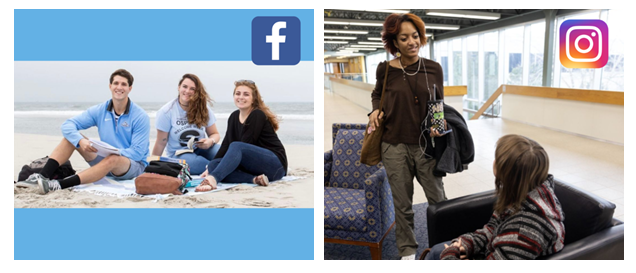 Facebook: Summertime calls for the beach, and what better way to stay close to the waves than choosing to live at the Stockton AC Campus, enrolling in summer classes, and receiving a 20% discount for it?!
Instagram: Has anyone applied for our foundation scholarships yet?
FROM THE SIDELINES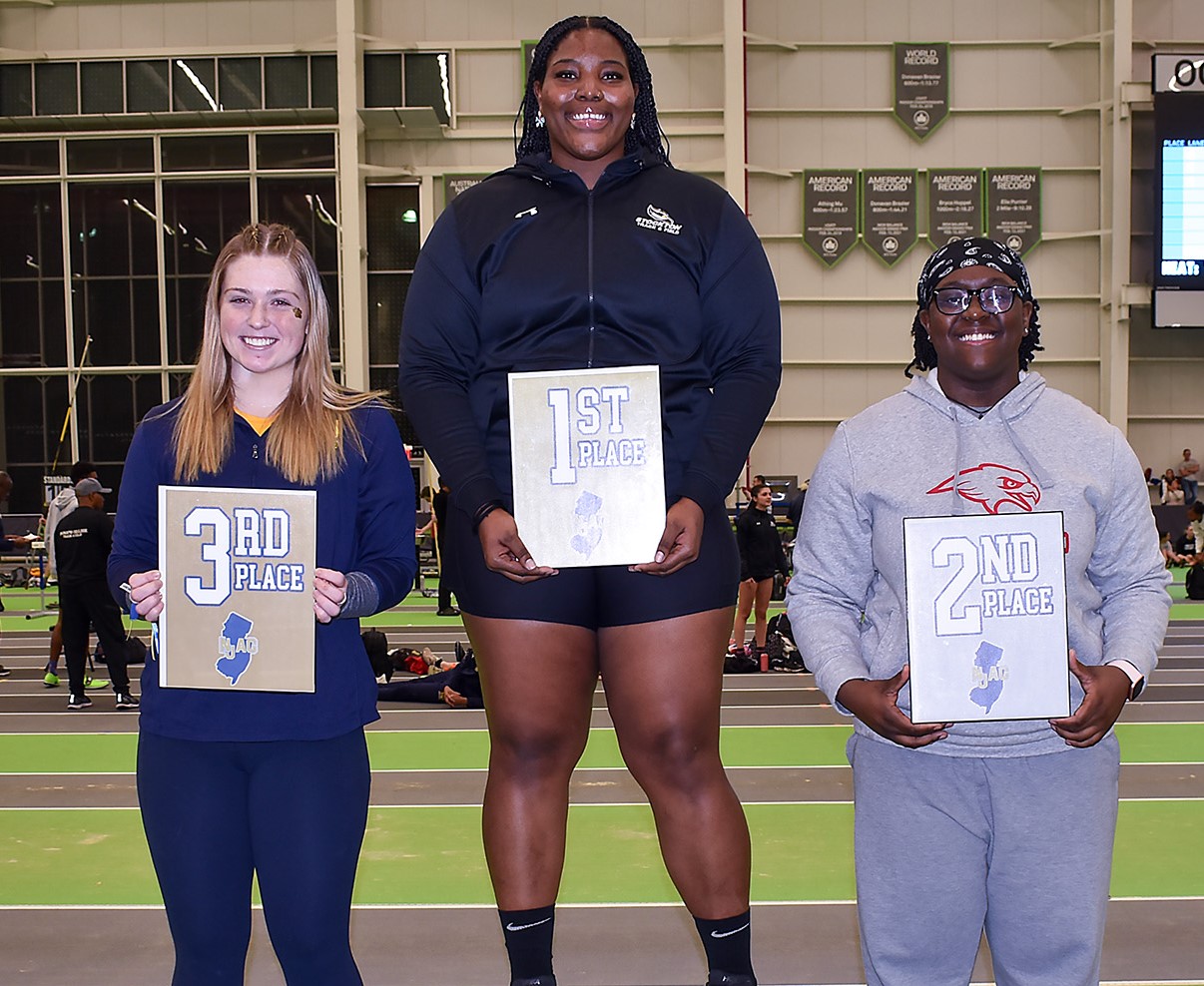 Abraham Named Metro Region Field Athlete of the Year; Competes in Division III Championships
Stockton senior Shahyan Abrahamwas named Metro Region Field Athlete of the Year by the United States Track & Field and Cross Country Coaches Association. Abraham became the first Osprey ever to be chosen regional Athlete of the Year since the inception of the awards in 2006.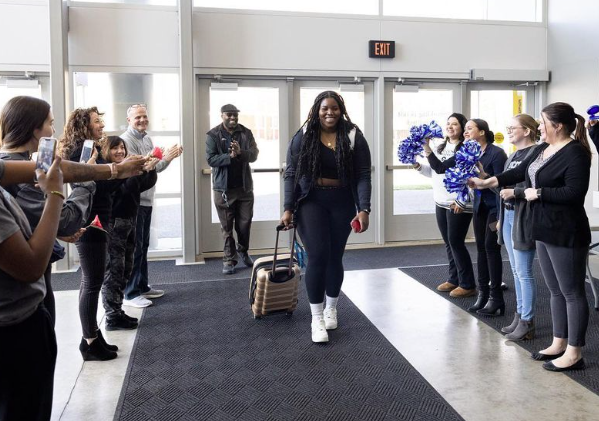 Abraham will finish her indoor season by competing in the weight throw at the NCAA Division III Indoor Track & Field Championships today, March 10, at the Birmingham CrossPlex in Birmingham, Alabama.
Abraham, who will compete in the NCAA Championships for the first time, is ranked 12th in the nation with a best weight throw of 17.59 meters. The throw, which came at the NJAC Championships on Feb. 20, set a school record and meet record and was the best in the Metro Region this season.
The Ospreys threw a send-off party for Abraham on Thursday, March 9, to wish her well as she heads down to Birmingham.
---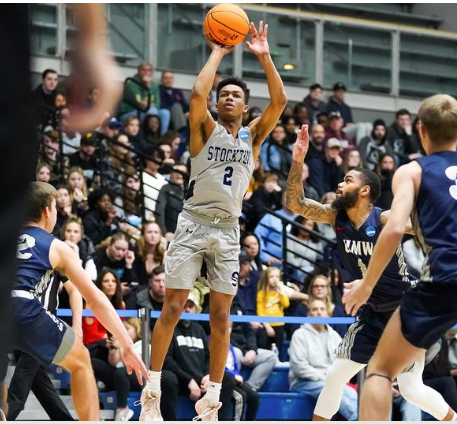 Stockton Advances to Sweet 16 for Second Straight Year
The men's basketball team moved on to the NCAA Division III Tournament Sweet 16 with a thrilling 68-65 win over the University of Mary Washington (20-9) on March 4. Kyion Flanders led a balanced scoring attack with 14 points for the Ospreys.
The Eagles started quickly, leading by as many as eight points but could not shake the determined home squad. Stockton took its first lead of the game at 25-24 on the strength of a 10-4 run over a span of just under four minutes capped off by a three-pointer by DJ Campbell with 3:30 remaining until half.
Stockton faces Nichols College (Mass.) today, March 10, for the sectional round at 4:15 p.m. Watch the game live here.
👉🏀 The Press of Atlantic City posted a feature about Flanders here.
---
🏅 MORE FROM THE HIGHLIGHT REEL:
---
🗓️ View the full schedule of upcoming athletic events here.
OSPREY NOTES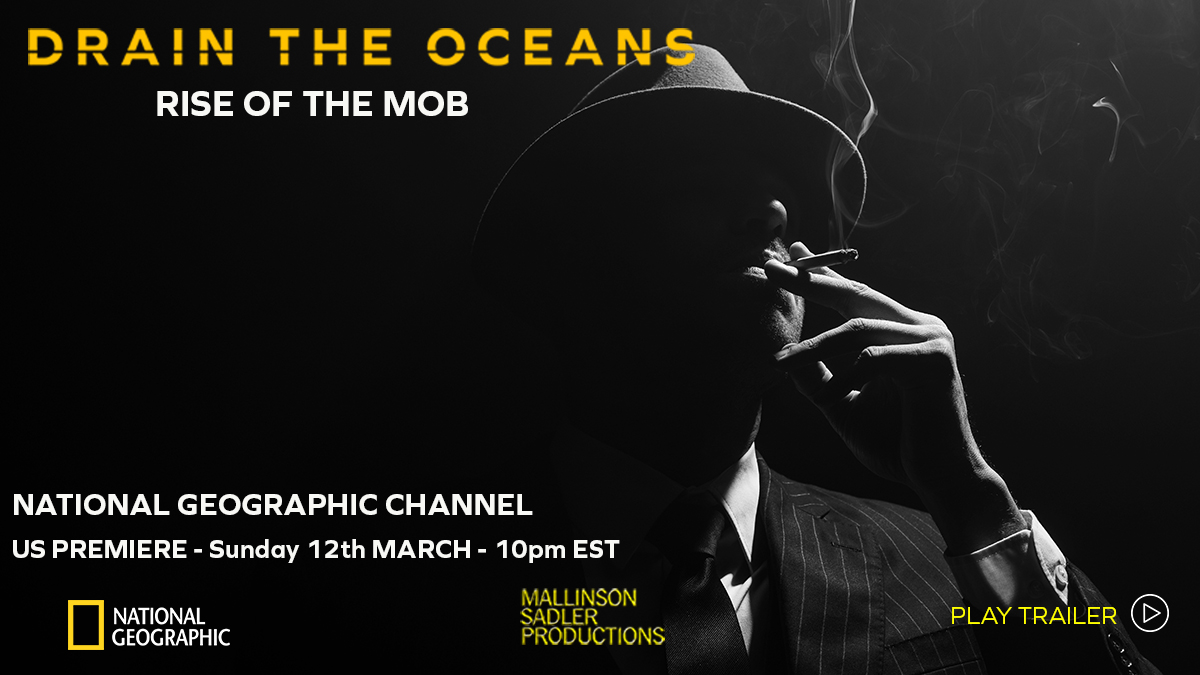 Stockton Helps National Geographic Drain the Oceans
Stockton's Marine Field Station and the R/V Petrel, equipped with multibeam sonar and an ROV camera, were transformed into a TV film set over the summer while Stockton experts were filmed for an episode of National Geographic's Drain the Oceans.
The historical docuseries takes viewers around the world to reveal submerged mysteries with CGI technology and then pieces together clues discovered in the depths with the expertise of marine archaeologists.
Stephen Nagiewicz, an adjunct instructor of Marine Science and a diver, is a featured expert in the second episode of season six, centered on the rise of the mob.
Steve Evert, director of the Marine Field Station, was the captain of an expedition that took the film crew offshore with Nagiewicz and Peter Straub, professor of Biology, to explore where Prohibition deliveries secretly unfolded and to return to the wreck he dove three decades ago.
Watch the episode starting this Sunday, March 12, at 10 p.m. EST on Disney+.
🎬 Check out the trailer here.
---
🚧 Pomona Road Detour Next Week
FYI: On Monday, March 13, through Friday, March 17, a full detour will be in effect on Pomona Road in Galloway Township, between Liebig Avenue and Moss Mill Road, 7 a.m. – 5 p.m., weather permitting, for county road work.
Motorists may experience delays and should plan travel time accordingly or seek an alternate route.
Access to Stockton via Jimmie Leeds Road, Delaware Avenue (North Athletic Complex) and Oak Pond Drive will remain open during the detour.
---
Spring Break Shuttle Schedule
The shuttles between the Atlantic City and Galloway campuses will be operating on a reduced schedule during Spring Break.
View the modified Atlantic City shuttle schedule for Spring Break, March 12-19, here.
Regular service will resume Monday, March 20.
Galloway shuttle service will not operate from Sunday, March 12 through Saturday, March 18. Galloway shuttle service will resume at 3:30 p.m. Sunday, March 19.
---
Time to Renew State Aid
Attention all faculty and staff! Your students could be missing out on free money to help cover their costs to attend school!
Help remind students to file their 23-24 FAFSA by the April 15 deadline. Anyone who received state aid, including TAG and/or EOF or the Stockton Promise or Garden State Guarantee (GSG) in the 2022-2023 academic year and does not complete their FAFSA by the April 15 deadline will not be considered for any of these funds in the 2023-2024 academic year, even if they are financially eligible.
Students can file by logging into fafsa.gov with their FSA ID and password. If you or your students have any questions or need any assistance, please feel free to contact the Office of Financial Aid. Visit stockton.edu/contactfinaid to email or schedule a phone call with a member of our staff.
---
🌷⏰Don't forget to spring ahead:
Daylight saving time ends at 2 a.m. on Sunday, March 12.
UPCOMING EVENTS
Spring Professional Development Opportunities
🎭 Spring Programming at the PAC
Now-May 31: "The Armenian Genocide, One Family's Story" exhibit
March 11:34th Annual Pinelands Short Course, Shirat Hayem Speaker Series
March 11-12:Weekend in the Pines
March 16: 🎨 Hammonton Third Thursdays
March 18: 🍀Tartan Terrors
March 23:Dean's Distinguished Guest Speaker- Bill Hagaman, Jr. '79
March 24:Frankie Negrón
March 25: "Who Hijacked My Fairytale?" with Kelly Swanson
March 26:Discover Stockton Day
March 28: 13th Annual Paul Lyons Lecture
March 30: Unity Day 2023, 🧘‍♀️ Wellness Day 2023 Health Fair
April 1:Dan Tyminski Band
April 6:The Last Lecture