Stockton News - Friday, March 6, 2020
WHAT WE'RE TALKING ABOUT
Garbutts Honored at Rowing and Growing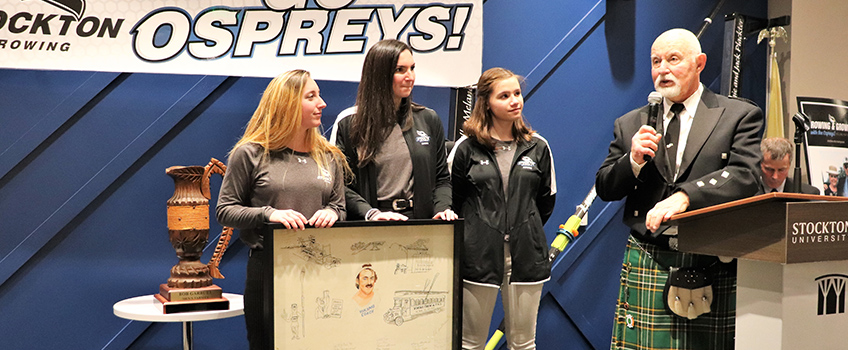 It was an evening of oars, ergs, boats and bagpipes as Stockton University honored former Atlantic City High School rowing coach Bob Garbutt and his wife, Judy, on Feb. 28 at the second Rowing and Growing event at Stockton University Atlantic City.
The Atlantic City Fire Department Sand Pipers Pipes and Drums escorted Garbutt, a member of the group, into the Fannie Lou Hamer Event Room.
Garbutt wore full kilted regalia, which generated one of the biggest laughs of the night when Judy noted, "Clearly I'm wearing the pants tonight."
Garbutt recalled the early days of the rowing program at Atlantic City High School when students used old repaired boats and had to walk across sand and broken glass to put their boats in the bay because there was no dock.
---
Callahan Discusses Humanizing the Badge in Lecture Series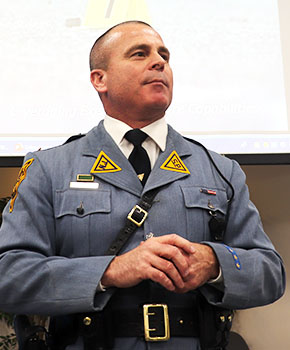 New Jersey State Police Superintendent Colonel Patrick J. Callahan spoke frankly about the challenges and rewards of being a law enforcement officer at the inaugural Stockton University Criminal Justice Lecture Serieson March 3.
Students, faculty, staff, area law enforcement and community members packed the Townsend Residential Life Center to hear Callahan discuss "Visionary Leadership on Policing Issues."
---
Spring 2020 Enrollment at Record High
Stockton's Spring 2020 enrollment reached a record 9,367 students, an increase of 3%, Chief Enrollment Management Officer Robert Heinrich told the Stockton Board of Trustees at the Feb. 26 meeting.
Total spring enrollment has grown by more than 1,000 students since Spring 2016. Heinrich said the increase is a combination of new students enrolling, and successful efforts in retaining the students already enrolled. He said 547 new students enrolled in the spring.
Heinrich said this spring 113 courses are being offered at the Atlantic City campus. There are 1,483 students taking at least one class in Atlantic City and some are taking multiple courses there.
STOCKTON UNIVERSITY ATLANTIC CITY
Residential Life Links Students to the Community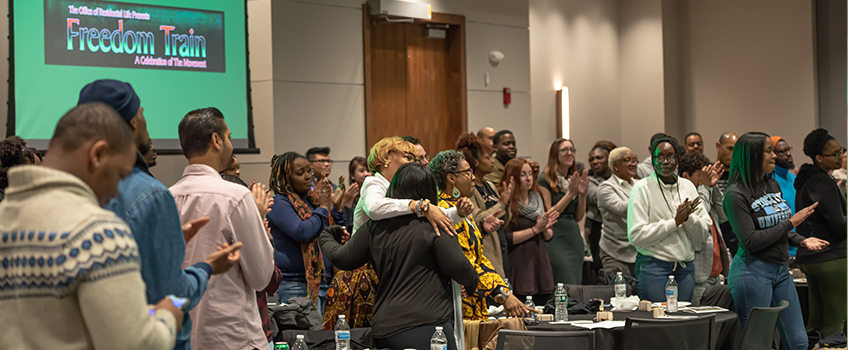 Residential Life debuted its new Program of the Month series in February with a dinner theatre event highlighting Black History Month in the Fannie Lou Hamer Event Room at Stockton University Atlantic City.
"Freedom Train; A Celebration of the Movement," featured performances by students using their artistic expression to honor and celebrate important and influential pioneers throughout American history.
The event was planned and coordinated by the Resident Assistants, in collaboration with Stockton Music Union, Highest Praise Gospel Choir, and Stockton Color Guard.
---
'Second Saturdays in Atlantic City' Explores Science March 14
"Second Saturdays in Atlantic City," sponsored by the Office of Development and Alumni Relations, will explore "Strawberries & DNA," 11 a.m.-1 p.m., on Saturday, March 14, at Stockton Atlantic City. Assistant Professor of Biology Michael Law '00 will lead this fun, interactive science experiment that is family-friendly. RSVP here.
---
Catch a Movie Tonight at Stockton Atlantic City
"AC Campus Movie Nights: Cinema in the City" is featuring "Charlie's Angels" at 8 p.m., tonight, in the Stockton University Atlantic City residential classrooms B119/120. Attendees are asked to bring their Stockton IDs.
SPOTLIGHT ON
Morell Named Advisor of the Year by Active Minds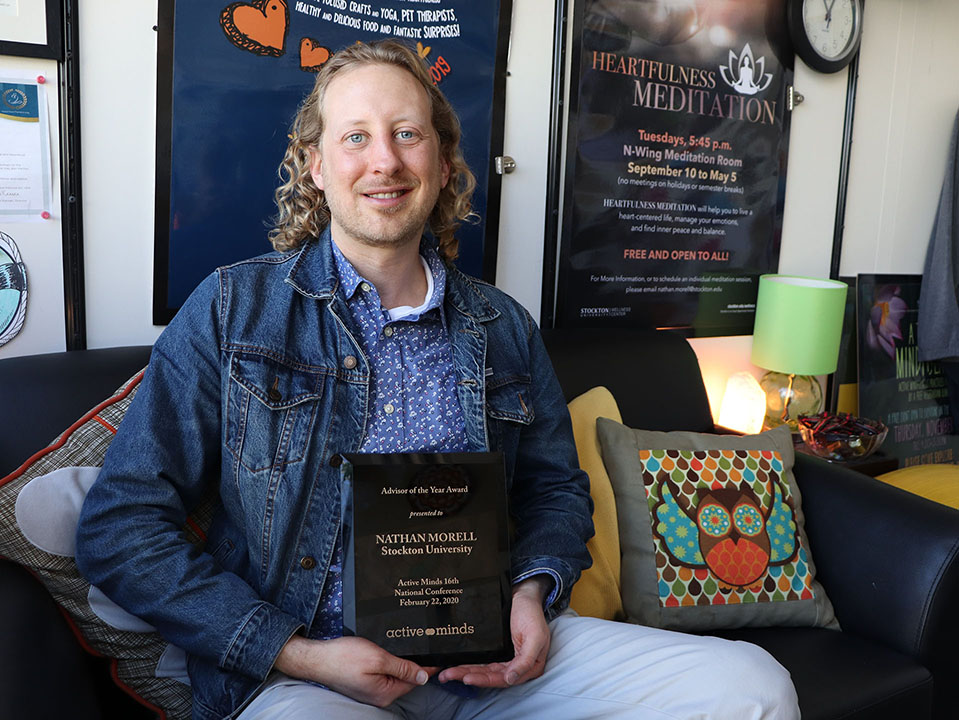 In October 2012, shortly after Nate Morell began his position as assistant director of Counseling at Stockton University, he got on a plane with a group of students to chaperone their Active Minds conference trip to Orlando.
"Orlando in the fall sounds great," he laughed. Little did he know that this trip was the start of a special journey. He hasn't missed a conference since and is in his eighth year as the advisor of Stockton's Active Minds chapter.
"I just fell in love," he said, smiling.
In February, Morell was chosen as Advisor of Year by Active Minds and received the national award at a conference of 600 attendees. His acceptance speech was a love letter to the organization, thanking them for allowing him to be able to do this important work.
FRAME-WORTHY
Picture Stockton...Drawing Inspiration from Science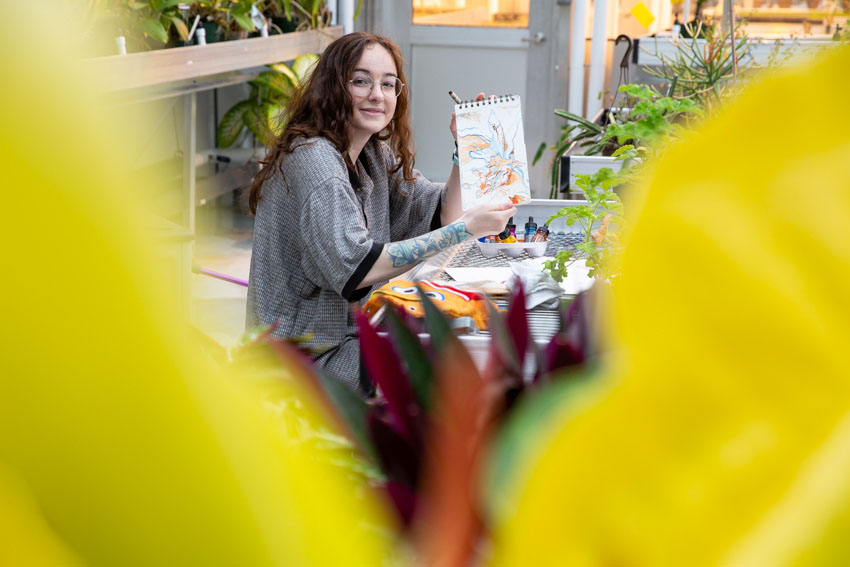 The overhanging teeth that protrude from an alligator's clenched jaw caught Mariana Smith's attention as she passed a menagerie of bones organized on a table in a science lab.
"My students would want to draw that," she thought.
Smith, an assistant professor of Art at Stockton University, began to venture outside the art studio when her students tired of traditional still life displays. She found more challenging subjects to intrigue her students in the Unified Science Center II greenhouse, on Nacote Creek and in the Stockton ornithology and skeletal collections.
WHAT'S TRENDING #STOCKTONU
🎂 Facebook: Happy 21st birthday to Distinguished Professor of Physics Yitzhak Sharon.
Forty-eight years of unique science demonstrations with blowtorches, bursting balloons and students spinning under centrifugal force have kept Sharon young and his students on their toes and forever engaged in science.
FROM THE SIDELINES
Stockton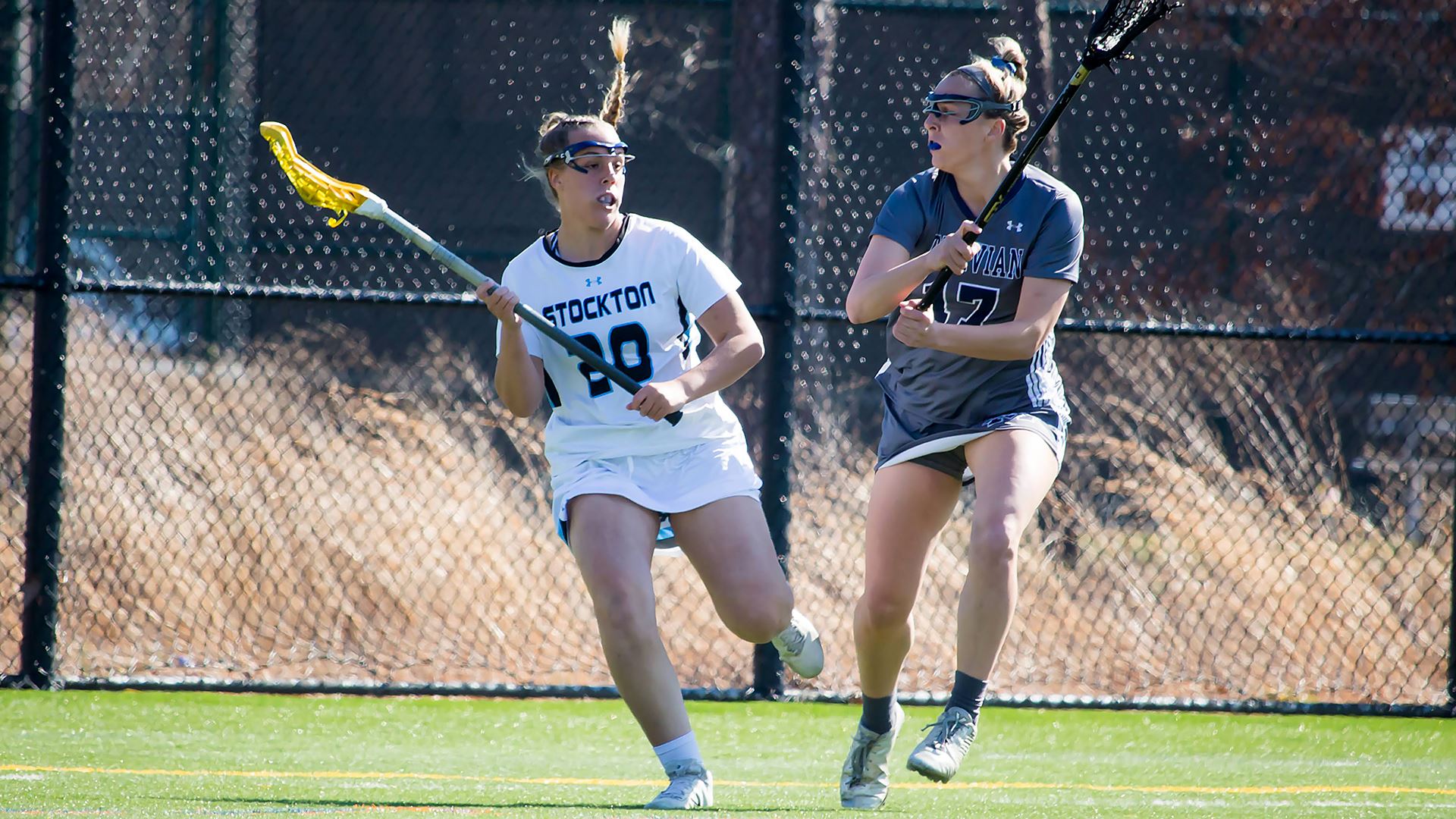 Wins Season Opener 16-7 over Ursinus
Stockton University (1-0) snapped a 4-4 tie with seven consecutive goals and went on to a 16-7 victory over Ursinus College (0-4) in the season opener for the Ospreys. Stockton netted the last four goals of the first half and first three markers of the second half during the run.
MORE FROM THE HIGHLIGHT REEL:

The Baseball team plays Castleton University (home), the Men's Lacrosseteam plays Washington College (home), and the Women's Lacrosse team plays St. Joseph's College (home), all on March 7; and the Baseball team plays New York University (home) on March 8. For upcoming sports games, check out the schedule.
OSPREY NOTES
'Strategic Plan 2025: Choosing Our Path' Launches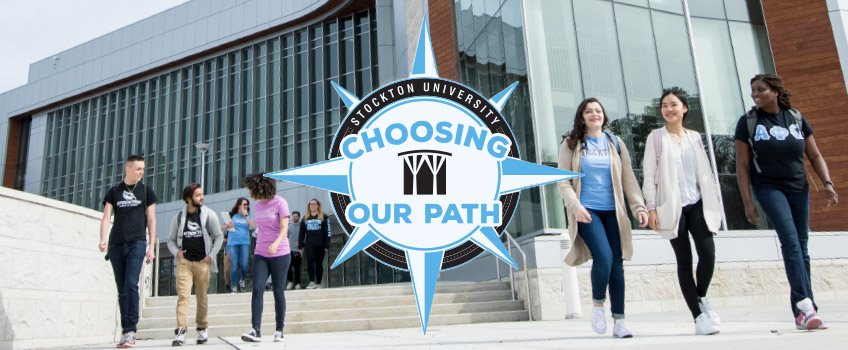 In an email to the campus community this week, Michelle McDonald, interim provost and vice president of Academic Affairs, shared the official launch of "Strategic Plan 2025: Choosing Our Path."
"This guiding document, the result of more than two years of collaboration across campus, has been endorsed by the Board of Trustees, and reinforces our commitment to the imperative public of higher education, the diversification of our campus community, and the necessity of serving as a regional anchor institution," McDonald said.
The plan includes six areas of focus: Inclusive Student Success; Diversity and Inclusion; Teaching and Learning; Strategic Enrollment Management; Financial Sustainability; and Campus Community, Communication and Shared Governance.
Visit the accompanying website that offers an executive summary and outlines of both the planning process and stages of development.
Stay Up-to-Date on Coronavirus Information
As we approach spring break, we want to share some information about the coronavirus (COVID-19) you may find helpful.
Stockton is working closely with the New Jersey Department of Health to monitor the virus. In addition, we are monitoring updates provided by the Centers for Disease Control and the U.S. Department of State travel advisories. Stockton University's health and wellness officials are in constant contact with the local and state health departments and are proceeding according to CDC guidance.
For any updates or for more information, visit Stockton's Emergency Management website.
Spring Semester FAFSA Fridays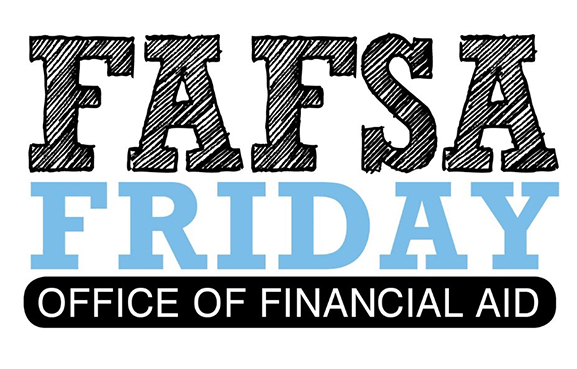 Do you have students looking for help with their financial aid application? The Office of Financial Aid is hosting "FAFSA Fridays" from 1-3 p.m. every Friday from Feb. 7-March 6, and March 27-April 10, in F210 to assist students with the financial aid process. Encourage your students to file their FAFSA applications today to avoid missing important deadlines including the April 15 deadline for State Aid. Students who file their FAFSA after these deadlines may miss out on aid for which they may be eligible.
---
⏰ Don't forget to spring ahead: Daylight saving time ends at 2 a.m. on Sunday, March 8.
UPCOMING EVENTS
Celebrates Women's History Month at one of Stockton's campus-wide events.
Thursday, March 12:Transfer Admission Day at Manahawkin
Saturday, March 14: Pinelands Short Course
Monday, March 23: SWLC Speaker Series: Distinguished Women. Distinctive Voices
Sunday, March 29:Spring Open House