Stockton News - Friday, June 28, 2019
WHAT WE'RE TALKING ABOUT
Stockton Named Recovery Court Partner of the Year
Stockton University's commitment to assisting those in recovery from addiction was recognized with the Partner of the Year award at the 18th Graduation and Commencement Ceremony of the Atlantic/Cape May Vicinage Recovery Court Program, held at the Atlantic County Institute of Technology on June 25.
The Press of Atlantic City covered the ceremony.
---
T.A.L.O.N.S. Welcome New Students to Campus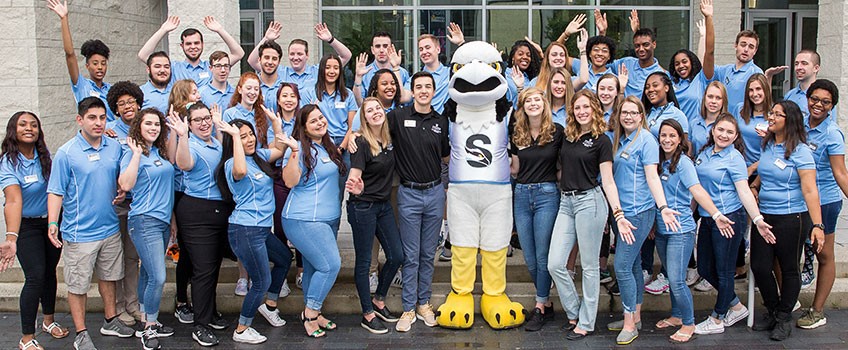 Learn about what "T.A.L.O.N.S.," or "Transition Activity Leaders of New Students," are up to as they get ready to help new incoming freshmen and transfer students transition smoothly into the Osprey lifestyle.
T.A.L.O.N.S. Supervisor and Director of New Student and Family programs Jennifer Radwanski said introductory programs are crucial for incoming students.
"Our hope is that when new students and their families participate in summer orientation, they feel more comfortable and confident in their decision to attend Stockton in the fall," she said. "We also hope that they start to begin building relationships with faculty, staff and students so they know who they can go to for help as they transition into our institution."
SPOTLIGHT ON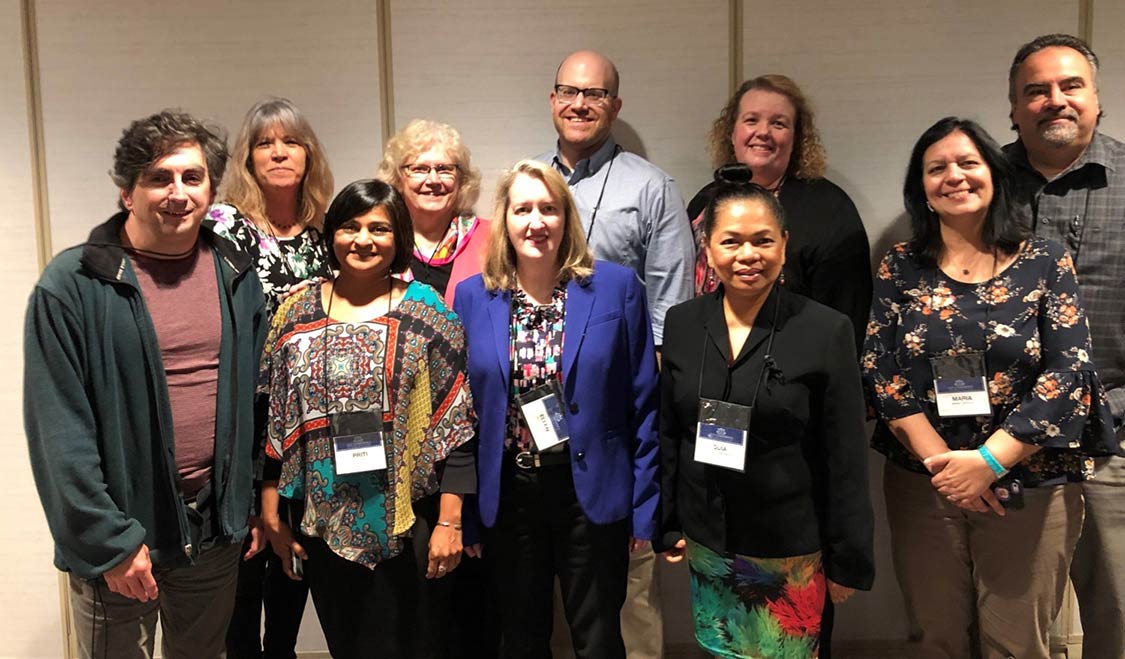 Stockton Faculty Attend Lilly-Bethesda Conference
Stockton University's Center for Learning Design (CLD) and Institute for Faculty Development (IFD) sponsored a group of Stockton faculty and teaching staff to attend the Lilly-Bethesda Conference on Designing Effective Teaching, May 30-June 2, in Bethesda, Maryland. The conference provided evidence-based professional development opportunities focused on a scholarly approach to teaching and learning that reports meaningful student learning outcomes.
The group who attended include Dennis Fotia, assistant director of the Center for Learning Design; Priti Haria, associate professor of Education-Special Education; Ellen Kraft, associate professor of Business Studies, Business Analytics; Guia Calicdan-Apostle, associate professor of Social Work; Maria Castillo, instructor of Spanish; Lori Vermeulen, provost and vice president of Academic Affairs/tenured professor of Chemistry; Diane Holtzman, associate professor of Business Studies, Marketing; Marc Richard, associate professor of Chemistry; Kathy Klein, interim director of the Center for Learning Design; Roberto Castillo, learning designer and technology trainer; and Douglas Harvey, associate professor of Instructional Technology.
"Attending the Lilly conference with my Stockton colleagues was a great experience. I learned ways to promote student-centered active learning," said Fotia.
The group returned to Stockton willing to put their new skills into practice and share their learning with the Stockton community.
---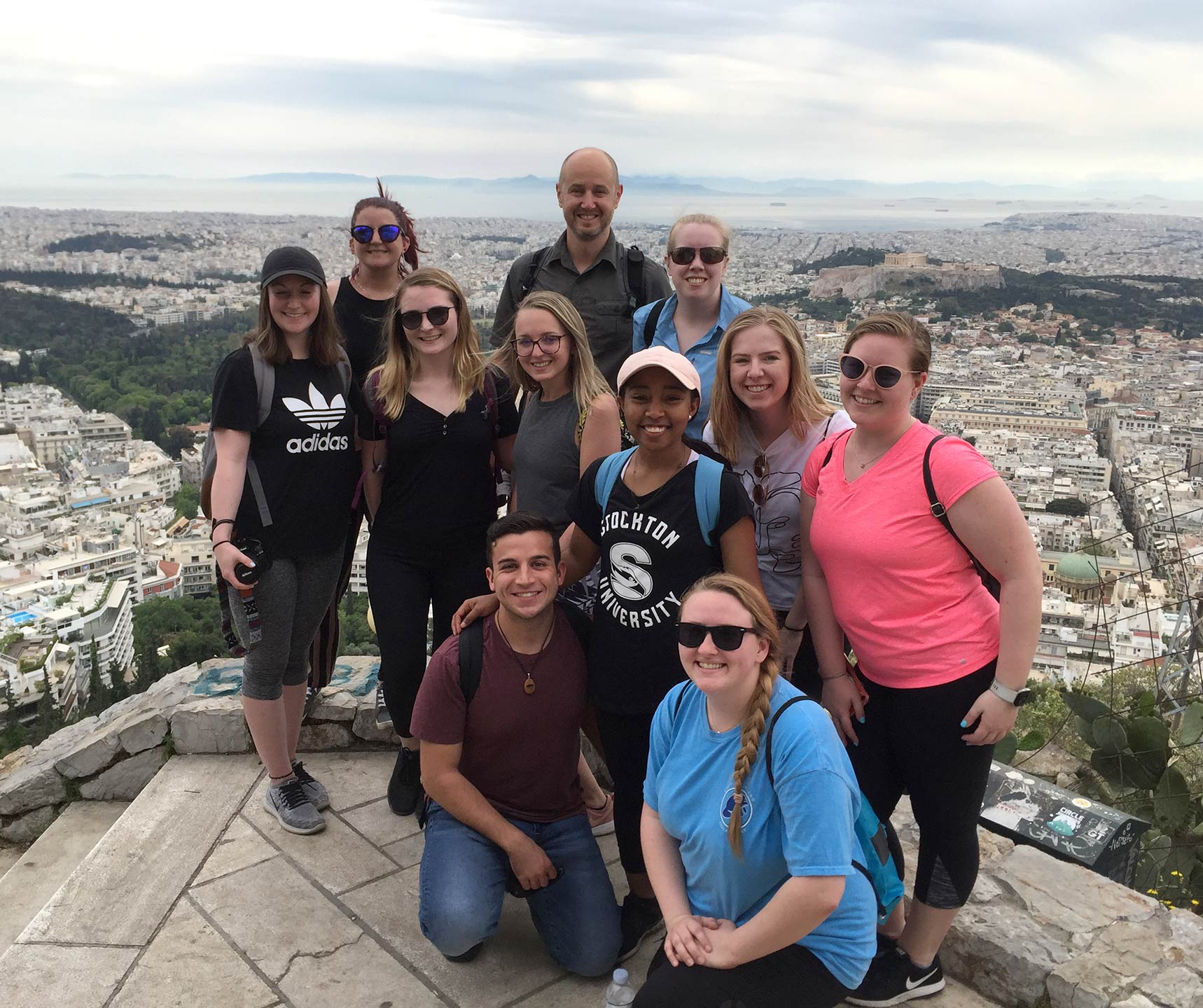 Students Broaden Perspectives Through Global Experience
Ten Stockton University seniors had the experience of a lifetime visiting Greece in May, as part of their Greece: Geography, Culture and Tourism course. The class, taught by Daniel Moscovici, associate professor of Environmental Science and Geology, focused on a variety of environmental aspects about Greece including cuisine, geography, urban-planning, wildlife, tourism, economics, culture, transportation, migration and culminated in an eight-day trip abroad.
---
CORRECTION: Lisa Cox, professor of Social Work and Gerontology, was incorrectly identified in a photo that accompanied a story highlighting her participation in the 31st National Conference on Social Work and HIV/AIDS that appeared in the June 21, 2019 Stockton News.
FRAME-WORTHY:
Picture Stockton...Students Holding History in their Hands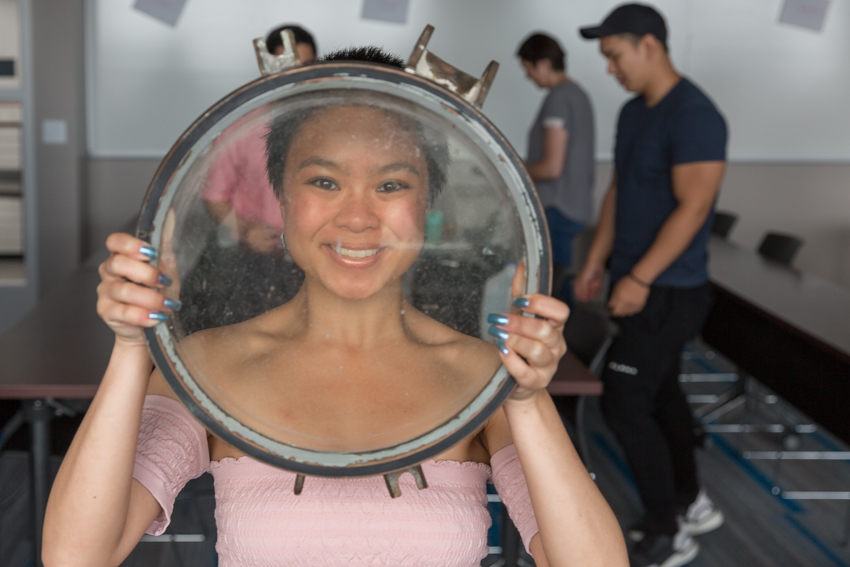 Marble doorknobs, a uniform button, glass beads, a porthole and other maritime artifacts sit on a table in front of students taking Stephen Nagiewicz's class "Impact of Shipwrecks on New Jersey Maritime History."
Coral decorates the smooth marble doorknobs that were cargo on the Brunette, a steamer that sunk on its way to Philadelphia in 1870.
The button fastened a Revolutionary War soldier's uniform.
WHAT'S TRENDING #STOCKTONU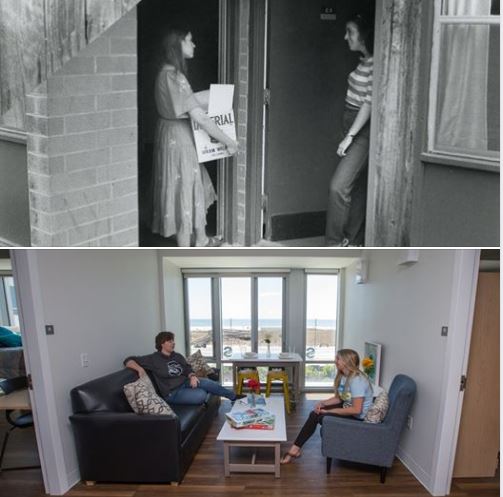 Facebook: #StocktonThenAndNow: Stockton University alumni shared where they lived during their time as an Osprey in the comments of this post.
---
Twitter: We challenge you to find all of the @48BlocksAC murals in #AtlanticCity. This Google map will help you find them all.
FROM THE SIDELINES
Intramural Recreational Council Announces Annual Award Recipients
Each year, the Intramural Recreational Council bestows three awards to members of the Stockton University community- The Dr. Vera King Farris Award, The G. Larry James Award and the Shannon Newberry Award.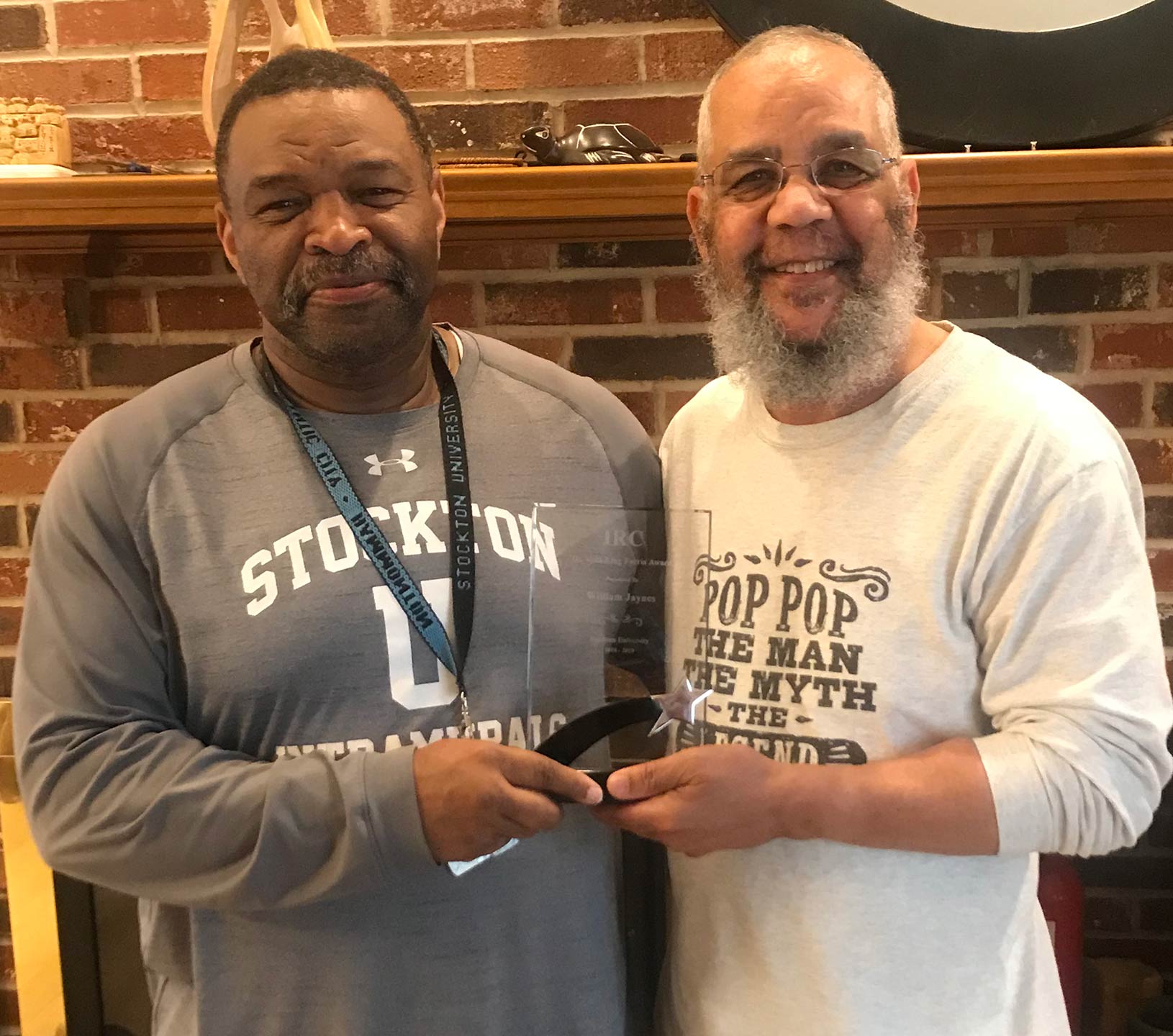 The 2019 Dr. Vera King Farris Award recipient was William Jaynes, Professor Emeritus of Social Work/African American Study. Jaynes was recognized at an invitation-only luncheon for former winners on May 28 organized by James Gwathney, coordinator for Intramurals and Recreation. The award was created in 2001 to commemorate a very selfless character within the University community. Donnetrice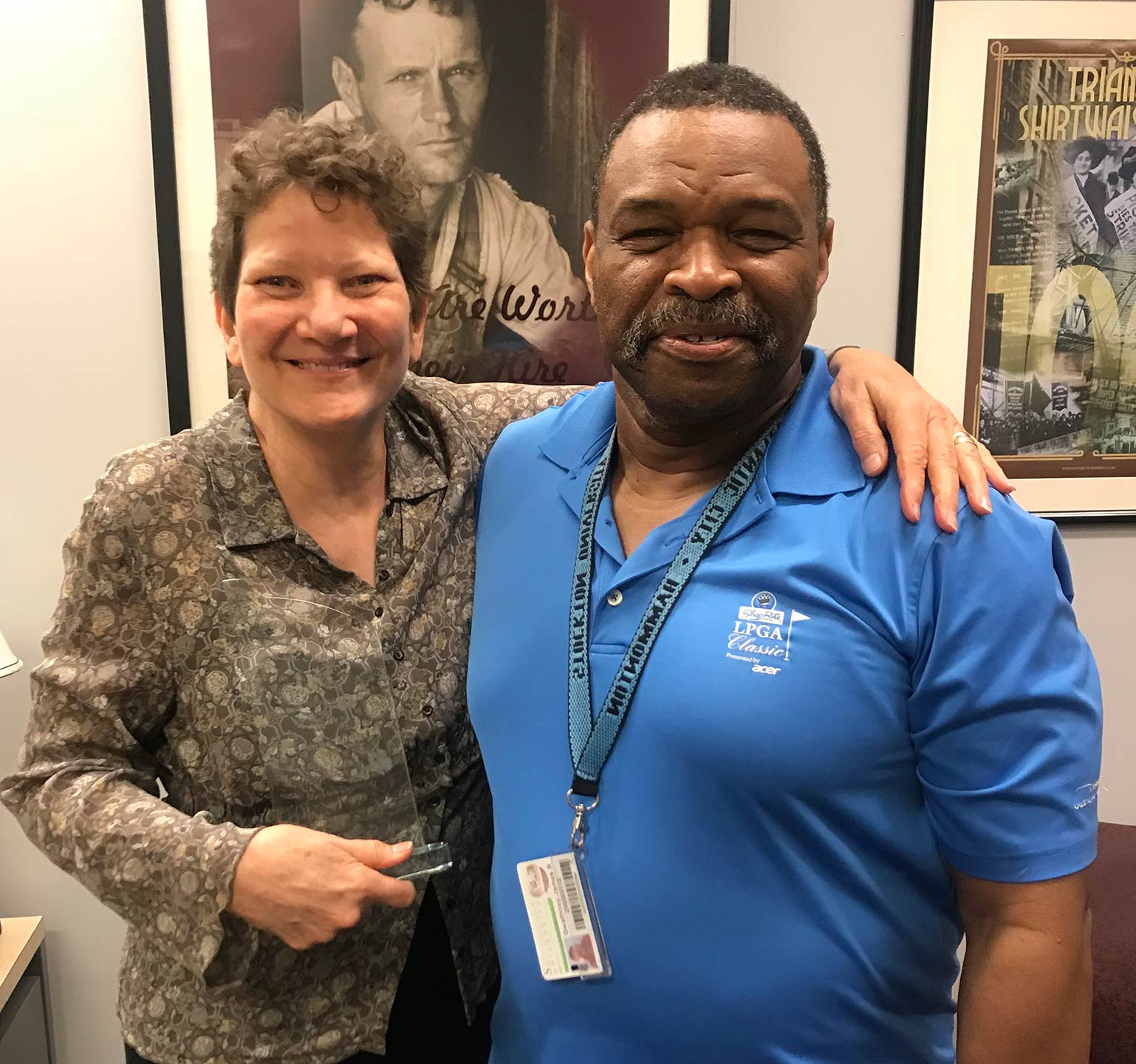 Allison, professor and coordinator of Africana Studies, and professor of Communication Studies, was the 2018 recipient.
The 2019 recipient of the Shannon Newberry Award was Anne Pomeroy, professor of Philosophy. This award is given to those who have proven their merit in their actions and have worked hard at making Stockton University a better place to learn, teach and have fun while doing it. The 2018 recipient was Todd Curll, head coach of Women's Track & Field.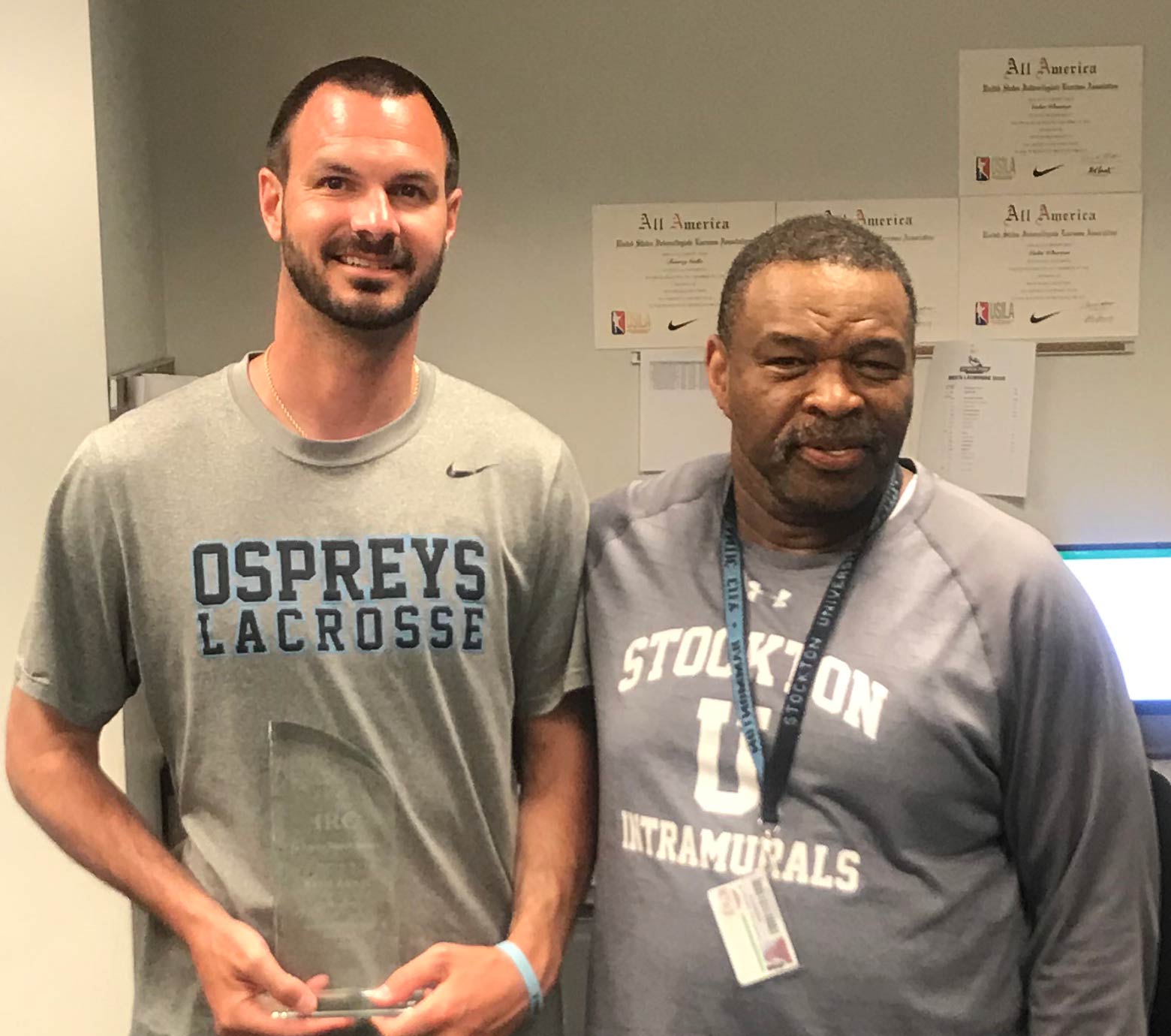 Kevin Zulauf, head coach of the Men's Lacrosse Team, received the 2019 G. Larry James Award, which commemorates a member of the IRC who excels in athletics, academics and charitable work. The 2018 winner was renowned Stockton athlete Jared Lewis.
OSPREY NOTES
Normal Academic Hours Next Week; Closed Thursday
As a reminder, the University will follow normal academic hours next week and will be closed for Independence Day on Thursday, July 4. All offices are open minimally from 8:30 a.m.- 5 p.m., Monday-Wednesday and Friday.
The Office of Development and Alumni Relations Launches OspreyConnect
The Office of Development and Alumni Relations launched OspreyConnect, an online network that provides a dedicated space for alumni and friends of Stockton to connect with each other. The network features a directory, job board, mentoring opportunities, events, groups and more.
Stockton graduates can sign up here. Feedback can be sent to alumni@stockton.edu.
ITS Monthly Tech Training Tip: Secure Passwords
Information Technology Services is sharing monthly tech training tips with the Stockton community. June's tip focuses on how to create a secure password, avoiding password pitfalls and choosing a good password. Learn more here.
Continuing Studies Offers a Variety of Courses this Summer
The University's Office of Continuing Studies is hosting a variety of classes for personal and professional enrichment, ranging from mindfulness and yoga to French and photography this summer. Learn more by visiting stockton.edu/cs.
UPCOMING EVENTS
Upcoming events hosted by the Office of Development and Alumni Relations
Monday, July 1: William J. Hughes Center for Public Policy and the Coastal Research Center at Stockton University second Jersey Shore Beach Report
Friday, July 5-Friday, July 26: Ducktown A.C. Summer Fest begins
Thursday, July 18: Pinelands Summer Short Course offers Kayak Trip, Blacksmithing Demo
Tuesday, July 23: Transfer Open House