Stockton News - Friday, June 26, 2020
WHAT WE'RE TALKING ABOUT
Over 400 Attend Juneteenth March for Justice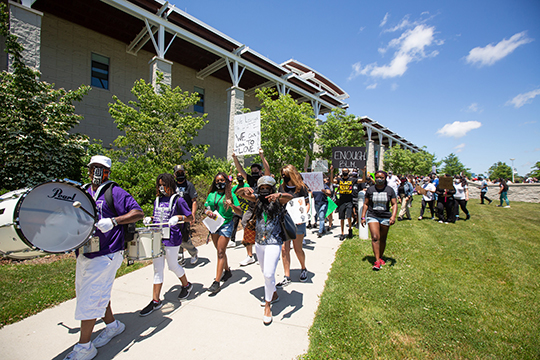 More than 400 students, faculty, staff, alumni and supporters of the Black Lives Matter movement gathered at Stockton University on Friday to celebrate Juneteenth with a March for Justice and a call to have their voices heard.
"We are hurting," said senior Danielle Combs, president of the Stockton chapter of the NAACP, who organized the event. "The best way to heal is to voice our concerns."
The three-hour event included speeches, a walk of eight laps around the track and eight minutes and 46 seconds of silence to commemorate the eight minutes George Floyd was held down on the ground by a police officer's knee on his neck until he died.
Combs read her poem, "I Can't Breathe," at the march. Watch her recite it here, sharing her Stockton voice.
📸 View a gallery of photos from the event on flickr.
📰 The Press of Atlantic City covered the march.
---
Shells Go from Restaurant to Reef to Restore the Bay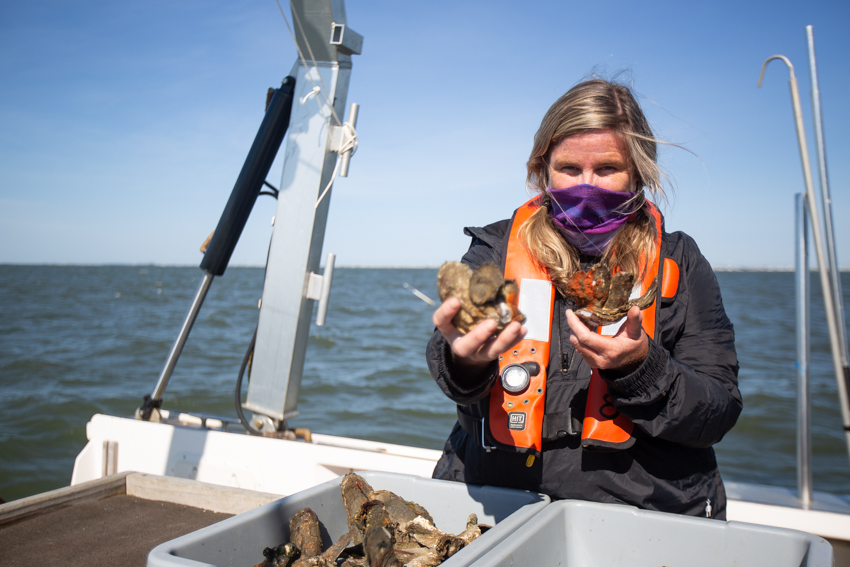 This June, a pile of recycled shells speckled with tiny growing oysters arrived at the Tuckerton Reef on a barge—enough to double the size of the two-acre reef that was first established in 2016.
The oyster is propelling the Barnegat Bay's ecological resurgence with help from Stockton University scientists, an oyster farmer, restaurants, storytellers and the community who are coming together to continue the expansion of an experimental oyster reef.
The restoration project recycles shells from Ocean County restaurants into temporary nursery tanks where oyster seed is planted. Once the larval oysters are growing on the shells, they are returned to the bay to sustain habitat for more oysters that cleanse the water as filter feeders, provide shelter for marine life and dampen the erosional forces of wave activity.
📰 The SandPaper featured the story.
WE'RE HERE TO HELP
Resources Available to Staff, Faculty During COVID-19
There are many resources and best practices being made available to staff and faculty working remotely that can be found by visiting Information Technology's website.
In addition to assistance with technology available from ITS, Stockton provides faculty and teaching staff with professional development, training, teaching ideas, resources and individual consultations via the Center for Learning Design.
The Office of Human Resources offers online Training Options for Stockton Employees. In case you missed it, this week's spotlight focuses on Bystander Training.
Additional resources include Training Options for Stockton Employees, Resources for Supporting and Leading Your Team in Challenging Times and Remote Work Best Practices – new resources added weekly for managers and supervisors; and Wellness & Self-Care Resources - new resources added weekly.
👉 University Relations & Marketing encourages all departments to use the project request form for all services, including graphic design. Currently, requests should be submitted two weeks in advance to ensure timely delivery
The two-week production window begins once URM receives all written and supplemental content that is needed for your project. For urgent requests, please contact Jessica.Cruz-Irwin@stockton.edu.
SPOTLIGHT ON: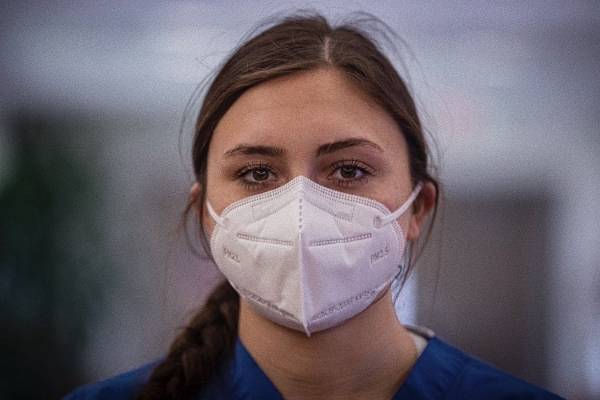 U.S. Air Force/Air National Guard Airman First Class Abby Guercioni of Galloway soared into action when assistance was needed at New Jersey's nursing homes in the wake of COVID-19.
Guercioni, a senior at Stockton, is a Munitions Systems specialist with the 177th Fighter Wing. From May 1-31, she served on Team Vineland with 30 other airmen, helping staff at the Veterans Memorial Home in Vineland with entry control, logistics, maintenance, cleaning and activities.
"I always try to do my absolute best in whatever I do, but knowing that the veterans and staff were putting all of their faith in us always kept me pushing myself to go above and beyond, and do more than what was asked of me," said Guercioni of her deployment.
As part of housekeeping duties, Guercioni disinfected frequently touched surfaces, in addition to sweeping, mopping and ensuring the nursing home was kept clean at all times.
"The most rewarding part of working at the Vineland Veterans Memorial Home was being able to talk to the veterans and listen to their stories when shared. Just knowing I made a difference in their lives and in the place they call home meant the world to me."
Guercioni is studying Communications with a focus in Media Production and Visual Communications with a focus in Graphic Design.
Photo on right by U.S. Air National Guard Master Sgt. Matt Hecht.
Guercioni was this week's #StopTheSpread feature.
WHAT'S TRENDING @ #STOCKTONU
Facebook:
We cannot let 🌈 Pride Month 🌈 pass without sharing a love story that is also a civil rights story. While battling cancer,
Laurel Hester
'78 was also fighting for justice for the one she loved. Her last wish was that her pension benefits from her career as a detective go to her legally acknowledged life partner, Stacie Andree.
🍃 Facebook: With the completion of Stockton's Unified Science Center 2, the University's newest greenhouse went live last year. This greenhouse has climate control, lighting control, water control and plenty of plants. Greenhouse expert Chrissy Schairer was a guest for a tour of Stockton's USC 2 greenhouse.
FROM THE SIDELINES: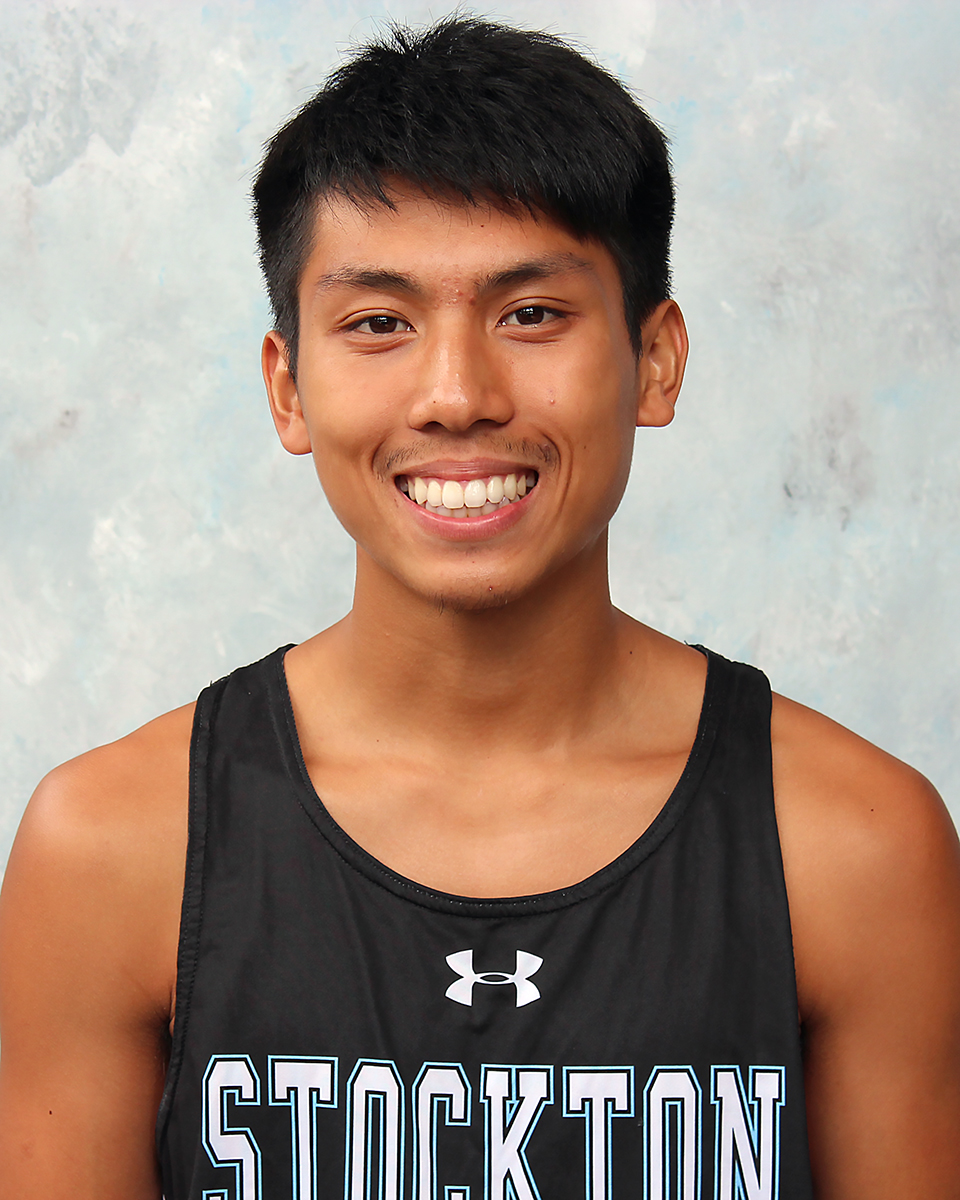 Do Voted to CoSIDA Academic All-America Third Team
Stockton University junior Daniel Dowas voted to the CoSIDA Academic All-America Division III Men's Cross Country/Track & Field Third Team by the College Sports Information Directors of America (CoSIDA). Do boasts a perfect 4.0 grade point average with majors in Biochemistry/Molecular Biology and Chemistry.
Do competes in cross country and track & field for Stockton. He became the 16th Stockton student-athlete to earn a CoSIDA Academic All-America honor and seventh to receive Academic All-America status in cross country/track & field, the last being Jared Lewis in 2018.
📰 The Press of Atlantic City featured Do's recognition.
OSPREY NOTES
University Closed July 3; Summer Schedule Reminder
As a reminder, the University will be closed Friday, July 3, in observance of Independence Day on Saturday, July 4.
The optional four-day summer work schedule will begin Monday, July 6, and continue through Friday, Aug. 7. The University will be open on Fridays, and managers will work with employees to ensure departments are covered. For more detailed information, visit here and click on "Summer Hours."
Participants Sought for COVID-19 Impact Survey
Stockton University faculty are collaborating on a research study on public response to the COVID-19 pandemic and how it has shaped the lives of people around the world.
The researchers are looking for a broad range of people ages 18 and older to take the online survey at COVID-19 International Survey. It should take about 20 minutes to complete.
"We want people from all walks of life to help us gain a deeper understanding of this important public health issue, and its political and social ramifications, both domestically and internationally," said Stockton Associate Professor of Criminal Justice and principal investigator of the study, Manish Madan.
Upcoming Events Hosted by the Office of Development and Alumni Relations
🌎 Live Streams with Stockton Scientists
July 9 - Aug. 27:French for Adults
July 9 - Aug. 13: Social Work Series
July 13 - 27:Photography Essentials
July 14:Learn to Make Wine
July 15:Four Seasons at Forsythe