Stockton News - Friday, June 21, 2019
WHAT WE'RE TALKING ABOUT
Atlantic City Council Recognizes Homework Program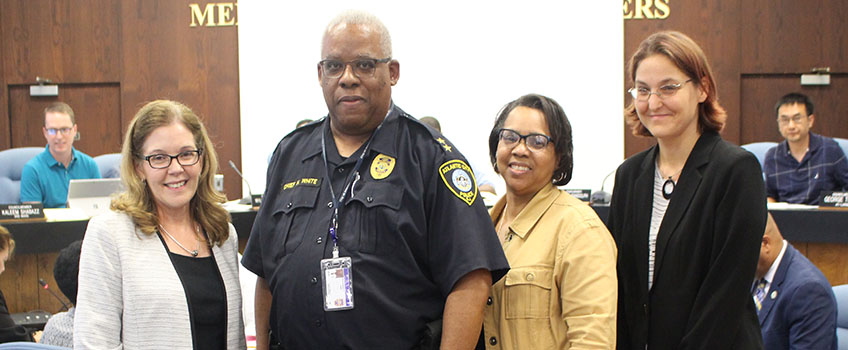 The City Council of Atlantic City unanimously approved a resolution on June 19 recognizing the Stockton Center for Community Engagement, the Atlantic City Police Department and the Atlantic City Housing Authority for their partnership in Homework Completion Project at two housing complexes in the city.
---
Research Finds Exercise Has Similar Effect as Opioids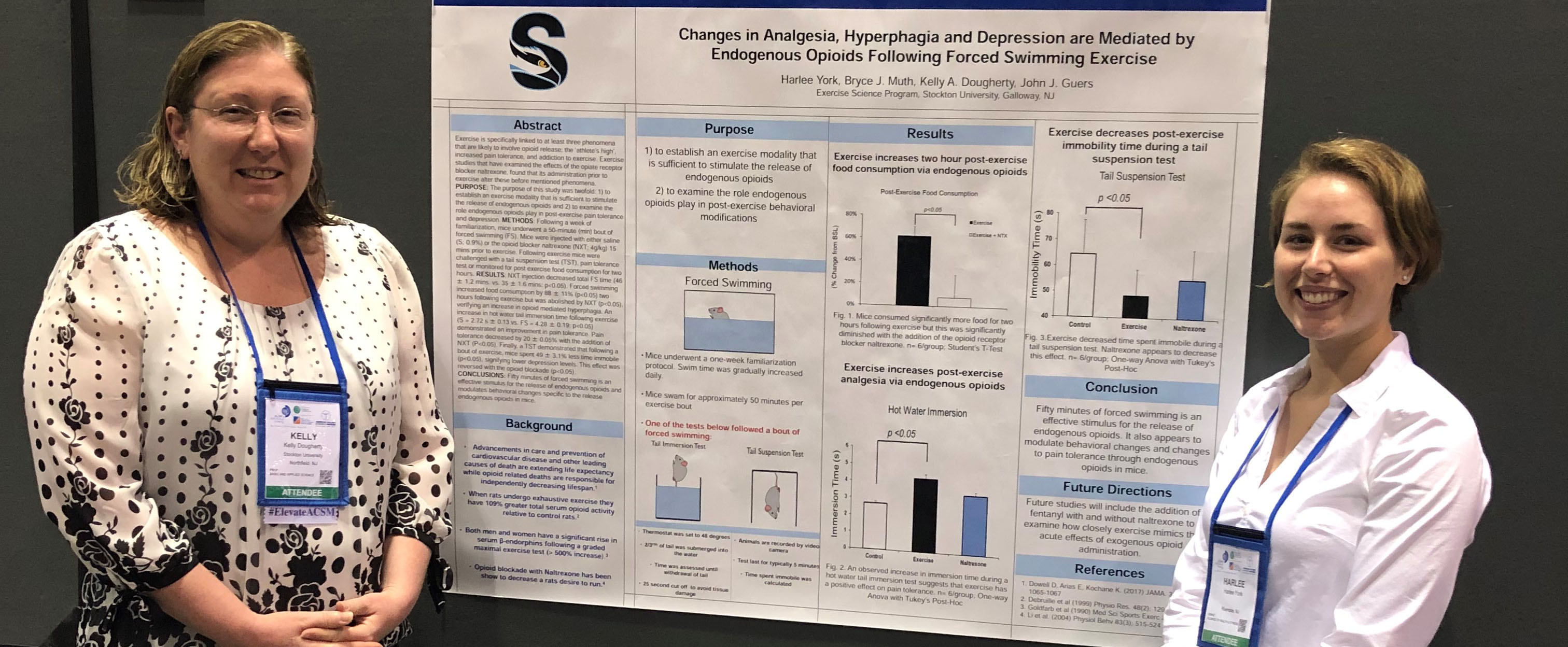 Can exercise have the same effect on anxiety, depression and pain tolerance as an opioid?
Stockton University junior exercise science major Harlee York (pictured right) from Riverdale, New Jersey presented her addiction research at the American College of Sports Medicine's 66th Annual Meeting May 28 to June 1 in Orlando, Florida. She is the first undergraduate student in Stockton's Exercise Science program to present at a national meeting.
---
Stockton Holocaust Resource Center Presents at International Summit on Resilience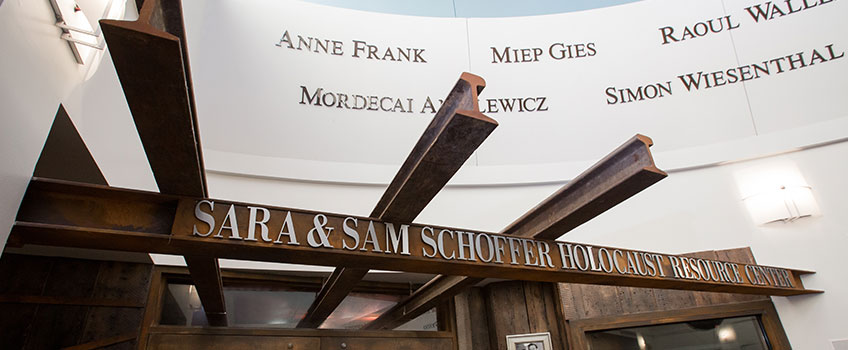 Building resilience begins with empathy and an understanding of the past.
A panel representing the Sara and Sam Schoffer Holocaust Resource Center shared their experiences and how they are inspiring future generations with an audience of international leaders in academia, law enforcement, cybersecurity, government and communications at the Building Resilience Summit June 12 at Stockton University Atlantic City. Robert Gregg, dean of the School of General Studies, moderated the discussion.
Atlantic City attorney Lee Levine and Rabbi Francine Roston from Whitefish, Montana were honored for their support of the fight against terrorism at the summit.
STOCKTON UNIVERSITY ATLANTIC CITY
Middle and High School Students Complete College Bound Program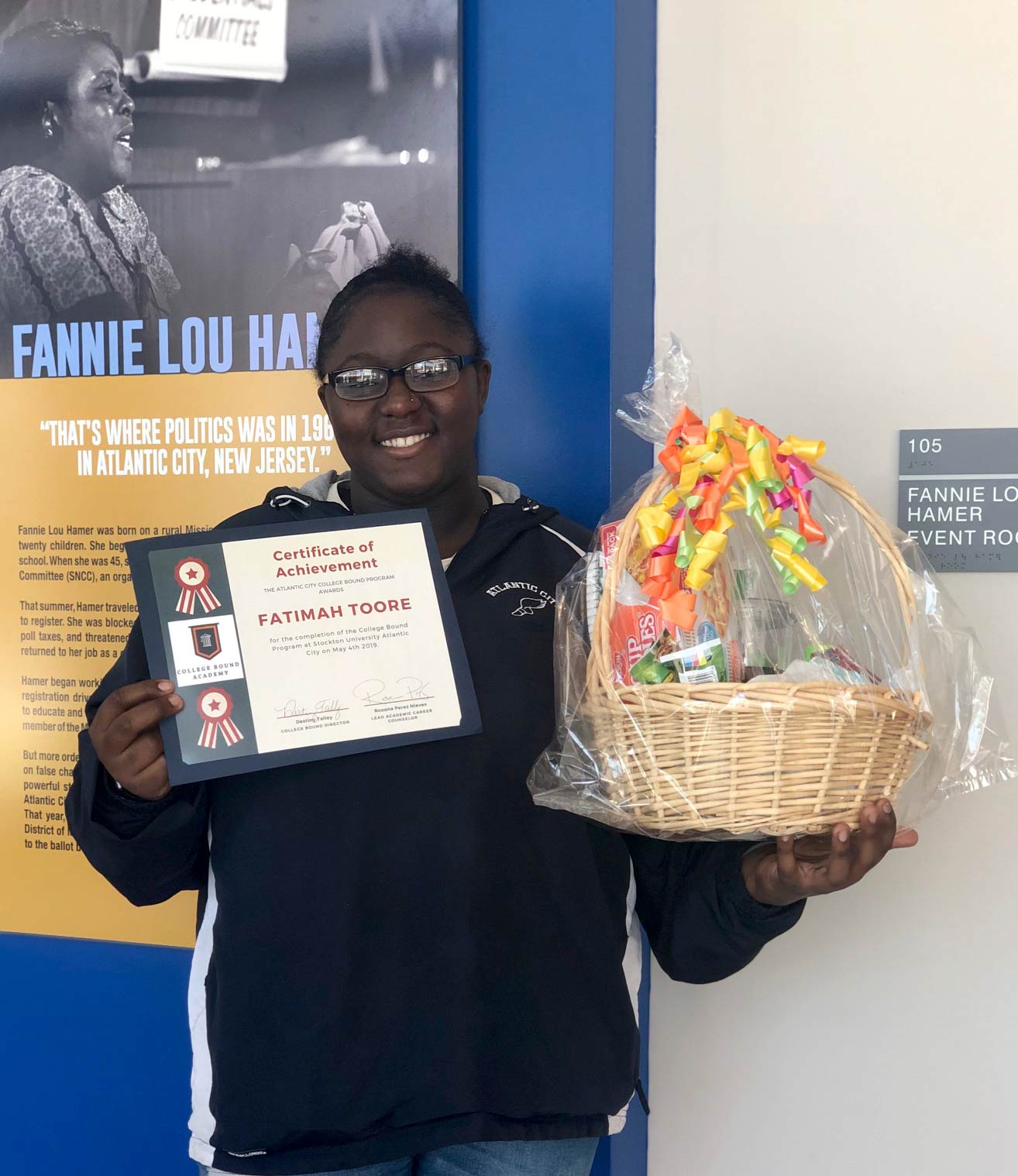 More than 60 Atlantic City and Pleasantville students in grades 7-12 that applied and were chosen to be part of Stockton's inaugural College Bound Program received recognition during a closing ceremony on May 4. The ceremony honored the students' hard work and perseverance during the program, as well as celebrated the graduating seniors. The program, which began on March 2, took place on Saturdays throughout the spring at Stockton University Atlantic City, providing students with the academic support necessary to enter and succeed in postsecondary education.
Among the resources offered through the program, students were provided with one-on-one mentoring and educational field trips that helped broaden their educational horizons. In addition, Roxana Perez Nieves, the lead academic/career counselor for the College Bound Program, conducted weekly on-site activities and lessons with College Bound students at their schools to supplement the support offered during Saturday programming. Perez Nieves is an Atlantic City High School graduate, as well as a Stockton/EOF alumna, so she brings a personal passion to this initiative and community being served.
"We're excited and extremely proud to have been able to bring the College Bound Program to youth in the Atlantic City area for the first time," said Perez Nieves. "Not only are our College Bound scholars able to access the academic resources that Stockton has to offer, but they're also getting exposure to leadership building and life skills opportunities that will support them in achieving their academic, personal and professional goals."
A summer enrichment program is scheduled to run June 24-July 18.
PHOTO: Fatimah Toore holds her Certificate of Achievement from the closing ceremony of the College Bound Program on May 4.
---
Catch a Movie June 25 at Stockton University Atlantic City
"Summer Cinema in the City" is featuring Captain Marvel at 6 p.m. on Tuesday, June 25, in the Stockton University Atlantic City residential classrooms B119/120. Attendees are asked to bring their Stockton IDs.
SPOTLIGHT ON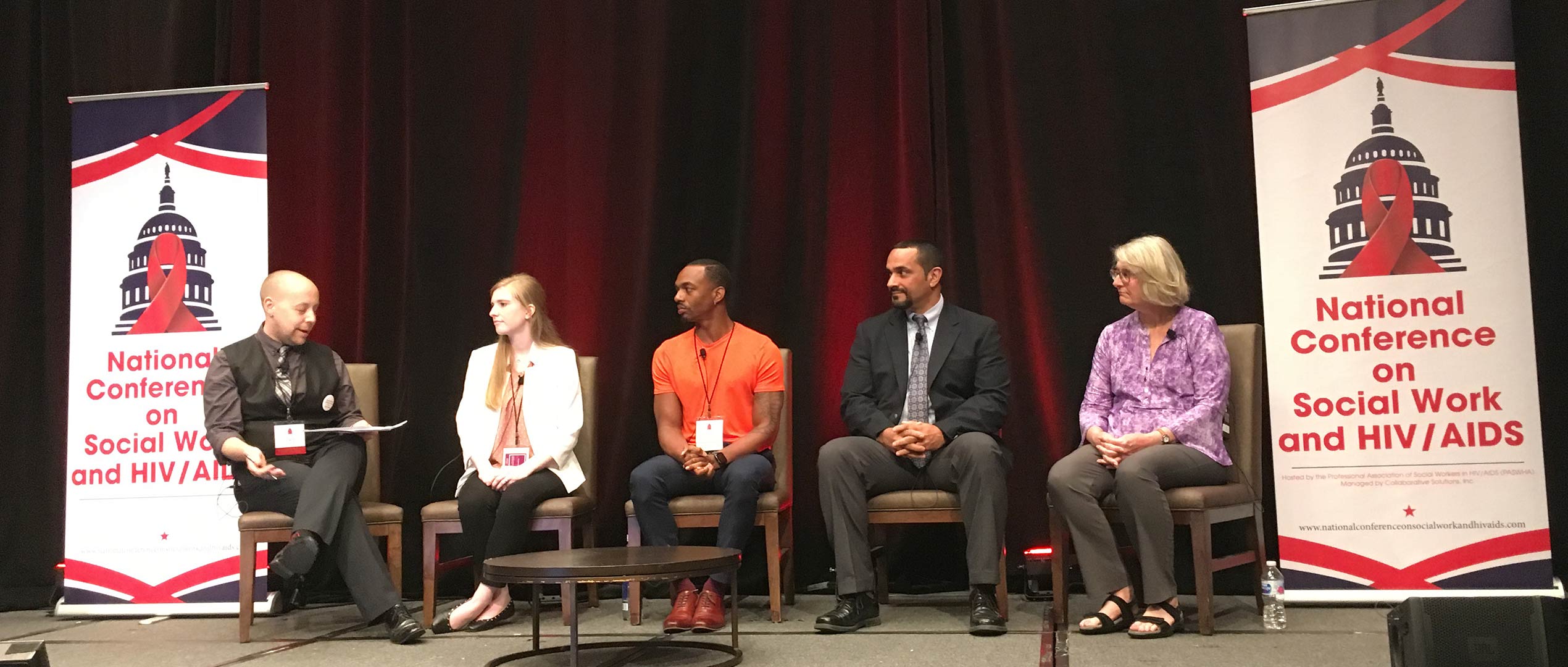 Cox Presents at National Conference on Social Work and HIV/AIDS
Lisa Cox, professor of Social Work and Gerontology, participated in the 31st National Conference on Social Work and HIV/AIDS, held May 22-25 at the Capital Hilton in Washington, D.C.
On Friday, May 24, Cox co-presented two 75-minute workshops. She was lead presenter during the "Using 'the Arts' to enhance HIV education and culturally humble practice" workshop and co-presented the "Implicit Bias, ethical dilemmas, and social work policy-practice" workshop.
On Saturday, May 25, Cox was invited to participate in the special closing Plenary session "Why HIV?: Social Workers' Generational Journey (1980-2000s)" that featured experts from different decades and career stages to share their experiences in the field of HIV/AIDS.
"The 600-plus people who attended the plenary, along with the hundreds who attended my workshops were inspiring and easy to engage. These helping professionals were noticeably passionate about their work and advocacy efforts on behalf of people living with HIV disease; and they understood how HIV/AIDS is the result of poverty, racism, homophobia, social isolation and stigma," Cox said.
---
Onel Attends Transformative Consumer Research Conference; Presents Research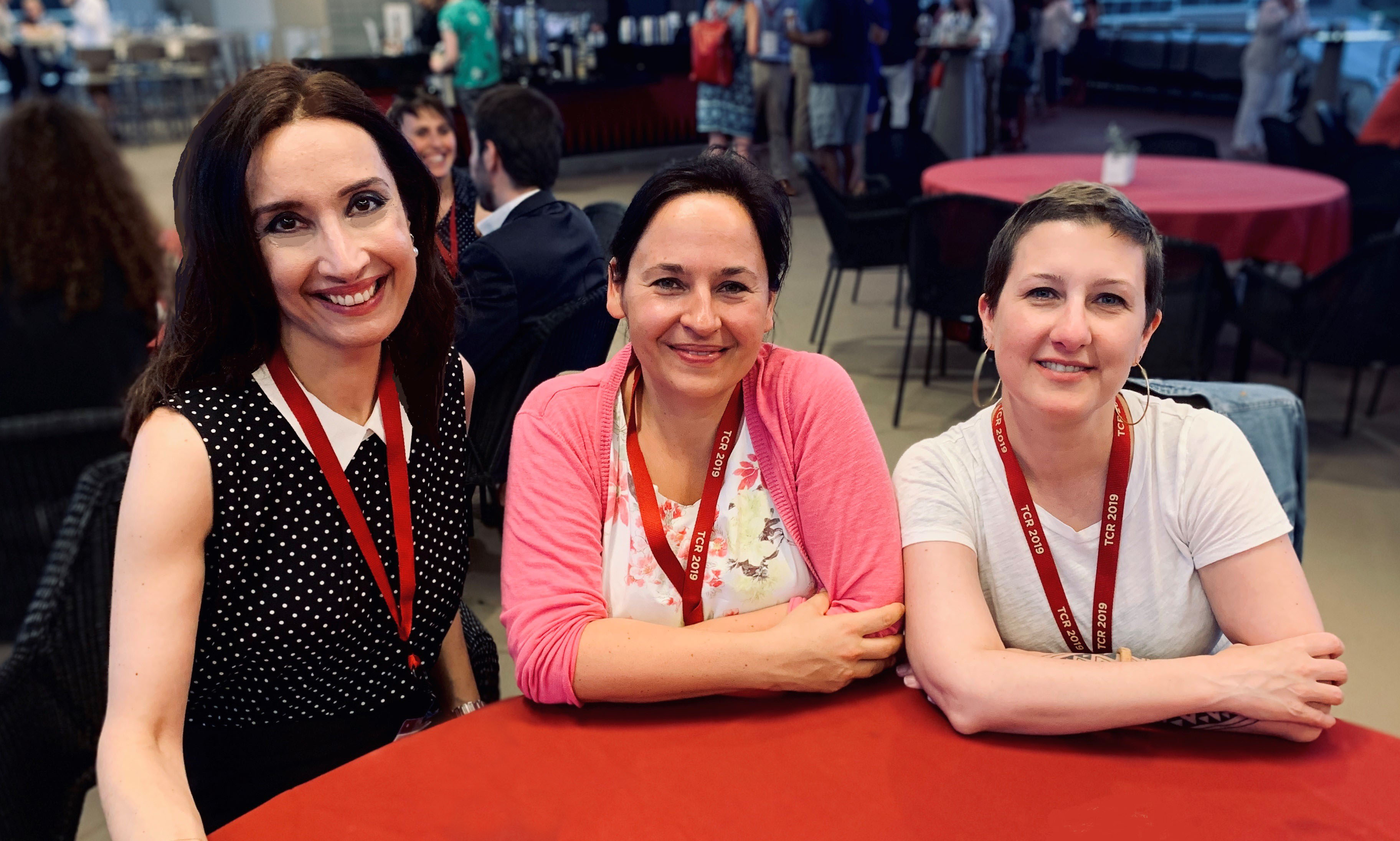 Naz Onel, assistant professor of Business Studies at Stockton University, attended the Transformative Consumer Research Conference, May 19-21, at Florida State University. At this dialogical conference, Onel was the Track Chair for the research, "Intricacies of Waste: Examining Consumer Responses to Planned Obsolescence." The tracks were chosen after a competitive proposal submission and review process.
In addition to working on this research with her track team, Onel attended a workshop "Looping through Transformative Research, Education, and Societal Impact: An Immersive, Interactive Workshop" and worked with researchers from all around the world.
"My ongoing research studies aim to engage with the environment in its broadest sense, considering the interconnection of economic, ecological, and social elements with an interdisciplinary emphasis. To me, it is very important to have a wider impact on the environmental and societal well-being with my consumer behavior and business sustainability research studies and that's the reason I attend the TCR Dialogical Conference," Onel said. "The previous one was at Cornell University with a research team that I chaired, which resulted in a reputable refereed journal publication in Psychology & Marketing. With the current research on consumer perceived obsolescence, we are aiming to submit our work to the TCR special issue of JPP&M."
PHOTO: Onel, left, pictured with her track members.
FRAME-WORTHY:
Stockton Supports Atlantic City Police Department at Spring Fling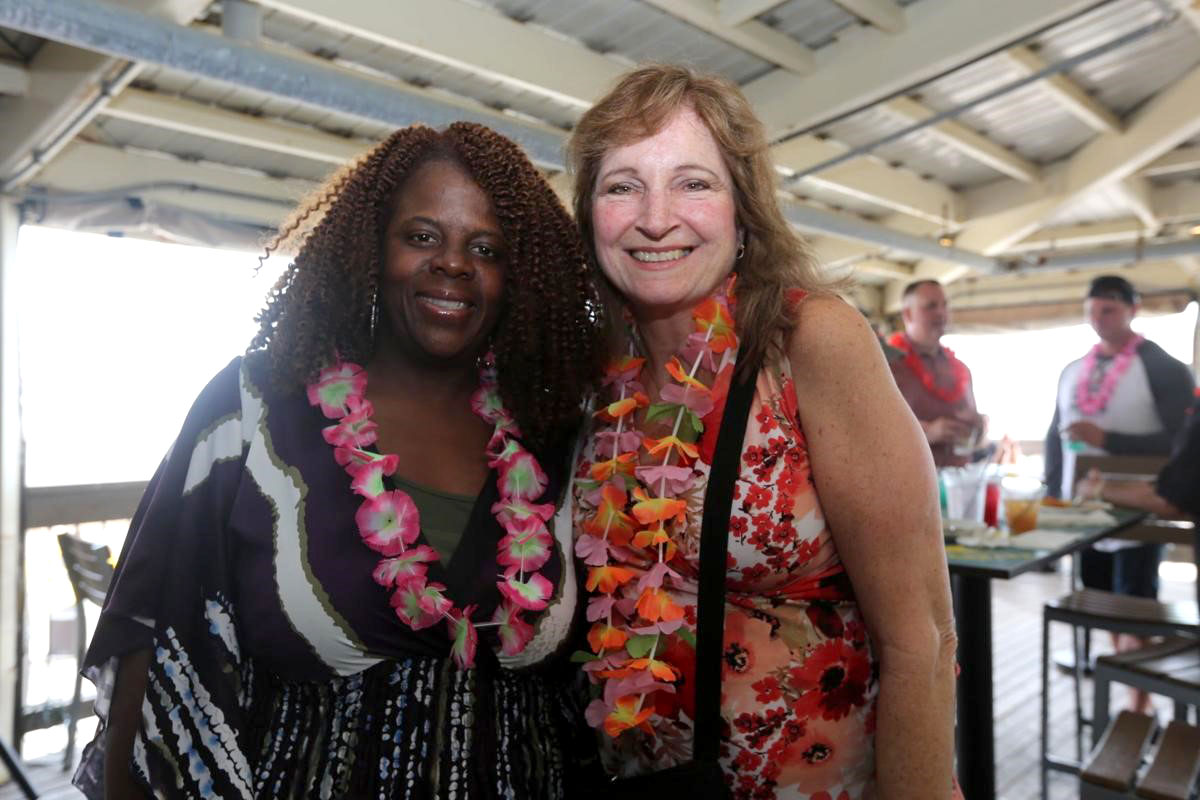 First Lady Lynne Kesselman and friend Grace Wiggins, wife of director of Campus Public Safety Adrian Wiggins, attended the Atlantic City Police Foundation's third annual Spring Fling on June 17 at Landshark Bar and Grill on the Boardwalk at Resorts Casino Hotel.
The event, which raises money to support the Atlantic City Police Department, featured live music, a 50/50, and a raffle for a Harley-Davidson motorcycle. The proceeds also go towards community policing initiatives.
WHAT'S TRENDING #STOCKTONU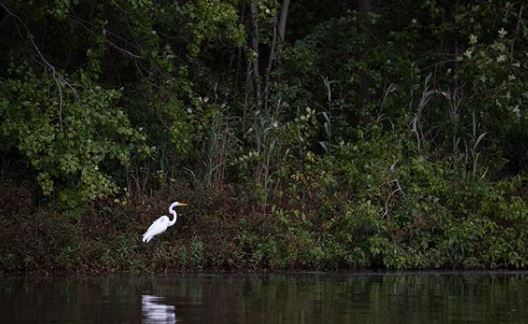 Instagram: June is National Great Outdoors month, and although we here at Stockton celebrate this just about every day of the year — due to our incredible location within the picturesque NJ Pinelands — we're celebrating a little extra this month!
---
Facebook: #MotivationMonday: Work-life balance, creating happiness and a growing mindset are the topics of Motivational Monday classes at The Sam Azeez Museum of Woodbine Heritage of Stockton University this August.
'ROLE' CALL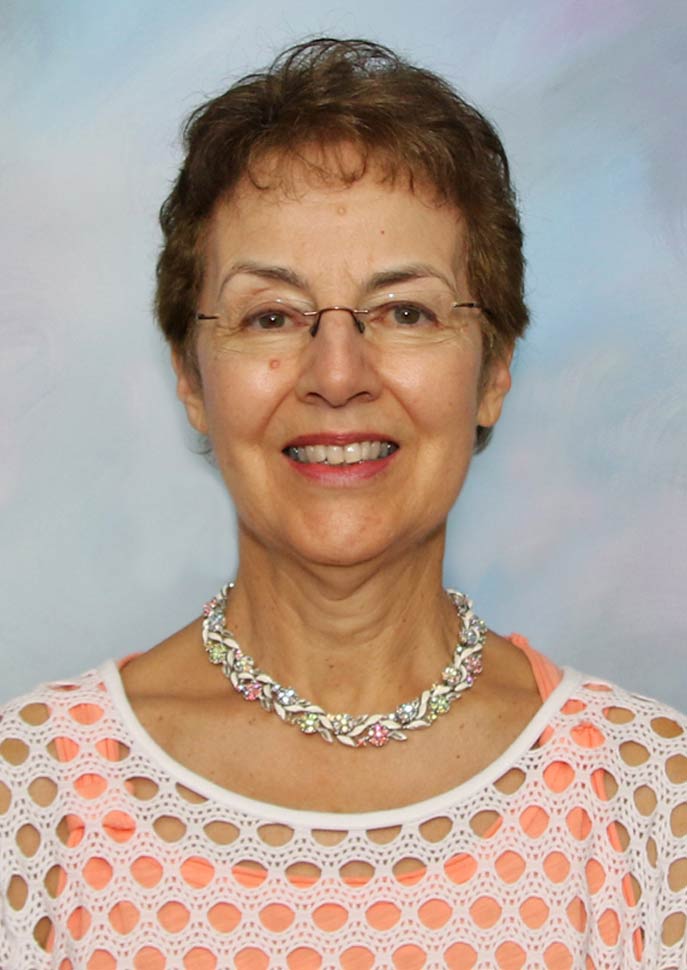 Jeanne Lewis, director of Financial Aid, is retiring after 47 years of service, effective June 30. Her future plans include traveling to Florida, enjoying time with family and joining organizations.
OSPREY NOTES
Final Strategic Planning Summer Learning Session June 27
Dates and times for the Strategic Planning Summer Learning Sessions have been announced- Hall of Fame: Inclusive Student Success, 11 a.m.-4:30 p.m., Thursday, June 27, at Lakeside Lodge. Sign up for the session here.
A new Strategic Plan draft is available for review and can be accessed by logging into your GoStockton portal.
Choose Summer at Stockton
Stockton's summer sessions are open to undergraduate and graduate students enrolled in degree programs, non-matriculated students, and students currently enrolled at other institutions who wish to study during their summer break and transfer Stockton credits.
UPCOMING EVENTS
Upcoming events hosted by the Office of Development and Alumni Relations
Friday, June 21-Sunday, June 23: Celebrate "48 Blocks Atlantic City" June 21-23
Monday, July 1: William J. Hughes Center for Public Policy and the Coastal Research Center at Stockton University second Jersey Shore Beach Report
Friday, July 5-Friday, July 26: Ducktown A.C. Summer Fest begins
Thursday, July 18: Pinelands Summer Short Course offers Kayak Trip, Blacksmithing Demo
Tuesday, July 23: Transfer Open House