Stockton News - Friday, June 14, 2019
WHAT WE'RE TALKING ABOUT
Faith-Based Terrorism Requires an International Response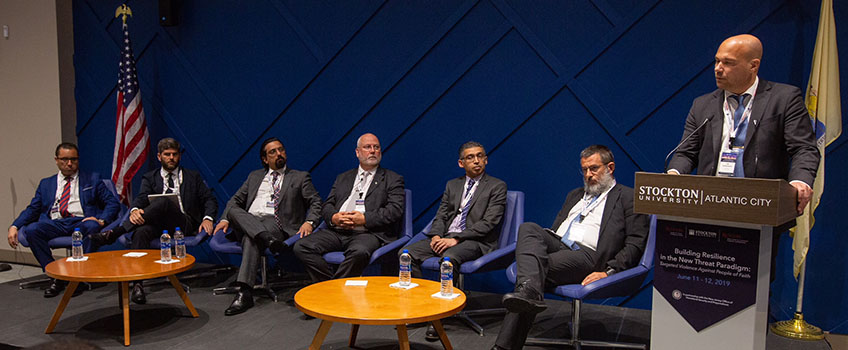 Faith-based terrorism is an organized international movement that requires an organized international response, experts from several countries told participants at a two-day conference at Stockton University Atlantic City on June 11-12 that included an on-site tabletop exercise at St. Augustine Church.
"We made a big strategic mistake thinking we are just dealing with hooligans," said Saad Amrami, chief commissioner and policy advisor of the Belgian Federal Police. "They are looking to build political power. We need to change the paradigm."
The Press of Atlantic City also covered the conference.
---
The Hidden Treasures of Stockton's 'Special Collections'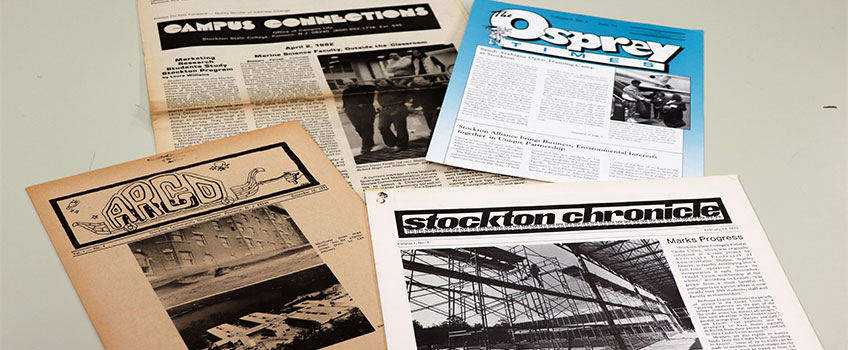 Tucked into the lower level of the Bjork Library, Stockton University's Special Collections is full of fascinating stories about South Jersey.
From historic papers to maps, photos and film, the collection has a wealth of information divided into four categories: Stockton University history, South Jersey history, rare books and government documents.
Not quite sure where to find it? Check out a quick tour included in this Instagram highlight.
STOCKTON UNIVERSITY ATLANTIC CITY
Jackson Wins 'Best Amateur Chef' for Osprey Truffles at Fundraiser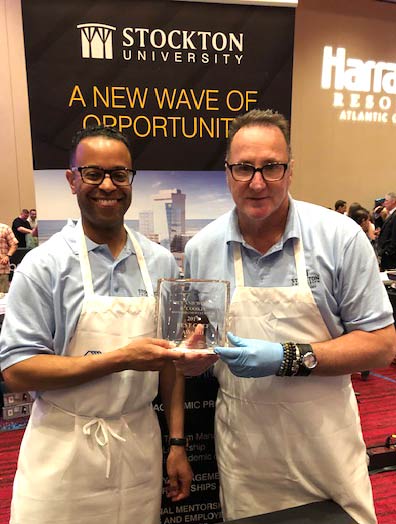 Brian Jackson, chief operating officer of Stockton University Atlantic City, had a pretty sweet experience representing Stockton on June 5 at the 2019 Men and Women R' Cookin fundraiser at Harrah's Casino Resort in Atlantic City. He won the accolade of Best Amateur Chef for the 1,500 "Osprey Truffles" he created and served, alongside his husband, Michael Baker.
Over 600 people attended the event, which supports programs and services at the Boys and Girls Club of Atlantic City.
PHOTO: Jackson, left, holds his award alongside Michael Baker.
SPOTLIGHT ON
Burdick Receives 2019 Clark Tibbitts Award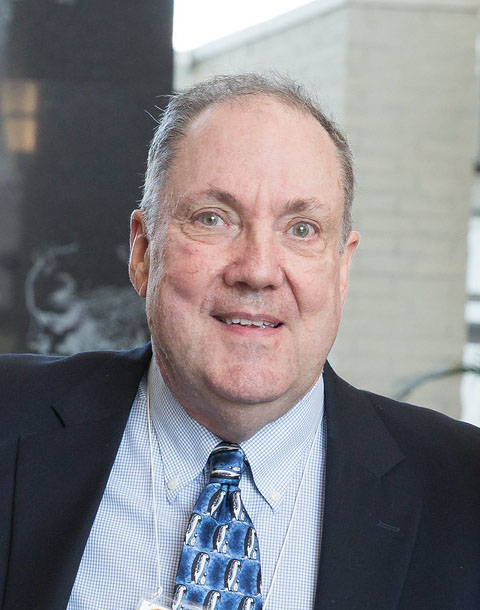 David Burdick, professor of Psychology, received the 2019 Clark Tibbitts Award from the Gerontological Society of America (GSA). He will be given an engraved plaque and will present a lecture at the GSA Annual Scientific Meeting from Nov.13-17 in Austin, Texas. Burdick will also be featured in GSA's Gerontology News publication.
---
MSW Professor, Students Study How to Best Serve Atlantic City Residents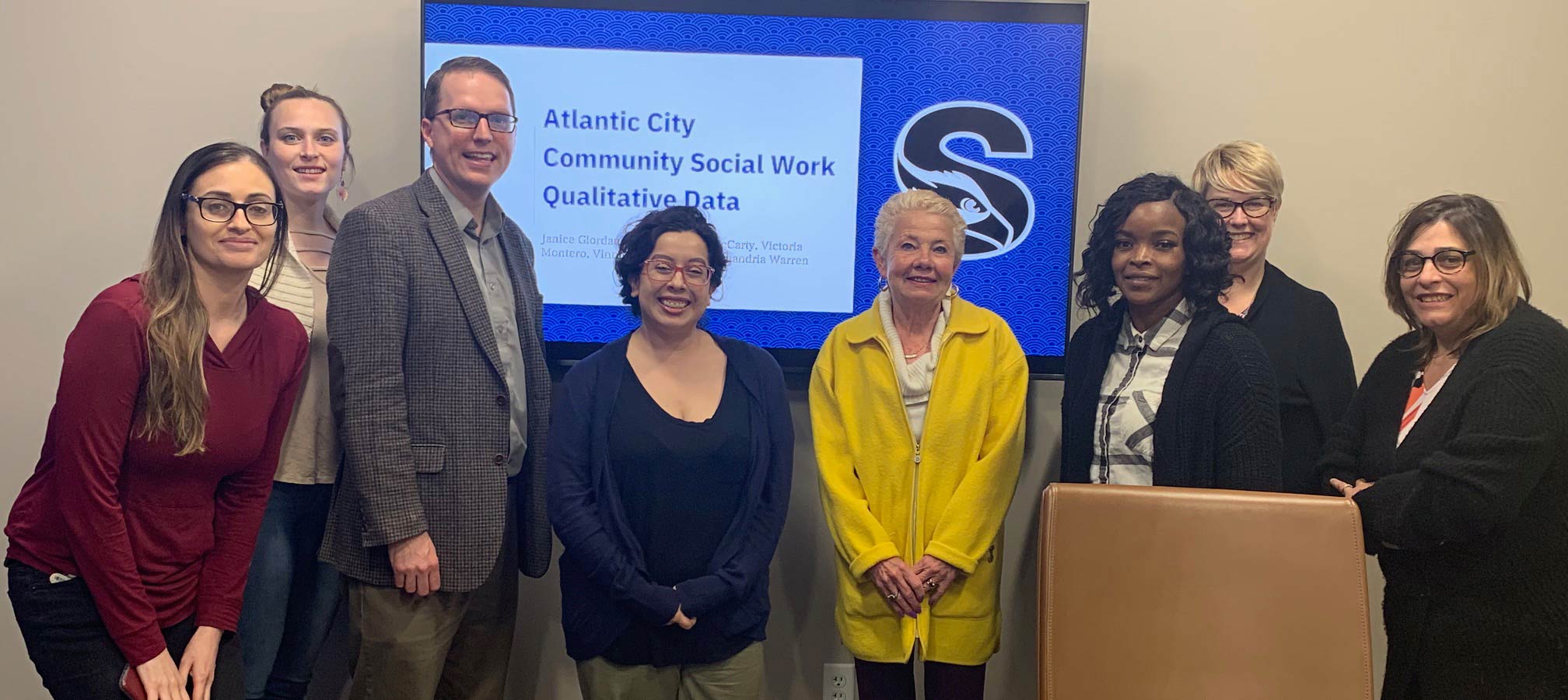 This spring, Jenny Dunkle, assistant professor of Social Work, conducted an independent study related to community social work with five Master of Social Work students. Their goal was to learn more about social services in Atlantic City. The group spoke with several local social service providers, faculty members and community activists to gather this information. The students involved with the study were Janice Goirdano-Gillen, Victoria Montero, Quandria Warren, Vinnie Pizzimenti and Kristen McCarty.
"We wanted to know how our University and MSW Program could best support the city's most vulnerable residents," Dunkle said.
On May 1, they shared what they learned from their research with Atlantic City Councilman Jesse Kurtz.
"The councilman stayed for almost two hours listening to us and sharing his ideas with the students. It was a very positive dialogue providing the students with a real-life policy advocacy opportunity," Dunkle said.
PHOTO: From left to right, Victoria Montero, Kristen McCarty, Councilman Jesse Kurtz, Vinnie Pizzimenti, Quandria Warren, Jenny Dunkle and Janice Giordano-Gillen.
FRAME-WORTHY:
2019 HAAC Youth Leadership Summit Inspires Motivation in High School Students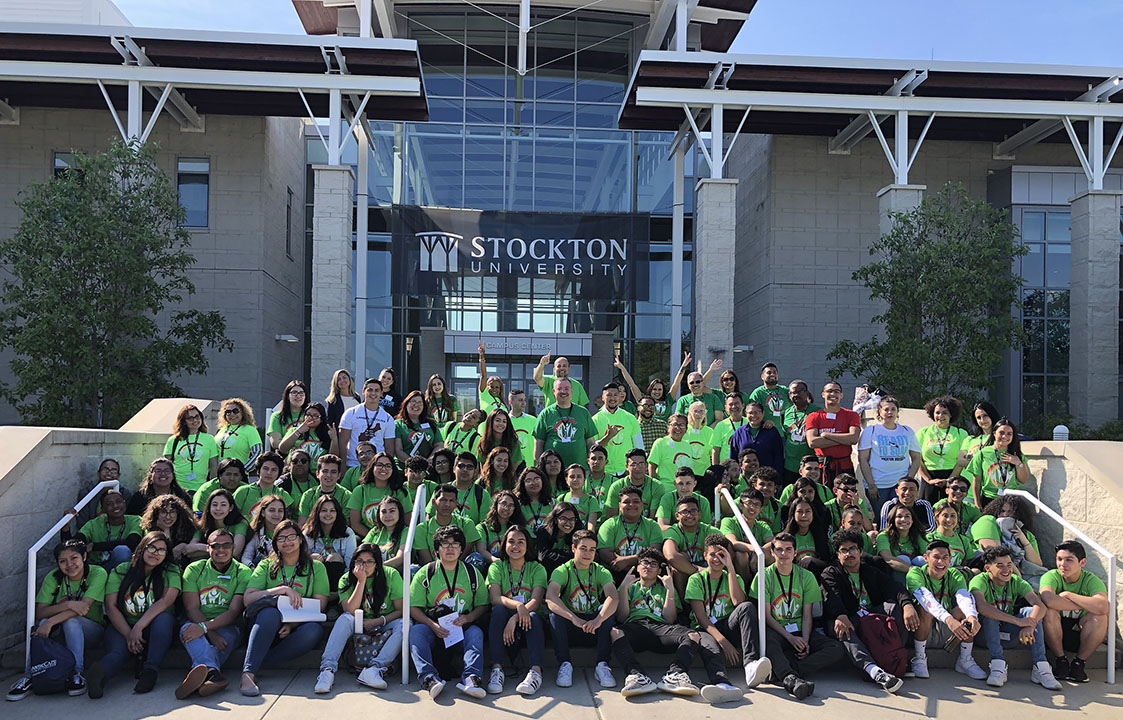 The Hispanic Association of Atlantic County (HAAC) hosted the 2019 Youth Leadership Summit on May 18 at Stockton University's Galloway campus. The day-long event aimed to motivate Latino high school students throughout Atlantic County to finish high school and provide them with the tools and skills necessary to access a college education, develop leadership skills and promote career exploration.
Over 120 people attended including 63 student leaders, educators, college mentors and volunteers from Stockton and the surrounding community.
"Unleashing Your Inner Potential" was the theme incorporated into the leadership development workshops, and the panel discussion with distinguished Latino professionals from various sectors of the workforce including the Superior Court, Univision Television Network and the FBI. The day ended with a Fiesta Night including a talent show and award ceremony.
"We thank the planning committee for their tireless work, our educators who took time on their Saturday to bring their students, our phenomenal speakers and our sponsors for making this event possible," said Jessica Grullon, assistant director of Admissions at Stockton. "We have almost 20,000 Latinos in Atlantic City alone and have been overwhelmed with positive feedback from our school partners. We already have a list of high school students throughout the county interested in participating should we host the summit next year."
WHAT'S TRENDING #STOCKTONU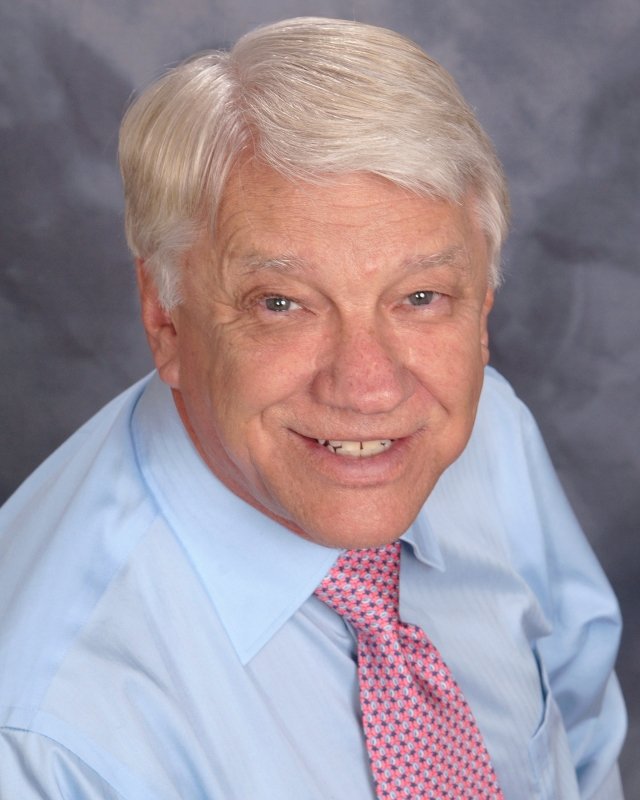 Facebook: This post highlights John White, professor of Psychology, being a featured speaker at CrimeCon 2019 in New Orleans. White is a former investigator sergeant in the Psychological Services Office for the Dallas Police Department and now consults with law enforcement on sex crimes and homicides, in addition to teaching forensic psychology at Stockton.
---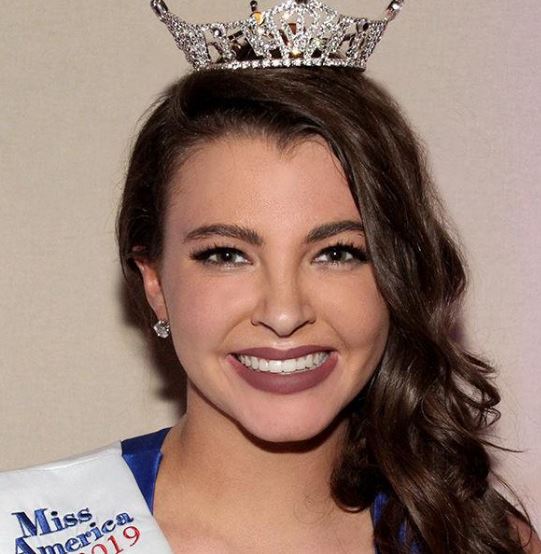 Twitter: Things get solved when you get involved. That is Miss North Jersey Abby Dell'Aglio's platform for the 2019 Miss New Jersey Pageant. The rising sophomore Psychology major will compete on June 15 in Atlantic City. Best of luck, Miss North Jersey!
OSPREY NOTES
Strategic Planning Summer Learning Sessions Announced
Dates and times for the Strategic Planning Summer Learning Sessions have been announced: Rock 'Enroll' is Here to Stay: Strategic Enrollment Management, 9:30 a.m.-3:30 p.m., Wednesday, June 19, in the TRLC; What a Wonderful World: Teaching and Learning, 9:30 a.m.-3:30 p.m., Thursday, June 20, in the Campus Center Event Room; Hall of Fame: Inclusive Student Success, 11 a.m.-4:30 p.m., Thursday, June 27, in Room 101 of the Unified Science Center 2. Sign up for these sessions here.
A new Strategic Plan draft is available for review and can be accessed by logging into your GoStockton portal.
Choose Summer at Stockton
Stockton's summer sessions are open to undergraduate and graduate students enrolled in degree programs, non-matriculated students, and students currently enrolled at other institutions who wish to study during their summer break and transfer Stockton credits.
UPCOMING EVENTS
Upcoming events hosted by the Office of Development and Alumni Relations
Tuesday, June 18: Transfer Information Session, Stockton University at Manahawkin
Friday, June 21-Sunday, June 23: "48 Blocks Atlantic City,"
Monday, July 1: William J. Hughes Center for Public Policy and the Coastal Research Center at Stockton University second Jersey Shore Beach Report
Thursday, July 18: Pinelands Summer Short Course offers Kayak Trip, Blacksmithing Demo
Tuesday, July 23: Transfer Open House
Sign up

here

to subscribe to Stockton News