Stockton News - Friday, June 12, 2020
WHAT WE'RE TALKING ABOUT
University Response to Recent Racist Incidents
President Harvey Kesselman addressed the Stockton community today regarding recent racist incidents and what the University is doing to raise awareness of racial injustices and provide solutions for the future.
"This has been a painful few weeks for the nation and for the Stockton community," Kesselman said.
"I have been enraged, disappointed, and appalled. We, at Stockton, hold ourselves to be a model of inclusion and diversity. When any member of our campus violates that trust, we all feel betrayed, but our students, employees and alumni of color bear the brunt of this betrayal. Unfortunately, this is exactly what happened, for as we followed and participated in the protests around the nation, we also faced the reality of ignorance and racism close to home in the form of social media activity by our own community members."
Read the statement in entirety here.
---
Stockton to March for Justice June 19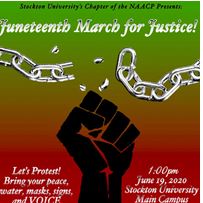 The Stockton Chapter of the NAACP is organizing a Juneteenth March for Justiceon Friday, June 19 at 1 p.m. on the Galloway campus.The march will begin in front of the Campus Center and will feature speakers, voter registration forms and light refreshments.Participants are encouraged to bring peace, water, signs, their voices and masks or face coverings in accordance with CDC guidelines.
---
Six Receive Alan F. Arcuri Pre-Law Awards
Six Stockton University students planning to attend law school were named recipients of the Alan F. Arcuri Pre-Law Fund Awards for 2020.
The fund was started in 2019 by Arcuri's family and friends. A former Stockton professor, Arcuri was known for his tireless efforts in advising pre-law students. The fund started in his memory assists students by providing a stipend to cover the cost of a prep program for the LSAT exam and providing mentors for them as they apply to and attend law school.
---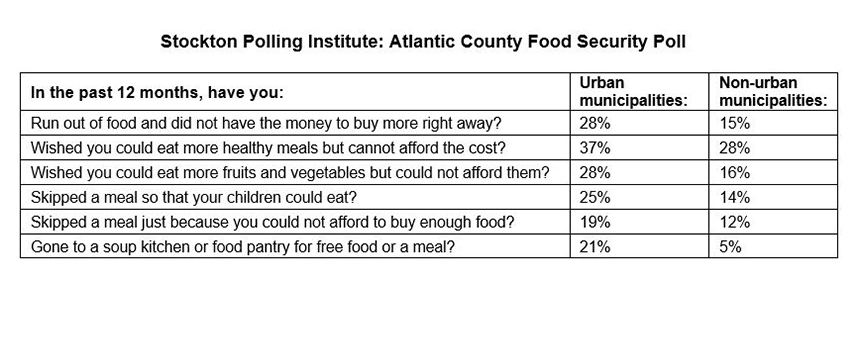 Stockton Poll: Food Insecurity in Atlantic County
Even before the pandemic closed businesses, a significant percentage of Atlantic County residents struggled to properly feed themselves and their families according to a Stockton University poll done in early March and released this month.
Nearly one in five residents (18 percent) said they have run out of food and did not have the money to buy more right away, while 14 percent have skipped a meal because they could not afford to buy food, according to the poll. Among those with children, 17 percent have skipped a meal so that their children could eat.
WE'RE HERE TO HELP
Resources Available to Staff, Faculty During COVID-19
There are many resources and best practices being made available to staff and faculty working remotely that can be found by visiting Information Technology's website.
In addition to assistance with technology available from ITS, Stockton provides faculty and teaching staff with professional development, training, teaching ideas, resources and individual consultations via the Center for Learning Design.
The Office of Human Resources offers online Training Options for Stockton Employees. In case you missed it, this week's spotlight focuses on focuses on mitigating and/or managing COVID-19's impact on various areas of life.The Deer Oaks EAP website offers a wealth of resources on stress management. Just type "COVID-19" in the search box (or click on the COVID-19 page from the homepage) to find these resources and more including "Avoid Tobacco-Use Relapse During COVID-19," "Canceled by COVID-19: Managing Disappointment," "Coping with Crisis in the Media (Part I & II)," and "Tips for Parents & Caregivers on Media Coverage of Traumatic Events."
Additional resources include Resources for Supporting and Leading Your Team in Challenging Times and Remote Work Best Practices – new resources added weekly for managers and supervisors; and Wellness & Self-Care Resources - new resources added weekly.
SPOTLIGHT ON:
Stockton Productions Win 13 Telly Awards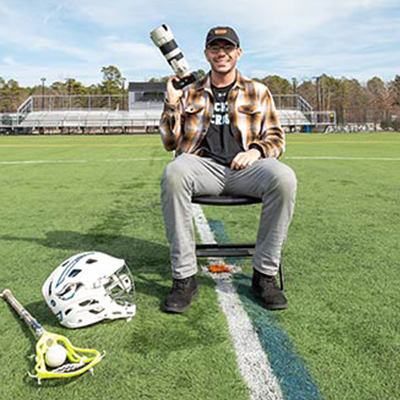 Videos produced by personnel at Stockton University earned 13 awards from the 41st Annual Telly Awards Judging Council.
The Telly Awards showcases the best work created in television and video. The competition receives 13,000 entries from all 50 states and 5 continents. Telly Award winners represent work from advertising agencies, television stations, production companies and publishers from around the world.
Seven awards went to the film "There Were Good People ...Doing Extraordinary Deeds: Leo Ullman's Story," produced by the Sara and Sam Schoffer Holocaust Resource Center at Stockton. The film told the life story of Leo Ullman and his family who were hidden in the Netherlands and saved by Righteous Gentiles during World War II.
PHOTO:Joe Petrilli who created the Athletics Docuseries.
FROM THE SIDELINES: KOHLHOFF, SWEDLUND CHOSEN ATHLETES OF YEAR
Stockton Athletics Virtual Awards Recognition
With the annual Stockton Athletics awards brunch canceled this spring due to the COVID-19 pandemic, Stockton Athletics is saluting its student-athletes via this virtual awards recognition. All 19 intercollegiate teams are represented with videos featuring seniors and award winners.
🎬 Watch Introduction by Stockton Athletic Director Kevin McHugh
Men's Lacrosse player Luc Swedlund was chosen Stockton Male Athlete of the Year and Volleyball player Julie Kohlhoff was chosen Stockton Female Athlete of the Year. Swedlund and Kohlhoff each led their Stockton squads to conference championships.
View their acceptance speeches by clicking photos above.
OSPREY NOTES
Stockton Unplugged and Summer Schedule Updates
The Stockton Unplugged 10-day long electrical shutdown schedule has been modified. Due to electrical work, from Monday, June 15, through Friday, June 19, Wings A-D in the spine will have no power. The Help Desk in D121 will remain operational remotely and is also available for on-campus in-person support by appointment. From 6 p.m. July 23 until 8 a.m. Aug. 3, E-wing through M-wing (including the PAC), West Quad Building and the Arts & Sciences Building will have no power. The Campus Center will remain open. A detailed email on Stockton Unplugged procedures was sent to all employees on June 10 outlining vacation and work-from-home options during those times and can be found by logging into the GoPortal under the Employee tab.
The optional four-day summer work schedule will begin Monday, July 6, and continue through Friday, Aug. 7. The University will be open on Fridays, and managers will work with employees to ensure departments are covered. For more detailed information, visit here and click on "Summer Hours."
Upcoming Events Hosted by the Office of Development and Alumni Relations
🌎 Live Streams with Stockton Scientists
Thursday, June 18: Kameika Murphy, assistant professor of Atlantic History, will provide opening remarks for the Virtual Community Story Circle, taking place via Zoom, 6:30 - 8 p.m. on June 18. The event will focus on sharing stories of independence. RSVP in advance by emailing Christina.Noble@stockton.edu to receive the Zoom link.
Friday, June 19: Murphy Writing of Stockton University presents a Virtual Reading with Pulitzer Prize Winner Yusef Komunyakaa at 7 p.m. on June 19 via Zoom. Komunyakaa is the first African American male to win the Pulitzer Prize for poetry. His books include Neon Vernacular (for which he received the 1994 Pulitzer Prize for Poetry), Taboo, Warhorses, The Emperor of Water Clocks and many others.