Stockton News - June 10, 2022
WHAT WE'RE TALKING ABOUT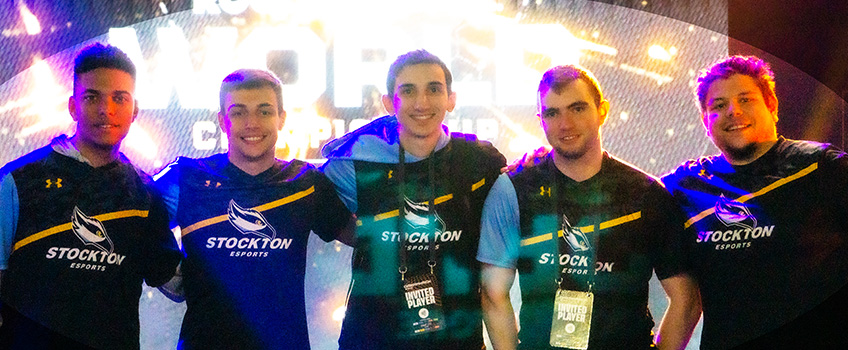 Rocket League Team Takes Second in World Championship
Stockton's Rocket League esports team is now second in the world following its impressive showing at the Collegiate Rocket League World Championship Tournament in Dallas, Texas, on June 3-5.
The team of captain Brian Busse of Hazlet, Trey Batson of Manahawkin and John Merendino of Hauppauge, New York, were one of 16 teams that qualified for the international competition. The event, the first collegiate international finals, was part of the DreamHack gaming festival and attracted more than a million viewers in person and online over the weekend.
"I'm happy we got second, but then I'm also unhappy we didn't get first," Busse said on Monday as the team prepared for the trip back to New Jersey. "But we did what we came to do."
📰 In the News: The Press of Atlantic City, NJ Online Gambling
---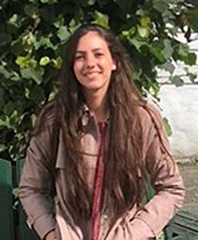 Student Research Shows Increase in N.J. Diversity
New Jersey's population has become more diverse over the last 20 years, but that diversity is not spread evenly among the 21 counties according to a student research paper publishedJune 9 by the William J. Hughes Center for Public Policy at Stockton University.
The paper by Stockton senior Emily Kramer used Census data to show the level of diversity found in the 2020 Census for each county and how the Hispanic/Latino and the non-Hispanic White, Black and Asian populations have changed in each group's share of the county population.
Kramer's paper was published on the Hughes Center's website. The report links to an interactive map that details each county's diversity ratings.
---
Ocean Wind I Expands Partnership with Stockton
New Jersey's first offshore wind farm project, Ocean Wind 1, has announced an expanded partnership with Stockton that supports the project's monitoring and mitigation efforts related to the North Atlantic Right Whale and other marine wildlife.
Developed by Ørsted and PSEG, Ocean Wind 1 will be located off the coast of southern New Jersey. At 1,100 MW, Ocean Wind 1 will provide clean energy to 500,000 homes in New Jersey, support thousands of jobs and advance supply chain initiatives while helping the state meet its clean energy goals.
📰 In the News: New Jersey Business Magazine, NJBIZ.com, The Press of Atlantic City
STOCKTON UNIVERSITY ATLANTIC CITY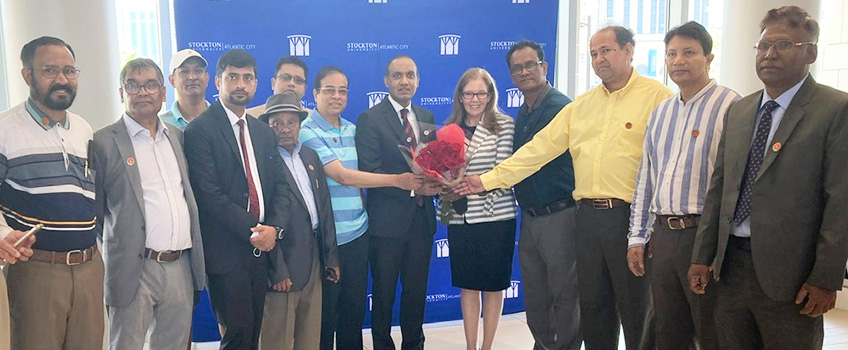 Stockton Hosts Bangladesh Consulate in Atlantic City
Representatives from the Bangladesh Consulate in New York traveledto the Stockton University Atlantic City campus on May 31 to assist local Bangladeshi residents with visa and passport applications.
The visit was hosted by the Stockton Center for Community Engagement and Service-Learning (SCCESL) and the Bangladesh Association of Atlantic County with support from Edbelinda "Mimi" Nambo, supervisor in the Atlantic City Mayor's Office of Special Events.
Stockton Center Executive Director Merydawilda Colón met with Bangladesh association members in December as part of the center's community outreach.
---
'Second Saturdays' Hosts Field Day June 11
Second Saturdays in Atlantic City are a series of family-friendly events, hosted by Stockton University Alumni Relations, held on the second Saturday of every month at Stockton Atlantic City.
Engage in some friendly competition with yard games including badminton, beach volleyball and three-legged races during Field Day, 11 a.m.-1 p.m., tomorrow, June 11. Register here.
FRAME-WORTHY
Sciencepallooza Lets Students Soak Up Science, Visit Campus
Fun is part of the name, and Stockton University's Sciencepallooza didn't disappoint when about 80 students from Camden County Technical School gathered on campus on June 2 to learn about making slime, how volcanoes work, and growing healthier food.
The event was created by the Stockton School of Natural Sciences and Mathematics (NAMS) to introduce high school students to Stockton and promote STEM or Science, Technology, Engineering and Math careers.
"There are so many options for students in the sciences, and we want to show them how they can turn an interest into a career, starting here at Stockton," said NAMS Dean Peter Straub.
WHAT'S TRENDING

@ #STOCKTONU

Twitter: Where's your favorite spot along #StocktonU's trails?
Facebook: New Student Orientation kicked off this month to welcome our newest Ospreys!
Instagram:Inspired by his mother's spring cleaning tradition, Andrew Torres of @stockton_lambdas and other Greek organizations donated up to 30 bags of clothes to @acrescuemission this month.
FROM THE SIDELINES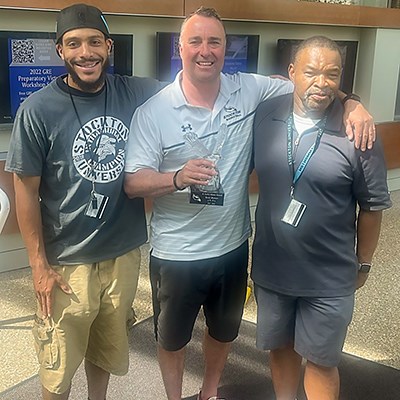 Intramurals Offer Students a Competitive Outlet
James Gwathney is a sports guy, who grew up in Summit, New Jersey, just outside of Newark. He played three sports in high school and went on to play football at Montclair State University.
"After I got out of eligibility football-wise, I was doing rugby for two years," Gwathney said. "I had a roommate and he was playing. I said, 'you're crazy.' The next year I was out there playing. I worked at the Montclair YMCA. I changed jobs after five years and came down and worked for the state as a state inspector in the casinos. They downsized. They laid off about 30 of us. I was hired part-time here at Stockton and I've been here ever since."
Gwathney, who has been in a full-time role for more than 25 years, has been the perfect fit as the coordinator of intramurals and recreation at Stockton University, where he says he's worked since 1991. His twin daughters attended Stockton, and one even competed in intramurals.
"I was a physical education and health major in college," he said. "It's perfect. Everybody who knows me knows I have my shorts on every day."
Stockton has a strong Intramural program, which operates under the auspices of the Intramural Recreation Council. Intramurals are recreational sports competitions played between teams or individuals and are organized within a particular institution, usually an educational institution. They differ from club sports, which are usually more specialized and have dedicated practice times and seasons that are normally longer than Intramural sports.
---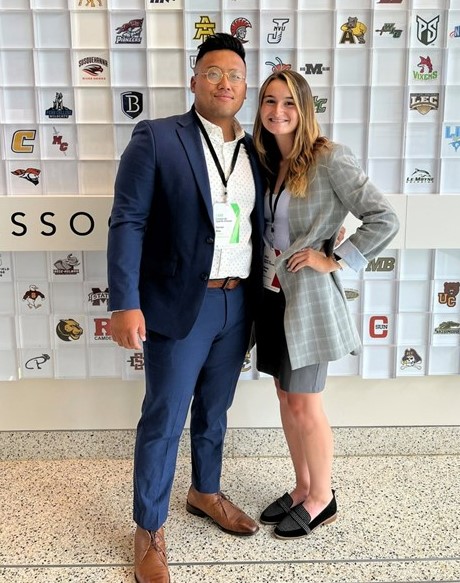 Foley & Wan Explore Options at NCAA Career in Sports Forum
Stockton track & field student-athletes Susann Foley and Darren Wan were among a group of 200 college student-athletes who attended the 2022 NCAA Career in Sports Forum at the NCAA National Office in Indianapolis on June 2-5.
The NCAA Career in Sports Forum brought the student-athletes together to learn about and explore potential careers in sports. The program included keynote speakers, panels and breakout discussions on a variety of topics designed to present a thorough understanding of athletics as a career path.
The forum also provided opportunities for attendees to network with their student-athlete peers as well as professionals in fields related to sports.
Upon their return, Foley and Wan reflected on the experience.
OSPREY NOTES
🎥 ICYMI: Mental Health Panel Discussion Video Posted
The William J. Hughes Center for Public Policy has made available a recording of the May 31 panel discussion about mental health issues faced by young people. The two-hour panel in the Campus Center Theatre on Stockton's Galloway campus was cosponsored by the Hughes Center, Atlantic County Council of Education Associations and The Kennedy Forum.
The event exploredmultiple aspects of the crisis facing children and schools today.
---
GoPortal & Self-Service Banner Authentication Changes
To increase account security, Z and PIN authentication for accessing Self-Service banner will be disabled starting Wednesday, June 15. Moving forward, access to Self-Service Banner will require using your Stockton GoPortal username and password.
Access to Self-Service Banner is currently provided using this link, which can be bookmarked for your convenience.
If you need assistance with your Stockton GoPortal account or have any questions about this upcoming change, contact the ITS Help Desk at HelpDesk@stockton.edu or 609-652-4309.
Normal Academic Hours Next Week; Closed Friday
⏰ As a reminder, you can sleep in next week! The University will follow normal academic hours next week and will be closed on Friday, June 17, in observance of Juneteenth. All offices are open minimally from 8:30 a.m.- 5 p.m., Monday-Thursday.
📧 Due to Friday being an observed holiday, Stockton News will hit your inbox Thursday, June 16.
---

Stockton Sentiments and Memories . . .
"A very big congrats to Stockton University on the celebration of 50 years of life-altering support to tens of thousands of alums worldwide. My road to Stockton began in the Fall of 1976 with a half dozen or so fellow students & friends enrolled at Middlesex County College in Edison, New Jersey.
Although we all had met at the game room where our friendships developed, we were all students searching for the school that would lead us to our undergraduate degrees. We decided as a group that we were in this together and that we would go where we all were accepted. Here we come Stockton State in the Fall of '77 to "B" Court."
- Kevin Feeley '78
Have a memory you'd like to share in celebration of Stockton's 50th anniversary? Submit it here.
UPCOMING EVENTS