Stockton News - Friday, June 7, 2019
WHAT WE'RE TALKING ABOUT
Salem Community College and Stockton Sign Dual Admission Transfer Agreement
The presidents of Stockton University in Galloway Township and Salem Community College have signed a new dual admission and transfer partnership agreement that will help students make a smooth transition from the two-year college to Stockton's bachelor's degree program.
The Transfer Pathways agreement builds a strong relationship between Stockton and Salem Community College by offering multiple opportunities for students to affordably pursue associate and bachelor's degrees at the two institutions of higher education
---
Stockton Poll: N.J. Residents More Politically Engaged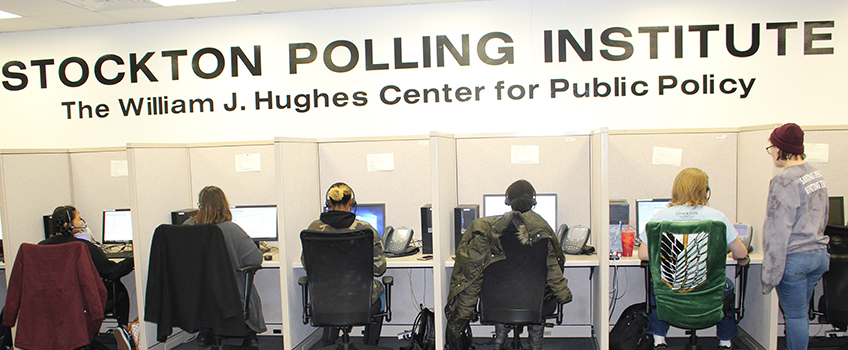 Nearly one-third of New Jersey adults report being more civically engaged today than they were before Donald Trump was elected president, according to a Stockton University Poll released on June 4.
However, when compared with results of a 2015 Stockton poll, the overall percentage of respondents participating in specific civic activities was statistically the same as four years ago.
The Philadelphia Inquirer posted a news story about the poll.
---
Try Something New at Stockton This Summer
Variety of Courses offered at Stockton University Atlantic City
You don't have to be a student to learn something new at Stockton University this summer. The university's Office of Continuing Studies is hosting a variety of classes for personal and professional enrichment, ranging from mindfulness and yoga to French and photography.
STOCKTON UNIVERSITY ATLANTIC CITY
MSW Alliance Members Volunteer at 2019 AIDS Walk in Atlantic City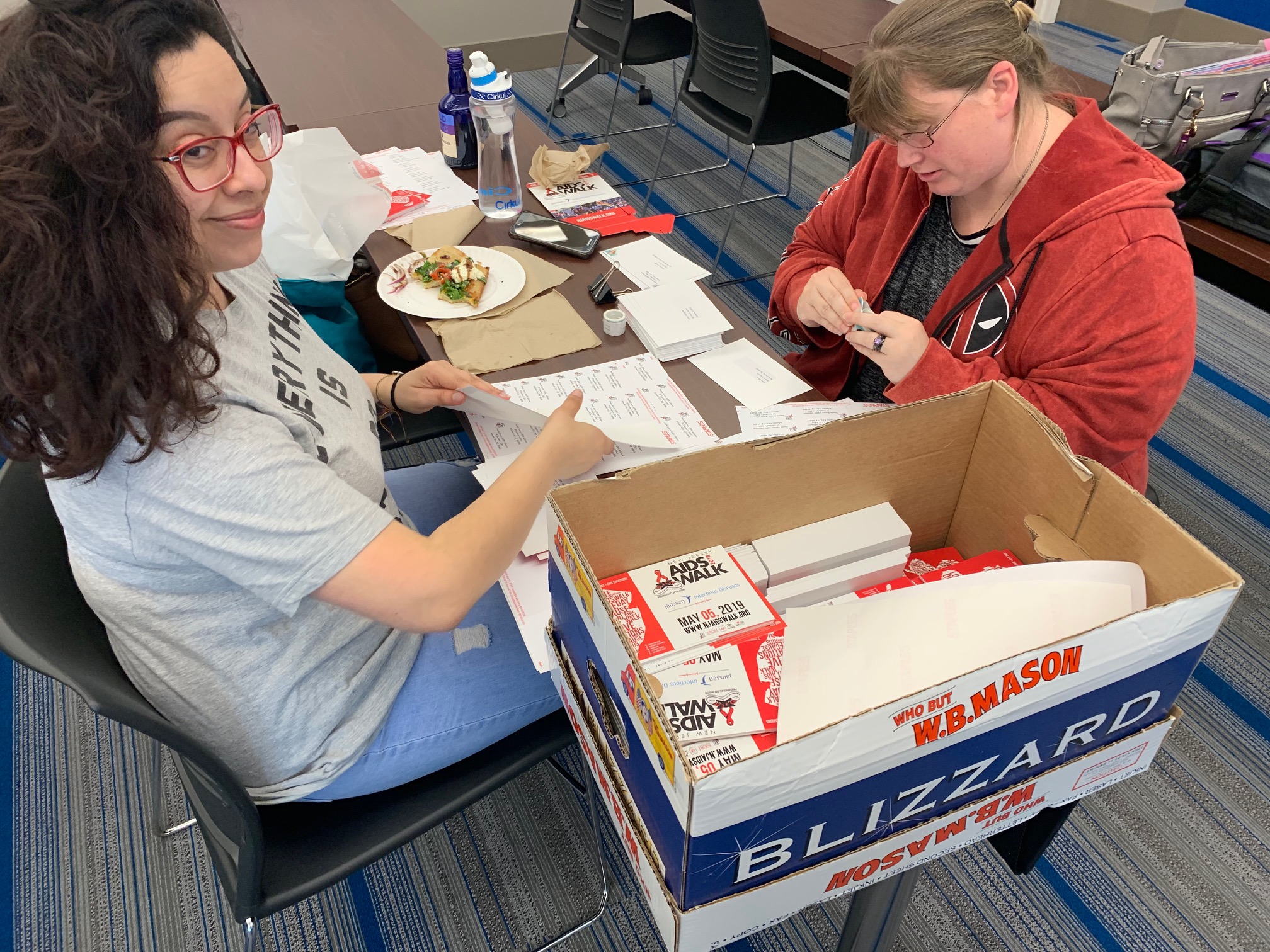 Stockton University's Master of Social Work Alliance volunteered for the 2019 AIDS Walk on May 9 on the Atlantic City Boardwalk.
"We stamped and mailed over 500 postcards and distributed another 100 at Stockton University Atlantic City," said Jenny Dunkle, assistant professor of Social Work and faculty adviser to the MSW Alliance. "The students raised almost $200 on their own and we volunteered on the day of the walk selling raffle tickets. In the pouring rain, the South Jersey AIDS alliance raised over $30,000!"
Dunkle is also a board member of the South Jersey AIDS Alliance.
PHOTO: Vinnie Pizzimenti, left, and Corrine DeNapoli, both MSW students and members of the MSW Alliance who graduated in May 2019. Pizzimenti was the community outreach chair and DeNapoli, the vice president for the alliance.
---
Catch a Movie at Stockton University Atlantic City

This summer, the entire Stockton community is invited to enjoy six feature films, free food and drinks, as part of "Summer Cinema in the City." Attendees are asked to bring their Stockton IDs. Movies will be shown at 6 p.m. in the Stockton University Atlantic City residential classrooms B119/120 on the following dates: Tuesday, June 11, How to Train Your Dragon: The Hidden World; Tuesday, June 25, Captain Marvel; Tuesday, July 9, Dumbo; Tuesday, July 23, Pokémon Detective Pikachu; Tuesday, Aug. 6, Avengers: Endgame; and Tuesday, Aug. 13, Aladdin.
For more events happening at Stockton University Atlantic City, visit the online calendar.
---
This #TransformationTuesday post shows the current view of Stockton University Atlantic City from the Boardwalk compared with the same vantage point in August 2018.
SPOTLIGHT ON
Course Gives Students Real-Life Courtroom Experience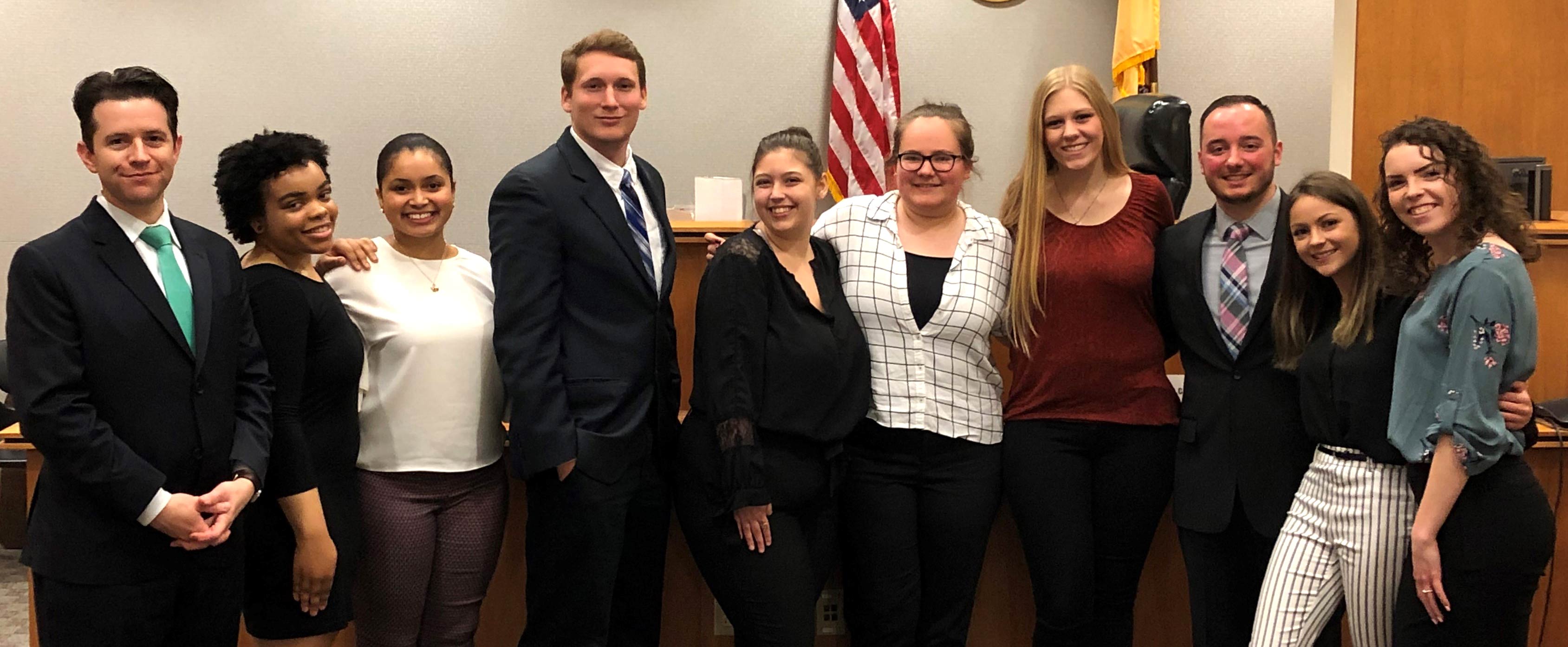 Guilty? Not Guilty? Stockton University students got to learn just what goes into the process of coming to those verdicts this spring in Trial Advocacy, a course taught by Rick McKelvey, adjunct instructor of Criminal Justice, who also happens to be an assistant prosecutor at the Atlantic County Prosecutor's Office.
The course offered students an opportunity to learn about the process of planning, organizing and putting on a criminal jury trial. Many also took advantage of the opportunity to observe McKelvey's own criminal murder trials which were held in January and April at the Mays Landing Courthouse, offering them a real-life window into what happens in the courtroom.
FRAME-WORTHY: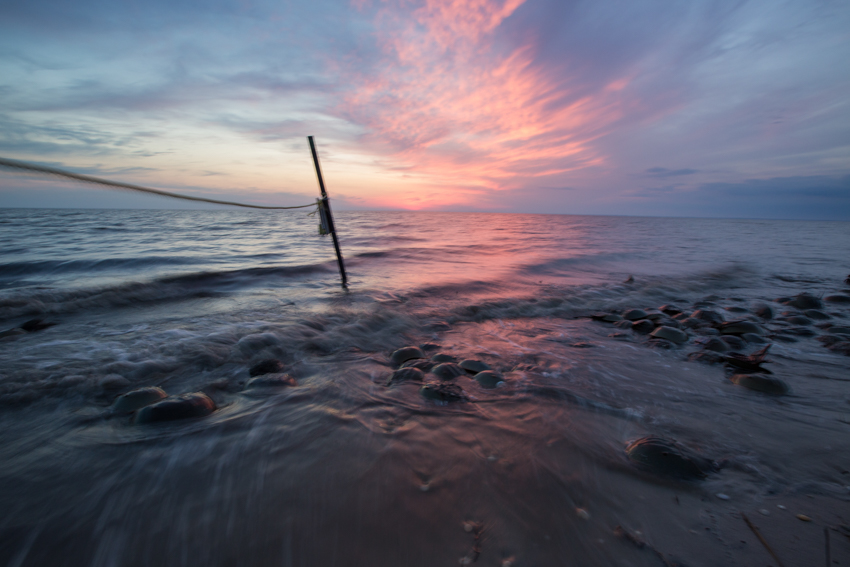 Picture Stockton: Designing a Living Shoreline
Migratory shorebirds en route to their Arctic breeding grounds make a pit stop on the Delaware Bay to refuel on eggs laid by spawning horseshoe crabs. From the sea and the sky, these species meet on South Jersey's sandy bay shores.
After Hurricane Sandy depleted sand from the bay beaches, Stockton University's Coastal Research Center (CRC) got involved in a series of ongoing habitat restoration projects to help the prehistoric horseshoe crabs and endangered shorebirds.
WHAT'S TRENDING #STOCKTONU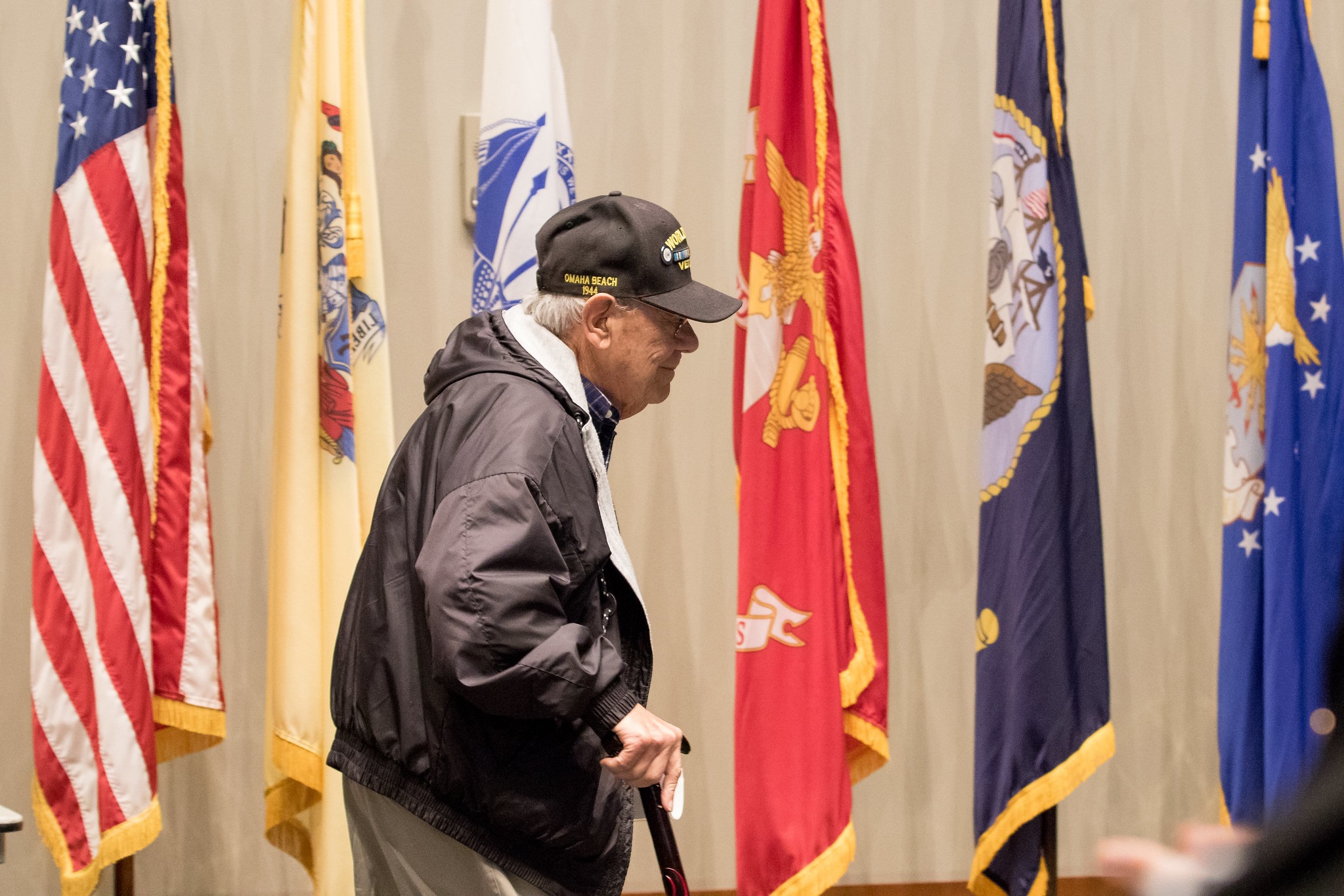 Facebook: The late D-Day survivor Peter Fantacone, of Mays Landing, recounted the invasion day-by-day and hour-by-hour, sharing vivid details of the blood-stained deck of the Coast Guard ship he was on and the "curtain of fire" that looked like 1,000 Fourth of Julys. He shared his experiences of Pearl Harbor at a statewide tribute event held at Stockton University in 2016. The 75th Anniversary of D-Day was June 6, 2019.
THE SIDELINES
Stockton Adds Joe Haney as Assistant Rowing Coach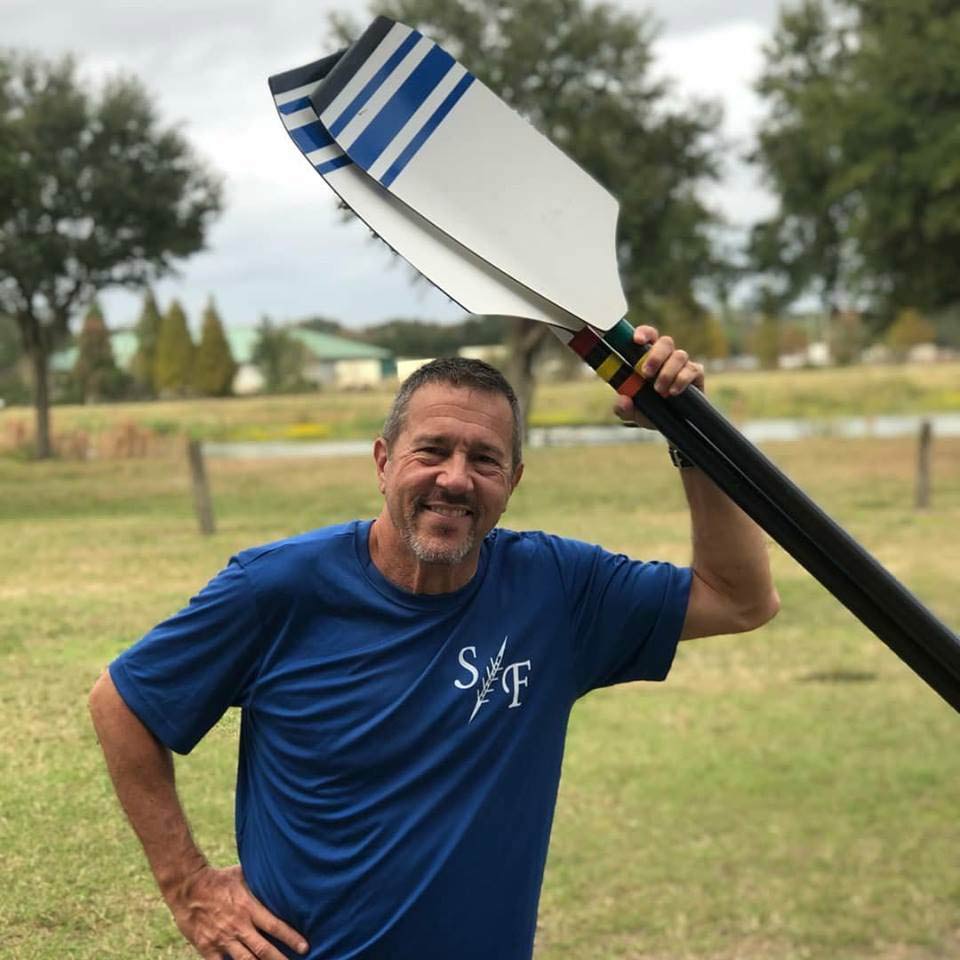 Stockton University has added Joe Haney to its rowing staff as an assistant coach. Haney will have coaching and instructional duties as well as performing administrative functions in the areas of recruiting coordination and regatta planning. He brings over 30 years of coaching experience to Stockton.
Haney, an Atlantic City native, is a long-time associate of Stockton head coach John Bancheri, a relationship that began as teammates at Atlantic City High School. "From rowing a pair at Head of the Schuylkill in 1977 to bringing Joe Haney on as an assistant coach and recruiting coordinator seems like such a natural progression in our professional coaching relationship," Bancheri said.
The Press of Atlantic City featured Haney's appointment.
OSPREY NOTES
Strategic Planning Summer Learning Sessions Announced
Dates and times for the Strategic Planning Summer Learning Sessions have been announced: Rock 'Enroll' is Here to Stay: Strategic Enrollment Management, 9:30 a.m.-3:30 p.m., Wednesday, June 19, in the TRLC; What a Wonderful World: Teaching and Learning, 9:30 a.m.-3:30 p.m., Thursday, June 20, in the Campus Center Event Room; Hall of Fame: Inclusive Student Success, 11 a.m.-4:30 p.m., Thursday, June 27, in Room 101 of the Unified Science Center 2. Sign up for these sessions here.
A new Strategic Plan draft is available for review and can be accessed by logging into your GoStockton portal.
Choose Summer at Stockton
Stockton's summer sessions are open to undergraduate and graduate students enrolled in degree programs, non-matriculated students, and students currently enrolled at other institutions who wish to study during their summer break and transfer Stockton credits.
UPCOMING EVENTS
Upcoming events hosted by the Office of Development and Alumni Relations

Thursday, July 18: Pinelands Summer Short Course offers Kayak Trip, Blacksmithing Demo
Tuesday, July 23: Transfer Open House
Sign up

here

to subscribe to Stockton News