Stockton News - Friday, June 5, 2020
WHAT WE'RE TALKING ABOUT
Supporting Our Community During Difficult Times
2 Virtual Spaces Happening Today
President Harvey Kesselman shared a message with the campus community reflecting the recent events surrounding the murder of George Floyd. As a result, a space will be created for members of the University community to reflect on the recent tragedies and to discuss opportunities to strengthen our support for our African American and Latinx communities on campus.
Read the message in entirety here.
Virtual spaces, sponsored by Student Affairs, Academic Affairs and Institutional Diversity and Equity, are taking place TODAY for our students, faculty and staff of color to connect and support one another during these difficult times and for our allies to cultivate strategies to support our communities of color at the University: 2-3 p.m., A Space for Allies and Advocates: Strategies to Support Our Communities of Color; and 3-4:30 p.m., A Space for Faculty and Staff of Color: A Virtual Community Roundtable Discussion.
Email Valerie Hayes, chief officer for Institutional Diversity and Equity, and Christopher Catching, vice president for Student Affairs, if you are interested in lending expertise or assisting with future social justice community efforts for the Stockton community.
The Wellness Center team has coordinated a series of opportunities to support students of color and offer a safe space to talk openly about race, racism and history or individual/personal experiences with racism.
A Space for Students of Color: Racial Healing Circles is scheduled for 3:30-5:30 p.m., Monday, June 8, Wednesday, June 17, Wednesday, June 24, and Wednesday, July 8.
Email Lucy Allen, assistant director for Counseling Services or refer students who you think would be interested in participating in a small group discussion to Lucy for more information.
---
Stockton Scientists are Streaming Live from the Field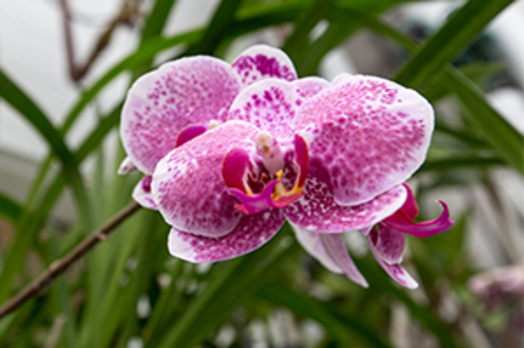 Stockton University scientists are working in the field this summer, and with the help of social media, they are bringing you with them.
Aaron Stoler, assistant professor of Environmental Science, explores Stockton's Pinelands campus with his muck boots and a smartphone to teach ecology lessons on Facebook Live. His series, called Streaming with Stoler, is visiting the campus farm, greenhouse and Aquifer Thermal Energy Storage (ATES) system in June with guest experts.
Nature enthusiasts, young and old, can follow Stoler's adventures from home by visiting the School of Natural Sciences and Mathematics Facebook page at 3 p.m. on Fridays. Rain dates occur the following Monday at the same time.
---
Press of A.C. Interns Help Produce Special Section
Each spring, The Press of Atlantic City publishes a special Young Leaders section, honoring talented high school students who are nominated by their schools and communities. An independent panel of judges selects twenty-five students from the nominees to be Young Leaders.
This year, The Press also enlisted six Stockton University student interns to help produce the section, which features biographies and photos of the selected students. For the Stockton interns, Gabrielle Brodde, Edward Kovalski, Emily Montgomery, Paige Crain, Andrew Torres and Marissa Luca, it was an opportunity for real-life journalism experience.
---
How We Are Helping #StopTheSpread
This week's #StopTheSpread feature highlights the strong support of the campus food pantry by the University community. Monica Viani, who with Laura Hughes runs the pantry from the Office of the Dean of Students, said since Craig Stambaugh sent out an email on May 12, the donations have been coming in "fast and furious."
"To date, we have received six mail hampers worth of items ordered off of the Amazon wish list and Walmart, with a hamperful coming in every day," Viani said last week. "At our donation drive on campus on May 21, we filled over five mail hampers with items dropped off by faculty, staff, students and Chartwells."
PHOTO: Venustiano Borremeo, Monica Viani, Laura Hughes and Jim Gwathney at the May 21 food drive.
Have a story to share? We want to hear it! If you, or someone you know in the Stockton community, is doing something to help, let us know by emailing Diane D'Amico or sharing on social media and tagging @stockton_edu or #stocktonu. Don't forget to include a photo!
---
Virtual Open House Brings Campus to Prospective Ospreys
Sunday's Virtual Open House event brought the Stockton campus to prospective students through a Facebook Live session, asynchronous video content from academic schools and offices, and virtual housing tours.
A live Zoom/Facebook session at noon "welcomed" students to the event, of which 255 students in various stages of the admissions process attended. Several hundred more prospective students logged in throughout the day to view the video content and participate in virtual tours. Students had the chance to chat live with staff from Admissions, Bursar's, Financial Aid and Residential Life utilizing Stockton's text-messaging platform. This enabled students to get very specific questions answered and receive personalized attention.
"This was a great opportunity to connect not only with incoming students for Fall 2020 but also with rising seniors who will be considering Stockton for Fall 2021," said Bob Heinrich, chief enrollment management officer. "I greatly appreciate the support of all of our partners across the campus community that contributed to the success of our virtual Open House."
The Division of Enrollment Management is actively planning for an additional Virtual Open House for July.
Virtual Open House By-the-Numbers:

WE'RE HERE TO HELP
Resources Available to Staff, Faculty During COVID-19
There are many resources and best practices being made available to staff and faculty working remotely that can be found by visiting Information Technology's website.
In addition to assistance with technology available from ITS, Stockton provides faculty and teaching staff with professional development, training, teaching ideas, resources and individual consultations via the Center for Learning Design.
The Office of Human Resources offers online Training Options for Stockton Employees. In case you missed it, this week's spotlight focuses on stress management. Just type "stress" in the search box of the Deer Oaks EAP website to find a wealth of helpful resources including articles, videos and online seminars. LinkedIn Learning offers this online course, "Managing Stress for Positive Change."
👉 Don't forget that while public programs and events have moved online, they still may benefit from publicity. Press releases and social media promotions may be requested using the URM service request form.
SPOTLIGHT ON: PATRICIA REID-MERRITT, MICHAEL RODRIGUEZ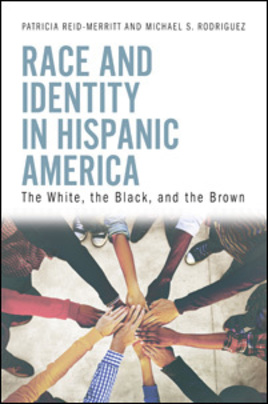 Race is an extremely relevant topic right now. Two Stockton University faculty members recently coauthored "Race and Identity in Hispanic America: The White, the Black, and the Brown," that focuses on questions surrounding race, color and identity among America's largest Spanish-speaking populations.
Authors Patricia Reid-Merritt, Distinguished Professor of Africana Studies and Social Work; and Michael Rodriguez, associate professor of Political Science, say the book offers both an historical and contemporary analysis of racial and ethnic identity formation over several generations, examining how various populations attempt to integrate themselves into mainstream American culture.
FRAME-WORTHY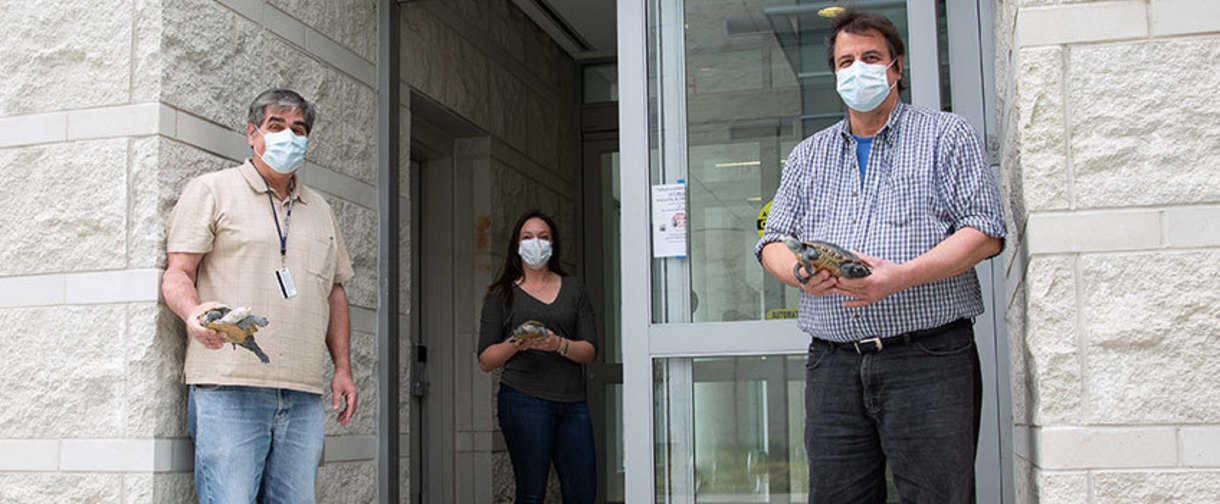 Creatures 'Quarantine' in Comfort at Stockton Campus
There may be few people on Stockton University's campus, but the close to 500 terrapins are still multiplying and lizards are eating their protein to stay fit for the time when they can run on the treadmills again in the Unified Science Center 2.
While most of Stockton's staff are operating out of home offices, those who care for the animals and plants in the vivarium and greenhouse still come to campus to make sure the creatures stay healthy.
PHOTO: Lester Block, Melissa Laurino and John Rokita take a break from working in the vivarium to say hello to the Stockton community with a few terrapins in hand.
WHAT'S TRENDING #STOCKTONU
Facebook: Stockton University is creating a space for members of our University community to reflect on the recent tragedies and to discuss opportunities to strengthen our support for our African American and Latinx communities on campus. #BlackOutTuesday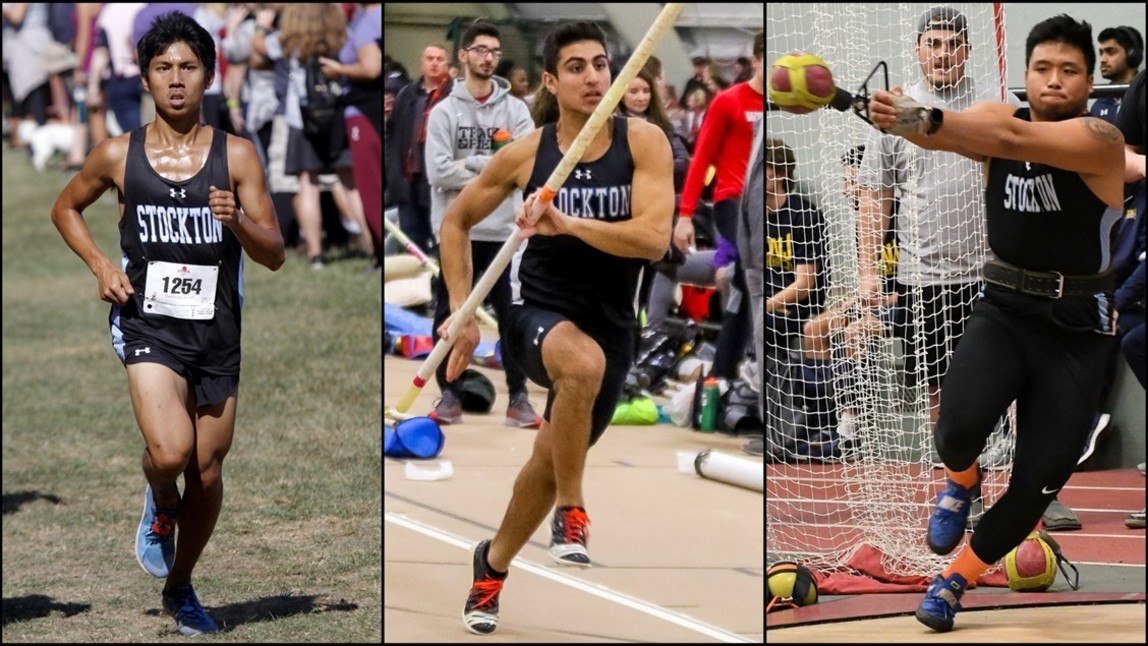 Do, Qadiri & Wan Voted to Academic All-District 2 Team
Three Stockton University student-athletes were voted to the CoSIDA Academic All-District 2 Men's Track & Field/Cross Country Team by the College Sports Information Directors of America. Qudratullah Qadiri was selected Academic All-District for the second straight year.
Qadiri was joined by teammates Daniel Do and Darren Wan, each of whom were recognized for the first time. Competitors from the Stockton track & field and cross country programs earned Academic All-District honors for the seventh consecutive year.
Six Ospreys Tabbed for CSAC All-Sportsmanship Team
Six seniors on the Stockton University men's lacrosse team were named to the CSAC All-Sportsmanship Team for Spring 2020. Justin Ruiz, Joey Tiernan, Myles Ackerson, Eric Ellis, Max Pukenas and Erik Anderson were recognized.
President Kesselman Named Chair of the NJPC
President Harvey Kesselman has been unanimously elected Chair of the New Jersey Presidents' Council (NJPC) for a two-year term beginning July 1.
Kesselman served as vice chair of the NJPC for the past two years. He also chaired the Budget and Governmental Relations Committee & Advocacy and Accountability, which develops a budget for the New Jersey higher education system, advocates for it with the legislative and executive branches of state government, and increases awareness of New Jersey's higher education system.
The NJPC advises the Secretary of Higher Education and Governor on new programs, regional alliances, budget and student aid levels, licensure, and the statewide higher education master plan, and includes 56 New Jersey college and university presidents representing four sectors: senior public institutions (including Stockton), community colleges, public-mission independent institutions, and proprietary institutions. The state's two largest religious colleges represent an additional 23 independent, faith-based schools.
Upcoming Events Hosted by the Office of Development and Alumni Relations
Wednesday, June 10: The Lloyd D. Levenson Institute of Gaming Hospitality and Tourism at Stockton University (LIGHT), in collaboration with the Greater AC Chamber of Commerce and the Stockton Small Business Development Center is producing a free, three-part webinar series, "Clean Safe and Healthy" to help local businesses learn about the best practices for reopening.
Also on June 10: Stockton University Manahawkin presents, "How to Explore the LBI Region this Summer" on Zoom.