Stockton News - June 4, 2021
WHAT WE'RE TALKING ABOUT

New Mask Requirements Effective June 7; Stockton Joins COVID-19 College Vaccine Challenge
Beginning Monday, June 7, updated mask guidelines take effect at Stockton based on recent New Jersey Executive Orders No. 243 and No. 242, in consultation with the New Jersey Office of the Secretary of Higher Education.
This includes new requirements for students and employees to submit their proof of vaccination, including individuals who previously submitted this documentation:
Employees: click the "Update Employee Vaccination Status" button under the employee tab in the portal. Enter the vaccine type, dates of shot(s), and upload a picture/pdf of your vaccination card or proof of vaccination. Once completed, these individuals are free from COVID-19 mask requirements, although they may continue wearing masks if they prefer.
Students: follow the instructions found on the Student Health Services Immunization Requirements website for COVID-19 Immunization.
Partially-vaccinated students and employees should remain masked indoors until they are fully vaccinated and have submitted their necessary vaccine documentation.
Unvaccinated students and employees are required to remain masked indoors. For more details on these new guidelines, refer to the June 4 UROC email or visit stockton.edu/return/faq.html.
Stockton has also joined the "COVID-19 College Vaccine Challenge," a national campaign launched by The White House. This challenge builds on three key commitments: engage every student, faculty and staff member; organize your college community; and deliver vaccine access for all. Learn more about this initiative here.
---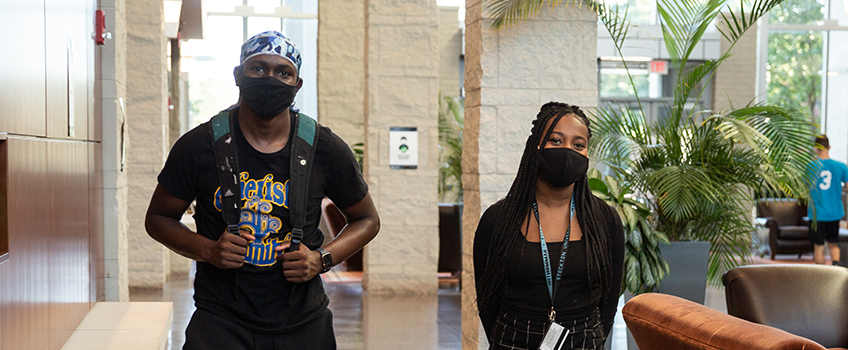 Students Observe Mask Compliance On Campus
More than 90% of faculty, staff and students at Stockton University, observed as part of a research study, wore a mask correctly while on campus during the spring semester.
Five undergraduate public health students, supervised by Tara Crowell, professor of Public Health, participated in a national study sponsored by the Centers for Disease Control to gauge compliance with mask-wearing on university campuses. More than 70 universities participated in MASCUP (Mask Adherence Surveillance at Colleges and Universities Project).
---
Five Students Receive Distinguished Student Fellowships
Five students received Spring 2021 Board of Trustees Fellowships for Distinguished Students for research projects they will do with faculty advisors. The students are Matthew Furry, Destiny Hernandez Rodriguez, Mykola Hubchak, Luke Ngo and Joshua Smith.
STOCKTON UNIVERSITY ATLANTIC CITY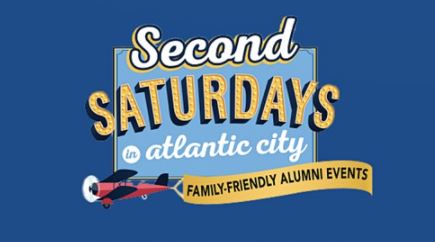 Second Saturdays Return to Atlantic City with Beach Yoga June 12
Second Saturdays in Atlantic City is a series of family-friendly events, hosted by Stockton University Alumni Relations, that are held on the second Saturday of every month at Stockton Atlantic City.
This summer, each Second Saturday event will feature beach yoga with Mary McMonagle '16, owner of True Vibe. Enjoy a light snack after each event and connect with fellow alumni in the area. Mark your calendars, the first one is Saturday, June 12.
RSVP here.
SPOTLIGHT ON:

Intramural Recreation Council Presents Awards
Each year, the Intramural Recreational Council bestows three awards to members of the Stockton University community: The Dr. Vera King Farris Award, The G. Larry James Award and the Shannon Newberry Award.
James Gwathney, coordinator for Intramurals and Recreation, presented the Shannon Newberry Award to Mimi Milazzo, professional services specialist in the Bursar's Office; the Dr. Vera King Farris Award to Ralph Hunter, director of the African American Heritage Museum of Southern New Jersey; and The G. Larry James Award to Kevin McHugh, director of Athletics.
WHAT'S TRENDING @ #STOCKTONU

LinkedIn: Turtles, frogs, snakes...oh my! 🐢 Just a few of the critters you find when you visit Lake Pam.
Facebook: "To every member of the LGBTQIA+ community, Pride Alliance wants you to know that you are seen and valid." — Stockton Pride Alliance
Instagram: #WildlifeWednesday: Kortney Butler '16 '18, a @stocktonalumni engagement coordinator, was having lunch on a bench overlooking Lake Fred when grasses moving in the water caught her attention.
FROM THE SIDELINES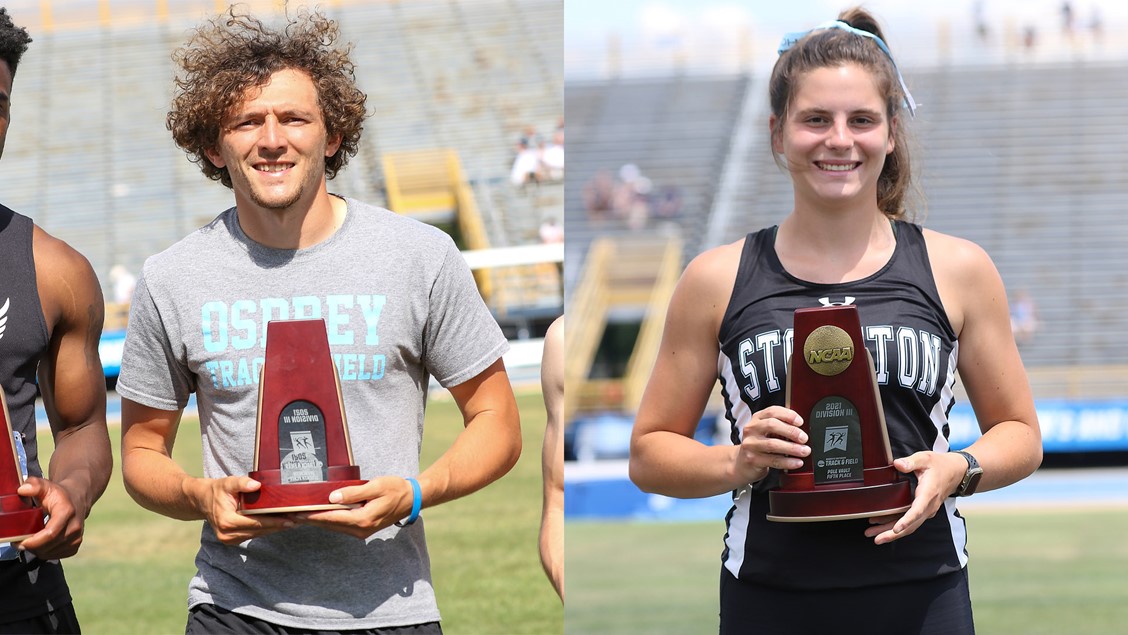 Daly & Preston Recognized as USTFCCCA All-Americans
Stockton University student-athletes Hunter Daly and Lauren Prestonearned All-American honors from the U.S. Track & Field and Cross Country Coaches Association (USTFCCCA) for the 2021 outdoor season.
Daly and Preston qualified for All-American credit for the first time in their careers by finishing in the top eight of the men's high jump and women's pole vault respectively at the NCAA Division III Outdoor Track & Field Championships last week. Preston finished fifth in her event while Daly tied for eighth in his event.

WE'RE HERE TO HELP
🧠 Stockton provides faculty and teaching staff with professional development, training, teaching ideas, resources and individual consultations via the Center for Teaching and Learning Design (CTLD). Visit the CTLD events page for a variety of workshops.
Free COVID-19 testing has been discontinued on campus. Visit the NJ COVID-19 Information Hub for testing locations.
💉 Faculty, staff and students can check with their local providers and schedule a COVID-19 vaccination appointment. Stockton will require students to get the COVID-19 vaccine for the Fall 2021 semester. Vaccination is currently voluntary but strongly encouraged for employees.
🔴 Students and employees no longer receive a daily health pledge email. A link for reporting is accessible on the Employee and Student Life tabs in the goStockton portal. Complete if you are experiencing COVID-19 symptoms, are not vaccinated and have been exposed to COVID-19, are not vaccinated and returning from international travel, or have tested positive for COVID-19. If you are feeling ill, do not come to campus, notify your manager and see your doctor if necessary.
You may voluntarily report if you have been vaccinated. The link is included in the Employee section of the goStockton portal; personal information remains confidential. A daily report is on the coronavirus website.
If you have an appointment to be vaccinated during your normal work hours, you do not need to utilize personal sick time. When completing your timesheet you will record these hours under the "CV19SickSelf" code to cover that time. If you use this code, you must submit your vaccine documentation to Joyce Wilson in Human Resources at Joyce.Wilson@stockton.edu.
UPCOMING EVENTS