Stockton News - July 30, 2021
WHAT WE'RE TALKING ABOUT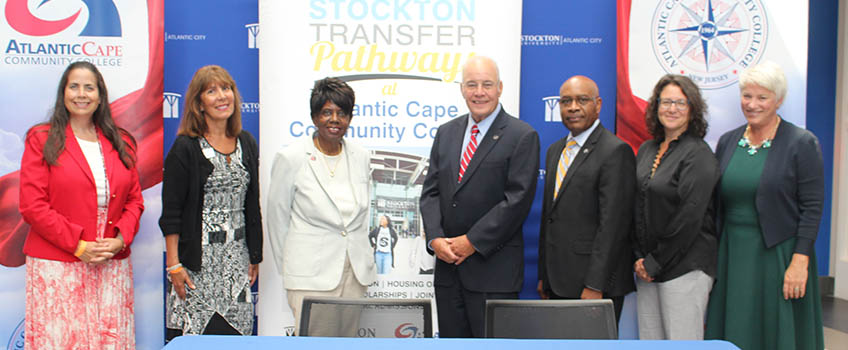 Atlantic Cape and Stockton Create Pathway to MBA
Atlantic Cape Community College and Stockton University signed an agreement on July 27 that will make it possible for students to earn an undergraduate degree and a Master of Business Administration (MBA) in five years.
The 2+3 program will allow students to earn their associate degree in two years at Atlantic Cape. They will complete their bachelor's degree at Stockton in two years, then earn their MBA in one more year through Stockton's Accelerated Dual Degree Program for Business Majors.
📰 In the News:Downbeach.com
---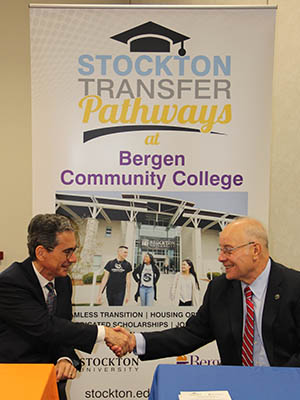 Stockton Signs Transfer Agreement with Bergen Community College
Stockton University signed a dual admission and transfer partnership agreement with Bergen Community College that will help students make a smooth transition from the two-year college to Stockton's bachelor's degree program.
The five-year agreement strengthens the relationship between Stockton and Bergen Community College by offering multiple opportunities for students to seamlessly pursue associate and bachelor's degrees at the two institutions of higher education
---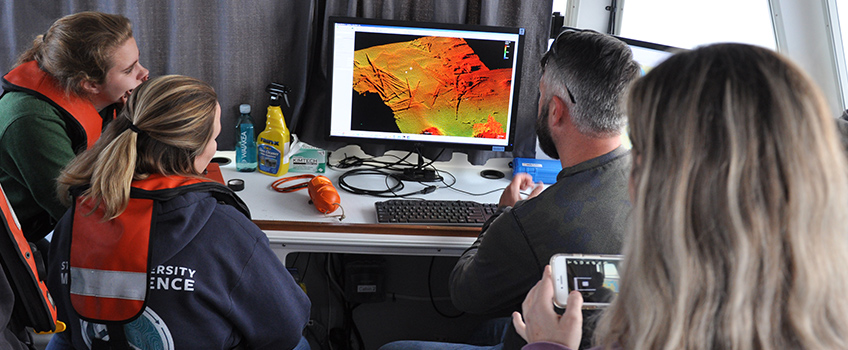 Stockton Receives NSF Grant for New Sonar System
Stockton University received a $301,600 National Science Foundation grant to purchase a new sonar system, plus installation, software and training.
The new high-resolution multibeam sonar will help researchers visualize the seafloor at greater depths and give students a chance to do real-world hydrography (underwater mapping) work in New Jersey.
Stockton's Marine Field Station in Port Republic has deployed sonar technology with undergraduate and graduate students for more than a decade. Digital side scan sonar, a remotely operated vehicle (ROV) and multibeam sonar tuned for shallow water mapping have created images of shipwrecks, artificial reefs and the ever-changing shape of inlets, and have located abandoned crab pots for marine debris removal.
---

Read the Summer 2021 Issue of Stockton Now
In our Summer issue of Stockton Now, we reflect on how the University continues to carry out its students-first mission 50 years after teaching its first classes. These stories, such as a spotlight on transformative initiatives like Sankofa and EOF, as well as a new race and racism course requirement that brings social justice education to the classroom, showcase the ways Stockton strives to build informed and prepared students.
STOCKTON UNIVERSITY ATLANTIC CITY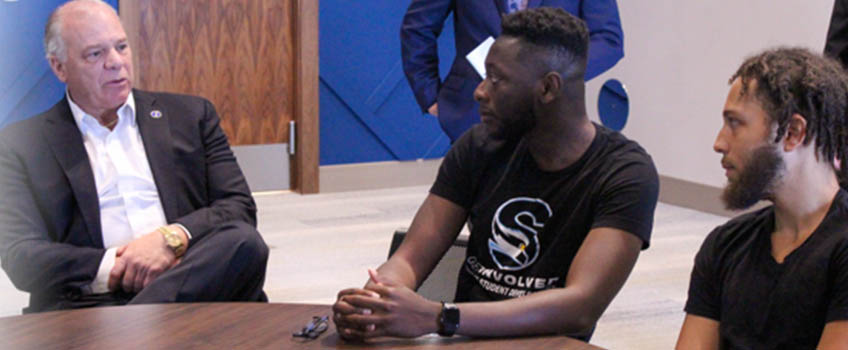 Sweeney, Mazzeo Tour Stockton A.C., Meet Students
Senate President Steve Sweeney and Assemblyman Vince Mazzeo on July 23 joined Stockton University's President Harvey Kesselman and other officials for a tour of the University's facilities and a discussion with Educational Opportunity Fund (EOF) and Tuition Aid Grant Program (TAG) students regarding the impact of increased higher education funding.
SPOTLIGHT ON: NUSRET SAHIN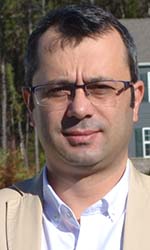 Body cameras are effective in holding police accountable according to a new study by researchers at Stockton University, American University and Georgia State University.
The study of police complaints in Chicago found that body camera video decreased the number of investigations dismissed for insufficient evidence and increased the number of disciplinary actions against police officers. The working paper was recently published by the National Bureau of Economic Research.
Stockton University Assistant Professor of Criminal Justice Nusret Sahin, one of the lead authors on the study, said the results are valuable for New Jersey, where all police officers are now mandated to wear body cams. Legislation was introduced in June that would allow New Jersey police officers to review body camera footage before writing up a report of an incident.
📰 In the News: New Jersey Globe, Insider NJ
WHAT'S TRENDING @ #STOCKTONU

Facebook: If there is one thing you have to do today, it is to read Sean Carpenter's story.
Twitter: Jersey fresh #NationalNewJerseyDay
Instagram: 🧦 Socktons & smiles, that's what it's all about...Valery Cintron is comfy cozy & ready to soar this fall.
FROM THE SIDELINES
Stockton Track & Field Teams Earn USTFCCCA Academic Honors
The Stockton University men's and women's track & field teams qualified for All-Academic Team honors from the U.S Track & Field and Cross Country Coaches Association (USTFCCCA) for the 2021 season.
The Stockton women's team, coached by Todd Curll, registered a 3.59 team grade point average that tied for 67th in NCAA Division III in GPA. The Osprey men's squad, coached by Jayson Resch, tied for 26th in the nation with a 3.53 grade point average.
---
📢 Fall 2021 Schedule Announced
Stockton Athletics announced its Fall 2021 schedules. After playing a limited number of contests in Spring 2021 due to COVID-19, Stockton's six fall sports teams all have full schedules lined up for the coming season. The games begin on Sept. 1, which is the first day allowed under NCAA rules.
WE'RE HERE TO HELP
Resources Available to Staff, Faculty
Vaccine Mandate: Stockton is mandating that all SFT employees (faculty, faculty librarians and professional staff) be vaccinated before Sept.1, 2021, and has entered into a Memorandum of Agreement with the Stockton Federation of Teachers Local 2275 (the Local Union), and the Council of New Jersey State College Locals, AFT, ALF-CIO (the Council) to set out the terms and conditions of that mandate. Stockton is also requiring that all Managers and TES (temporary) employees be vaccinated by September 1, 2021. All affected employees were notified of the requirement and the process via email on July 29. Read President Kesselman's statement here.
💉 Faculty, staff and students can check with their local providers and schedule a COVID-19 vaccination appointment.
💉 Free walk-in COVID-19 vaccination clinics are scheduled on campus for the following dates: Galloway: West Quad 103: Aug. 3, 10, 17, 23 and 30; and Sept. 1 and 2 from 2-5 p.m. Pfizer and Johnson & Johnson vaccines will be available.
COVID-19 testing information can be found at the NJ COVID-19 Information Hub.
✈️ Travel Guidelines: International travel for students, faculty and staff is now being reviewed on a case-by-case basis and requires approval by the relevant divisional executive. Domestic travel restrictions have been lifted for faculty and staff who are fully vaccinated and have submitted their necessary vaccine documentation. Divisional executives must still approve all requests and will review to ensure that no quarantines will be required for any faculty, staff or students who are traveling upon their return.
🎁 VAX UP and Win a Prize: Stockton is hosting a weekly drawing for prizes for all employees who have submitted their full proof of COVID-19 vaccination. This includes employees who have already submitted their proof. To submit your status, click the "Update Employee Vaccination Status" button under the employee tab in the portal, enter your vaccine type, dates of shot(s) and upload a picture/pdf of your vaccination card or proof of vaccination. A final drawing will be held on Thursday, Aug. 12 for two grand prizes: the choice of a free on-campus parking spot or two tickets to next year's Stockton Gala.
🎊 Congratulations to last week's employee winner: Jeffrey Langel, crew supervisor, Carpenters, who won a $50 Amazon gift card.
OSPREY NOTES
🚧 Traffic Advisory: Pomona Road Closing for August
Effective Monday, Aug. 2, Pomona Road will be closed through the month of August due to the Atlantic County Highway Department beginning road widening and resurfacing activities.
This also means Pomona Road will be closed to through traffic from Duerer Street to the Garden State Parkway (see detour map). Please follow the clearly marked signs that delineate a five-mile detour around the construction activity to and from the Garden State Parkway and Jimmie Leeds Road.
During this time, the intersection at Pomona Road and Vera King Farris Drive will be closed. The entrance from Jimmie Leeds Road will remain open as well as the intersection at Pomona Road and Delaware Avenue (North Athletic Campus area).
Read the SCOSA Newsletter
Read the Stockton Center on Successful Aging (SCOSA)'s August newsletter for interesting upcoming events and newly added programming.
UPCOMING EVENTS