Stockton News - Friday, July 17, 2020
WHAT WE'RE TALKING ABOUT
Trustees Resolve to Make Stockton Leader in Social Justice Issues
The Stockton University Board of Trustees has unanimously approved a resolution that reinforces its "Commitment to Diversity, Equity, Inclusion and Social Justice at Stockton," and positions the University to be a leader on these issues.
Board chairman Leo Schoffer said at the July 15 meeting that society is confronting two crises, that of the COVID-19 coronavirus and that of social injustice.
But unlike a virus, there is no vaccine to prevent or medicine to treat (social injustice)," Schoffer said. "That must be addressed through a process of change."
"The board believes that Stockton must play its role in this culture shift," Schoffer said. "We should aspire to be a leader in the community. This is a declaration by the board members of their recognition, intent, and purpose to lead the University in the quest for social change."
The board members read the resolution into the record, with each board member reading a section.
The full resolution can be found beginning on page 68 of the Board materials.
---
SRI/ETTC Helping Teachers Succeed Online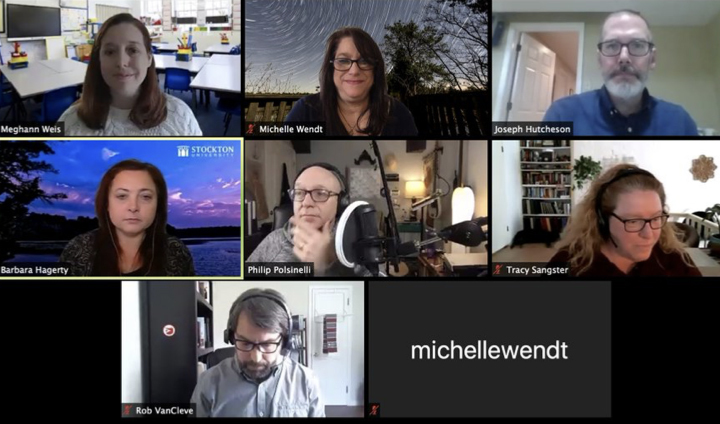 When New Jersey schools went online in March, the staff of the Southern Regional Institute and Educational Technology Training Center at Stockton University was ready.
For more than a decade, the SRI/ETTC has been providing teachers throughout New Jersey the tools they need to incorporate technology into their classrooms.
And now teachers needed those tools more than ever.
Since the shutdown, the ETTC provided 52 free webinars in real time, and more are planned through the summer. Topics have included using Google Classroom, Discovery Education, EdPuzzle, and how to add audio and video to lessons, and create online tests.
---

2020 Formal Commencement Ceremonies Set for Oct. 23

The University plans to hold the Spring 2020 Formal Commencement Ceremonies on Friday, Oct. 23 at the Galloway Campus.
Due to current physical distancing guidelines and state-mandated capacity limits (a maximum of 500) the University will offer multiple ceremonies. Graduates will be sent an RSVP link in early August to confirm their intent to participate. The start time for each ceremony will be determined by the number of RSVPs received and will be announced by Sept. 1. Graduates will be assigned to a ceremony by school.
More details are available at stockton.edu/commencement. More information about faculty and staff participation will be announced in a few weeks.
STOCKTON UNIVERSITY ATLANTIC CITY
Stockton and Atlantic Shores Offshore Wind Sign Lease Agreement for Educational and Community Outreach Center
Stockton University has entered in a sublease agreement with Atlantic Shores Offshore Wind LLC of Brooklyn, N.Y., to lease 1,940 square feet of commercial space located on the Boardwalk and Roosevelt Avenues in the Stockton Atlantic City Residential Complex.
Atlantic Shores Offshore Wind will dedicate the space as a new Educational and Community Outreach Center, serving as its primary location to host informational events for the local community around its upcoming offshore development plans.
The 10-year lease is effective July 15, with an option for two five-year extensions.
SPOTLIGHT ON: PAT REID-MERRITT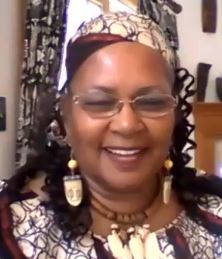 "I guess I did okay. The response (emails, texts, telephone calls, requests) was a bit overwhelming. I started asking myself, 'What did I say?'" reflected Pat Reid-Merritt, distinguished professor of Africana Studies and Social Work, on her participation in the online seminar, "Race, Racism, and Anti-Racism: Redefining the Social Contract" on June 30.
As Stockton faculty and staff tuned in to listen to her presentation, the outpouring of support just by email alone indicated she had far surpassed "okay."
The seminar, hosted by Temple University, featured a panel of some 20 national scholars and drew an impressive 1,200 registrants. When Molefi Asante, chair of the Graduate Department of Africology and African American Studies at Temple, asked Reid-Merritt to be one of those scholars, she said she was excited and needed to reflect on her selection.
FRAME-WORTHY
Noyes Museum Shares Free Art Projects for Kids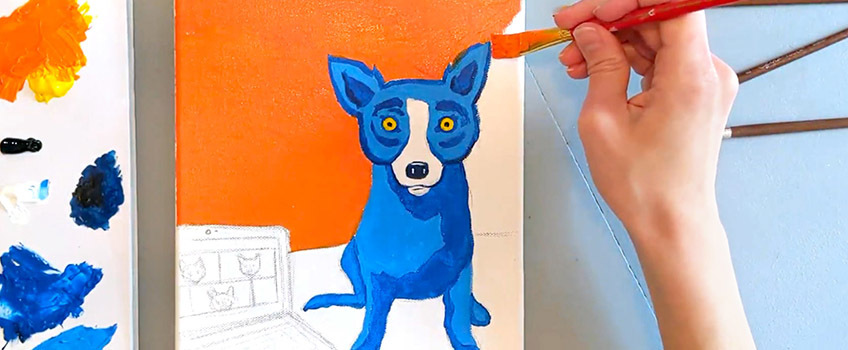 Looking for a cool art project for the kids over the summer? The staff at the Noyes Museum of Art at Stockton University has posted a series of seven art projects on YouTube that are perfect for children of all ages.
"We can't hold our summer camp on campus this year, but that's no reason to stop doing art," said Noyes Education Coordinator Saskia Schmidt, who also leads a few of the lessons. "These projects use easy to find materials and will keep children occupied on a hot or rainy summer day. They will also learn a little about different artists, art styles and media."
WHAT'S TRENDING #STOCKTONU
Twitter: Retweet from @Stockton_Alumni: To our #StocktonU donors: THANK YOU for making a difference in the lives of our students this year.
OSPREY NOTES
Stockton Center for Community Engagement and Service-Learning Announced
The Center for Community Engagement (SCCE) and the Office of Service-Learning (OSL) have been reorganized into the Stockton Center for Community Engagement and Service-Learning (SCCESL).
The SCCE and OSL have been the primary conduits for community engagement throughout the University, and both offices approach this work with an inclusive mindset. Moreover, both SCCE and OSL programs serve a broad range of people in terms of age, immigration status, race, ethnicity, religion, gender, sex, and sexual orientation, among other diversity factors.
Previously, Service Learning was housed in the School of General Studies, while the Center for Community Engagement reported to the Office of the Provost. In its new iteration, SCCESL will report directly to the Interim Provost and Vice President for Academic Affairs.
---
More CARES Grants Available for Students
Please let your students know that the University has begun taking applications from students for the second round of emergency grants through the federal CARES Act program.
Stockton received $5 million to provide Stockton CARES Emergency Grants to eligible students. Almost $3.3 million was distributed to more than 1,540 students in the first round of grants in the spring.
The deadline to apply for the second round is Aug. 3 at stockton.edu/cares. Funds are limited to the $1.7 million remaining in the grant and will be distributed on a first-come, first-served basis.
Students who received grants in the first round may re-apply if they have incurred additional expenses. Additionally, students who borrowed laptops from the University during the spring semester can apply for funds to purchase their own laptop. To help, the ITS department has put together a Stockton laptop program for students buying guide.
UPCOMING VIRTUAL EVENTS
Upcoming Events Hosted by the Office of Development and Alumni Relations
Student Affairs Community Conversation on Black and Latinx Student Success via Zoom: