Stockton News - July 15, 2022
WHAT WE'RE TALKING ABOUT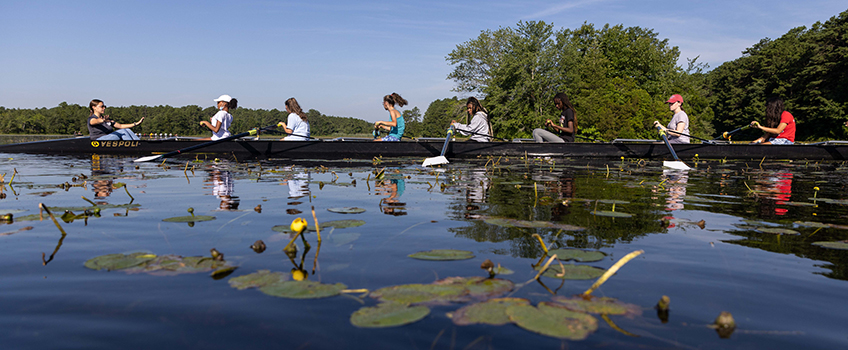 Summer Youth Rowing Program Expands in Second Year
Jordan Edwards loves being outdoors playing sports, but the 14-year-old from Mays Landing hasn't been able to participate in many organized activities recently due to the COVID-19 pandemic.
Then her father discovered the Summer Youth Rowing Program at Stockton. The monthlong camp meets weekdays in July at Lake Fred on Stockton's Galloway campus. The program, in its second year, provides more than 30 Atlantic County children entering seventh, eighth and ninth grades a free introduction to the sport of rowing.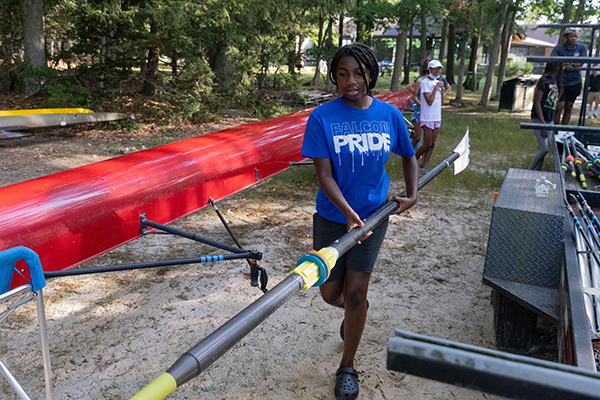 "I've enjoyed it a lot being out on the lake, being out on the water," Edwards said. "Just being able to learn something new, it gives me a good feeling."
Stockton men's rowing coach Joe Maguire is the coordinator for this summer's program. He's been joined by Steve Kelly, the rowing coach at Ocean City High School, Joe Welsh, Holy Spirit High School's girl's crew coach, and Vashon Brock, the assistant boy's crew coach at Oakcrest High School and a 2021 Stockton graduate. Several Stockton students also are part of the camp — teaching the new rowers the basics of the sport but also providing them with some positive life skills learned from being out on the water.
---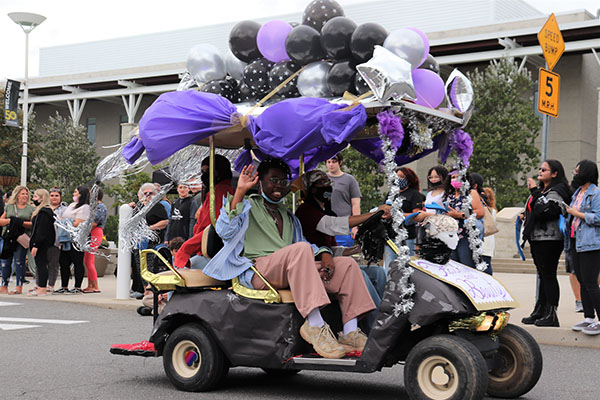 Vendors Sought for University Weekend Street Fair
Arts and crafts artisans, jewelry makers, nonprofit organizations and other vendors are invitedto participate in the University Weekend Street Fair at Stockton from noon-4 p.m. on Saturday, Oct. 8.
"The Street Fair is an exciting University Weekend tradition open to the entire Stockton community, including students, faculty, staff, parents/families, alumni and friends," said Lauren Wilson, associate director of Student Development.
WHAT'S TRENDING

@ #STOCKTONU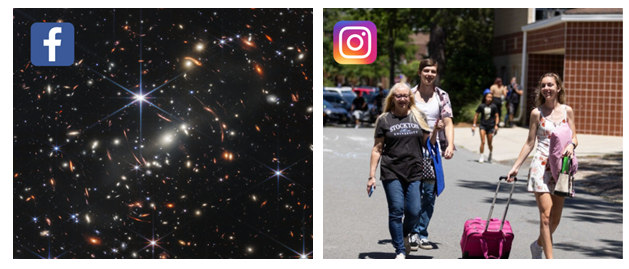 Facebook: While images from NASA's James Webb Space Telescope #unfoldtheuniverse on social media today, Stockton Associate Professor of Physics Joseph Trout and students unboxed a new telescope outside the Harold E. Taylor Observatory to get their own views into space.
Instagram: We've got new Ospreys 🦅 landing in the nest! Let's hear some of your best advice...
FROM THE SIDELINES
Track & Field Teams Qualify for USTFCCCA Academic Honors
The Stockton men's and women's track & field teams qualifiedfor All-Academic Team honors from the U.S Track & Field and Cross Country Coaches Association (USTFCCCA) for the 2022 season. Teams required a minimum grade point average of 3.10 to qualify.
The women's team, coached by Todd Curll, registered a 3.49 team grade point average and the Osprey men's squad, coached by Jayson Resch, recorded a 3.10 grade point average. The women's team made the list for the 11th consecutive year, while the men's team qualified for the 10th time in the last 11 years.
In addition to the team honors, five Stockton student-athletes qualified as USTFCCCA All-Academic Athletes individually. The two men's qualifiers were throwers Darren Wan and William Gross. Wan qualified for the third consecutive time.
OSPREY NOTES
Become a Student Success Personal Mentor
Faculty and staff who are interested in helping students succeed during their time at Stockton can do so by participating in the Student Success Scholars Program.
The program aims to help students navigate and maximize the benefits of various academic and student life resources available at Stockton. A major component of this program is individualized mentoring by Stockton faculty and staff.
For more information about becoming a Student Success Personal Mentor, visit here. If you have questions, email Tomas Itaas at Tomas.Itaas@stockton.edu. Interested mentors should apply by Friday, July 29, as training begins on Monday, Aug. 29.
---
Stockton Sentiments and Memories . . .
"In a few short weeks, it will be 50 years since I walked through the doors of the Mayflower Hotel on the famed Boardwalk of Atlantic City. Little did I know that I was embarking upon the adventure of a lifetime. We were promised an education like no other, and Stockton lived up to that promise as far as I am concerned. Where else would freshmen be on a first-name basis with the president, vice president and many of the professors at the college within the first month? Several classes had no books, where just about every session was in the field. Field trips out to the 200-fathom line to take bottom core samples or studying the coastline from Cape Cod to the Bay of Fundy were the norm. Before returning to campus from a field trip, we often stopped at Louie's for a quick sandwich and a beer. One of my extracurricular accomplishments was starting the soccer club on the beach in Atlantic City, watching it grow into an NCAA sport and be the only national championship team in Stockton's history."
– Dave Sparky Kolator '75
Have a memory you'd like to share in celebration of Stockton's 50th anniversary? Submit it here.
UPCOMING EVENTS