Stockton News - Friday, July 12, 2019
WHAT WE'RE TALKING ABOUT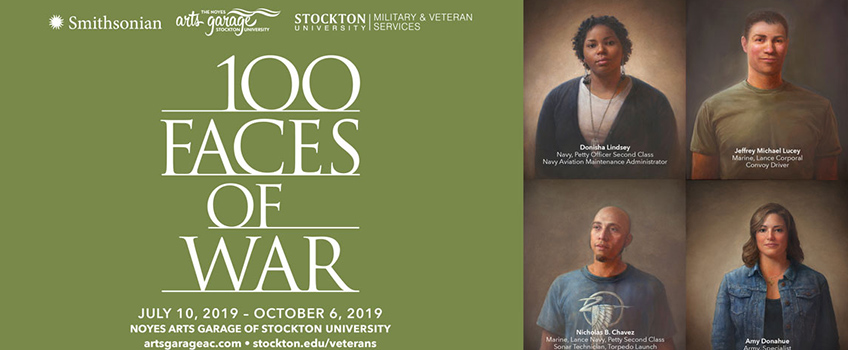 '100 Faces of War' Featured at Noyes Arts Garage
The American military in the 21st century is diverse and reflects the complexities of the country and the current times.
100 Faces of War, a traveling exhibition from the Smithsonian, presents the stories of those who served the U.S. in the Iraq and Afghanistan wars. The free exhibition will be on view at the Noyes Arts Garage of Stockton University, 2200 Fairmount Ave. in Atlantic City, from July 10-Oct. 6.
---
Camden County College Joins Transfer Pathways Program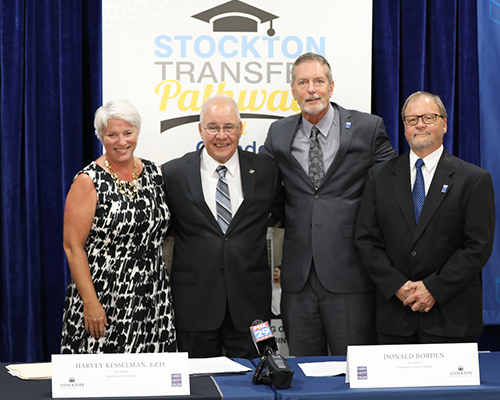 The presidents of Stockton University and Camden County College today announced their support for a dual admission and transfer partnership agreement that will help students make a smooth transition from the two-year college to Stockton's bachelor's degree program.
The Transfer Pathways agreement builds a strong relationship between Stockton and Camden County College by offering multiple opportunities for students to affordably pursue associate and bachelor's degrees at the two institutions of higher education.
The Gloucester Township Patch, KYW News Radio and SNJ Today featured the signing.
---
Urban Teacher Academy Gives Budding Teachers a Taste of Teaching in the City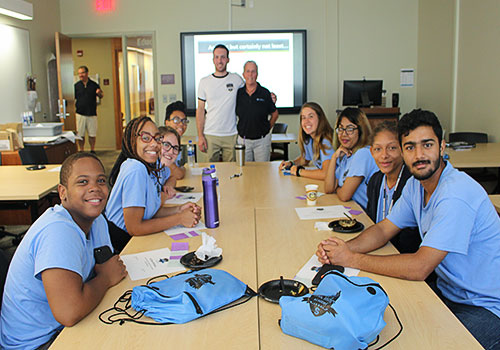 What does it mean to be a teacher? What are the qualities of an effective teacher? What do teachers need to know about the community and their students in order to be successful? These are a few of the questions explored within the Urban Teacher Academy at Stockton University.
The weeklong Urban Teacher Academy is a program available to high school students interested in the field of education, and serves as a long-term recruitment strategy to increase the pool of candidates interested in becoming teachers, especially in urban schools.
STOCKTON UNIVERSITY ATLANTIC CITY
Conference Challenges Youth to 'Break the Cycle'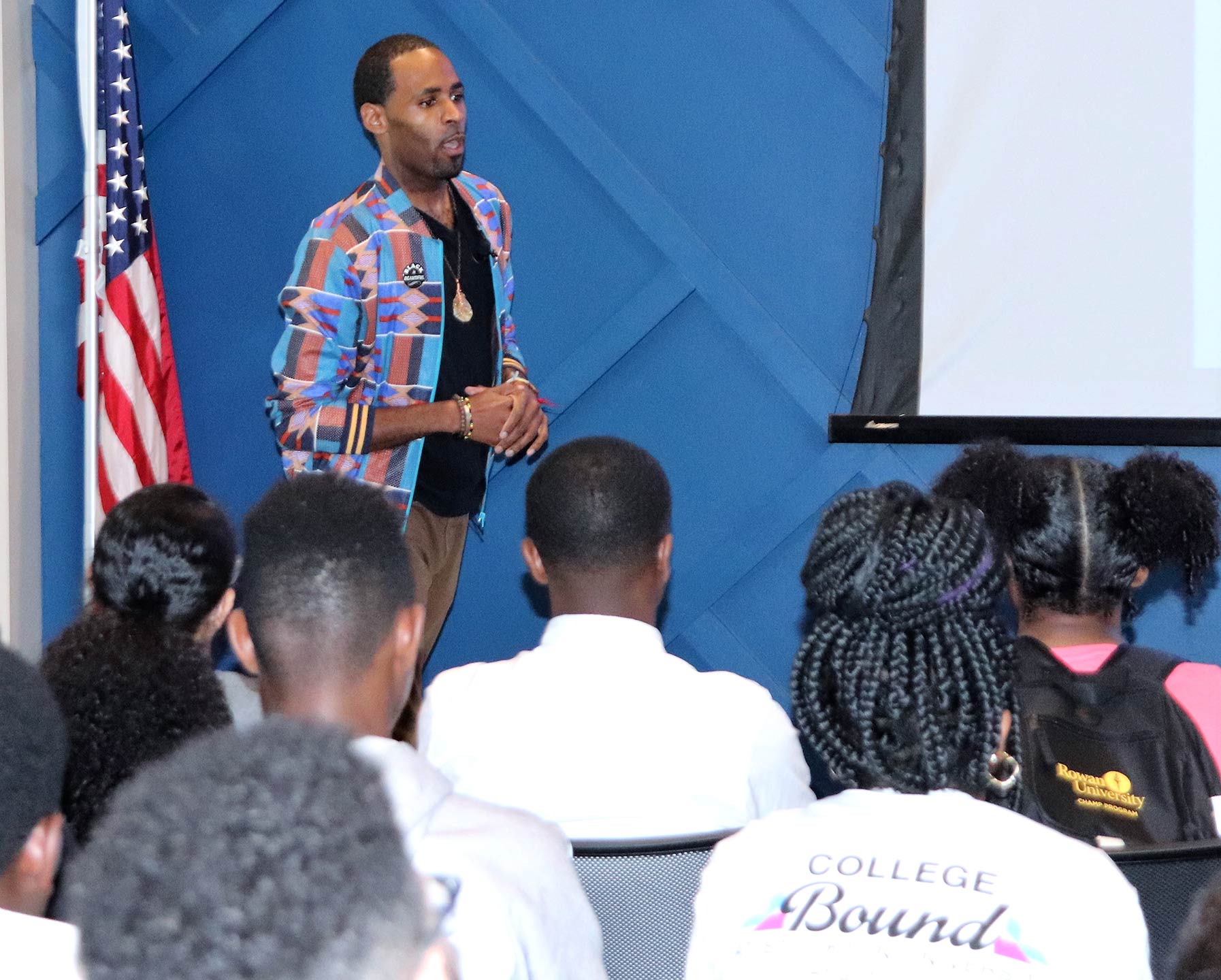 As Akeem Lloyd talked about growing up on North Carolina Avenue in Atlantic City and the challenges he faced, heads in the room began to nod in understanding. Lloyd detailed his childhood raised by his grandparents, running from bullies on the street, contemplating suicide and never, ever crying, to about 150 youth in the College Bound at Stockton University and Rowan University CHAMP programs.
Lloyd was the keynote speaker at the Passport to Success Youth Conference June 25 at Stockton Atlantic City, which united youth in the two programs in grades 7-12.
SPOTLIGHT ON
White Dives into Minds of Serial Killers at Conference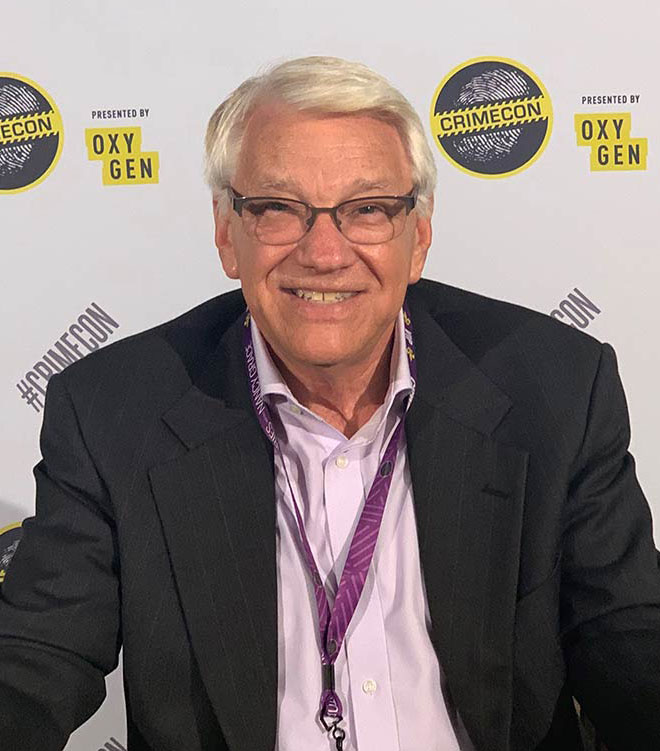 Stories of serial killers, while terrifying, also spark intrigue and fascination. John White, professor of Psychology at Stockton University who is also a former Investigator Sergeant for the Dallas Police Department, has been telling that narrative through research with students since he began his teaching career at Stockton in 1992.
White had over 400 people attend his program on the subject at Crimecon 2019 in June. CrimeCon is a true crime organization sponsored by the Oxygen Channel. Darice Pico '94 is White's presentation editor, and edited the one he gave at CrimeCon. Other speakers during this conference included Nancy Grace, the hosts of "Dateline" and "48 Hours", Christopher Darden, victims Debra and Tara Newell from the "Dirty John" series, and Jan Broberg from Netflix's documentary "Abducted in Plain Sight".
FRAME-WORTHY:
Ospreys Burst Onto the Scene in Breakthrough Season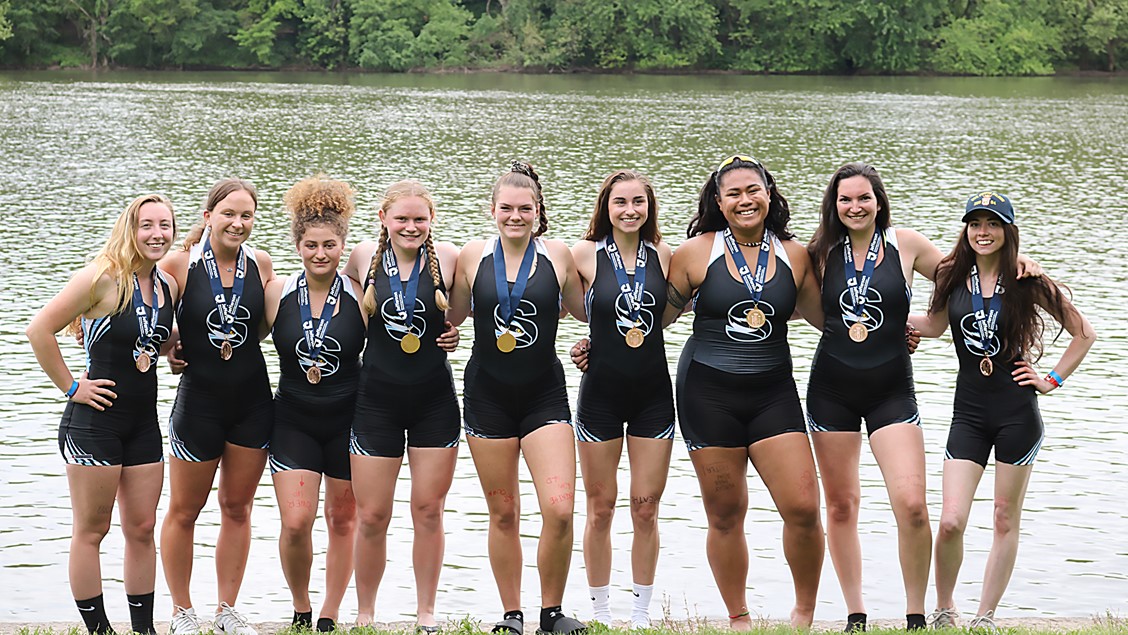 The Stockton University women's rowing program made tremendous strides during a breakthrough season that set the Ospreys on a path toward future success. After competing in three regattas during Fall 2018, Stockton's transformation began during the spring semester with the arrival of John Bancheri as the program's first full-time head coach.
The Stockton varsity eight finished 20th in the final cMax NCAA Division III rankings, vaulting up from 33rd early in the season. The Ospreys also posted their best finish ever in the varsity eight at the MARC Championships with fourth place while the second varsity notched a best-ever performance as the runner-up at the conference meet.
WHAT'S TRENDING #STOCKTONU
Instagram: A new story has been added the #StocktonSpecialCollections highlight that focuses on the Board of Trustees.
---
Facebook: #WildlifeWednesday: Read about this single mom osprey from Montana that was left to raise two chicks alone after her partner left to go to another osprey nest.
FROM THE SIDELINES
Esports Teams Play Exhibition Matches at Conferences
Stockton University esports team members demonstrated their prowess at two recent conferences.
At the Esports Travel Summit in Atlantic City, Rocket League players Alex "Large" Lee, Vincent "Dark" Nelson, and Geno "Genocop" Copertino beat Rutgers University 2-0 in an exhibition match. After winning the series, Stockton players received HyperX gear.
OSPREY NOTES
Catch a Lecture by a Colleague
Stockton University faculty and staff members will explore topics such as Holocaust denial and the United States naturalization process during the 22nd annual "Salute to Stockton" educational summer lecture series at Shirat Hayam Synagogue in Ventnor, 700 N Swarthmore Ave.
All lectures are free, open to the public, and held 7 p.m. on Fridays as part of the Sabbath services. The first lecturer is Thomas Kinsella, professor of British Literature and director of the South Jersey Culture and History Center (SJCHC), on July 26.
Continuing Studies Offers a Variety of Courses this Summer
The University's Office of Continuing Studies is hosting a variety of classes for personal and professional enrichment, ranging from mindfulness and yoga to French and photography this summer. Learn more by visiting stockton.edu/cs.
UPCOMING EVENTS
Upcoming events hosted by the Office of Development and Alumni Relations
Now-Friday, July 26: Ducktown A.C. Summer Fest
Now-Friday, Aug. 2: "Selection from the Noyes Museum Collection" exhibit
Thursday, July 18: Pinelands Summer Short Course offers Kayak Trip, Blacksmithing Demo
Tuesday, July 23: Transfer Open House