Stockton News - July 9, 2021
WHAT WE'RE TALKING ABOUT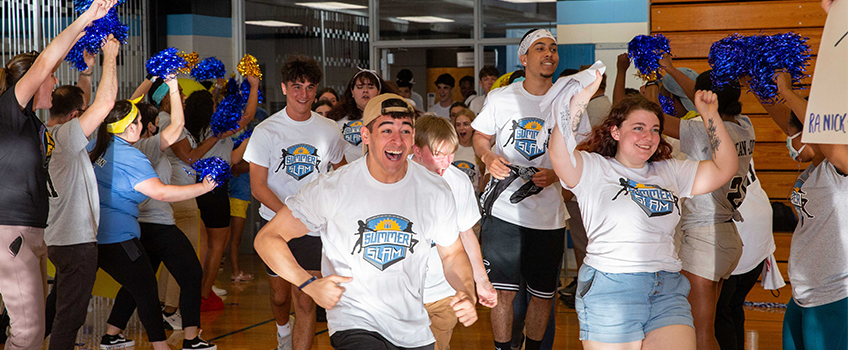 Stockton Hosts Overnight Bash for New Students
This summer, Student Transition Programs is bringing the heat, firing on all cylinders to provide new students an orientation experience like none other. After the past year and a half of social distancing, masks and plexiglass, the entire Stockton community is celebrating the return to normal and welcoming new Ospreys with big smiles to the Galloway campus for overnight orientations, known as Nest Fest.
"We listened and responded to the needs of the incoming students who missed out on socializing with their peers due to the COVID-19 pandemic," explained Ana Edmondson, director of Student Transition Programs. Typically, orientation would be a one-day event to register new students for fall classes. But this year, in addition to one-day and virtual orientations, Edmondson and Candace Mitchell, coordinator of Student Transition Programs, introduced five overnight options to help students acclimate to campus, experience the dorms and make new friends before the start of the fall semester.
---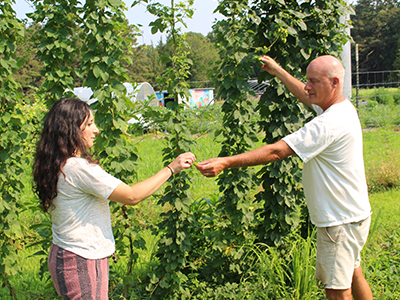 Group Formed to Address Food Insecurity in N.J.
Why do people go hungry and yet so much food goes to waste?
Jeanine Cava of Tuckerton, co-founder of the New Jersey Food Democracy Collaborative and an adjunct professor of Sustainability at Stockton University doesn't just want to answer the question, she wants to help create solutions.
Cava, working with partners in the collaborative, in May submitted a 32-page response to a New Jersey Economic Development Authority (NJEDA) request for suggestions on addressing food deserts and food insecurity, and how the different sectors of the food system can collaborate to ensure that everyone has the healthy food they need. She hopes the report and the collaborative can provide a blueprint for the future.
STOCKTON UNIVERSITY ATLANTIC CITY
Stockton Receives AASCU Economic Development Award for A.C. Campus
Stockton University has been chosen to receive the 2021 Excellence and Innovation Award for Regional and Economic Development from the American Association of State Colleges and Universities.
The national award recognizes the Stockton University Atlantic City campus for its contributions as an anchor institution in Atlantic City.
"I am honored to recognize these Excellence and Innovation Award winners, who demonstrated immense creativity, resilience, and dedication during an incredibly difficult year," said Mildred García, president of AASCU. "These institutions are paving the way in prioritizing equity, student success, and moving their diverse communities and regions forward as Stewards of Place."
📰 In the News:New Jersey Business Magazine, The Press of Atlantic City, Insider NJ, WPG Talk Radio
WHAT'S TRENDING @ #STOCKTONU

Instagram: If Dylan Silverstein looks familiar, it's because he's the host of the weekly athlete features on our Instagram story during the school year. We asked him why he got vaccinated.
Twitter: Look who swam past #StocktonAC!
LinkedIn: If you could spend an afternoon sitting here by Lake Fred with anyone, who would you choose?
WE'RE HERE TO HELP
Resources Available to Staff, Faculty
Free COVID-19 testing has been discontinued on campus. Visit the NJ COVID-19 Information Hub for testing locations.
💉 Faculty, staff and students can check with their local providers and schedule a COVID-19 vaccination appointment. Stockton will require students to get the COVID-19 vaccine for the Fall 2021 semester. Vaccination is currently voluntary but strongly encouraged for employees.
Free walk-in COVID-19 vaccination clinics are scheduled on campus for the following dates: Galloway: West Quad 103: July 9,13,14,16,20 and 27; Aug. 3,10,17, 23 and 30; and Sept. 1 and 2 from 2-5 p.m. Manahawkin: July 28: 10 a.m.-1 p.m. No appointment is necessary. Pfizer and Johnson & Johnson vaccines will be available.
🎁 VAX UP and Win a Prize: Stockton is hosting a weekly drawing for prizes for all employees who have submitted their full proof of COVID-19 vaccination. This includes employees who have already submitted their proof. To submit your status, click the "Update Employee Vaccination Status" button under the employee tab in the portal, enter your vaccine type, dates of shot(s), and upload a picture/pdf of your vaccination card or proof of vaccination. A final drawing will be held on Thursday, Aug. 12 for two grand prizes: the choice of a free on-campus parking spot or two tickets to next year's Stockton Gala.
🎊 Congratulations to last week's employee winner: Nicole Marsh, executive assistant and board liaison in the Office of the President. Marsh won a four-pack of tickets to Morey's Piers, courtesy of the Office of Development and Alumni Relations.
OSPREY NOTES
Reminder: Changes to Blackboard for Fall Semester
This is a reminder about the upcoming changes to Blackboard for the Fall semester. You may now choose to create and deliver your courses in a new Blackboard Ultra format. Using Ultra is not required, you may continue to use the Original course view. The choice between an Ultra course and Original Learn course is yours. Some faculty prefer the new Ultra course view for a more modern design and easier workflow. Directions on how to enable the Ultra Course Experience can be found here. Please note: Once a view for your course is selected, it is set for the duration of the semester and cannot be changed.
For anyone who wants to try the Ultra view before making a selection for upcoming courses, request an Ultra view development course here. In the development course, you may import a current course and view your course materials and design in the Ultra course view. ITS has training material for the Ultra Course view available here that will allow you to become familiar with the new features. If you would like to discuss course design issues related to choosing between Ultra and Original views, make an appointment with a CTLD team member here.
UPCOMING EVENTS