Stockton News - Friday, July 5, 2019
WHAT WE'RE TALKING ABOUT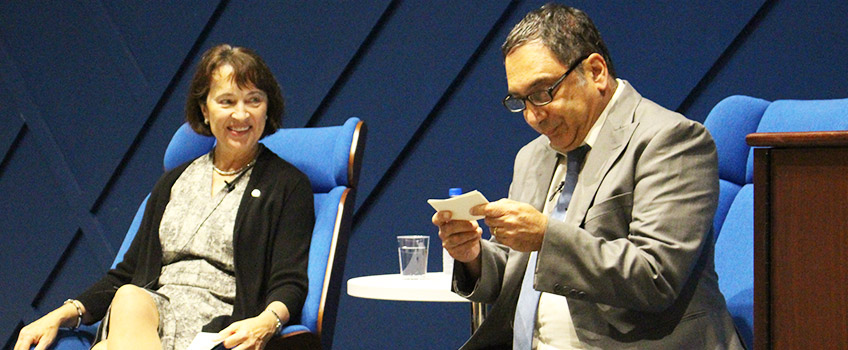 DEP Commissioner Calls for N.J. Strategic Climate Plan
New Jersey needs a strategic plan for climate change that will address both mitigation and resiliency across the state, Department of Environmental Protection Commissioner Catherine McCabe told attendees at the 2019 State of New Jersey Beaches forum at Stockton University Atlantic City on Monday, July 1.
"We know there are issues of vulnerability for people and the economy," McCabe said. "We think about this a lot at the DEP."
The event, hosted by the William J. Hughes Center for Public Policy and the Coastal Research Center at Stockton, covered topics related to coastal issues in New Jersey.
The Press of Atlantic City, CBS Philly, NJ.com and NJ Spotlight covered the forum.
---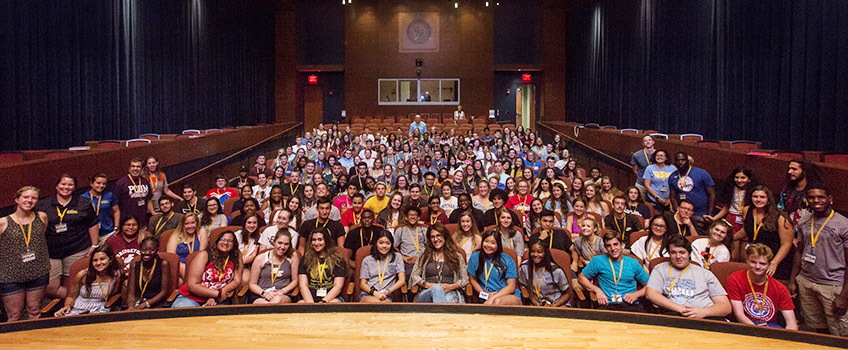 Rotary Youth Leaders Celebrate 40 Years at Stockton
They arrived at Stockton University on Sunday, June 23 as an excited, but also nervous group of rising high school seniors wondering what to expect from their five days at the Rotary Youth Leadership Awards conference.
By Wednesday they were still excited, but no longer nervous as they connected with new best friends, and bemoaned having to go home on Thursday night.
The Press of Atlantic City covered the conference.
---
First Building at NARTP Opens with Multiple Tenants
Stockton University president Harvey Kesselman joined local, state and federal officials at the ribbon cutting ceremony June 19 for the first building at the National Aviation Research and Technology Park in Egg Harbor Township.
"The NARTP initiative serves as a perfect example of the power of collaboration and its ability to create one's desired future," Kesselman said. "With resourceful and innovative thinking, the idea of establishing an Aviation Research & Technology Park took flight as part of a larger conversation to create economic diversity for our region."
STOCKTON UNIVERSITY ATLANTIC CITY
Summer Academy EOF Atlantic City Students Move In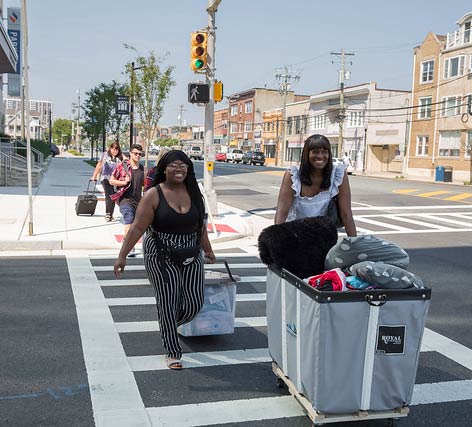 The 2019 Educational Opportunity Fund Summer Academy Atlantic City students moved in to their new digs this past weekend at Stockton University Atlantic City. After checking in, the students were treated to a welcome reception, lunch, workshops and dinner. Check out this Instagram highlight that encompasses the spirit of the day. The academy runs through Aug. 1. A similar program is running for students at the Galloway campus.
---
Prospective Students attend HTMS Open House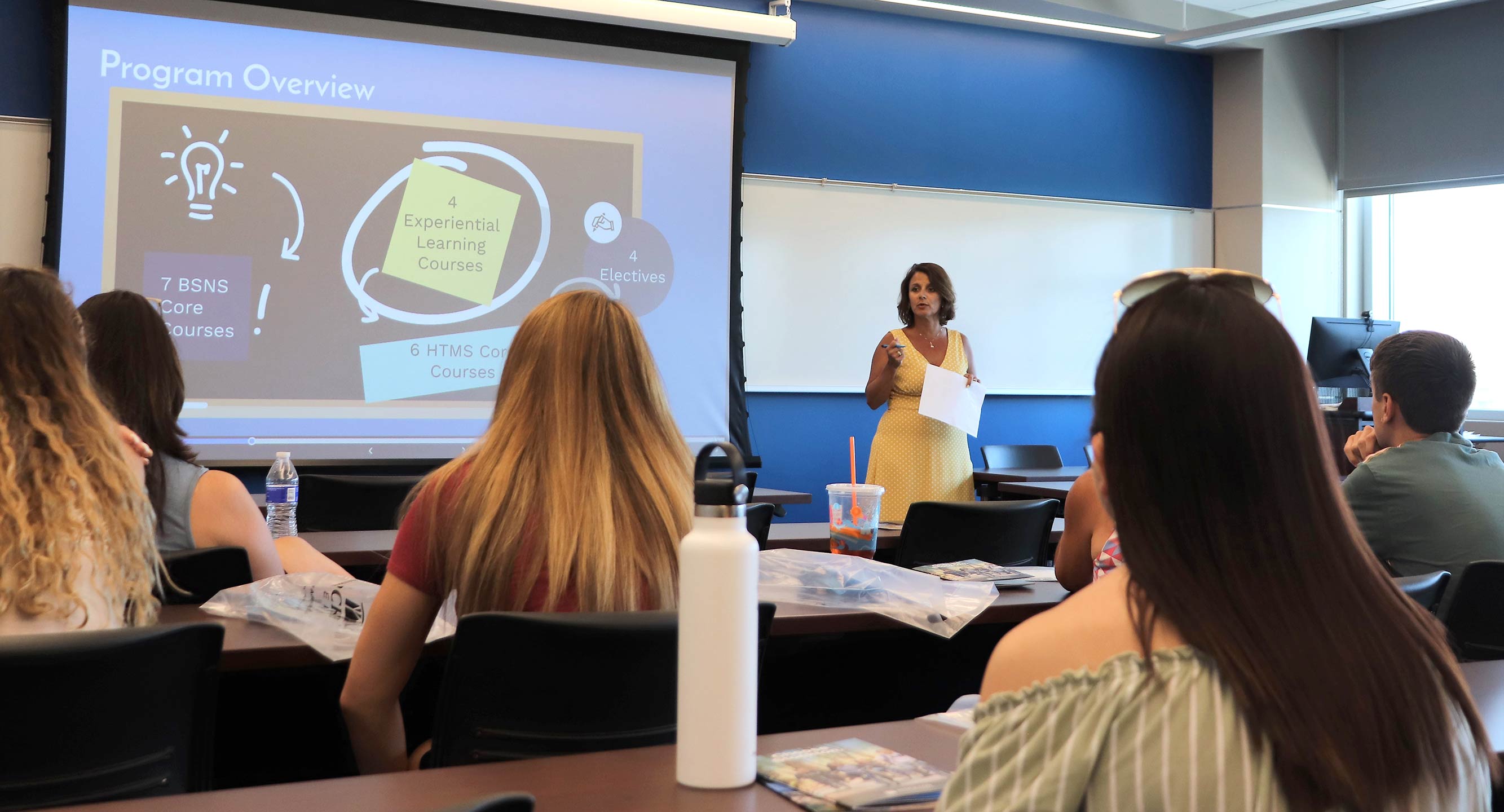 Members of the Hospitality, Tourism & Event Management Studies program and Enrollment Management provided an overview of Stockton and the HTMS degree to prospective students at an open house at the Atlantic City campus on June 28. Attendees learned about the new Event Planning and Management area of interest in the program, heard from faculty and students, and toured the campus.
PHOTO: Donna Albano, associate professor of Hospitality, Tourism & Event Management Studies, provides an overview of the degree program.
---
Catch a Movie July 9 at Stockton University Atlantic City
"Summer Cinema in the City" is featuring Dumbo at 6 p.m. on Tuesday, July 9, in the Stockton University Atlantic City residential classrooms B119/120. Attendees are asked to bring their Stockton IDs.
---
Film Screening: 'Who Will Write Our History' July 10
The critically acclaimed Holocaust documentary "Who Will Write Our History," which focuses on the Warsaw Ghetto, will be shown at 7 p.m., Wednesday, July 10, at the Stockton University Atlantic City Academic Center. The screening is free and open to the public. Two professional development hours are available to New Jersey educators.
SPOTLIGHT ON
Stockton Recognized by State for Influenza Prevention Efforts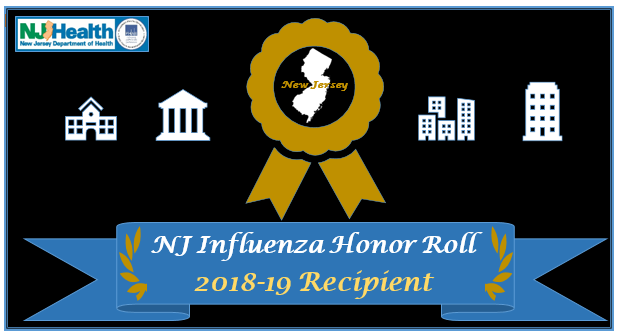 Stockton University was recognized by the New Jersey Department of Health's (NJDOH) annual New Jersey Influenza Honor Roll, which highlights institutions striving to promote influenza prevention at their facilities during the 2018-19 flu season. The Influenza Honor Roll is open to four categories of honorees: business, community-based partners, education and healthcare facilities. Institutions from all categories were encouraged to submit applications detailing all implemented influenza-related activities.
Kristen Mittleman, health educator, and Becky Licari, the Immunization Clerk of the Wellness Center, felt strongly that Health Services and Community Health Education should apply due to the increased offerings of the immunization clinics.
Licari secured contracts with a local pharmacy and sent students, staff and faculty the immunization clinic flyer notifying them of the six clinics offered. Mittleman helped promote the clinics via social media, Student Digest and provided NJDOH mini flu flyers/handouts for the students in the Health Services clinic. Masks and hand sanitizers were also readily available. The Wellness Center Peer Educators promoted the immunization clinics during tabling events that included additional flu information and prevention strategies at Welcome Back to Wellness and Start the Semester Off Right.
The Stockton University Health Services and Community Health and Education out of The Wellness Center hopes to offer these clinics again during Fall 2019, so look for upcoming information on immunization clinic dates via email, Student Digest and on The Wellness Center at Stockton University Facebook page. Click here to see Stockton University and other awardees.
---
Kong, Furgione Present at AIR Forum in Colorado
Xiangping Kong, director of Institutional Research, and Dennis Furgione, research associate, presented "Impact Analysis and Implications for Institutional Enrollment Goals at A NJ Public, 4-Year Institution" at the 2019 Association for Institutional Research Forum held May 29-31 in Denver, Colorado.
According to the AIR Forum program of presentations, the purpose of their research "is to examine New Jersey's demographic trends and enrollment changes in secondary schools and state public institutions and to provide a relevant context for the articulated enrollment goals at the University. From the analysis of statewide demographic and secondary/post-secondary enrollment changes, this study attempts to draw implications and present strategic recommendations in order to inform the University's senior leadership and institutional strategic planning process about the potential impact the data analysis may have on the University's enrollment goals."
"Research presentation is an important way for IR professionals to exchange concepts and practices in the field of institutional research that provides data analytics and support decision-making processes and student success," Kong said. "The annual AIR Forum is also a great professional networking opportunity with many other conference participants who represent several thousand institutions of higher education from the U.S. and abroad."
FRAME-WORTHY: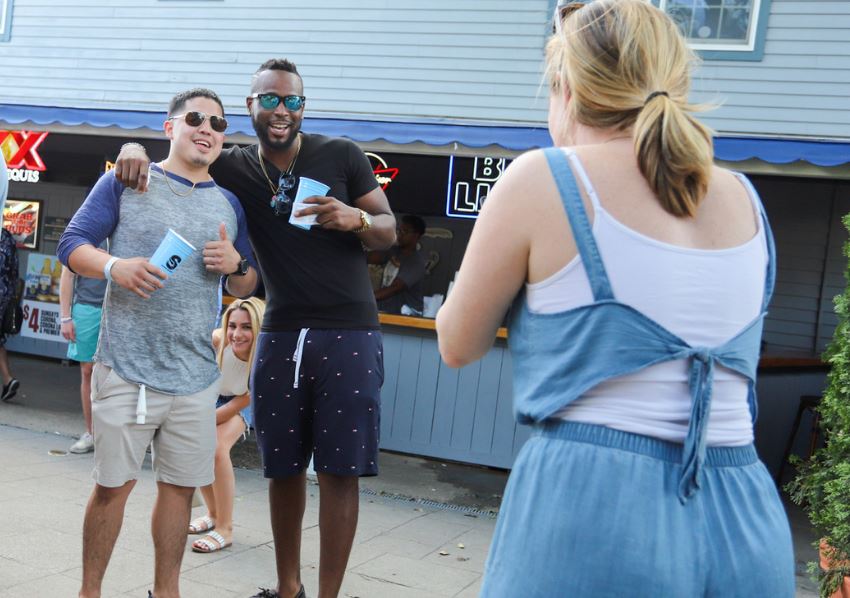 Ospreys Reunite for Summer Fun
Stockton University alumni gathered for the 9th Annual Summer Reunion, hosted by The Office of Development and Alumni Relations, on June 22 at Bar Anticipation in Belmar, New Jersey. Fellow Ospreys enjoyed good company, food and refreshments, live music, games, giveaways and more during the event.
Check out more photos capturing the action in this Facebook post, and sign up for upcoming summer events for alumni and friends of Stockton University.
Check out our flickr galleries for more Stockton snapshots.
WHAT'S TRENDING #STOCKTONU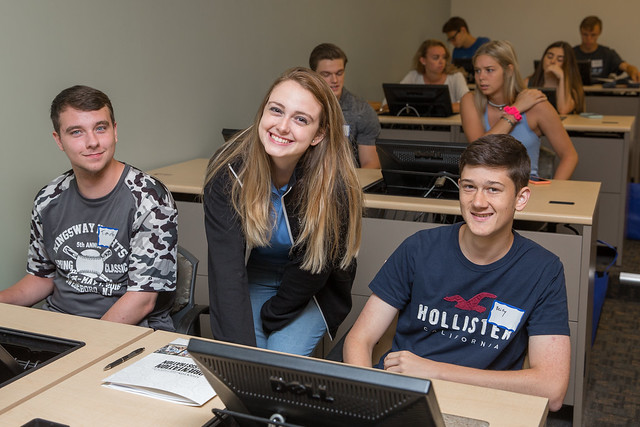 Facebook: This post highlights the first day of Freshman Orientation. Our followers were asked, "If you could go back and tell your freshman self one thing, what would it be?" See the comments for their tips and advice. T.A.L.O.N.S. also took over Stockton's Instagram for the day.
See more photos here.
---
Twitter: Explore the deep sea with #StocktonU Professor Tara Luke as she tweets highlights from the NOAA #Okeanos mission. Check out this web story that takes an in-depth look at Luke's research.
FROM THE SIDELINES
Holleritter & Wharton Chosen USILA Scholar All-Americans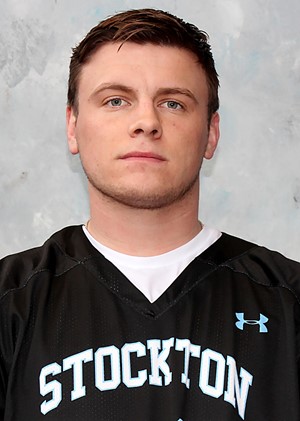 Stockton University men's lacrosse teammates Chris Holleritter, left, and Colin Wharton were chosen USILA/Warrior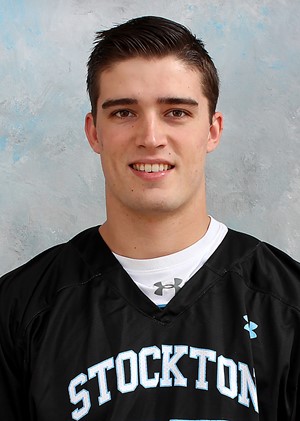 and New Balance Division III Scholar All-Americans. The selections were made by the United States Intercollegiate Lacrosse Association.
Holleritter and Wharton, both defenders, were among 75 Division III players on the list and were the first two Ospreys ever to be recognized. Nominees must be seniors with a minimum grade point average of 3.0 who have acted in a manner that brought credit to themselves, their institutions and college lacrosse.
---
138 Ospreys Qualify for NJAC All-Academic Team
A total of 138 Stockton University student-athletes earned spots on the 2018-19 New Jersey Athletic Conference All-Academic Team for their work in the classroom. The total tied the school record, which was set last year.
OSPREY NOTES
NAMS Publishes Spring/Summer 2019 E-zine
The School of Natural Sciences and Mathematics has published the Spring/Summer 2019 issue of their e-zine, The Essential Elements. Highlights include effects of air pollution on climate and health, an active learning course in Physics and the observatory reopening thanks to students' passion.
Continuing Studies Offers a Variety of Courses this Summer
The University's Office of Continuing Studies is hosting a variety of classes for personal and professional enrichment, ranging from mindfulness and yoga to French and photography this summer. Learn more by visiting stockton.edu/cs.
UPCOMING EVENTS
Friday, July 5-Friday, July 26: Ducktown A.C. Summer Fest begins
Monday, July 8-Friday, Aug. 2: "Selection from the Noyes Museum Collection" exhibit
Monday, July 9: "Culinary Medicine: Healing in the Kitchen" lesson
Wednesday, July 10:"The Holocaust Then & Now" presentation
Thursday, July 18: Pinelands Summer Short Course offers Kayak Trip, Blacksmithing Demo
Tuesday, July 23: Transfer Open House