Stockton News - July 2, 2021
WHAT WE'RE TALKING ABOUT
N.J. Budget Increases Funds for Stockton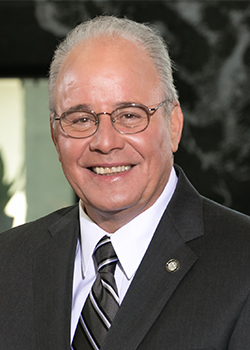 Stockton University will receive a record $32.6 million in state aid from the FY22 budget approved by the Legislature and signed by Gov. Phil Murphy this week.
The funding continues the extra $4.6 million to support the Atlantic City campus and includes an additional $5.9 million to bring Stockton's operating aid up to an equitable per-student amount of no less than $3,000 per full-time equivalent student.
"We have fought for years to get equitable per-student funding for Stockton," President Harvey Kesselman said. "While Stockton has grown, our funding has not kept pace, and Stockton has historically been among the least funded state colleges. As we enter our 50th anniversary of teaching, we appreciate immensely that the governor and legislature have begun to address the shortfall by implementing this important change in base funding."
📰 In the News: Downbeach.com, The Press of Atlantic City
FRAME-WORTHY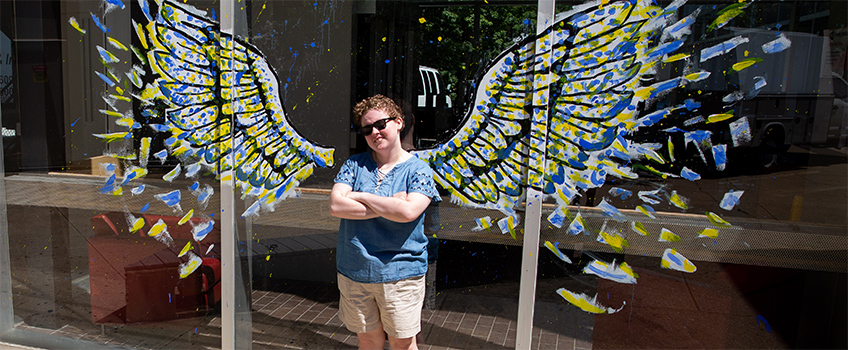 Osprey Mural Welcomes New Students with Open Wings
When Loryn Stanton, a junior Visual Arts major, thinks of an osprey, she envisions a raptor plunging talons first, wings tucked into a fish's domain. From a full-speed dive to a complete halt in the water, it then pumps its wings with all its might to lift back up into the sky with the added weight of its catch.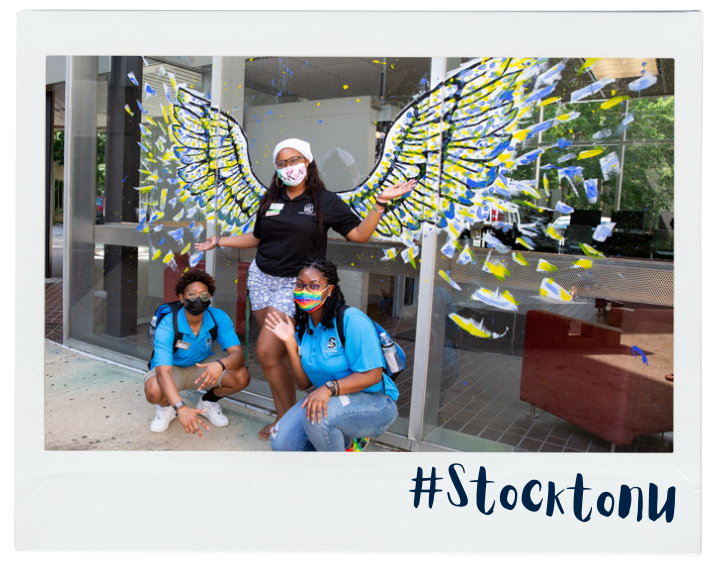 "Somehow they're strong enough to do that," Stanton said.
As she flicked blue and gold paint onto the glass windows outside D-Wing, the splatters emulated the droplets of water dispersing from an osprey's feather during a mid-flight shake.
"Their feathers have a quality to shed water," she explained.
WHAT'S TRENDING @ #STOCKTONU

Instagram: Raise your wings if you need a dose of Lake Fred nature. Greg Fischer '20 '21 captured these recent wildlife scenes around campus.
LinkedIn: Ospreys are landing on campus for New Student Orientation.
Facebook: #whyivaxxedup When we asked Dean of Students Haley Baum why she got vaccinated, she showed us a picture of her grandmother.
FROM THE SIDELINES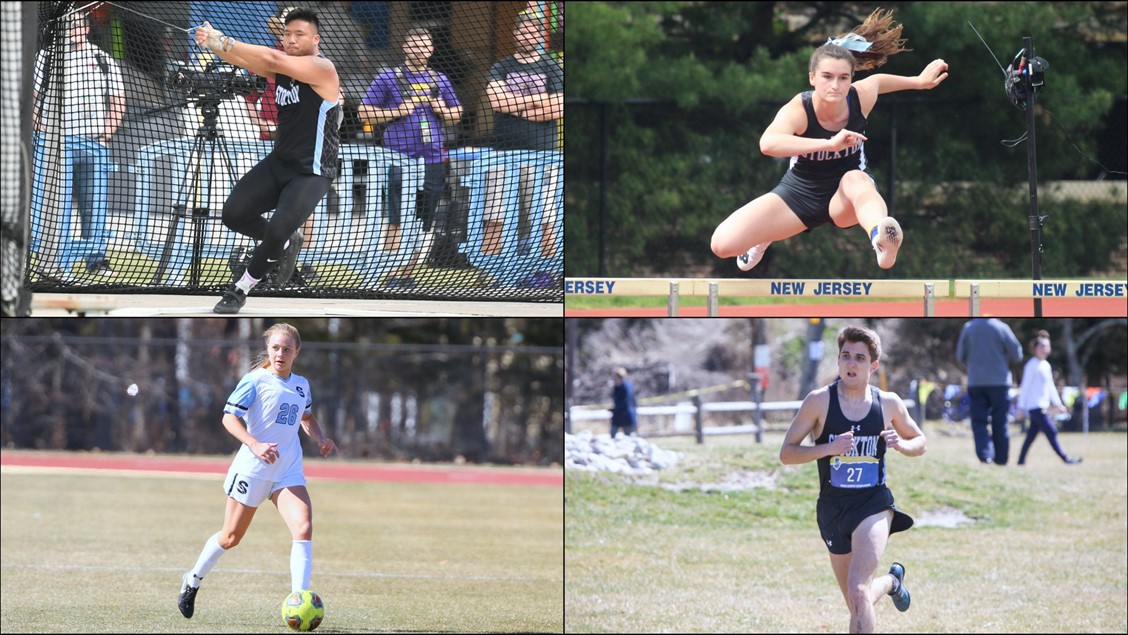 122 Ospreys Qualify for NJAC All-Academic Team
A total of 122 Stockton University student-athletes earned spots on the 2020-21 New Jersey Athletic Conference All-Academic Team for their work in the classroom. Track & field competitors Susann Foley and Darren Wan collected NJAC All-Academic First Team recognition.
Women's soccer player Kiersten Reszkowski and track & field/cross country runner Kyle Navalance were NJAC All-Academic Second Team selections for Stockton. In addition to Foley, Wan, Reszkowski and Navalance, 118 Ospreys snagged NJAC All-Academic Honorable Mention spots.
Harvey Participates in NCAA Leadership Training
Stockton University junior Jeanmarie Harvey, a member of the women's track & field team, participated in the NCAA Student-Athlete Leadership Training session on June 17-18. The two-day program was virtual and included 200 student-athletes from all three NCAA divisions.
WE'RE HERE TO HELP
Resources Available to Staff, Faculty
Free COVID-19 testing has been discontinued on campus. Visit the NJ COVID-19 Information Hub for testing locations.
💉 Faculty, staff and students can check with their local providers and schedule a COVID-19 vaccination appointment. Stockton will require students to get the COVID-19 vaccine for the Fall 2021 semester. Vaccination is currently voluntary but strongly encouraged for employees.
NEW DATES ADDED Free walk-in COVID-19 vaccination clinics are scheduled on campus for the following dates: Galloway: West Quad 103: July 2, 7,8,9,13,14,16,20 and 27; Aug. 3,10,17, 23 and 30; and Sept. 1 and 2 from 2-5 p.m. Manahawkin: July 7: 9 a.m.-noon, 3-6 p.m.; July 9: 9 a.m.-1 p.m.; and July 28: 10 a.m.-1 p.m. No appointment is necessary. Pfizer and Johnson & Johnson vaccines will be available.
🎁 VAX UP and Win a Prize: Stockton is hosting a weekly drawing for prizes for all employees who have submitted their full proof of COVID-19 vaccination. This includes employees who have already submitted their proof. To submit your status, click the "Update Employee Vaccination Status" button under the employee tab in the portal, enter your vaccine type, dates of shot(s), and upload a picture/pdf of your vaccination card or proof of vaccination. A final drawing will be held on Thursday, Aug. 12 for two grand prizes: the choice of a free on-campus parking spot or two tickets to next year's Stockton Gala.
All COVID-19 related leave will end on July 5 per N.J. Executive Order 144. Approved work modifications for employees with children in school end at the completion of the school year or no later than June 30. Those seeking work modifications for medical reasons should contact the Office of Human Resources.
OSPREY NOTES
Online Applications Available for Tuition Waiver, Reimbursement
The Office of Human Resources announced that effective July 1, applications for both Tuition Waiver and Reimbursement have moved to an online format. All Employee Tuition Waiver or Reimbursement applications and Spouse, Dependent Tuition Waiver applications should be submitted online and will be reviewed and responded to online. Employees can log in, access the system and submit forms here. For more information or questions, email Dawn Channell at dawn.channell@stockton.edu or Christy Cunningham at christy.cunningham@stockton.edu.
Reminder: Change in University Hours Next Week
The University will be closed this Monday, July 5, in observance of Independence Day. During this week, Stockton will follow a normal academic year work schedule (8:30 a.m. – 5 p.m.) and there will not be a summer schedule option.
UPCOMING EVENTS