Stockton News - July 1, 2022
WHAT WE'RE TALKING ABOUT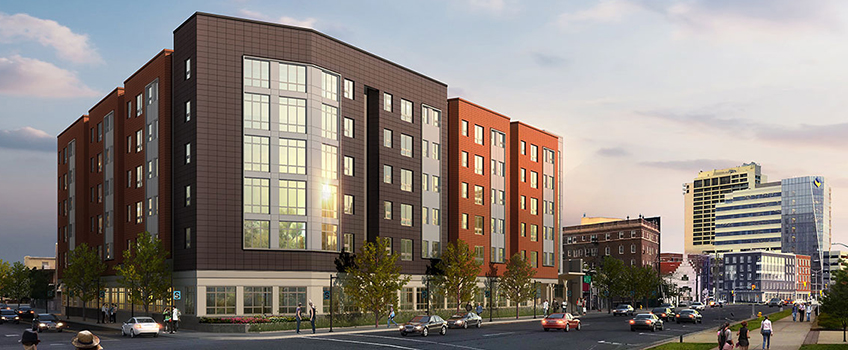 What's Next? Looking Ahead at Stockton's Next 50 Years
Could a medical school and law school be in Stockton's future?
Don't count them out, says President Harvey Kesselman, who has been at Stockton its entire first 50 years, entering as a member of the first class in 1971.
"Look how far we've come in our first 50 years," Kesselman said. "We have a hospital on our Galloway campus (AtlantiCare). In the future, I would hope to see a medical school here in Galloway and a law school in Atlantic City, even if I won't be president then."
In its first 50 years, Stockton has grown from 1,000 undergraduate students meeting in an old hotel in Atlantic City to almost 10,000 undergraduate and graduate students studying on two campuses in Galloway and Atlantic City and instructional sites in Manahawkin, Hammonton and Woodbine.
---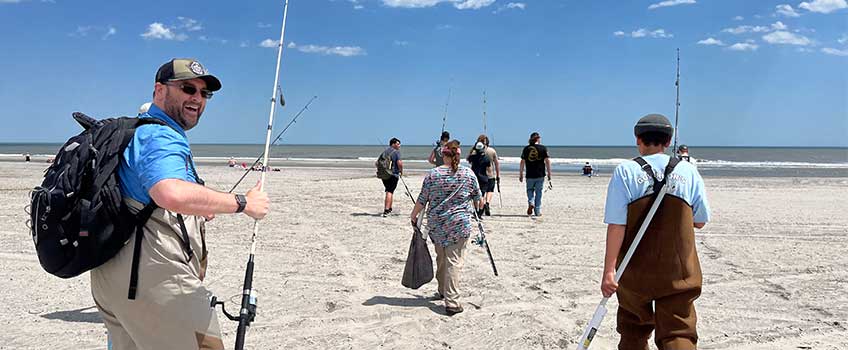 Researchers Fish for Answers to Striped Bass Migration
Silvery metallic Atlantic striped bass have seven to eight dark lines that stretch from their gills to their tail, but there are some that also have an extra yellow stripe trailing from their backs. These fish were caught and tagged in New Jersey waters by Stockton researchers and willhelp explainthe species' life history and migration when they are caught again.
---

Read the Spring 2022 Issue of Stockton Now
This summer, Stockton is wrapping up the celebration of its 50th year of teaching. Throughout its half-century, Stockton has remained committed to putting Students First and setting them up for success. This issue's cover story highlights the extraordinary efforts of our faculty and staff to recruit, support and educate our Latinx population. This season may seem like a downtime on a college campus, but a lot is happening at Stockton this summer. More than 100 students are participating in the Stockton Atlantic City Summer Experience and the PAC is back, hosting shows for children this summer and ramping up for a full slate of programming this fall. There is so much to see and celebrate at Stockton this summer and beyond!
STOCKTON UNIVERSITY ATLANTIC CITY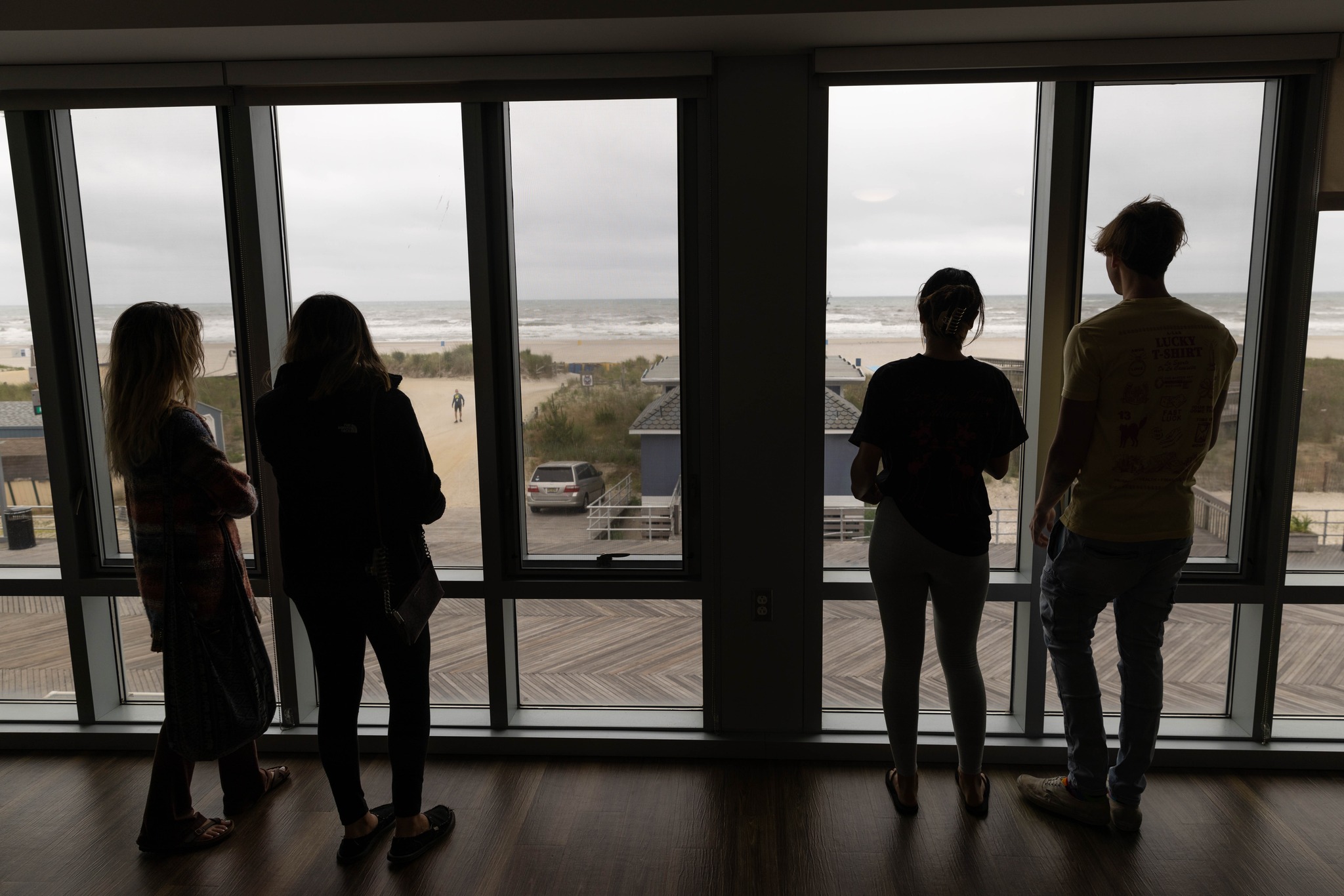 🦅 Potential Ospreys Get the Stockton Experience
Can you imagine waking up to a view like this? Incoming students recently toured Stockton Atlantic City and enjoyed games on the quad at a Transfer Jam event.

SPOTLIGHT ON: HYEONCHEOL (CHARLIE) BAIK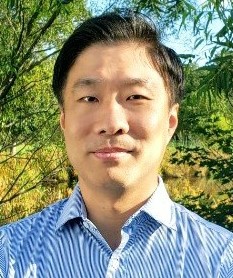 Shortly after completing his doctorate in Fall 2019, Hyeoncheol (Charlie) Baik began his assistant professorship in Business Analytics, part of the Business Studies program at Stockton.
Recently, Baik and three contributors published research in the Journal of Banking & Finance titled, "A Bank's Optimal Capital Ratio: A Time-Varying Parameter Model to the Partial Adjustment Framework."
"In this publication, we examined bank capital structure before and after the 2007-2009 global financial crisis. To investigate the bank capital structure, we analyzed the panel data of the 15 largest U.S. bank holding companies (BHCs) for the period from 1996:Q1 to 2017:Q4," Baik said.
"Specifically, we proposed a panel version of the time-series Kalman filter algorithm to estimate the time-varying speed of adjustment (TV-SOA) of the time-varying parameter (TVP) model."
FRAME-WORTHY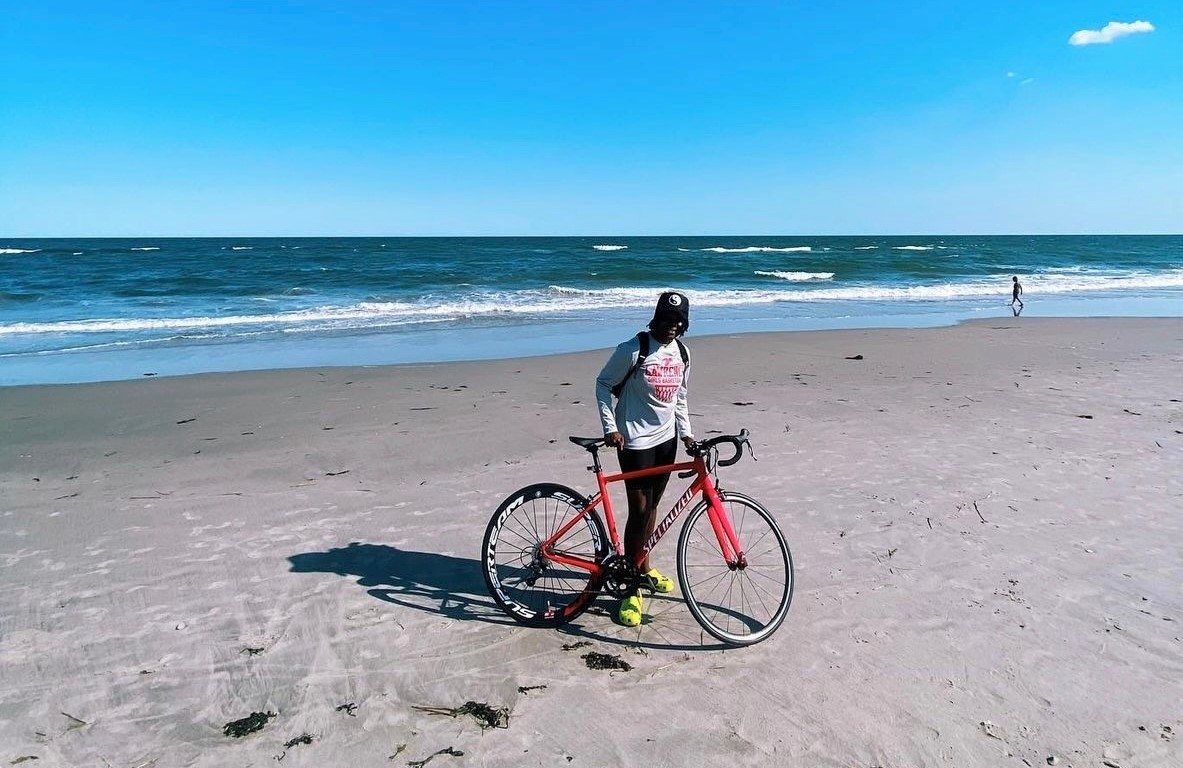 "Don't limit your challenges. Challenge your limits," Tahesia Reid '20 wrote on Instagram after riding in the G. Larry James Legacy Bike Ride.
In 2019, she rode the 30-mile route, and this year, she pedaled 43 miles, her longest stretch to date. She's already planning for the metric century 62-mile route next year.
After pedaling through the pines, she and her sister went to the beach for a shelling adventure.
Tahesia, who studied Marine Science, is now an aquarium specialist at New Jersey Aquarium Service, where she performs the husbandry responsibilities for clients and teaches them best practices for their aquariums.
"I work with various-sized saltwater and freshwater animals, including turtles, eels, corals and native and exotic fish. I travel to a variety of places daily such as military bases, doctors' offices, bars, nursing homes, residences, car dealerships and daycares. I've met many cool people on the job," she said.
The opportunity for this job appeared one day in her email inbox.
"I have Dr. Elizabeth Lacey to thank because I learned of the position through an email she sent to all MARS students at the time," she said.
This postis part of the #PictureStockton series highlighting visual stories from the Ospreys.
WHAT'S TRENDING

@ #STOCKTONU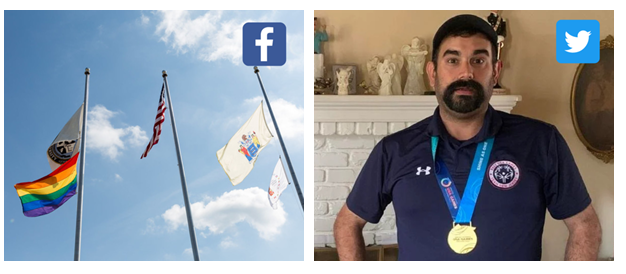 Facebook:Pride Month was not always a time for celebration and acknowledgment of the achievements of the LGBTQ+ community.
Twitter: Congratulations to @Stockton_Alumni Danny Philippi '12 for winning - by one stroke - the gold medal in Level 4 golf in the Special Olympics USA Games.
FROM THE SIDELINES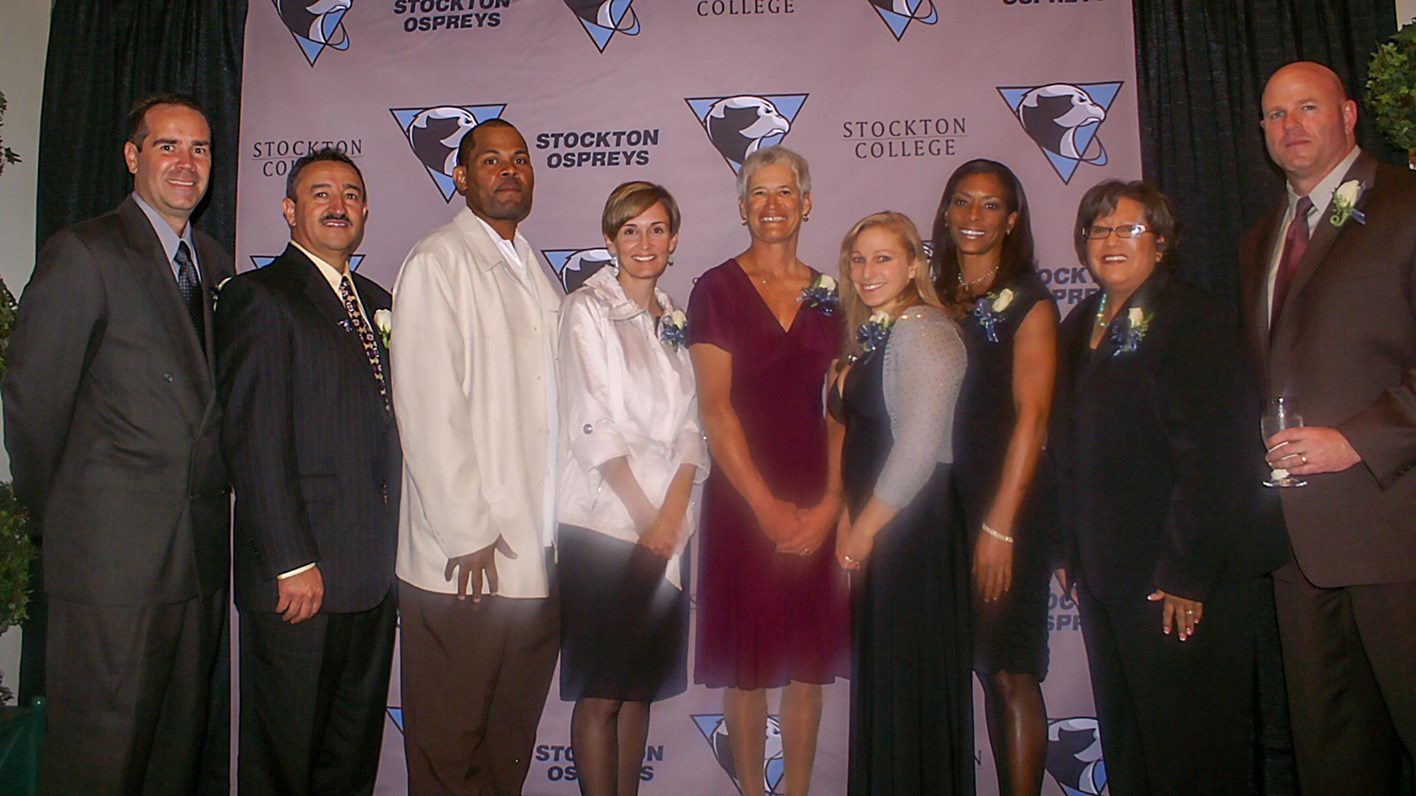 Stockton Athletics Honors Its Past with Hall of Fame
Stockton's Athletics Hall of Fame began in 2010 and has been a great source of pride for students, coaches, athletes, parents and school officials.
While Stockton University has had hundreds of stellar performances in athletics over the 50 years the school has existed, a Hall of Fame honor puts athletes, coaches and teams in an elite class, one that they treasure for the rest of their lives.
But, how did the Hall of Fame get started in the first place?
"I started working at Stockton in the 1990s," recalls Jon Heck, director of athletics operations at Stockton. "There was a group of us who thought it was odd we didn't have a Hall of Fame. Our conversations would be, 'we should have one.' Somewhere about 2006 a group of us in athletics got together and made our own committee, with the impetus of starting a Hall of Fame. So we kind of created the by-laws, what the criteria would be."
OSPREY NOTES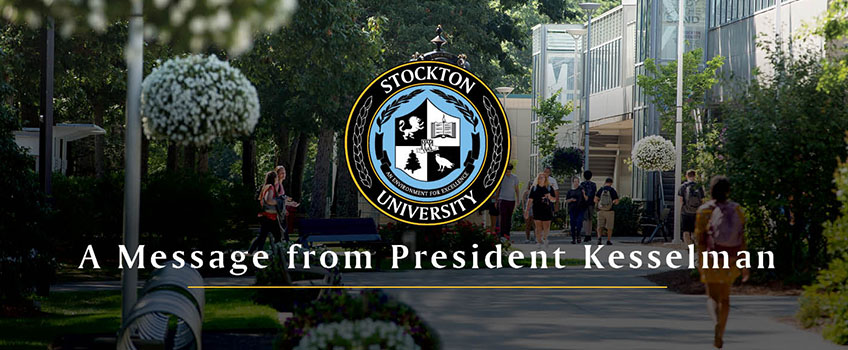 President Kesselman issued the following statementJune 24 regarding the Roe v. Wade decision:
Today's 6-3 decision on Roe vs. Wade from the U.S. Supreme Court, while expected, is still shocking, disturbing, and a huge step backward for the basic rights of women to determine their own health care and reproductive choices.
It is also an incredibly disquieting warning, based on Justice Clarence Thomas's concurring opinion, that other rights could also be at risk including rights to contraception, same-sex consensual relations and same-sex marriage.
Most of us are fortunate to live in New Jersey, where Governor Phil Murphy and the New Jersey State Legislature this year took the strong step of affirming the "fundamental right to reproductive autonomy." We unequivocally support that decision and will continue to advocate for a woman's right to choose and other fundamental human rights for which so many have fought for so long.
I want to assure our faculty, staff, and students that here at Stockton we remain committed to providing our students with the information and support they need in making reproductive health care choices, no matter what they may be. We are here for you, and we will support you.
Become a Student Success Personal Mentor
Faculty and staff who are interested in helping students succeed during their time at Stockton can do so by participating in the Student Success Scholars Program.
The program aims to help students navigate and maximize the benefits of various academic and student life resources available at Stockton. A major component of this program is individualized mentoring by Stockton faculty and staff.
For more information about becoming a Student Success Personal Mentor, visit here. If you have questions, email Tomas Itaas at Tomas.Itaas@stockton.edu. Interested mentors should apply by Friday, July 29, as training begins on Monday, Aug. 29.
👉 Normal Academic Hours Next Week; Closed Monday
As a reminder, you can sleep in next week! The University will follow normal academic hours next week and will be closed for Independence Day on Monday, July 4. All offices are open minimally from 8:30 a.m.- 5 p.m., Tuesday-Friday.
❗❗ Additionally, due to the holiday COVID-19, screening centers in both Galloway and Atlantic City campuses are open Tuesday and Wednesday next week from 5 a.m. to 7 p.m. Eligible employees must report to a screening center once a week, to be tested. Testing in Galloway is at the Pomona House. Testing at the A.C. Campus has moved to AC224-N in the John F. Scarpa Academic Center.
---
Stockton Sentiments and Memories . . .
"In 1979 I was awarded a grant to produce the musical "Godspell." I directed and choreographed the show. It was performed outside in the J K amphitheater, and we had six performances. We also performed the show on 'high school day' at the college's request. It was very well received and a truly amazing experience. I had great support from faculty members: Tom Wetmore, Dwight Baldwin and Dick Ozerski. I can't imagine many colleges that would hand a kid a bunch of money and trust them to deliver the goods. That was the beauty of attending SSC (Stockton State College). If you had a dream, Stockton State would make it come true. Oh, and as a side note, the young man who was my technical director has been my husband for the past 38 years."
- Patty Keefer-Davis '79
Have a memory you'd like to share in celebration of Stockton's 50th anniversary? Submit it here.
UPCOMING EVENTS