Stockton News - Friday, Jan. 31, 2020
WHAT WE'RE TALKING ABOUT
Gov. Murphy Announces Energy Master Plan at Stockton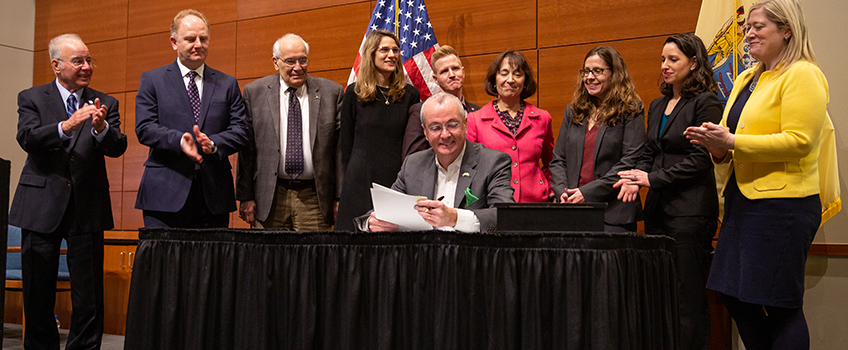 New Jersey Gov. Phil Murphy signed Executive Order 100 on Monday, Jan. 27, at Stockton that will implement his Energy Master Plan titled Protecting Against Climate Threat, or PACT.
In making the announcement at Stockton, Murphy cited Stockton's long commitment to degree programs in such fields as environmental science, marine science, sustainability and coastal zone management.
Stockton President Harvey Kesselman said the topic is of great importance to Stockton, which is located in 1,600 protected acres in the Pinelands National Reserve.
Many media outlets covered the briefing including NJ.com, NJBIZ, northjersey.com, News 12 New Jersey, Fox 29, Press of Atlantic City and WHYY PBS.
---
Stockton to Host Truth and Racial Healing Center
Stockton University has been chosen by the Association of American Colleges and Universities as one of 13 new institutions to host a Truth, Racial Healing & Transformation Center.
The new center will serve as a catalyst for facilitating community collaborations and dialogues that can question, break down and dissolve unhealthy racial narratives.
"Part of Stockton's mission is to prepare our students to live and thrive in a multi-cultural society and become leaders in their communities," said Stockton President Harvey Kesselman. "This initiative will pave the way for the next generation of strategic leaders and critical thinkers to advance equity and access."
SNJ Today and the Press of Atlantic City reported on the center.
---
A Conversation with Don McGahn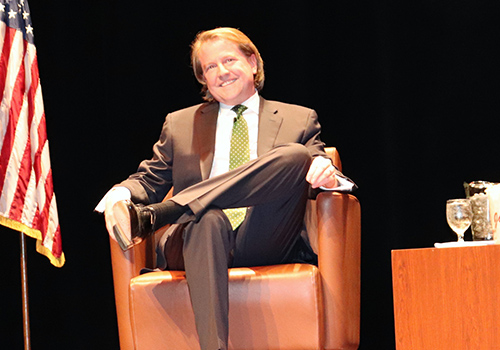 On Election Night 2016, attorney Don McGahn was not celebrating victory with the Trump family. As Trump's presidential campaign counsel, he was already preparing for what might come next.
"Election night is not a celebration for the lawyers," McGahn said. "So much still goes on. I was panicking about recounts."
McGahn went on to become White House Counsel, and on Thursday, Jan. 23, he talked about his career with friend William J. Hughes, Jr. during "A Conversation with Don McGahn" sponsored by the William J. Hughes Center for Public Policy at Stockton University.
The Washington Examiner, The Philadelphia Inquirer and the Press of Atlantic City are some of the media outlets that attended and posted about the talk.
STOCKTON UNIVERSITY ATLANTIC CITY
Youth Want a Role in Civil Rights Movement's Future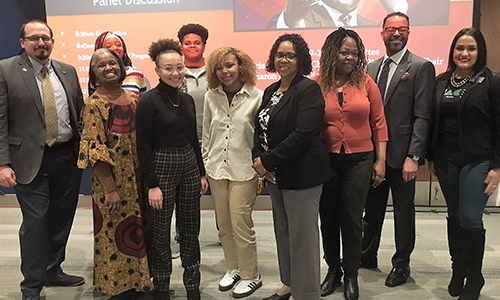 Young people want to become engaged in civil rights issues, but need safe spaces where they can discuss their concerns and develop confidence, a panel of students from four area high schools said at the 5th Martin Luther King, Jr. Day of Service High School Panel Discussion on Jan. 23 at Stockton University Atlantic City.
Almost 100 students from Atlantic City, Pleasantville, Egg Harbor Township and Absegami High Schools participated in the event, which included a panel discussion and small group discussions on the theme "The Role of Youth in the Movement: Changing the Disenfranchised to Engaged."
---
Catch a Movie Feb. 7 at Stockton Atlantic City
"AC Campus Movie Nights: Cinema in the City" is featuring "Queen & Slim" at 8 p.m., Friday, Feb. 7, in the Stockton University Atlantic City residential classrooms B119/120. Attendees are asked to bring their Stockton IDs.
SPOTLIGHT ON
Van Duyne's Book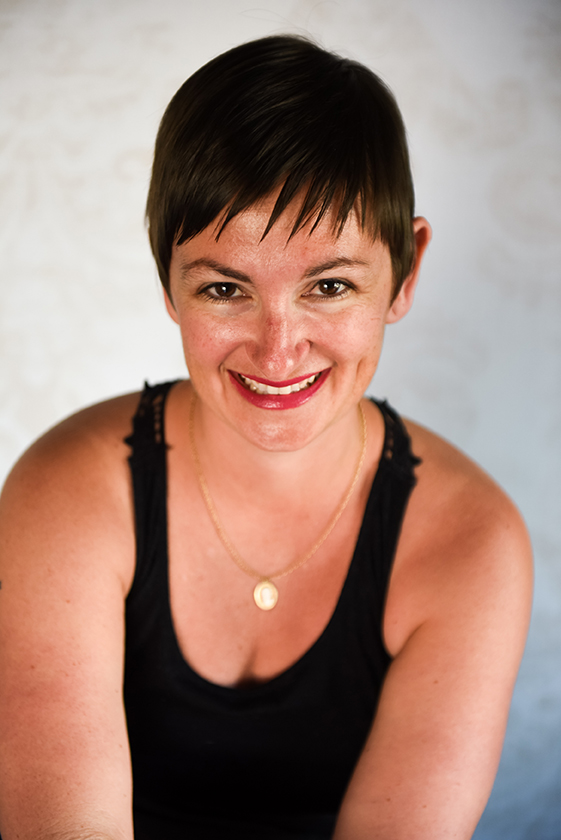 on Sylvia Plath Under Contract
Emily Van Duyne, assistant professor of Writing & affiliated faculty in Women's, Gender, & Sexuality Studies at Stockton, has her book, "Loving Sylvia Plath," under contract with W.W. Norton & Co. The book was acquired by Norton's Executive Vice President Jill Bialosky.
The manuscript weaves in Van Duyne's personal history as a Sylvia Plath superfan with the ways Plath's husband, the late British Poet Laureate Ted Hughes, used censorship and editing to create a mythological Plath in the wake of her 1963 suicide.
"'Loving Sylvia Plath' represents the culmination of 20 years of critical and creative writing on Sylvia Plath, and I couldn't be happier to share it with the world," Van Duyne said.
FRAME-WORTHY
Ospreys Find Their Own Beat at Get Involved Fair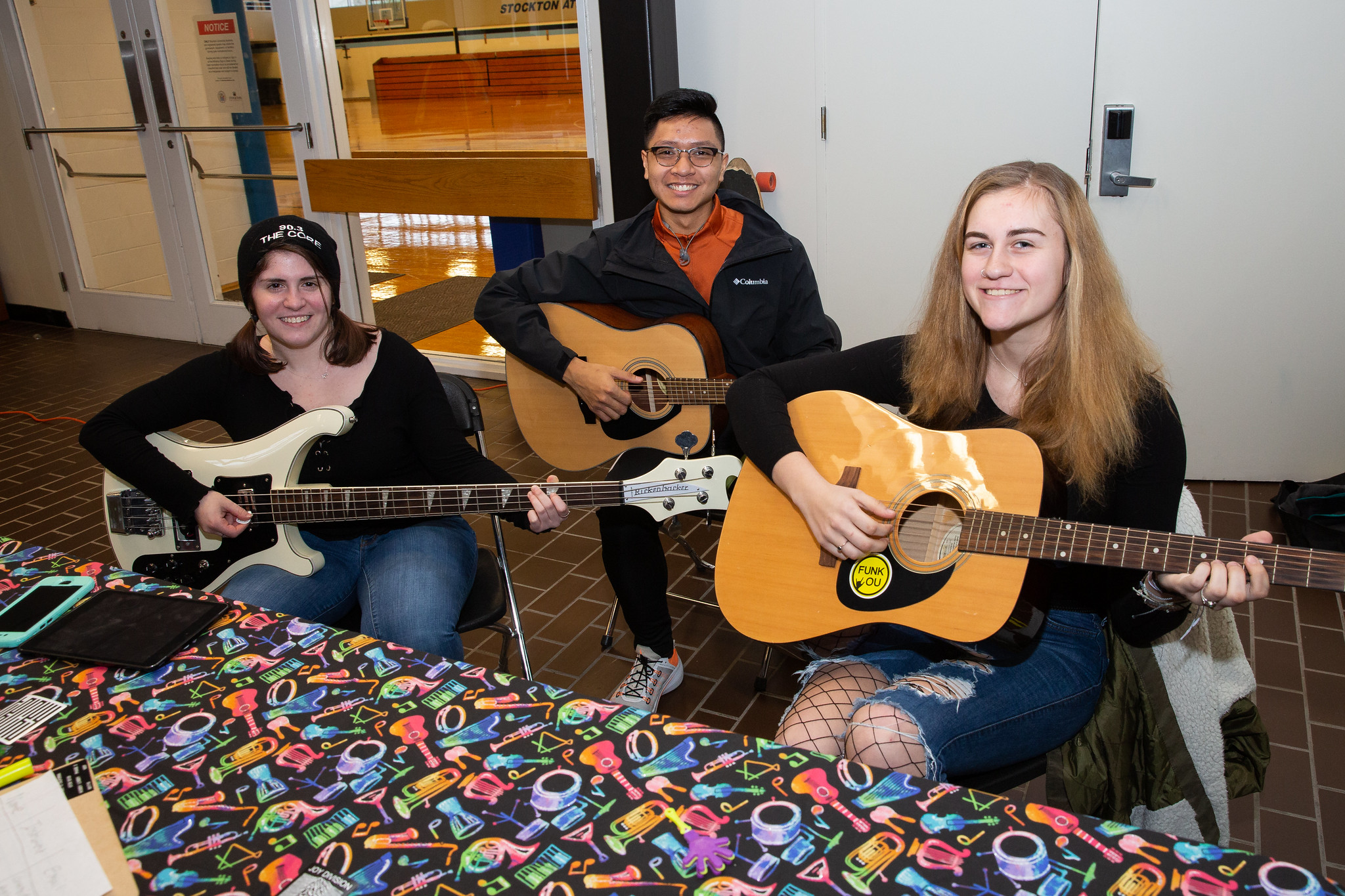 Students learned the many ways they could become an active Osprey during the Get Involved Fair, Jan. 28-29, at the Galloway campus.
Over 150 organizations, fraternities, sororities, community partners and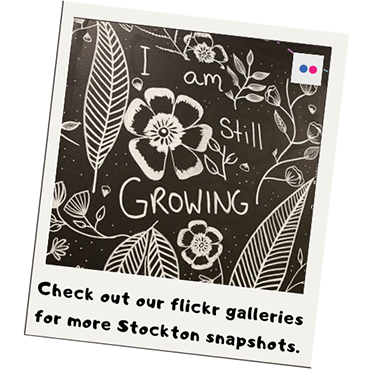 Stockton offices participated in the fair, including Active Minds, the Stockton Music Union and the Student Veteran Organization, to name a few.
View a flickr gallery from the event.
WHAT'S TRENDING #STOCKTONU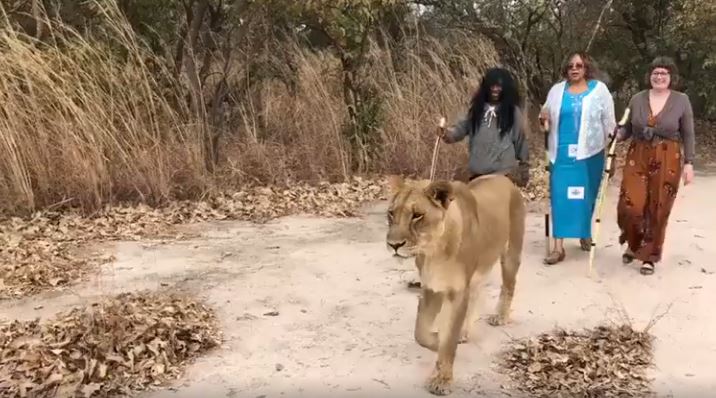 Facebook: #WildlifeWednesday: "I want to walk with lions," said Morgan Rush, a student in Stockton's Africana Studies program. Her dream came true over winter break during Professor Donnetrice Allison's study tour in Senegal and The Gambia in West Africa. (PICTURED LEFT)
Twitter: Have you watched Episode 5 of the Athletics Mini DocuSeries? We highlight the men's & women's basketball teams.
FROM THE SIDELINES
Ospreys Participate in LIVERESPECT Bowling Night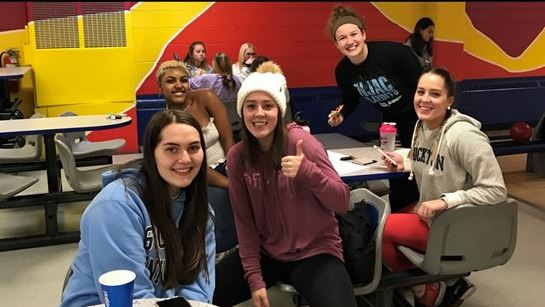 Stockton student-athletes, coaches and administrators came together on Tuesday, Jan. 28 for an evening of discussion about healthy and respectful manhood followed by bowling and pizza. The event, which was held at Strike Zone Lanes, was part of Stockton Athletics' participation in the LIVERESPECT curriculum.
MORE FROM THE HIGHLIGHT REEL:
Women's Basketball: Stockton Rolls by Rutgers Camden 67-33
Men's Basketball: Stockton Uses Balanced Scoring in 80-65 Victory
General: Stockton Competes in Coach I Open

The Women's and Men's Basketball teams play William Paterson University (away) on Feb. 1. For upcoming sports games, check out the schedule. Go Ospreys!
OSPREY NOTES
Strategic Plan Update: Compass Fund Announced
In supporting the efforts of the Strategic Plan 2025, the Office of the President has announced a new funding program: The Compass Fund, which replaces the University's previous strategic funding mechanism, the 2020 Initiative Process.
The Compass Fund will provide seed money for initiatives and pilot projects that directly support the six areas of focus in the University's Strategic Plan 2025 - Choosing Our Path including, Inclusive Student Success, Diversity and Inclusion, Teaching and Learning, Strategic Enrollment Management, Financial Sustainability; and Campus Community, Communication, and Shared Governance.
Spring 2020 abstract submissions are being accepted Jan. 27-Feb. 21.
Learn more about the Compass Fund and the process to apply by visiting the University's Strategic Plan 2025 - Choosing Our Path website. If you have questions, email CompassFund@stockton.edu.
Conversations with President Kesselman Feb. 11, 17

Staff and faculty are invited to join President Kesselman for an engaging group discussion on key issues facing Stockton on the following dates: 12:30-1:45 p.m., Tuesday, Feb. 11, and 12:45-2 p.m., Monday, Feb. 17, both in Campus Center Meeting Room 5 at the Galloway campus.
Spring's theme is "What Does Liberal Arts Mean at Stockton."
RSVP to Kathryn Mason at Kathryn.Mason@stockton.edu or ext. 4521 by Feb. 3, and indicate your date of choice. Registration is limited to the first 25 guests for each venue. Light refreshments will be served.
Spring Semester FAFSA Fridays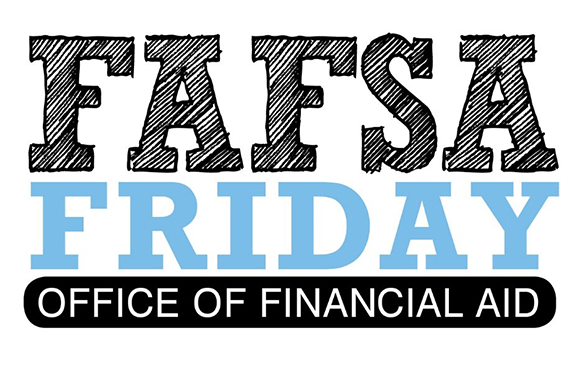 Do you have students looking for help with their financial aid application? The Office of Financial Aid is hosting "FAFSA Fridays" from 1-3 p.m. every Friday from Feb. 7-March 6, and March 27-April 10, in F210 to assist students with the financial aid process. Encourage your students to file their FAFSA applications today to avoid missing important deadlines including the April 15 deadline for State Aid. Students who file their FAFSA after these deadlines may miss out on aid for which they may be eligible.
UPCOMING EVENTS
Upcoming events hosted by the Office of Development and Alumni Relations
Thursday, Feb. 6: Transfer Admission Day at Hammonton
Thursday, Feb. 13: Transfer Admission Day at Manahawkin
Friday, Feb. 28: Rowing and Growing with the Ospreys Fundraiser
Sunday, March 1:Spring Open House
Thursday, March 12:Transfer Admission Day at Manahawkin
Saturday, March 14: Pinelands Short Course