Stockton News - Jan. 28, 2022
WHAT WE'RE TALKING ABOUT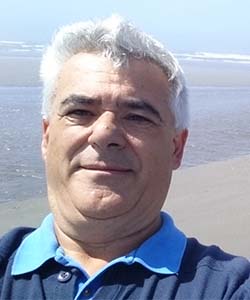 Father's Love of Fishing Inspired Career, Scholarship
When he was a child, Gordan Grguric's family would travel to the island of Silba in the Adriatic where his father, Petar, an electrical engineer, would spend hours and hours fishing.
"He would talk to the professional fishermen and get hints on techniques and where the best fishing sites were. He would rent or borrow a boat and lay down a line for a four- or five-hour trip," said Grguric, of Galloway, an associate professor of Marine Science at Stockton University. "My career evolved from his interest. That island is such a part of my heritage."
Grguric is honoring his father, and sharing his love of fishing, through a newly endowed $200,000 Silba Distinguished Scholarship, which will subsidize students who are doing research in marine science. The scholarship will award two $3,500 grants per year.
📰 In the News:The Press of Atlantic City, Downbeach.com, The Galloway Patch, Shore Local
---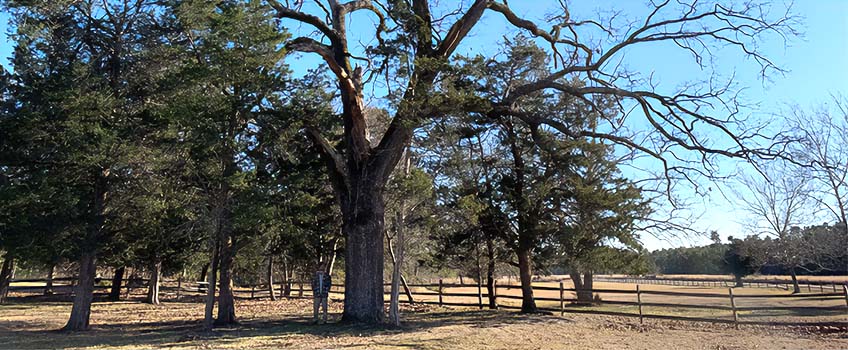 Stockton Dendrology Class Discovers Champion Tree
Finn McGreen's eyes traced the trunk of a towering Post Oak tree up to its crown. To visually capture the full spread of its uppermost branches, McGreen's neck tipped all the way back.
McGreen, a senior Environmental Science major, and the rest of the Dendrology class at Stockton were in awe of the tree's height, girth and far-reaching crown.
Matthew Olson, assistant professor of Environmental Science, takes his students to Batsto Village in Wharton State Forest to see a variety of species they talk about in lectures. The field trips are always exciting, but this trip was even more so.
---
Faculty and Staff Set Scholarship Tradition
Throughout the last 50 years, Stockton University faculty and staff have demonstrated their willingness to reach beyond the classroom to help their students.
One of the most tangible examples of this dedication to student success is making endowed gifts to the Stockton Foundation, which provide financial assistance to help students pay for tuition and fees, participate in a conference, travel abroad, or do research.
An endowed scholarship is a donation that is invested and annually earns interest. When someone "endows" a scholarship, the Stockton Foundation invests the money and distributes a percentage each year in scholarships or grants in perpetuity.
STOCKTON UNIVERSITY ATLANTIC CITY
🎬 Catch a Movie at Stockton University Atlantic City
This spring semester, the entire Stockton community is invited to enjoy eight feature films, free food and drinks, as part of "AC Campus Movie Nights: Cinema in the City."
Attendees are asked to bring their Stockton IDs. Movies will be shown at 8 p.m. in the Stockton University Atlantic City residential classrooms B119/120 on the following dates: Feb. 10, 12, "Straight Outta Compton: The Story of N.W.A.;" Feb. 24, 26, "Harriet;" March 10, 12, "In the Heights;" March 24, 26, "Eternals;" April 7,9, "Encanto;" and April 21, 23, "Parasite."
For more information, contact Stephanie Clineman at Stephanie.Clineman@stockton.edu.
FRAME-WORTHY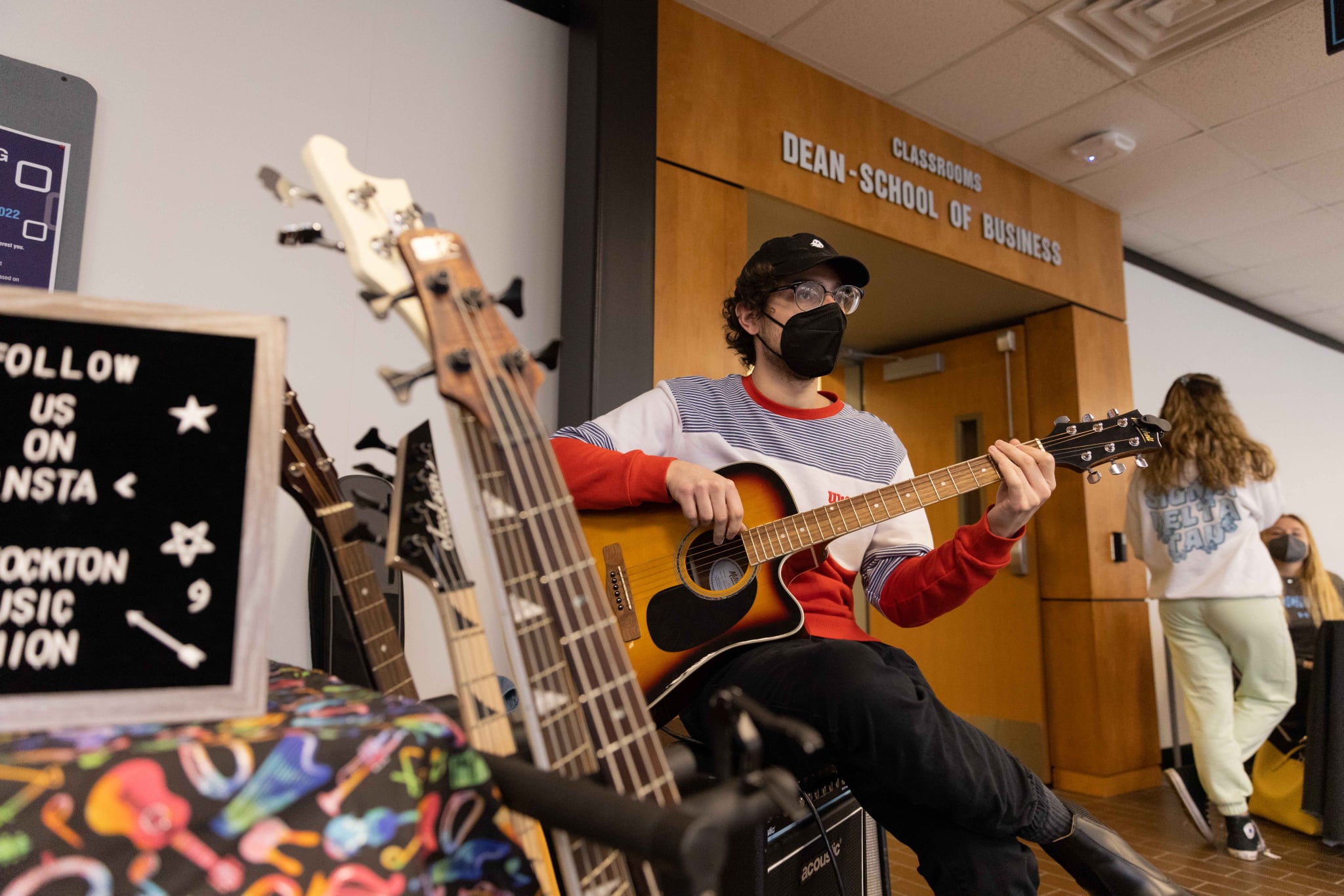 Ospreys Find Their 🎸 Groove at Get Involved Fair
Students got the opportunity to discover the many ways to get involved at Stockton during the Get Involved Fair on Jan. 25 and 26 at the Galloway campus. The fair highlighted over 150 student organizations, fraternities, sororities, community partners, Stockton offices and more.
📸 View more photos here.
WHAT'S TRENDING

@ #STOCKTONU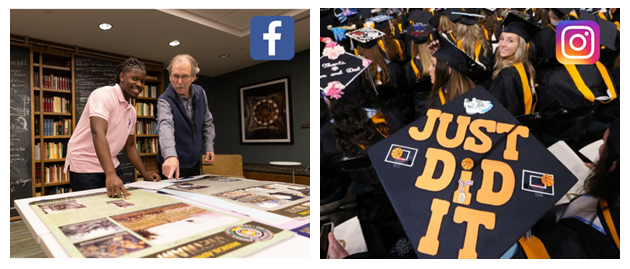 Facebook: Dontae McFadden, a Historical Studies and Education major, wants to be a teacher to help uplift youth from the challenges they were born into.
Instagram: 📣Commencement 2022 will be held May 13 at Jim Whelan Boardwalk Hall, Atlantic City! Graduating students should check their email for ceremony details, and important updates about times, tickets and regalia.
FROM THE SIDELINES

Ospreys Deliver the Goods for Talon's Birthday 🎂
The men's basketball team won a fast-paced thriller 96-91 over Rowan University at The Sports Center to maintain its hold on first place in the conference on Jan. 26. The Ospreys shot 12-29 (41.4%) from three-point range in the victory.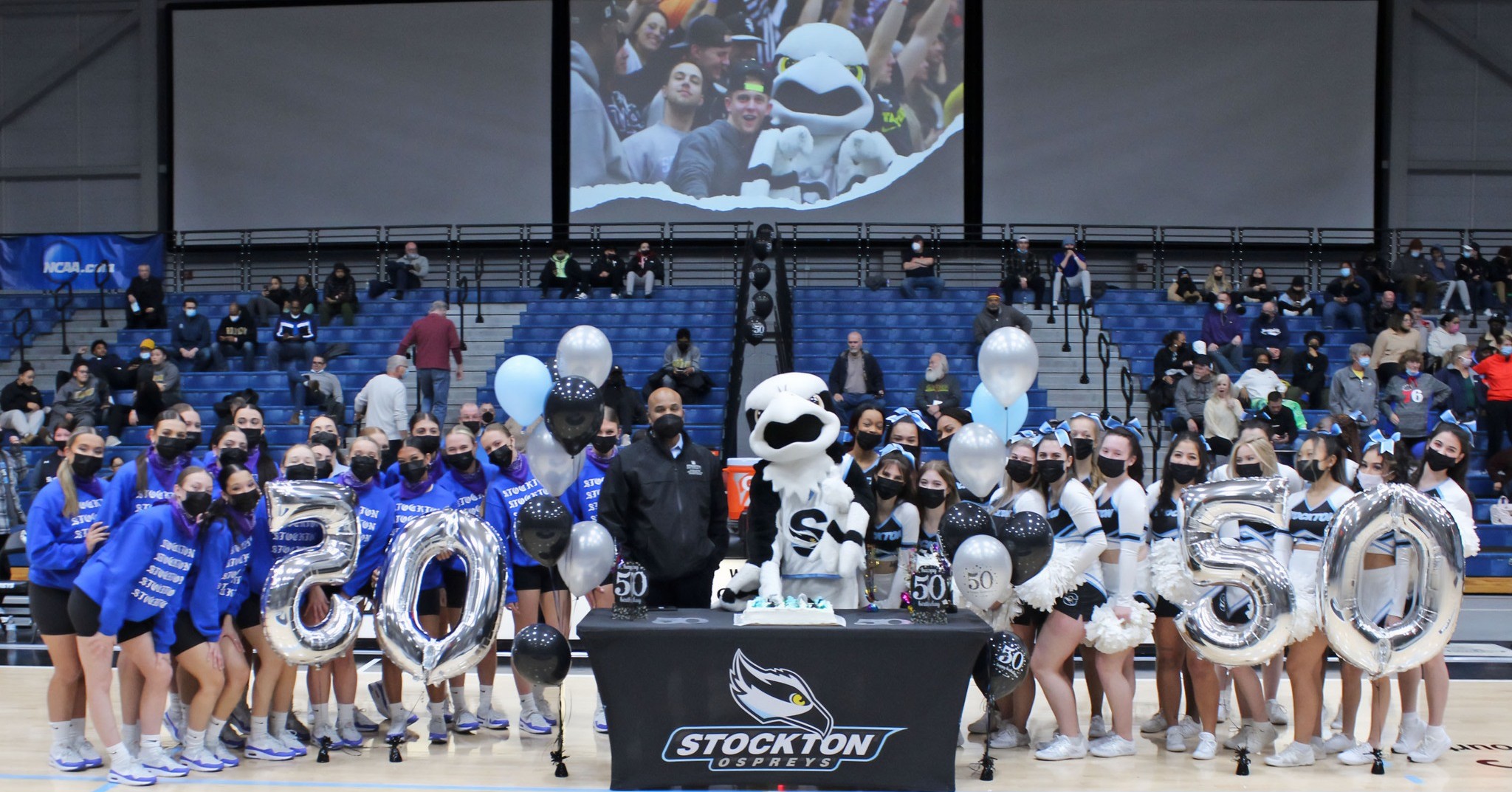 The women's basketball team also brought home a win with a 67-64 victory over Rowan the same night.
🎈Talon celebrated a special milestone - his 50th birthday - and what better way than with two big wins, and of course cake!
🗓️ View the full schedule of upcoming athletic events here.
'ROLE' CALL
In an email on Jan. 25, Leamor Kahanov, provost and vice president for Academic Affairs, shared the following:
Jennifer Kosakowski will serve as the Executive Director, Research and Sponsored Programs. The Office of Research and Sponsored Programs will continue to serve as the primary point of contact for grants and research-related programming. Kosakowski is the current interim executive director of the office and brings a wealth of knowledge with her from her time in the Office of Development and Alumni Relations. She will assume the position full-time on Feb. 28.
Recognizing a need for a more intentional focus on graduate education, we are pleased to announce the School of General Studies and Graduate Education. Robert Gregg will serve as the dean of General Studies and Graduate Education. With this realignment, the office will serve as a centralized source of information for current students on policies, procedures, and culminating experiences, in addition to coordination with admissions.
The Center for Academic Advising will now report to the associate provost for Academic Success. In the interim, the Academic Advising team will be led by Kate Spalding and supervised by Ariane Newman until the resolution of the searches for the Associate Provost and Director of Academic Advising.
🕊 IN MEMORIAM
Marissa Levy, dean, School of Social & Behavioral Sciences, shared the following in a Jan. 23 email:
It is with deep sadness and condolences that I share the news of the passing of one of our own, Dr. Lucinda Jassel, earlier this evening. Cindy's passion for our University and our students was consistently demonstrated in her tireless work with them, both inside and outside of the classroom. She was a staunch advocate for academic freedom and high standards, both of which the political science program, the School of Social & Behavioral Sciences, and the University will continue to benefit from for decades to come. Those who knew her were lucky to have called her a colleague.
WE'RE HERE TO HELP
COVID-19 Information
NEW: The State Health Benefits Program OptumRx will cover the cost of over-the-counter in-home COVID-19 diagnostic tests for active and non-Medicare eligible members of the State Health Benefits Program. Details can be found here. Free home tests from the U.S. government can also be ordered here.
🧪 COVID TESTING: Free COVID-19 testing for the public is available at the Chris Gaupp residence hall for the next three weeks from 7 a.m. to 5 p.m. daily, and at the Carnegie Center in Atlantic City from 10 a.m. to 5 p.m. on Tuesdays, Thursdays, Saturdays and Sundays. COVID-19 screening for unvaccinated employees is still held at Pomona House.
😷 MASK UP: The University requires masks be worn indoors, regardless of vaccination status; KN95 or N95 masks are most effective, followed by paper medical masks and must be worn to cover both the nose and mouth as tightly as possible. Cloth masks have been less effective.
If you forget to bring a mask, disposable surgical masks will be available in the Wellness Center, the Campus Center Information Desk, the Richard E. Bjork Library, the John F. Scarpa Academic Center Information/Security Desk in Atlantic City and in most division office suites throughout the Galloway and Atlantic City campuses.
VAX UP!: 💉AtlantiCare will hold COVID-19 vaccine clinics in West Quad 103. Details are in the Return to Campus FAQunder the "COVID-19 Vaccine Requirement" drop-down menu, and by then clicking "Where can I get vaccinated?" The clinics will be held 2-5 p.m., Feb. 1-2; 11 a.m.-2 p.m., Feb. 7; 2-5 p.m., Feb. 10; 11 a.m.-2 p.m., Feb. 14, 21; 2-5 p.m., Feb. 24; 11 a.m.-2 p.m., Feb. 28; 2-5 p.m., March 3; 11 a.m.-2 p.m, March 7; and 2-5 p.m., March 10.
👉 Employees who get a booster vaccine can add that information to their vaccination status through the portal on the Stockton website at go.stockton.edu/employee.
Resources for Faculty and Staff
🧠 Stockton provides faculty and teaching staff with professional development, training, teaching ideas, resources and individual consultations via the Center for Teaching and Learning Design. Upcoming events include: Show Up & Write with FAWN sessions, IDEA Forms are not Enough: Practical Approaches to Formative Assessment of Teaching on Jan. 28, and Week of Teaching, Feb. 14-18.
Visit here for more information on upcoming professional development events being offered.
SUPPORT4U: A variety of counseling, referral and consultation services are available to Stockton employees and household members through the Employee Assistance Program. Learn more here.
OSPREY NOTES
Read the SCOSA February Newsletter
Read the Stockton Center on Successful Aging (SCOSA)'s February newsletter for interesting upcoming events and newly added programming.
State Aid Renewal Deadline April 15
FAFSA renewal students (those students who have filed a FAFSA in years prior) need to file the 22-23 FAFSA before the April 15 state deadline to be considered for State Aid. Eligible students who miss this deadline could miss out on up to $7,500 in free money.
Remember, the State Won't Wait! Students can apply at fafsa.gov.
Day of Scholarship 2022: Call for Applications
Day of Scholarship applications are being accepted now through Feb. 25 and can be submitted by visiting here.
Day of Scholarship 2022 will be held in-person and virtually from 9 a.m.-1 p.m., Thursday, April 7. If you have any questions, email Ronnie Maiorino at ronnie.maiorino@stockton.edu.
---

Stockton memories, past and present . . .
"Without Professor Edward Paul, Chemistry department, I do not think I would have graduated. He was GREAT! Eventually, I went on to earn a Ph.D. in Environmental Toxicology from Cornell University. I have had a successful career in science, co-authored more than 50 scientific, peer-reviewed papers and chapters in books, and am the editor of "Mass Spectrometry in Food Safety." It started at Stockton. Thank you, Ed!"
- Jerry Zweigenbaum '75
Have a memory you'd like to share in celebration of Stockton's 50th anniversary? Submit it here.
UPCOMING EVENTS