Stockton News - Jan. 27, 2023
WHAT WE'RE TALKING ABOUT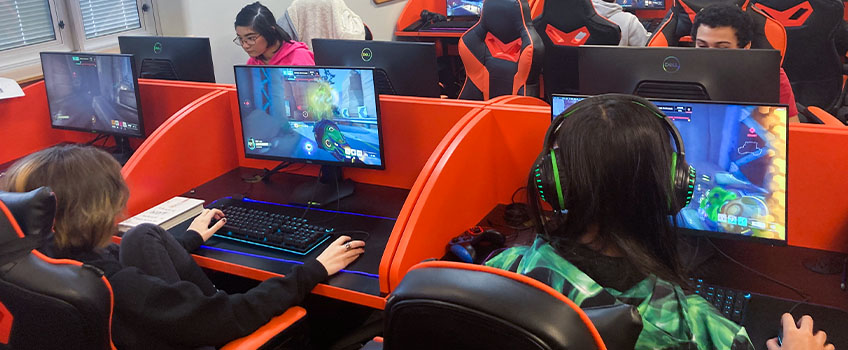 Stockton, Middle Township Agreement Offers Credits in Esports
Stockton is offering college credit to Middle Township High School students interested in computer gamingthrough a new agreement.
The new dual credit offering, Introduction to Esports, introduces students to the history, development and current state of esports. Offered through Stockton's School of Business, the course discusses the interconnectedness of esports with traditional hospitality centers, identifies the basic operational aspects of live esports tournaments and reviews career opportunities in the esports and hospitality industry.
"There's a huge connection between esports and hospitality, tourism and event management. Students have to have the fundamentals of what does it mean to execute an event and at the same time what are some of the business management, computer skills and problem-solving that are necessary in the emerging esports market and are transferable skills to many other jobs," said Noel Criscione-Naylor, interim chair of the Hospitality, Tourism, and Event Management program at Stockton.
---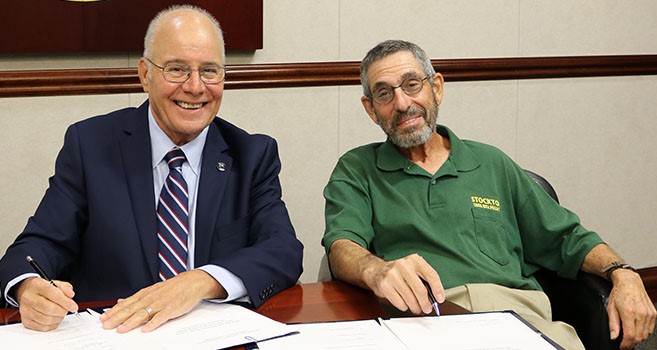 Professor Emeritus Starts Scholarship to Encourage Research
Michael Frank, professor emeritus of Psychology, and his wife, Maureen, endoweda new Stockton University Foundation scholarship with a gift of more than $50,000. The Michael and Maureen Frank Award for Excellence in Undergraduate Research in Psychology was established to inspire recipients to conduct and publish psychological research.
"The scholarship was conceived as a way to encourage and invite our very best students to conduct their own investigations," Frank, of Absecon, said. "We are delighted to help students do great work with the assistance of Stockton faculty."
📰 In the News: The Press of Atlantic City
---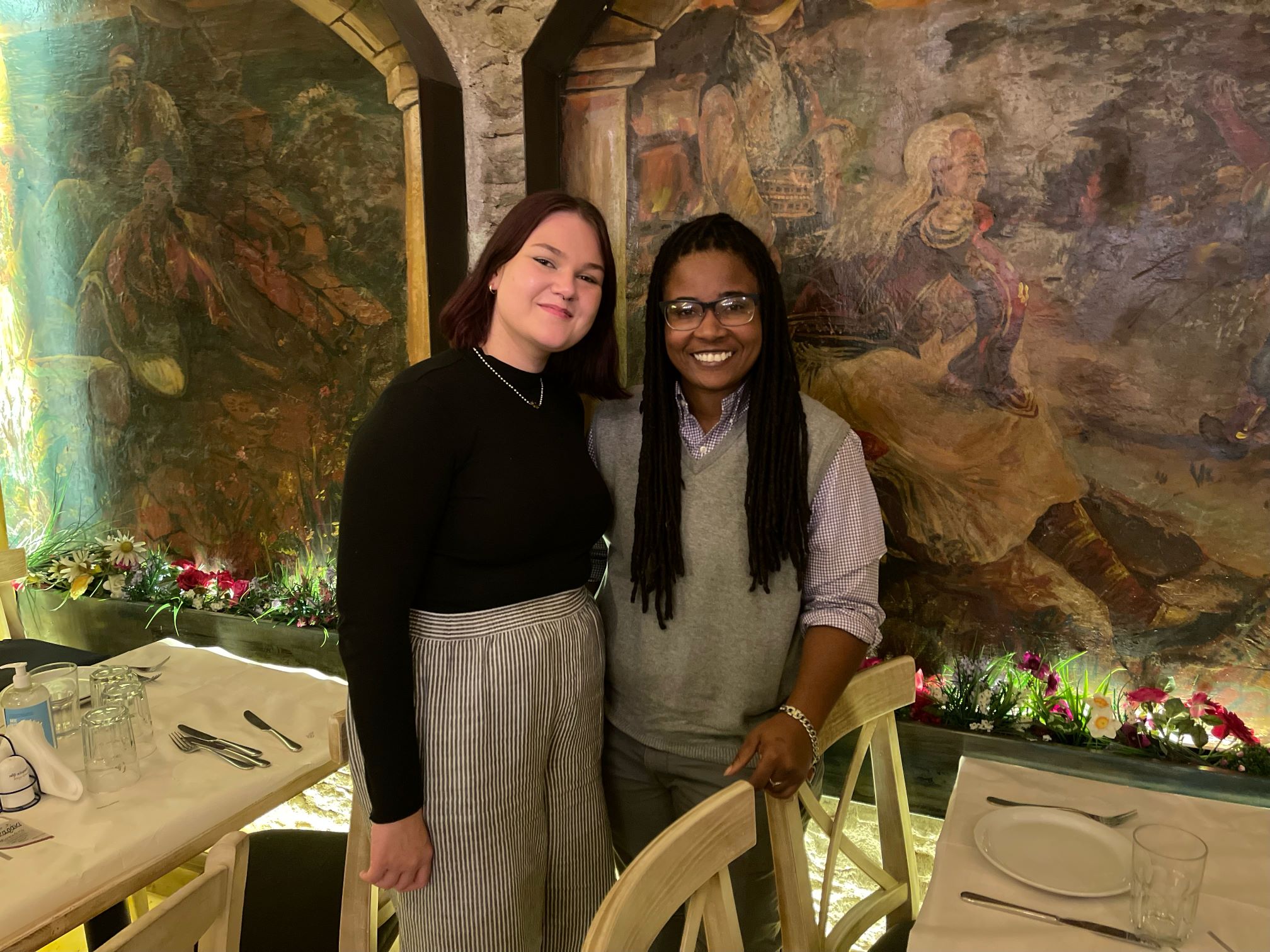 Stockton Students Guide the Way for U.S.-Greece Collaborations
When Megan Coates '21 and senior Eva Leavertonarrivedin Athens, Greece, to represent Stockton at the first Pharos Summit 2022: Greek-U.S. Collaboration in Higher Education, they found themselves surrounded by professors and administrators from other institutions like Princeton, Harvard, Yale, Columbia, Johns Hopkins, William & Mary and Tufts.
Out of the 30 U.S. institutions at the summit, Stockton was one of the smallest. As Coates and Leaverton looked around, they were surprised to be the only students invited to attend.
FRAME-WORTHY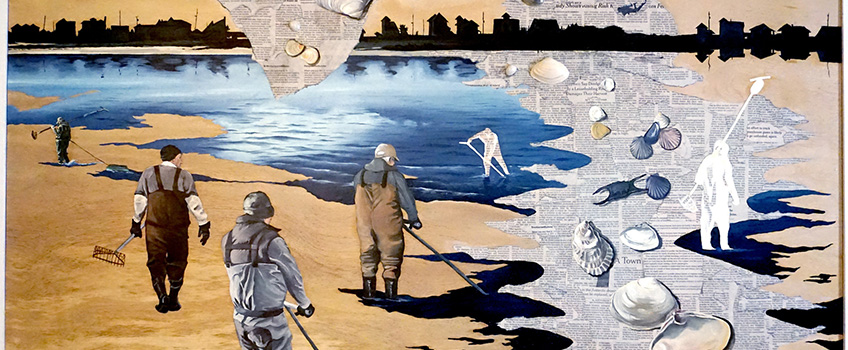 Noyes' Largest Exhibit Ever Focuses on Climate Change
The largest exhibition in the history of the Noyes Museum of Art of Stockton University is so big two locations are needed to display the works.
The exhibit titled "Mother Nature vs. Human Nature: The Inequity of Climate Resilience" is the New Jersey Arts Annual Exhibition for 2023. The display, which features 105 artworks by 103 artists who either live or work in New Jersey, will be held at both the Noyes Arts Garage in Atlantic City and at Stockton's Kramer Hall in Hammonton.
"It is the largest group of participants in the museum's history," said Noyes Museum Executive Director Michael Cagno. "And it's compelling evidence of New Jersey's dedication to and passion for the arts."
📰 In the News: The Press of Atlantic City, Patch.com
WHAT'S TRENDING

@ #STOCKTONU

Facebook: Here are just some of the wonderful clubs and organizations that tabled for the #GetInvolved Fair!
Twitter: Biology Professor Matthew Bonnan is receiving more attention for his new music album, "Once Upon Deep Time."
Instagram: Rainy mornings get better as soon as you step into the @stkcampuscenter coffeehouse.
FROM THE SIDELINES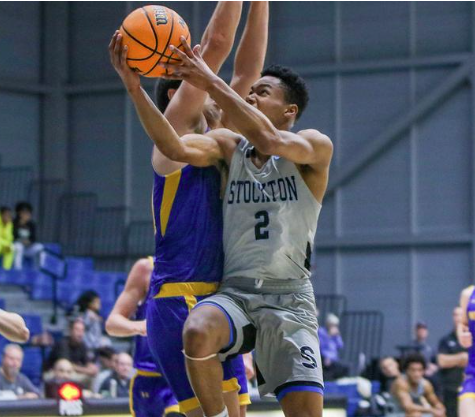 Stockton Blows Past Rutgers-Camden 75-49
The men's basketball team pulled away from Rutgers-Camden in the second half for a convincing 75-49 win on the road on Jan. 25. Five Ospreys scored in double figures in the victory.
DJ Campbell and Kyion Flanders led the way with 14 points apiece. Flanders went 4-5 (80%) from three-point range. All 14 of his points came in the second half.
Jonathan Azoroh netted 13 points and tied for the team lead with six rebounds. Azoroh went 6-8 (75%) from the field. Kadian Dawkins was nearly perfect, going 4-5 from the floor and 4-4 at the line for 12 points. Milo De Los Santos also tallied 12 markers.
---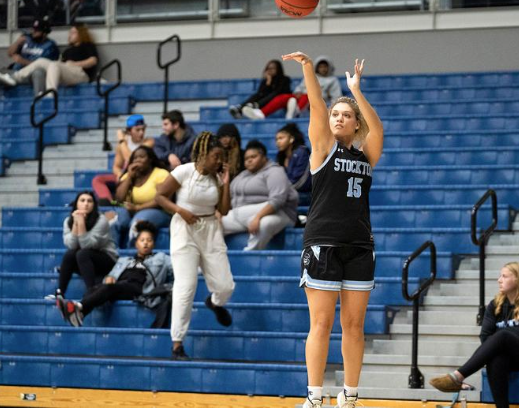 Stockton Downs Rutgers-Camden 48-37
The women's basketball team moved back over .500 on Jan. 25 with a 48-37 win over Rutgers-Camden, which was Stockton's second straight triumph. The Ospreys dominated the first and fourth quarters on the way to victory.
Nicole Strumolo tied her career high with 13 points for the second time in three games. Strumolo scored efficiently, going 5-8 (62.5%) from the floor and 3-4 (75%) at the line.
---
🥍 Four Ospreys Receive Preseason All-America Honors
Four Stockton men's lacrosse players were recognizedas a pair of publications announced their NCAA Division III Preseason All-America teams in advance of the 2023 season, which begins next month.
Dante Poli headlined the quartet with accolades from both organizations. Poli was selected to USA Lacrosse Magazine's Preseason All-America Third Team and the Inside Lacrosse Preseason All-America Fourth Team.
Tyler Horvath and Brendan Scanlon were named Preseason All-America Honorable Mention by USA Lacrosse Magazine. Luc Swedlund was tabbed Preseason All-America Honorable Mention by Inside Lacrosse.
---
🗓️ View the full schedule of upcoming athletic events here
OSPREY NOTES
Faculty, Staff Encouraged to Join in Presidential Search
The search for Stockton's next president has been narrowed down to three candidates. The campus community is encouraged to participate in the search by attending an open forum with each candidate.
Next week's schedule is as follows:
Candidate B:
Faculty Forum: 2:15–3:30 p.m. Monday, Jan. 30, Campus Center Theatre

Open Forum*: 10:30-11:45 a.m., Tuesday, Jan. 31, Campus Center Theatre

Student Forum: 1:15-2 p.m., Tuesday, Jan. 31, Campus Center Theatre
Candidate C:
Faculty Forum: 2:15-3:30 p.m., Thursday, Feb. 2, Campus Center Theatre

Open Forum*: 10:30-11:45 a.m., Friday, Feb. 3, Campus Center Theatre

Student Forum: 1:15-2 p.m., Friday, Feb. 3, Campus Center Theatre
For more information or questions regarding the Presidential Search, email presidentialsearch@stockton.edu.
The entire candidates' forum schedules are available on the Presidential Search page.
*The Open Forum or Campuswide Presentation is open to all staff, faculty, alumni and community partners.
---
NOTICE: 2023 Annual Tuition Hearing
Each year before adopting a tuition and fee schedule, the University is required by New Jersey statute to hold a tuition and fee hearing. The hearing is intended to provide the Board of Trustees with an opportunity to hear the views of the University community.
This year feedback will be solicited via a Qualtrics survey that can be accessed here, now through Feb. 8. Your feedback is important to us and will help inform fiscal year 2024 budgetary decisions.
---
Marq Software Available to University Partners for Graphic Needs
University Relations & Marketing is driving on-brand content creation across the University by providing access to Marq, a web-based design and brand templating platform which debuted in September 2022.
The variety of branded design templates helps clients quickly create high-quality marketing and promotional materials. These templates are intended to assist with smaller projects that may be needed ASAP. The Graphics department will continue to support the creative needs of the campus and production requests should be submitted as usual.
"The templates allow me to easily update existing content and get URM approvals in days rather than weeks. The tools have inspired me to think more creatively about how we promote our events and projects and made it easy to implement these new ideas in real-time. The Marq platform is intuitive for anyone familiar with Canva or similar cloud-based graphic editing tools, and the graphics team has been responsive to my questions and helpful in providing tutorials for using the platform," commented Sarah Grady, assistant director of The Lloyd D. Levenson Institute of Gaming, Hospitality & Tourism (LIGHT)
For more information about the software and to apply for a license, visit the Marq guidelines site.
---
♿ Accessibility Category Added to Interactive Campus Map
The ADA 504 Act Steering Committee recently added a new Accessibility category to the Stockton interactive map. The addition makes it easier for visitors to find accessible parking, steep slope grades, elevators and more.
Please feel free to share or link to the interactive map with potential visitors to any future campus events or visits. Stockton is committed to providing a website accessible to the broadest possible audience, regardless of technology or ability.
---
Roster Verification Reminder for Faculty
Welcome back, faculty! As the spring semester is underway, it's time to Verify your Ospreys!
Faculty are reminded to now complete the Roster Verification process by confirming student attendance/academic activity. The Roster Verification process is to be completed by Tuesday, January 31. The Office of Financial Aid will use this information to make adjustments to student financial aid disbursements based upon each student's confirmed number of credits.
Each instructor will be responsible for verifying student attendance or participation in an academic activity. For online courses, faculty are reminded to include an assignment or discussion activity during the add/drop period so that the student's attendance can be confirmed.
The link to complete Roster Verification can be found under the faculty tab within the goStockton portal.
For more information and a list of frequently asked questions, visit stockton.edu/rosterverification.
UPCOMING EVENTS