Stockton News - Friday, Jan. 24, 2020
WHAT WE'RE TALKING ABOUT
Almost 1,000 Volunteer for MLK Day of Service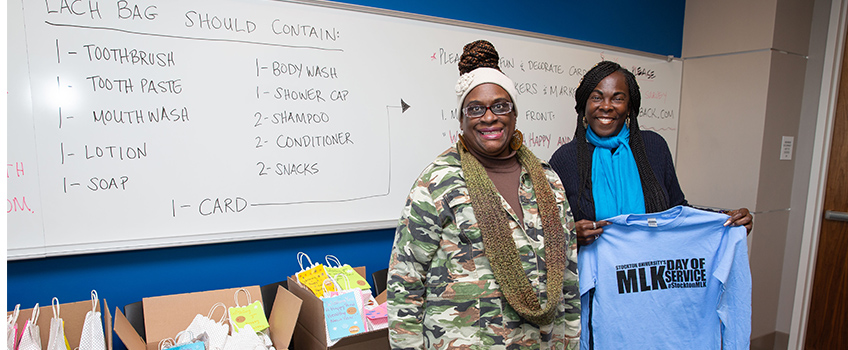 From the three Gribbin sisters, (Grace, 10, Brynn, 7, and Paige, 4) to the venerable Mama "T," who didn't let a wheelchair slow her down, almost 1,000 Stockton students, faculty, staff and community residents turned out at multiple sites in three counties for the 16th annual Stockton University Martin Luther King Jr. Day of Service.
The outdoorsy crowd took on the chilly, but sunny day for cleanup projects at the beach in Atlantic City, Hammonton Lake Park, New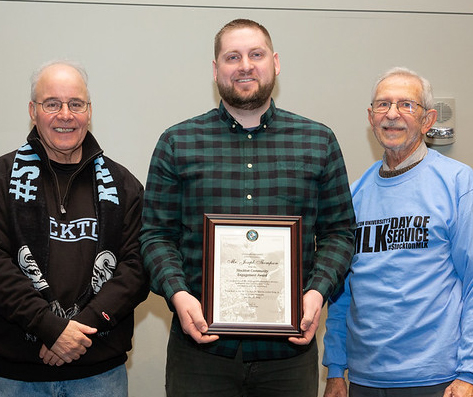 Gretna Playground, Barnegat EcoCenter, South Jersey Horse Rescue and Edwin B. Forsythe National Wildlife Rescue Kids Discovery Area.
Those inclined to more indoor activities made tote bags out of old T-shirts, sorted donated clothing, foods and books, wrote letters for Amnesty International, and made valentines for children at St. Christopher's Hospital.
Annual service awards recognize members of the Stockton community for their commitment to service all year round. Assistant Director of Student Development Joseph Thompson (pictured center with President Harvey Kesselman and Assistant Provost Thomas Grites) was recognized for going above and beyond his job description to assist students.
This Instagram highlight captures the spirit of the day through the eyes of student volunteers.
---
Collaborations Featured in Spring Art Exhibits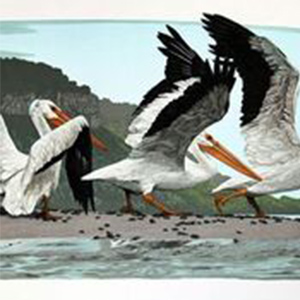 Stockton University's Art Gallery focuses on creative collaborations of the Arts and Sciences in two spring exhibitions now through April 5.
Participating artists include John Sabraw, Gaylord Schanilec and Matthew T. McLaughlin, who will each host gallery talks during February.
STOCKTON UNIVERSITY ATLANTIC CITY
Catch a Movie at Stockton University Atlantic City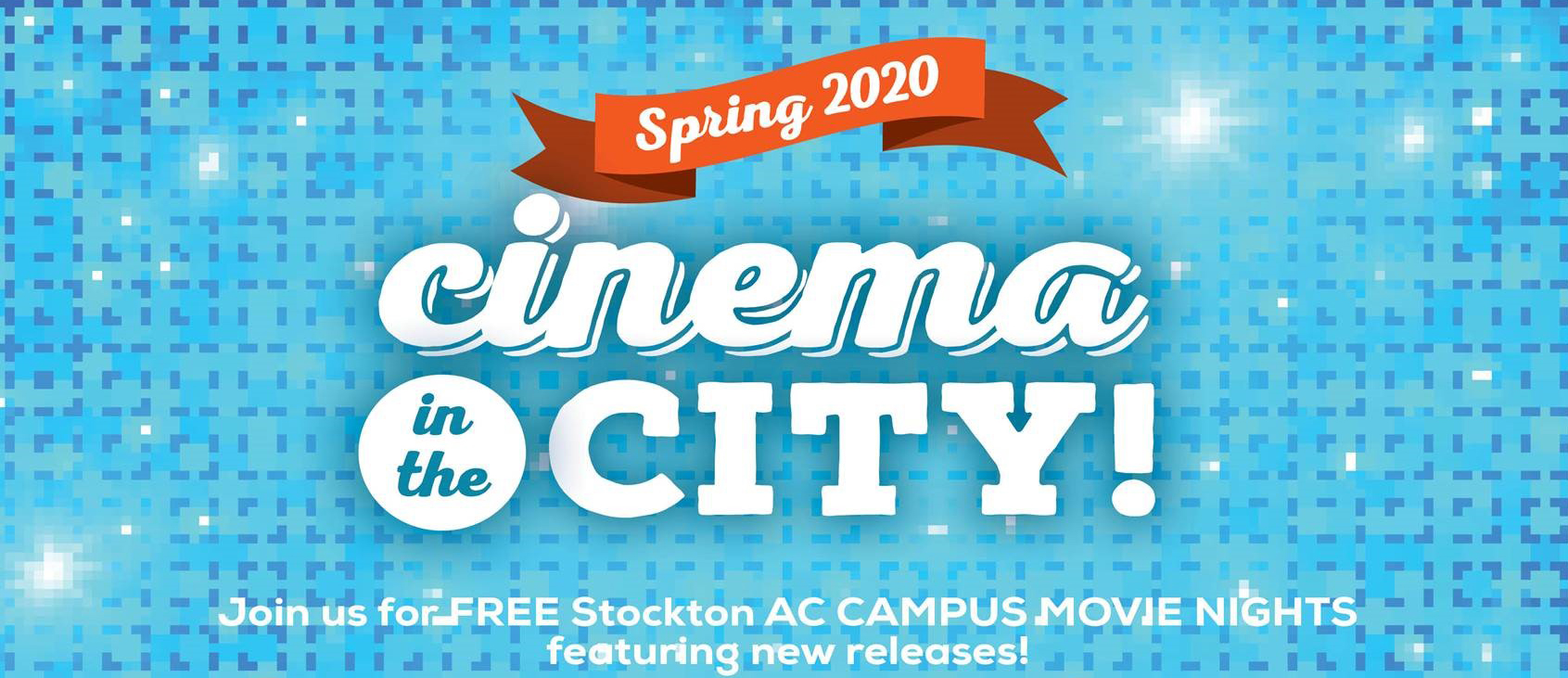 This spring semester, the entire Stockton community is invited to enjoy eight feature films, free food and drinks, as part of "AC Campus Movie Nights: Cinema in the City." Prizes will be available to students who go.
Attendees are asked to bring their Stockton IDs. Movies will be shown at 8 p.m. on Fridays in the Stockton University Atlantic City residential classrooms B119/120 on the following dates: TONIGHT, Jan. 24, "Maleficent: Mistress of Evil;" Feb. 7, "Queen & Slim;" Feb. 21, "Selma;" Feb. 28, "Just Mercy;" March 6, "Charlie's Angels;" March 27, "The Kitchen;" April 3, "Dolittle;" and April 17, "Jumanji: The Next Level."
SPOTLIGHT ON
Daniel Moscovici Joins Statewide Conservation Leadership Team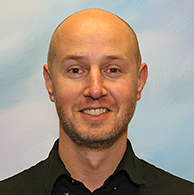 Conservation takes a team. In New Jersey, Daniel Moscovici has stepped onto the field.
New Jersey became the first state to develop a multiagency Conservation Leadership Program to train professionals who have the potential to balance expanding development in a shrinking natural world.
Moscovici, an associate professor of Environmental Studies and Sustainability, is in the first cohort that completed the program's fall residency at the National Conservation Training Center in Shepherdstown, West Virginia. He joined participants specializing in parks, forestry, wildlife, watersheds and natural resources from the Department of Environmental Protection, New Jersey Audubon, U.S. Fish and Wildlife Service and other state and federal agencies and nonprofits.
FRAME-WORTHY
Ospreys Arrive for Start of Spring Semester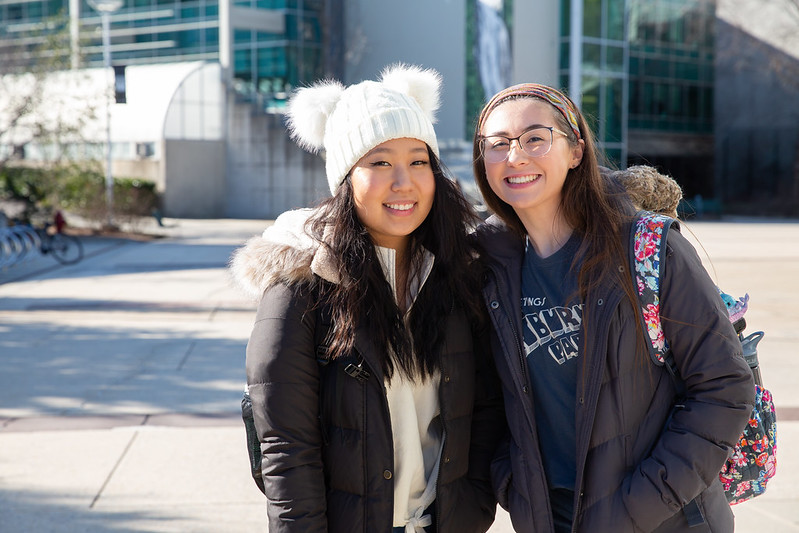 Ospreys migrated back to campus for the start of spring semester on Tuesday, Jan. 21.
Despite the frigid temperatures, they landed on their feet ready to dive into classes, clubs, activities and more.
See more photos from the first day of classes here.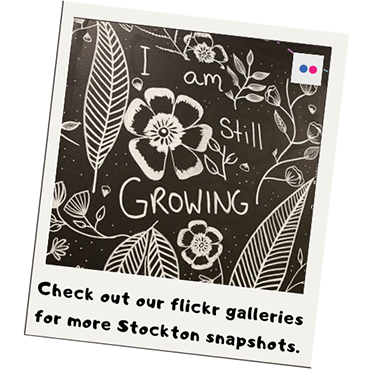 WHAT'S TRENDING #STOCKTONU
Twitter: Dr. Beverly Vaughn led the #StocktonU Freedom Singers in a song to honor Dr. Martin Luther King Jr. at Ocean City High School.
Facebook: #WildlifeWednesday: During a shipwreck survey, Stockton sonar detected something curious that has evolved into an effort to make a safer bay for marine life while helping commercial crabbers. Check out the article about the Stockton University Marine Field Station in Hakai Magazine
FROM THE SIDELINES
Stockton Kicks Off Spring Semester at Gotham Cup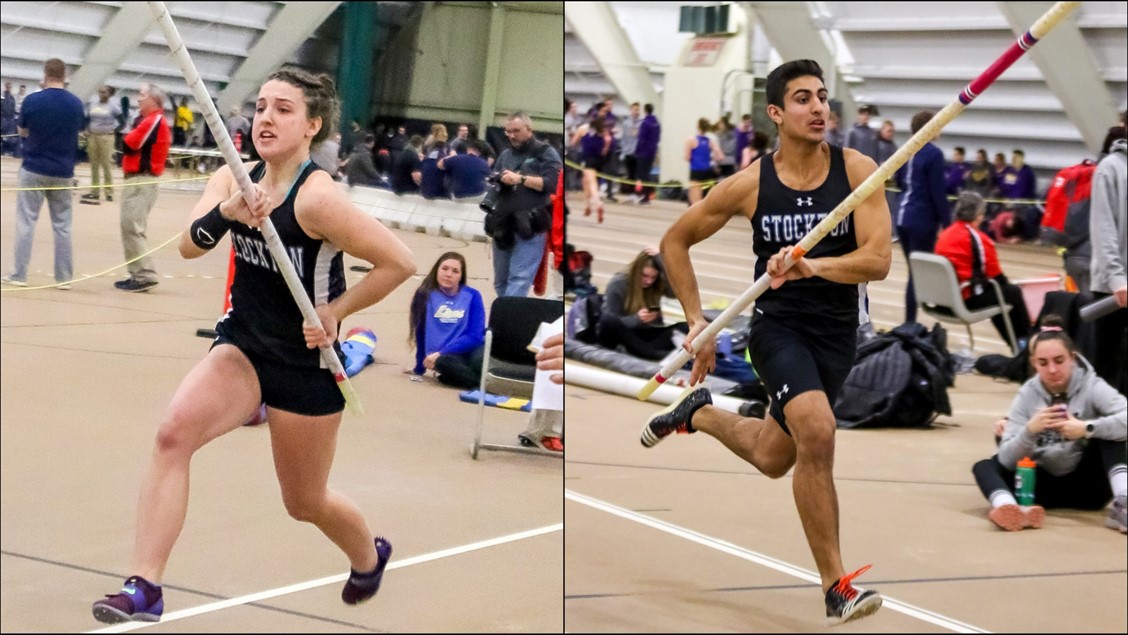 Stockton University kicked off the spring semester by competing in the Gotham Cup at the Ocean Breeze Athletic Complex. The meet was the first for the Ospreys since Dec. 7. The Stockton men registered three individual runner-up finishes and the women notched one runner-up finish in a relay.

The Women's and Men's Track & Field teams compete at the Coach I Open at Franklin & Marshall College on Jan. 25. The Women's and Men's Basketball teams play Ramapo College (away) on Jan. 25. For upcoming sports games, check out the schedule. Go Ospreys!
OSPREY NOTES

Electrical Shutdown Planned this Summer at Galloway Campus
Stockton plans to go "unplugged" this summer while a significant electrical renovation occurs at the University. Between 6 p.m., Thursday, July 23, and 8 a.m., Monday, Aug. 3, a major portion of the Galloway campus will be without power due to the renovation.
Please work with your supervisor and indicate if you plan to take time off by Jan. 31, 2020, so they can make preparations and accommodations during the power shutdown. They can also help answer any questions you may have.
More information can be found under the "employee" tab of the GoPortal by clicking the "Stockton Unplugged" graphic.

Spring Semester FAFSA Fridays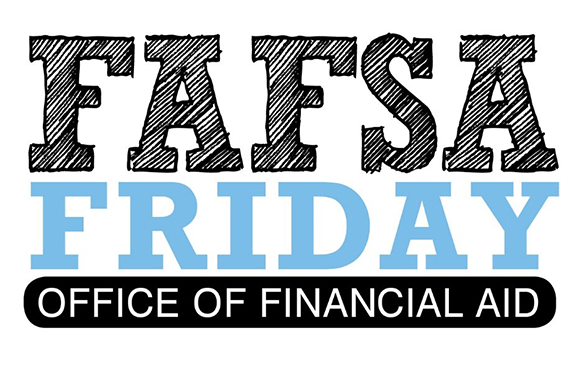 Do you have students looking for help with their financial aid application? The Office of Financial Aid is hosting "FAFSA Fridays" from 1-3 p.m. every Friday from Feb. 7-March 6, and March 27-April 10, in F210 to assist students with the financial aid process. Encourage your students to file their FAFSA applications today to avoid missing important deadlines including the April 15 deadline for State Aid. Students who file their FAFSA after these deadlines may miss out on aid for which they may be eligible.
UPCOMING EVENTS