Stockton News - Jan. 20, 2023
WHAT WE'RE TALKING ABOUT

Over 700 Come Together for 19th Annual MLK Day of Service
Stockton's Galloway, Atlantic City and Hammonton locations came together and participated in a day of service projects on Jan. 16.
The Stockton Center for Community Engagement and Service Learning (SCCESL) coordinated the annual event, which had 32 programs both on and off campus for the first fully in-person day of service since 2020. Merydawilda Colon, director of SCCESL, welcomed participants during breakfast.
"I am delighted to have so many students, community members, faculty and staff among us today," Colon said. "I am so thankful that you chose to be here today, serving our community."
Colon also introduced Christopher Lipari-Pazienza, Engage NJ Changebuilder VISTA of SCCESL, who talked about the significance of today as a way to honor Rev. Dr. Martin Luther King Jr.'s legacy.
The MLK Day of Service is particularly "near and dear" to Lipari-Pazienza, as he has been involved with the event since he was a first-year student and volunteer in 2018. He has since graduated from the Criminal Justice dual degree program and now helps coordinate the projects with SCCESL.
📷 View more photos from the day here.
---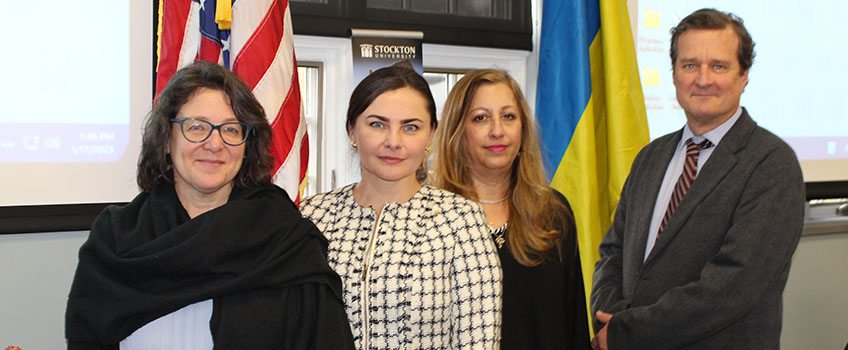 Ukrainian Consul Visits Azeez Museum
Iryna Mazur was astonished by the outpouring of support for her native Ukraine by the American people in the past year.
"What really strikes me is the amount of support from American society on every possible level. I never thought that regular Americans would support Ukrainians so much. For that, I want to thank you," Mazur told a groupof local residents and elected officials on Jan. 17.
Mazur is honorary consul for Ukraine to Philadelphia, which she describes as a "volunteer diplomat," and has been involved in the collection of medicine, equipment and clothing for Ukrainians since Russia invaded last year.
A native of Lviv, Ukraine, Mazur has lived in the United States for 22 years and practices international law in Huntingdon Valley, Pennsylvania.
---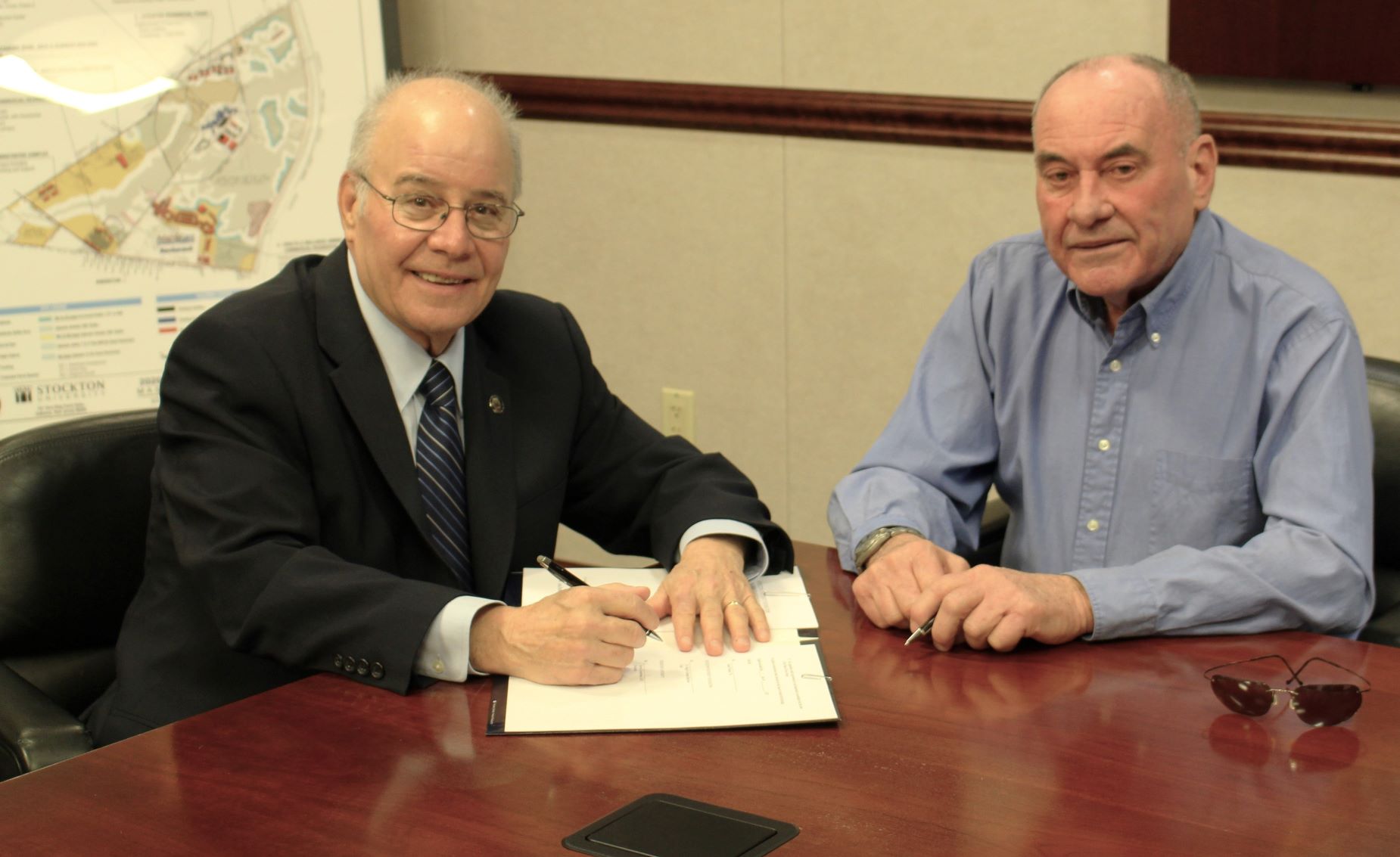 Mays Landing Alumnus Endows Scholarship
A new endowed scholarship will provide an annual award to a student studying Criminal Justice, Environmental Studies or Public Health at Stockton.
The James & Winifred Watson Endowed Scholarship reflects the academic and professional interests of the couple, who were Stockton graduates.
James Watson '76, said he wanted to establish the scholarship in memory of his late wife, Winifred, '80, and help provide a Stockton education for students who share their dedication to strengthening criminal justice, ensuring public health and protecting the environment.
STOCKTON UNIVERSITY ATLANTIC CITY
'Cinema in the City' Returns to Stockton Atlantic City
This spring semester, the entire Stockton community is invited to enjoy seven feature films, free food and drinks, as part of "AC Campus Movie Nights: Cinema in the City."
Attendees are asked to bring their Stockton IDs. Movies will be shown at 8 p.m. on Fridays in the Stockton University Atlantic City residential classrooms B119/120 on the following dates: Jan. 23, 26, Jumanji: The Next Level;" Feb. 6, 9, "The Normal Heart;" Feb. 20, 23, "One Night in Miami…;" March 6, 9, "The Woman King;" March 27, 30, "Minions, The Rise of Gru;" April 10, 13, "Hairspray;" and April 24, 27, "Turning Red."
FRAME-WORTHY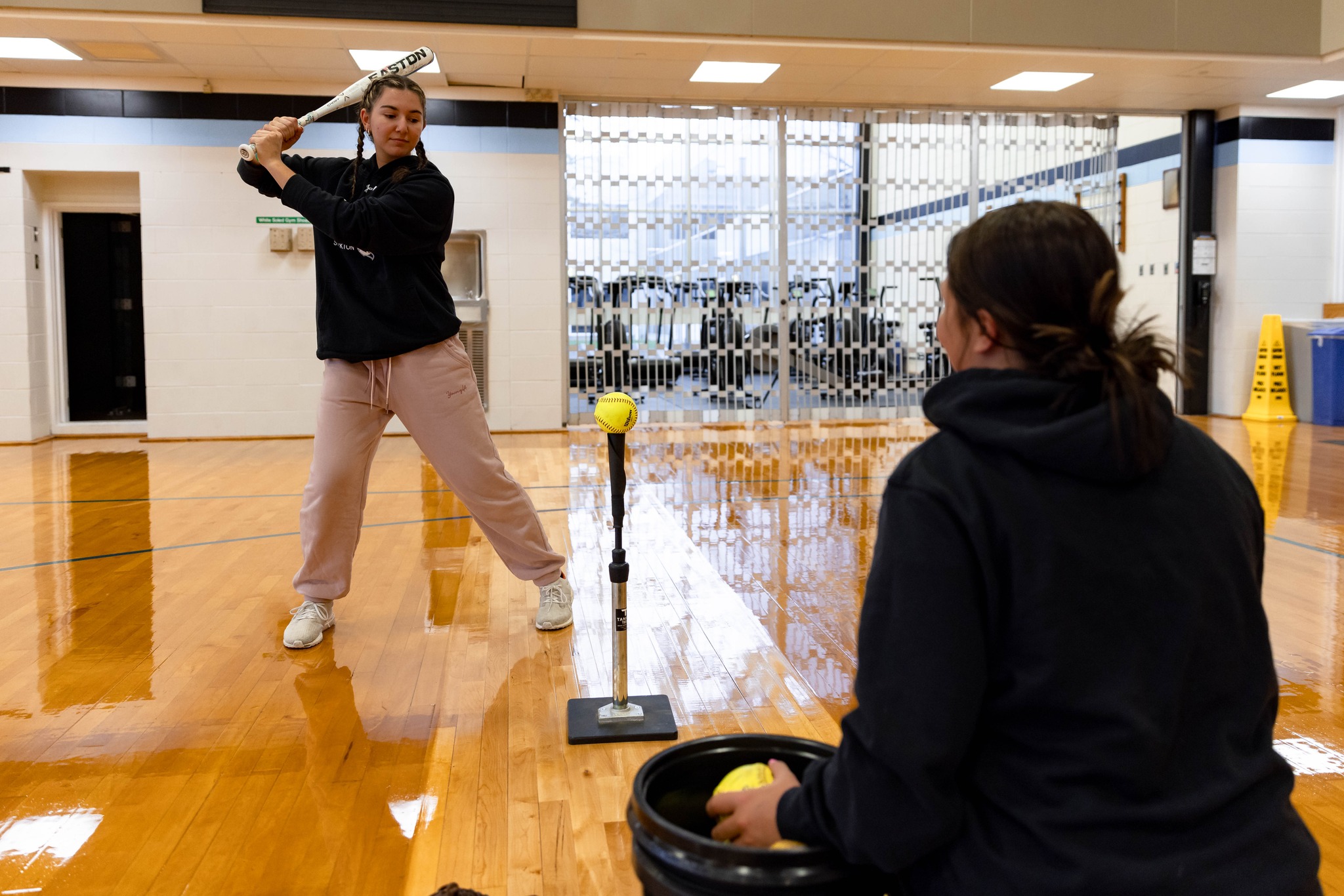 Ospreys 🦅 Swing into Spring Semester
Welcome back, Ospreys! The Stockton softball team is already getting back into the swing of things, and we saw a few slam dunks in the I Wing Gym. From the bountiful smiles captured, it was clear students were excited to be back on campus.
View more spring semester scenes on Flickr.
WHAT'S TRENDING

@ #STOCKTONU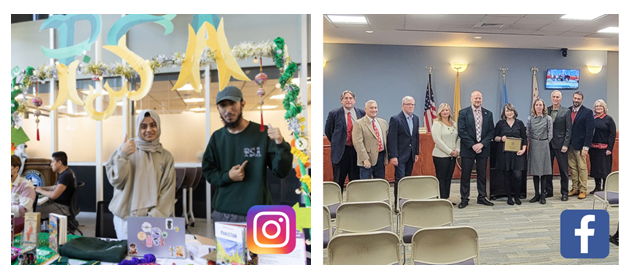 Instagram: If you're into ____, there's a club for that (finish the sentence) 🦅.
Facebook: There's nothing more we love than seeing our #Ospreys thrive! Rachael Baldwin, an ENVL major, had an internship with Stafford Township, where she supported them in applying for the Sustainable Jersey program, which encourages municipalities to find ways to become more environmentally friendly.
FROM THE SIDELINES
Stockton Returns to Action at TCNJ Indoor Invitational
Stockton's indoor track & field team returned to action following the semester break by competing in the TCNJ Indoor Invitational at New York Armory on Jan. 14. The Ospreys competed among a mix of teams from all three NCAA Divisions.
Shahyan Abraham provided the biggest highlight as she broke the school record in the weight throw by over half a meter with a distance of 17.15m. Abraham shattered the mark of 16.49m by Mahogany Mitchell that stood for 12 years.
Abraham moved into sixth in the nation and finished second out of 15 behind only a thrower from Rutgers. Abraham also placed fifth out of 16 and first among seven competitors from Division III in the shot put with a toss of 12.73m.
Freshman Connor Wright led the Stockton men by finishing third out of 16 (1st of 8 DIII) in the triple jump (13.95m) and 11th out of 28 (2nd of 8 DIII) in the long jump (6.58m).
---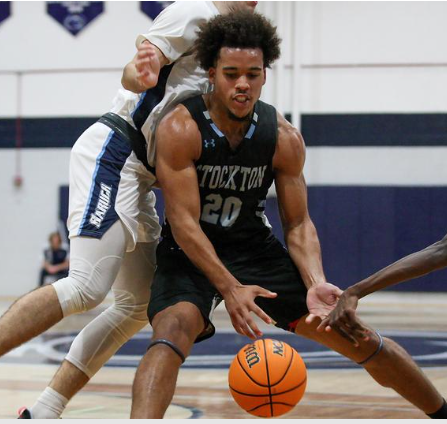 Stockton's Five-Game Win Streak Halted by Rowan
The men's basketball team saw its five-game winning streak, the team's second of at least that long this season, end with a 107-69 defeaton Jan. 18 to league leader Rowan.
The Ospreys seemingly had nothing left in the tank after an exhausting and emotionally taxing nine-day stretch. During that time, Stockton played four games, winning three, while dealing with the death of long-time assistant coach Bob Hutchings on Jan. 10 and paying their last respects to "Coach Hutch" over the last 48 hours.
Stockton shot just 33.3% from the field (26-78) and only 17.4 percent from three-point range (4-23). Freshman Tayvon Gaither produced his first career double-digit game with a career-high 14 points. Gaither went 5-7 from the field (71.4%).
---
🗓️ View the full schedule of upcoming athletic events here
OSPREY NOTES
Faculty, Staff Encouraged to Join in Presidential Search
The search for Stockton's next president has been narrowed down to three candidates. The campus community is encouraged to participate in the search by attending an open forum with each of the candidates, beginning on Thursday, Jan. 26.
Candidate A will be on campus Jan. 26 and 27, Candidate B will be on campus Jan. 30 and 31 and Candidate C will be on campus Feb. 2 and 3. The full schedule of each candidates' forums is available on the Presidential Search page.
More information about each candidate will be shared prior to the forums.
---
Roster Verification Reminder for Faculty
Welcome back, faculty! As the spring semester has begun, it's almost time to Verify your Ospreys!
New this year, faculty are reminded to complete the Roster Verification process by confirming student attendance/academic activity beginning after the add/drop period on Tuesday, Jan. 24. The Roster Verification process is to be completed by Tuesday, Jan. 31. The Office of Financial Aid will use this information to make adjustments to student financial aid disbursements based upon each student's confirmed number of credits.
Each instructor will be responsible for verifying student attendance or participation in an academic activity. For online courses, faculty are reminded to include an assignment or discussion activity during the add/drop period so that the student's attendance can be confirmed.
The link to complete Roster Verification can be found under the faculty tab within the goStockton portal.
For more information and a list of frequently asked questions, visit stockton.edu/rosterverification.
UPCOMING EVENTS