Stockton News - Jan. 15, 2021
WHAT WE'RE TALKING ABOUT
Free Homework Program Helping Area Students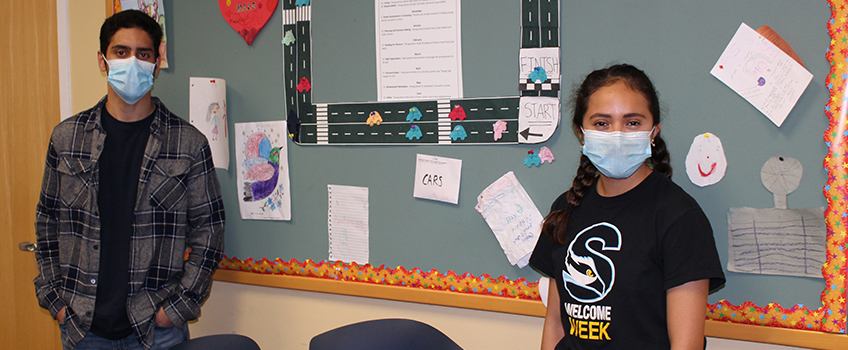 Stockton University student Ariana Ramirez of Northfield plans to be a teacher. Hari Acharya of Mays Landing wants to be a doctor. Both are already giving back to the community as tutors at Stockton's After-School Homework Completion Program.
The program, offered online from 3-5 p.m. Monday through Thursdays by the Center for Community Engagement and Service-Learning, has operated for several years at sites in Atlantic City and Pleasantville. During the pandemic, it has gone virtual via Zoom and expanded its reach to students throughout South Jersey.
"Once we went virtual, we started to get students from all over, into Ocean County and Camden," said Community Projects Coordinator Heather Swenson-Brilla. "They can just log on whenever they need help. It's a free, drop-in program."
---
Mini-Courses Offered to the Public
The Stockton University Institute for Lifelong Learning (SILL) will host several mini-courses for the general public in February, March and April.
Each course meets once a week for four weeks. All courses are taught by Stockton faculty and held virtually through Zoom. The cost for each course is $45.
"These short courses are an opportunity for community members to learn something new from the same professors who teach the courses at Stockton," said Christine Ferri, associate director of the Stockton Center on Successful Aging (SCOSA) and associate professor of Psychology. "Participants can learn from experts and meet peers who are curious about topics as varied as African American music and the environment to brain health and poetry."
---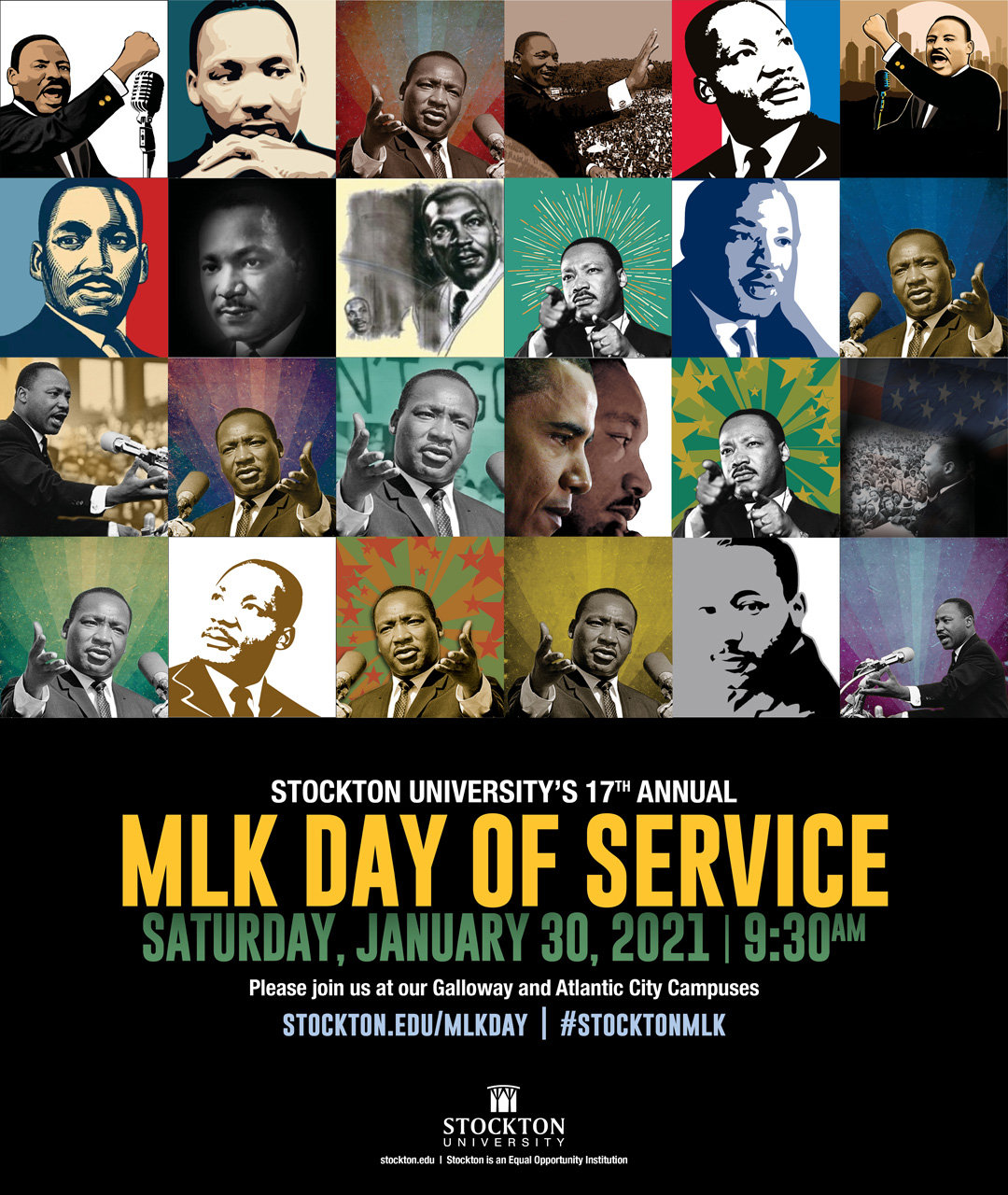 MLK Day of Service Moved to Jan. 30
Stockton University has moved its 17th Annual Martin Luther King, Jr. Day of Service community event from Jan. 18 to Saturday, Jan. 30 this year.
The new date will give more students the opportunity to return to campus to participate. The University moved the start of spring semester classes to Jan. 25 as a COVID-19 precaution after the holidays.
Due to the pandemic, there will be no opening program at the Galloway campus. Only Stockton students, staff and faculty will participate at the in-person service projects.
WE'RE HERE TO HELP
Resources Available to Staff, Faculty
There are many resources and best practices being made available to staff and faculty working remotely that can be found by visiting Information Technology's website.
🧠 In addition to assistance with the technology available from ITS, Stockton provides faculty and teaching staff with professional development, training, teaching ideas, resources and individual consultations via the Center for Teaching and Learning Design. The Center is offering the following professional development sessions next week: 9 a.m.-3 p.m., Tuesday, Jan. 19, Pop-up FAWN Boot Camp; 2-3:30 p.m., Thursday, Jan. 21, "Customizing the CTLD Sample Syllabi"; 10-11 a.m., Friday, Jan. 22, "What's New in Blackboard?"; and also on Friday from 1:30-2:15 p.m., "Overview of Program Review Committee (PRC) Responsibilities."
👉 Chartwells' has posted dining hours of operations through Jan. 24 here.

💉 New Jersey has developed a website for residents to pre-register to receive the COVID-19 vaccine.
The updated Soar Safely graphic, which adds the "Vax Up" message is available for download here.
🔴 Pledge Reminder: Faculty, staff and students should complete the Stockton Health Pledge daily, even if you are not coming to campus. The pledge is emailed daily to your Stockton email and assists us in monitoring the health of our community. If you are feeling ill, do not come to campus, notify your manager, and see your doctor if necessary.
Stockton is compiling notices of confirmed positive COVID-19 cases in a dashboard on the Coronavirus home page. The dashboard is updated on regular work days.
WHAT'S TRENDING @ #STOCKTONU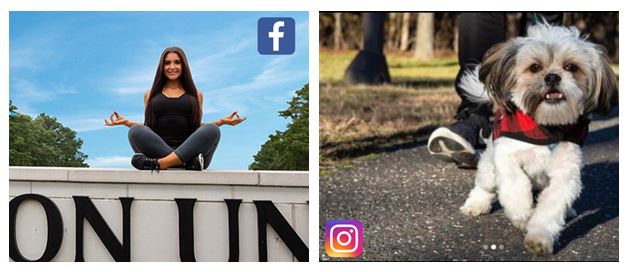 Facebook: Your body is your home, which is why Brianna Chelednik '20 chooses to protect and improve the health of all people in all communities through community health education.
Instagram: Who else loves to walk the trails on campus? Pictured is Murphy with his humans, Billy and Maddie. Post your views of campus using the #PictureStockton hashtag.
FROM THE SIDELINES
🏀 McHugh Talks Winter Basketball Season
Kevin McHugh, athletic director at Stockton, was recently interviewed by the Press of Atlantic City on the upcoming basketball season. As of now, the Ospreys plan to hit the courts officially on Feb. 5. Read the full article here.
Speaking of basketball, check out these old photos from this 1976 clipping from The Argo. Go Ospreys!
OSPREY NOTES
Submit Your Black History Month Events
The Office of Student Development is putting together a calendar to recognize Black History Month in February and is asking for submissions for any events, programs, workshops, etc. that could be included in the calendar. Be sure to include the event title, date & time, location/virtual link, organization(s)/offices sponsoring the event, and description of the event. Visit here to submit your event.
Roster Verification Reminder for Faculty
As the spring semester is quickly approaching, faculty are reminded to confirm student attendance at the beginning of each course after the add/drop period. The Office of Financial Aid will use this information to make adjustments to student financial aid disbursements based upon the confirmed number of credits.
Each instructor will be responsible for verifying student attendance or participation in an academic activity. For online courses, faculty are reminded to include an assignment or discussion activity during the drop/add period so that the student's attendance can be confirmed.
The link to complete Roster Verification can be found under the faculty tab within the goStockton portal.
For more information and a list of frequently asked questions, visit here.
Submit Applications for Day of Scholarship 2021
Day of Scholarship applications are being accepted now through March 1, and can be submitted by visiting here.
Day of Scholarship 2021 will be held virtually from 9 a.m.-1 p.m., Thursday, April 8. If you have any questions, email Ronnie Maiorino at ronnie.maiorino@stockton.edu
UPCOMING VIRTUAL EVENTS
Upcoming Events Hosted by the Office of Development and Alumni Relations
Jan. 14-18: Murphy Writing Winter Getaway
Jan. 22, 29:Maple Sugaring; for all things maple with Judy Vogel, visit here.
Jan. 25: Spring Semester Begins
Jan. 30: MLK Day of Service
Feb. 1-18: High School Diploma Test Preparation