Stockton News - Jan. 13, 2023
WHAT WE'RE TALKING ABOUT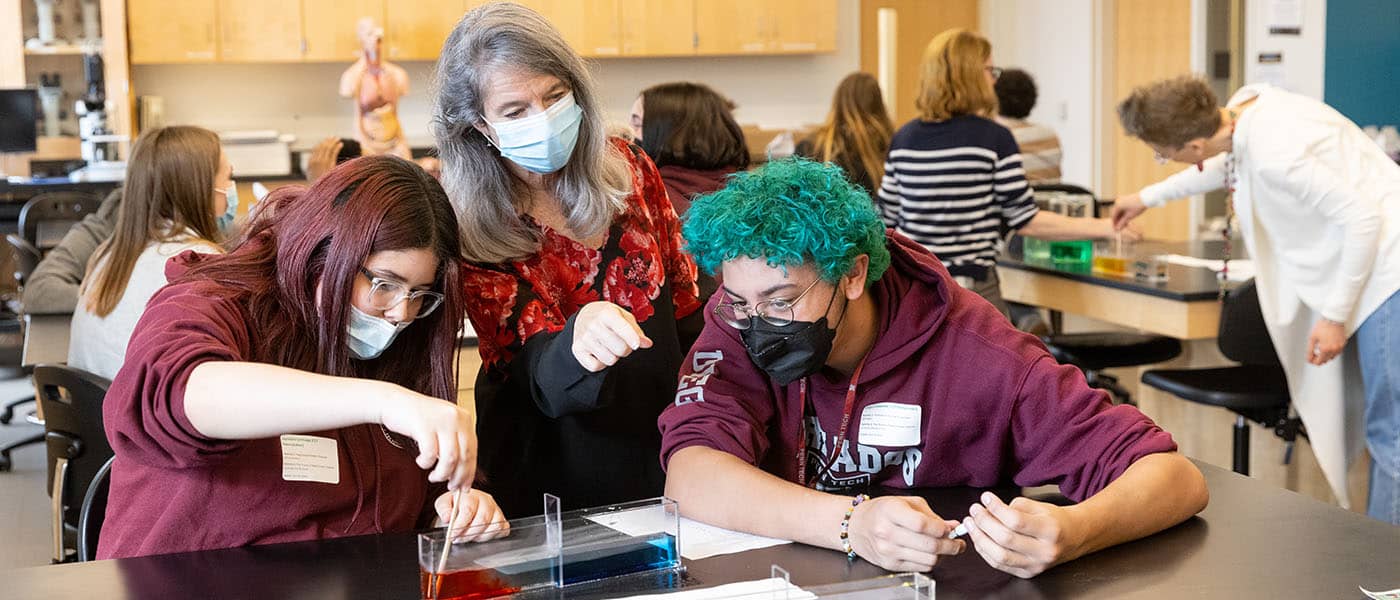 Anyone Can Become a Scientist at Sciencepalooza
Freshman and sophomore students from Cumberland Regional High School and Camden County Technical Schools (CCTS) had the opportunity to learn about Stockton and various careers in the STEM fields as part of Sciencepalooza on Jan. 5.
Students participated in workshops on topics such as marine science and biology, all led by Stockton's School of Natural Sciences and Mathematics (NAMS) faculty. In the workshops, the high schoolers:
Examined the internal and external anatomy of oysters with Christine Thompson, associate professor of Marine Science

Learned how we encounter rocks and minerals everywhere in our daily lives with Matthew "Rocky" Severs, associate professor of Geology

Looked through microscopes and observed the cells of animal brains with Nathaniel Hartman, associate professor of Biology

Diagnosed metabolic diseases of amino acids with Kelly Keenan, professor of Chemistry

Used wave flumes (tanks of colored water) to explore the physics of beach erosion with Anna Pfeiffer-Herbert, associate professor of Marine Science
Sciencepalooza was born out of the COVID-19 pandemic. In an effort to connect with students, the NAMS department created a virtual program that allowed professors to "visit" high schools and conduct different lessons in science, technology, engineering and mathematics.
Adriane Sicknick of the NAMS department said the online program was successful, especially after collaborating with Malcolm X. Shabazz High School of Newark for monthly STEM fairs. Once programs began to appear back in person, Sicknick and the NAMS faculty were eager to continue what they started online on campus.
---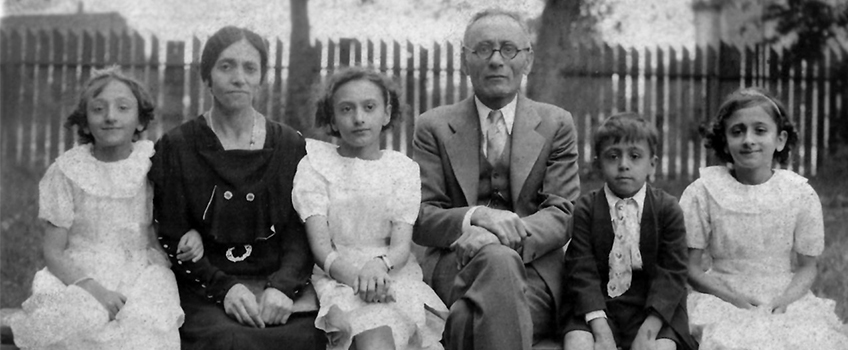 New Exhibit Focuses on Armenian Genocide
A new exhibit on display at Stockton's Richard E. Bjork Library traces the life of an Ottoman Armenian family and their journey of survival, migration and reemergence in the United States due to the 1915 Armenian Genocide.
"The Armenian Genocide, One Family's Story" follows the Zakarians through the family's personal photos, memoirs, musical instruments, artifacts and artwork — all of which serve as a backdrop to the broader history of the Armenian Genocide and related issues, including cultural loss and collective memory.
The exhibit, curated by Ryann Casey, exhibition coordinator at the Stockton University Art Gallery, will be on display at the library through May 31. A public reception with guest speakers, Armenian food and music will take place at 3 p.m. on Jan. 28.
---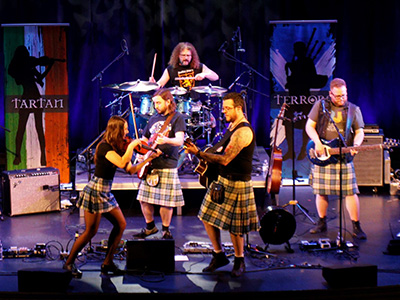 The PAC is Going Strong Right Into Spring
Following a break after the holiday season, Stockton's Performing Arts Center (PAC) is opening its doors once again to the public for the spring of 2023. The main stage is booked from early February to the end of April and includes acts ranging from dance and aerial acrobatics to fun shows full of laughter and parodies.
"The PAC has an amazing lineup of performances in the months ahead," said Anjanette Christy, the interim director of the PAC. "I am honored to play a role in bringing such talented and diverse artists to the Stockton PAC stage. From music, theater, comedy and more, I am confident that the remainder of the 2022-23 season will provide unforgettable experiences for our audiences."
STOCKTON UNIVERSITY ATLANTIC CITY
🕵️ 'Who Dunnit?' at 'Second Saturdays' Jan. 14
Second Saturdays in Atlantic City are a series of family-friendly events, hosted by Stockton University Alumni Relations, held on the second Saturday of every month at Stockton Atlantic City.
Calling all Stockton Jr. Detectives- when a millionaire is poisoned, Sherlock Holmes and his team arrive to help find out Who Dunnit! 11 a.m.-1 p.m., tomorrow, Jan. 14.
Not only must the killer be found, but an inheritance is hidden somewhere on the estate. Can you help uncover the guilty party as well as figure out where the money is hidden? Can you decipher the clues to help figure out how to get to the prize?
It's a race against time to solve "The Case of the Missing Millions!" Register here.
SPOTLIGHT ON: MARIANA SMITH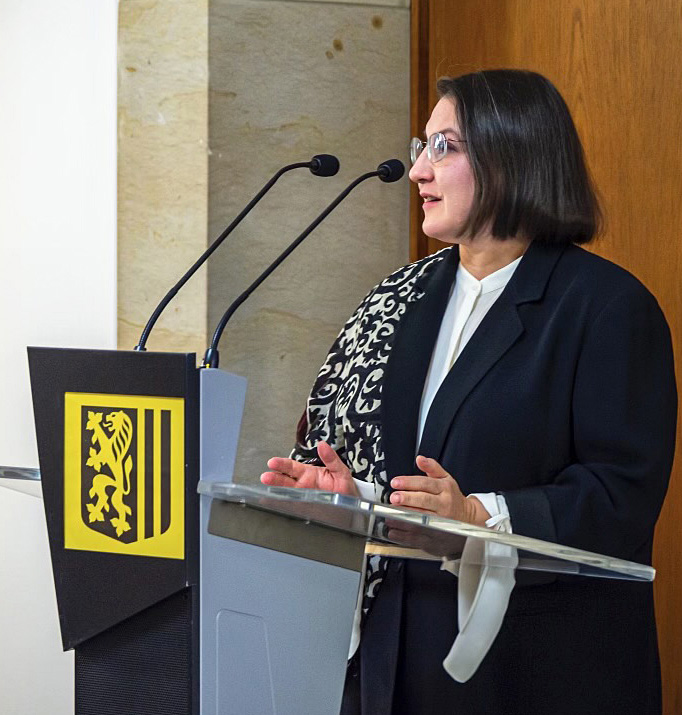 Mariana Smith, associate professor of Art at Stockton, was one of four United States artists invited to be featured in an exhibit, "Exchange Point," at the city hall art gallery Galerie 2. Stock in Dresden, Germany.
The international exhibition is on display through Feb. 27, 2023, and was unveiled on Dec. 1, 2022.
Smith was asked to present remarks at the opening ceremony on Dec. 8, which is dedicated to the 30th anniversary of the city partnership between Columbus and Dresden.
The exhibition, curated by Dresden artist Eva Harut, features U.S. artists Elizabeth Gerdeman, Kathy McGhee, Melissa Vogley Woods and Smith, as well as Dresden artists Maja Drachsel, Eva Harut, Sylvia Pásztor and Caroline Scheel.
Smith, who has taught at Stockton for eight years, participated in the Dresden Exchange program in 2013 and presented artworks inspired by this experience..
FRAME-WORTHY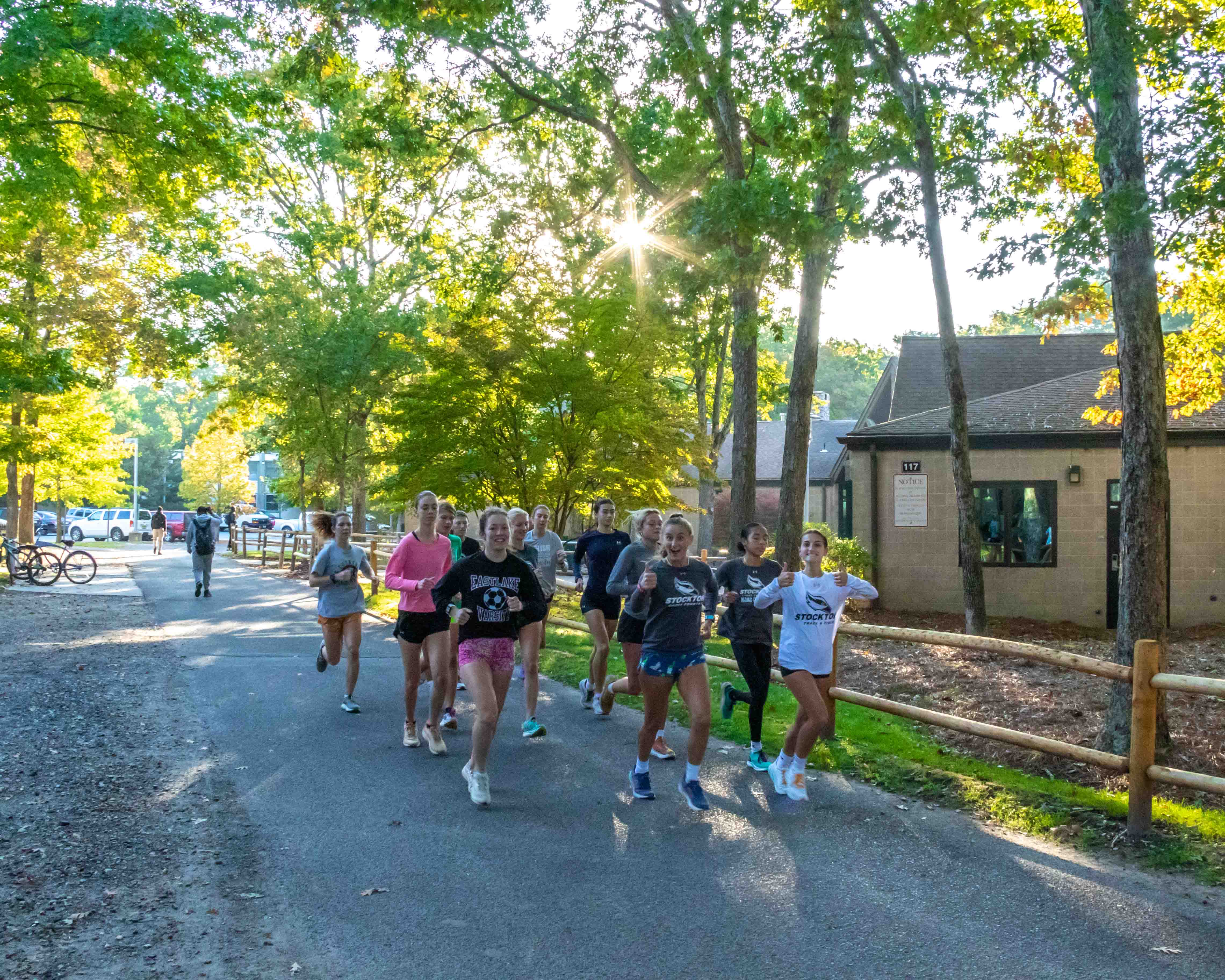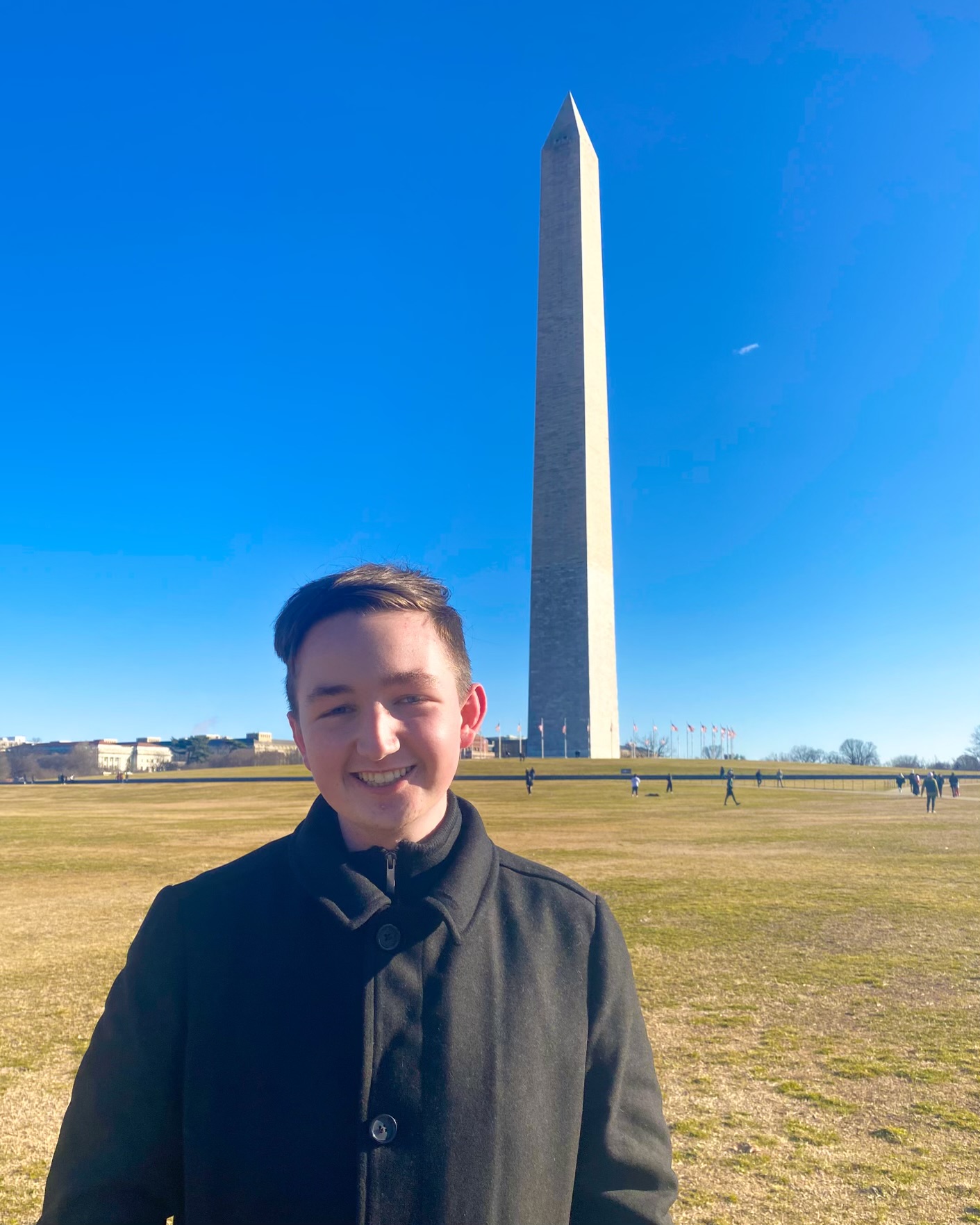 📸 Picture Stockton...In Your Spare Time
Stockton's campus is a place that allows students to pursue their diverse interests and hobbies. This photo story showcasesall that Stockton has to offer and how Ospreys spend their time outside the classroom. From playing pool in the Campus Center coffeehouse to taking selfies at an event, there are many ways to explore Stockton's campus and take a break from studying.
"I chose this topic because I wanted to show what students do when they aren't in class, especially as this was one of the first semesters where Ospreys gathered together again after the pandemic. As I explored Stockton's campus with my camera taking photos for this story, I realized how many different activities there are that students participate in," said Frankie Martinelli-Noble, a junior Communication Studies and Visual Arts major, who was a photography intern for University Relations and Marketing during the fall semester.
WHAT'S TRENDING

@ #STOCKTONU

LinkedIn: Join a #StocktonU alumni club (or create your own)
Facebook:Will Fausey '20 will be one of the first Peace Corps volunteers to soar back overseas since March 2020. He'll serve as a youth in development volunteer in Thailand for 27 months. Go Ospreys!
Twitter:Can't believe we're week away from the start of classes... Wish our Ospreys luck with the spring semester!
FROM THE SIDELINES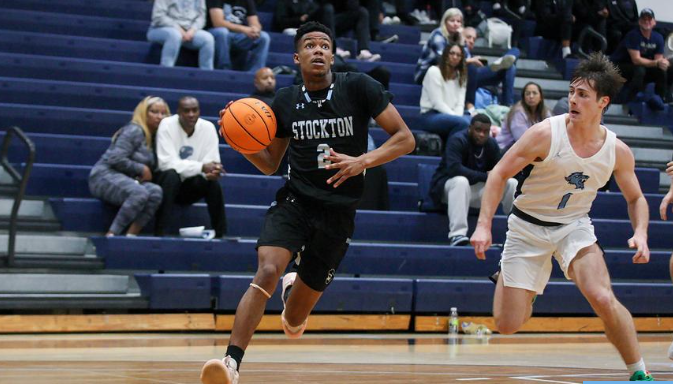 Stockton Earns Key NJAC Win 82-77
The men's basketball team played a strong second half and capturedan 82-77 victory over Kean University on Jan. 11. Kyion Flanders led three Ospreys in double figures with a season-high 21 points.
The Cougars took control in the first half, jumping out to a lead as many as nine at 31-22 with 6:51 left in the first stanza. Stockton put on a 13-2 run over the next 3:21 to take a short-lived 35-33 advantage with 3:30 remaining in the opening half, but the visitors answered with a finishing spurt of 11-3 to take a 44-38 lead into the locker room at the break.
The Ospreys came out of the intermission shooting well to take control of the contest. Baskets by Kadian Dawkins and Jonathan Azoroh, coupled with a three-pointer by DJ Campbell and another pair of three-balls by Flanders gave Stockton a 50-48 lead with 13:50 to play.
Stockton will play on Saturday, Jan. 14, for their next game, as the Ospreys will face New Jersey City in Jersey City. Game time is scheduled for 3 p.m.
📰 In the News: The Press of Atlantic City
---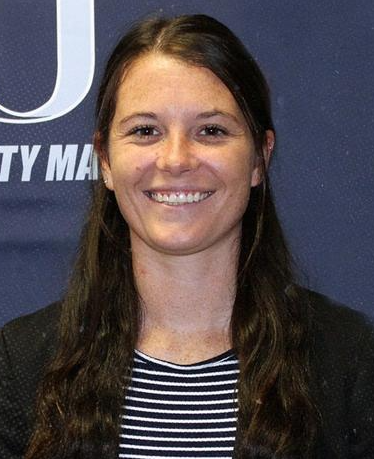 Incantalupo Named Interim Head Women's Track & Field and Cross Country Coach
Stockton has hiredClaire Incantalupo as its Interim Head Women's Track & Field and Cross Country Coach. Incantalupo arrives at Stockton with coaching experience from Immaculata University and Utica College, following an impressive career as a student-athlete at Rowan University.
Incantalupo assumed her role at Stockton last week after 17 months at Immaculata, where she served as head men's and women's track & field coach and fitness center coordinator. In her lone season at Immaculata, Incantalupo led the Mighty Mac men's and women's teams at 10 meets, culminating in the Atlantic East Championships.
---
🗓️ View the full schedule of upcoming athletic events here
IN MEMORIAM

🕊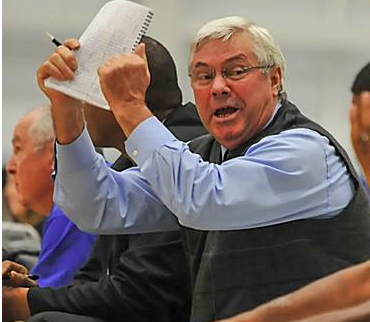 Stockton Mourns Loss of Assistant Basketball Coach Bob Hutchings
Stockton Athletics is mourningthe loss of long-time assistant men's basketball coach Bob Hutchings, who passed away Jan. 9, approximately eight weeks after suffering a massive heart attack.
Affectionately known as "Hutch," Hutchings was a basketball lifer with an eclectic coaching resume that spanned nearly 50 years.
"I've been thinking a lot about the void the Hutch leaves. At various times he was a father figure, brother, friend, mentor and colleague to me," said Stockton head coach Scott Bittner. "Hutch was a guy who could always pull a player aside in practice or on the bench and give him a boost or make him feel better."
Hutchings, 72, was in the 17th year of his third stint and 26th season overall at Stockton. He coached under Joe Carideo in 1979 and later served as an assistant coach on Gerry Matthews' staff for eight of the nine seasons between 1990 and 1999.
Hutchings rejoined Matthews on the Stockton bench in 2006 and remained there through the transition to Bittner as head coach in 2016 until his passing. The Ospreys won eight NJAC championships, earned 13 NCAA Tournament berths and reached the 2009 NCAA championship game with Hutchings on the bench.
A native of Millville, Hutchings scored over 1,000 points on the collegiate level at Wheeling Jesuit University, for which he later was selected to the Wheeling Jesuit Athletic Hall of Fame and Wheeling University Hall of Honor. Hutchings played professionally in Holland and then enlisted in the Army and worked for its athletic department at West Point.
OSPREY NOTES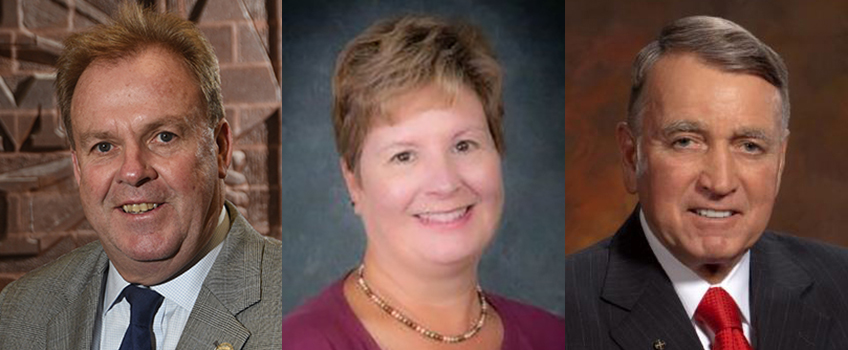 Hughes Center Announces New Advisory Board Leaders
New officers have taken leadership roles on the advisory board of the William J. Hughes Center for Public Policy at Stockton.
New Jersey labor leader and consultant Richard Tolson of Ocean City was elected chair of the Hughes Center Steering Committee. Kim Schalek Downes, CEO and president of Salmon Ventures Limited of Millville, was elected vice chair.
An original Steering Committee member, Tolson succeeds Dr. Edward Salmon as the longtime chair of the advisory board. Salmon, co-founder and chair of Salmon Ventures, was a state assemblyman and president of the N.J. Board of Public Utilities. He served as Steering Committee chair from the board's establishment in 2008 through 2022.
Salmon remains a member of the board and was elected "Emeritus Founding Chair."
Roster Verification Reminder for Faculty
Welcome back, faculty! As the spring semester is about to begin, it's almost time to Verify your Ospreys!
New this year, faculty are reminded to complete the Roster Verification process by confirming student attendance/academic activity beginning after the add/drop period on Tuesday, January 24. The Roster Verification process is to be completed by Tuesday, Jan. 31. The Office of Financial Aid will use this information to make adjustments to student financial aid disbursements based upon each student's confirmed number of credits.
Each instructor will be responsible for verifying student attendance or participation in an academic activity. For online courses, faculty are reminded to include an assignment or discussion activity during the add/drop period so that the student's attendance can be confirmed.
The link to complete Roster Verification can be found under the faculty tab within the goStockton portal.
For more information and a list of frequently asked questions, visit stockton.edu/rosterverification.
👉 Normal Academic Hours Next Week; Closed Monday
As a reminder, you can sleep in next week! The University will follow normal academic hours next week and will be closed for Dr. Martin Luther King, Jr. Day on Monday, Jan. 16. All offices are open minimally from 8:30 a.m.- 5 p.m., Tuesday-Friday. There will not be a compressed work week/flexible work schedule option.
Read the SCOSA January Newsletter
Read the Stockton Center on Successful Aging (SCOSA)'s January newsletter for interesting upcoming events and newly added programming.
UPCOMING EVENTS