Stockton News - Jan. 8, 2021
WHAT WE'RE TALKING ABOUT
A Response to the Violencein Washington, D.C.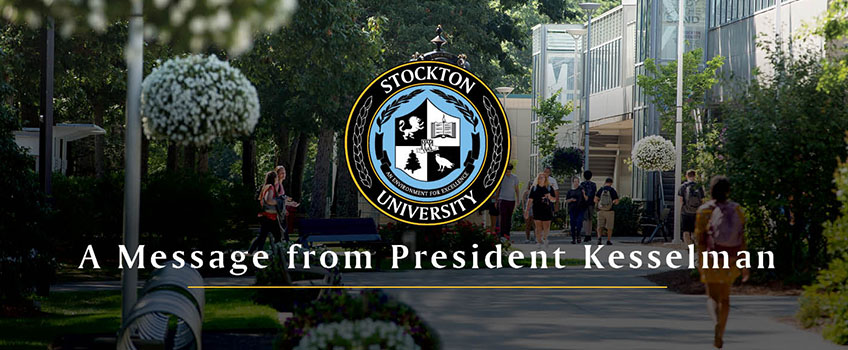 In a message to the campus community on Jan. 7, President Kesselman stated:
Like many of you, I watched with sadness and dismay the chaos and vandalism at the Capitol Building in Washington, D.C.
The threat to our Capitol Building, and the people within it, demonstrated the need to rebuild our country's commitment to democratic governance. Every four years we, as citizens, celebrate or concede the results of the presidential election, and it is a tribute to our belief in the Constitution and the process of democracy that we accept the results and support a peaceful transition of power.
It is crucial to remember that good governing does not happen through broken windows and vandalized offices. A democracy succeeds when people who disagree sit down and work out their differences, and work toward compromise.
Read entire message here.
---
🍁 Maple Sugaring Begins at Stockton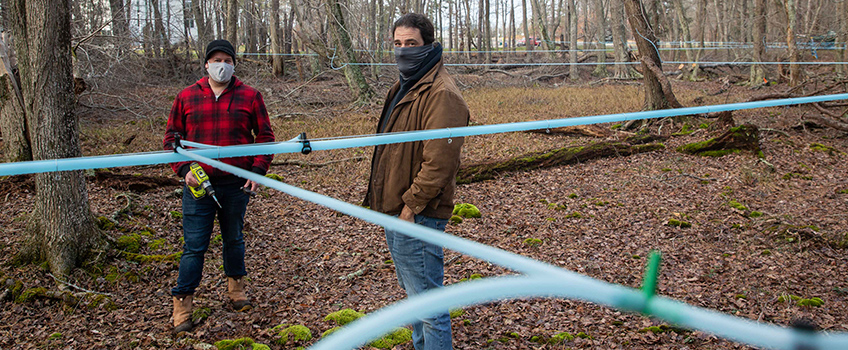 Maple syrup season has begun at Stockton University.
Early in 2020, the University received a $410,000 three-year United States Agriculture Department grant to promote maple sugaring in South Jersey through research and community outreach.
This fall, some 20 private property owners in the region are joining Stockton in the project and have begun the process of tapping trees.
The Stockton team tapped a few trees on campus in February, but this fall began a larger project of linking just under 100 red maples in a spiderweb of tubing that delivers sap to a central collection station. Last week they began tapping the trees into the tubing system.
📰 Media coverage included 3CBS Philly, Courier Post and The Press of Atlantic City.
---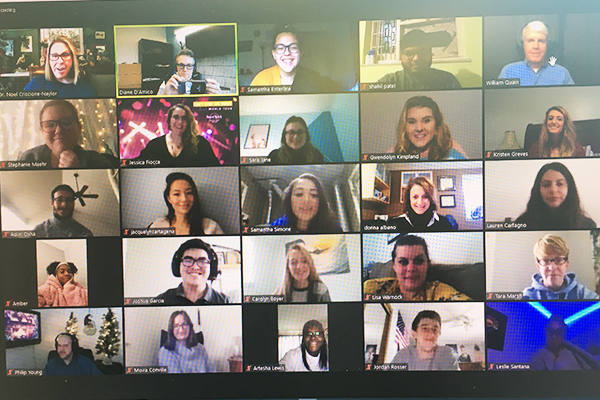 Event Design Class Creates Virtual Events
Organizing a meeting or a concert during a pandemic may not be the same as scheduling a live event, but students in Assistant Professor of Hospitality & Tourism Management Noel Criscione-Naylor's Young Professionals Event Design Class still learned the skills they will need to succeed in the post-pandemic world.
The 19 students in the Fall 2020 class presented their team projects during a Zoom presentation.
The three virtual projects were a Student Recruitment Event for the hospitality program, an Industry Seminar and a Community Concert.
---
Choose Stockton in January
Stockton University has scheduled several live virtual recruitment events in January to assist prospective freshmen and transfer students in learning more about the University.
Virtual tours of the Campus Center, Academic wing, housing and Lake Fred, led by Student Ambassadors, have also been added to Stockton's Admissions website to provide a taste of life on campus. The tours are led by students Bailey Farrell of Toms River, Patrick Kelleher of Northfield, and Ashley Cody and Lesley Camilo from Passaic.
WE'RE HERE TO HELP
There are many resources and best practices being made available to staff and faculty working remotely that can be found by visiting Information Technology's website.
In addition to assistance with the technology available from ITS, Stockton provides faculty and teaching staff with professional development, training, teaching ideas, resources and individual consultations via the Center for Teaching and Learning Design.
💉 New Jersey has developed a website for residents to pre-register to receive the COVID-19 vaccine.
Stockton is compiling notices of confirmed positive COVID-19 cases in a dashboard on the Coronavirus home page. The dashboard is updated on regular work days.
SPOTLIGHT ON:
Figart Receives Top Award from Economics Association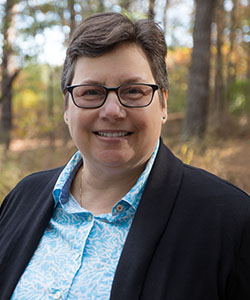 Deborah M. Figart, Distinguished Professor of Economics at Stockton, was named the recipient of the Veblen-Commons Award from the Association for Evolutionary Economics on Jan. 3 during an American Economic Association virtual conference. Awarded since 1969, the award is named for two key founders of original institutional economics, Thorstein Veblen and John R. Commons. It is given in recognition of the contributions made by an outstanding scholar in the field of evolutionary institutional economics. Figart is the fourth person gendered female to receive the Veblen-Commons recognition.
As part of the award presentation during the conference, Figart presented an address titled "Good Work." It examined public policies that can foster progressive institutional change in response to neoliberalism and the rise of the gig economy. The aim of these institutional changes is to promote "good work," including in workplaces, homes and communities. Much of her talk focused on policies to support unpaid caring labor, enhance capabilities and reinforce social responsibility for provisioning. A longer paper based on this address will appear in the June 2021 Journal of Economic Issues.
"It was an honor to receive the highest award from the Association of Evolutionary Economics. Stockton has really helped contribute to this achievement by nurturing my career through professional development support and recognition of the theoretical breadth of the economics discipline and interdisciplinarity," Figart commented.
WHAT'S TRENDING @ #STOCKTONU
Instagram: This is how we will remember 2020.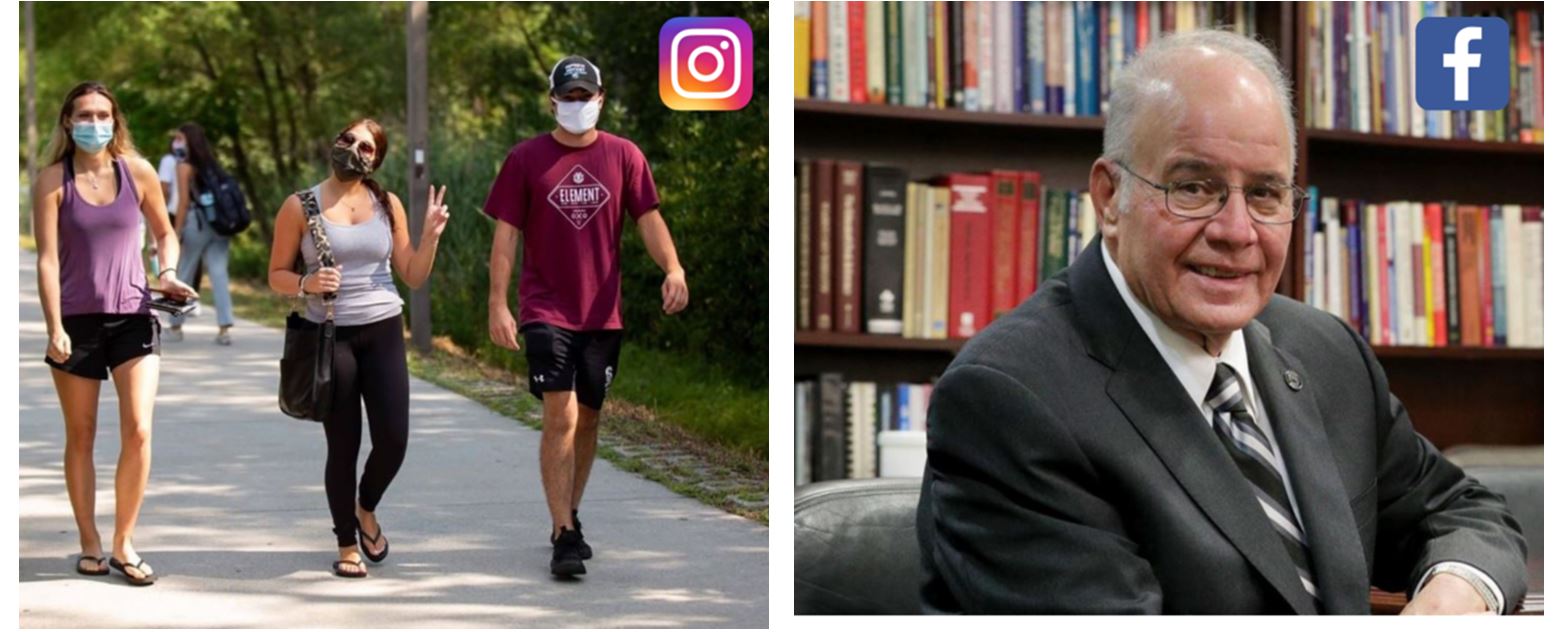 Facebook: "This place has been extremely good to me, and I owe it for affording me the opportunity," President Harvey Kesselman tells The Press of Atlantic City, reflecting on his last 5 years at the helm of the University where he began his education.
FROM THE SIDELINES
Esports FIFA Players Take First and Second in Conference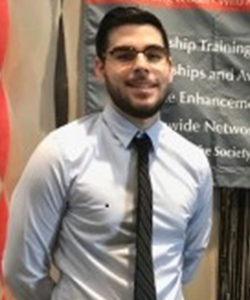 It was an all-Stockton final as Nico Mirabella, pictured, of Brigantine beat teammate Timothy Halter of Pittsgrove Township for first and second place in the Eastern College Athletic Conference FIFA Fall 2020 esports season finals. In addition to taking the gold, Nico was also named ECAC's Player of the Season for FIFA on the Xbox One platform.
All three Stockton University FIFA players qualified for the playoffs, with Kyle Crane of Ocean City making it to the quarterfinals.
Basketball Coach Helps Rescue Man
Stockton Men's Basketball Coach Scott Bittner was supposed to be in Nashville, Tenn. with the team over winter break, but the trip was sidelined due to the ongoing pandemic and travel restrictions. That twist of fate allowed Bittner to be in the right place at the right time to help rescue a man who had fallen into back bay water, Monday, Dec. 28. Read the Press of Atlantic City's story here.
OSPREY NOTES
Submit Applications for Day of Scholarship 2021
Day of Scholarship applications are being accepted now through March 1, and can be submitted by visiting here.
Day of Scholarship 2021 will be held virtually from 9 a.m.-1 p.m., Thursday, April 8. If you have any questions, email Ronnie Maiorino at ronnie.maiorino@stockton.edu
Read the Fund Times
The Fund Times is the Office of Research and Sponsored Programs' monthly publication dedicated to keeping Stockton's faculty and staff up to date on activities related to grant seeking, internal awards, external funding opportunities, IRB, workshops and news and information for federal, state and private sponsors. Read January's issue here.
UPCOMING VIRTUAL EVENTS
Upcoming Events Hosted by the Office of Development and Alumni Relations
Jan. 14-18: Murphy Writing Winter Getaway
Jan. 25: Spring Semester Begins
Jan. 30: MLK Day of Service