Stockton News - Jan. 7, 2022
WHAT WE'RE TALKING ABOUT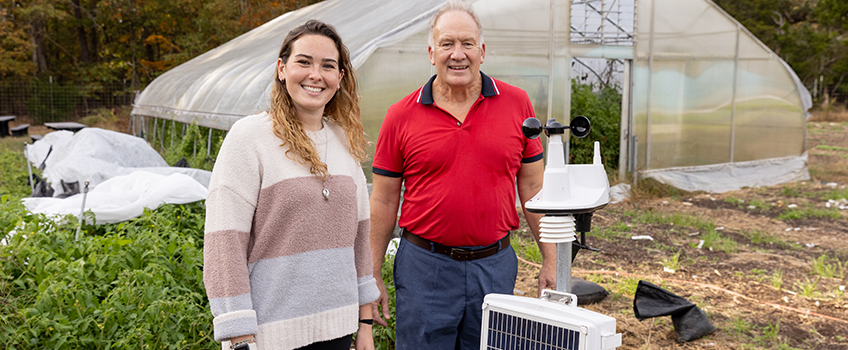 Tomato Research Project Also Feeds the Homeless
Every gardener wants to get the largest crop they can. Stockton University student Courtney Weber and Associate Professor of Physics Joseph Trout are using weather data and the Stockton Sustainable Farm to study the best variety of tomatoes to grow in urban community gardens.
Their results this season will not just help gardeners harvest more tomatoes in the future, but also produced a crop that was turned into 25 large homemade casseroles for Saint John's Hospice in Philadelphia.
📰 In the News: Downbeach.com, Bronx News 12, Philly Voice
---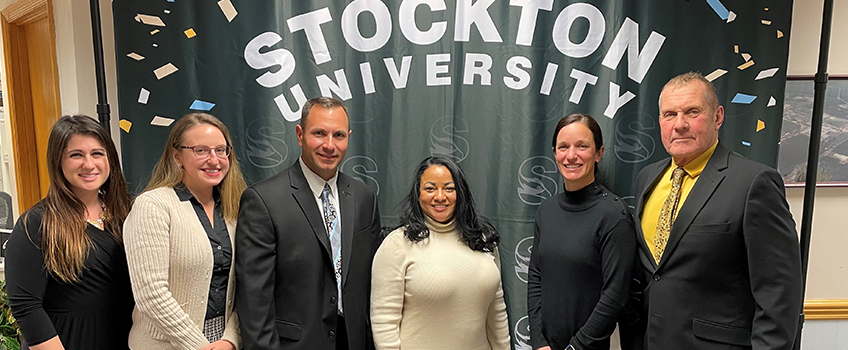 Southern Regional H.S. Joins Dual-Path Partnership
The Southern Regional School District and Stockton University have signed a Dual-Path Partnership agreement that will give students at Southern Regional High School the opportunity to graduate from high school in three years and be automatically enrolled at Stockton with sophomore standing.
The agreement demonstrates the commitment of both institutions to provide students with a high-quality education and seamless access to an affordable four-year college degree.
"This agreement recognizes that Southern Regional's rigorous curriculum more than adequately prepares students to make the transition to college," said Stockton University President Harvey Kesselman. "Almost 20% of Stockton students come from Ocean County and we are confident this agreement will help even more Southern Regional students get access to an affordable college degree."
---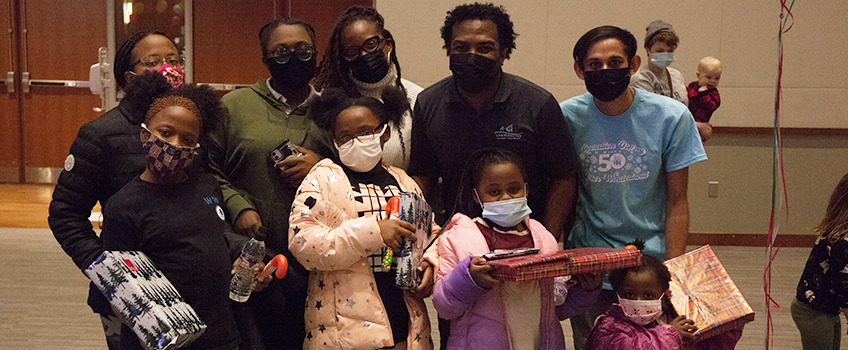 Students, Staff Host Holiday Party for Area Families
Fifty children from Atlantic City, Pleasantville, Mays Landing and Galloway Township were treated to a holiday party and gifts by students and staff at Stockton University as part of Operation Osprey – Winter Wonderland at the Galloway campus Event Room.
The event, one of Stockton's 50th anniversary celebrations, was organized by Residential Life and the Dean of Students' office with students Madison Kenny and Gavin MacNatt coordinating. The Atlantic City and Pleasantville school districts and Pleasantville Police Department helped identify families in need. Stockton Police Officers Hannah Fishel and Matthew Rex helped collect the toys and set up the event.
FRAME-WORTHY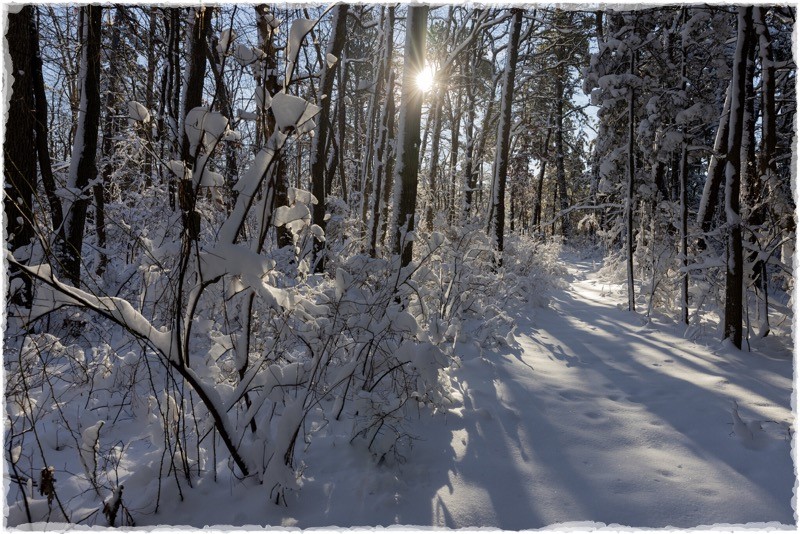 ❄️Snowy Start to 2022
Most of South Jersey had a snowy start to the week- nearly a foot of accumulation falling at Stockton's Galloway campus!
Enjoy more photos of our very own winter wonderland here, or even take a virtual stroll in this Instagram Reel.
WHAT'S TRENDING

@ #STOCKTONU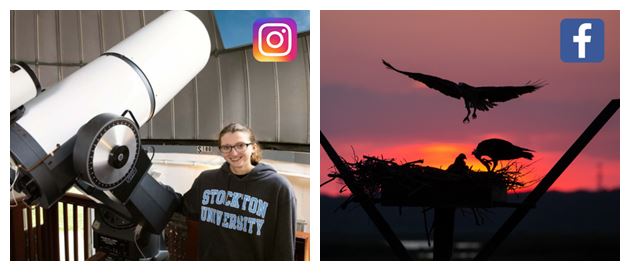 Instagram: The sum of Gracie Buondonno's varied interests equals a triple major in Math 📊, Physics and Music 🎶.
Facebook:Sandra Bierbrauer, professor emeritus, was running late to a College Council meeting to field ideas for a mascot. There were already 44 suggestions on the blackboard from seagulls to clam diggers and pineys to greenheads when she arrived.
FROM THE SIDELINES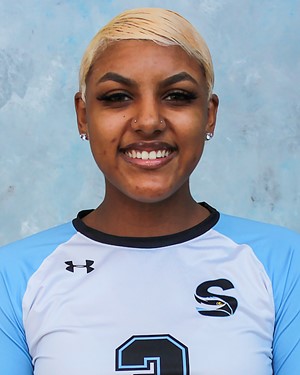 Gustave Continues Volleyball Career Playing Overseas
During her four-year volleyball career at Stockton University, Franceska Gustave played in 100 matches, helped the Ospreys win two NJAC championships and earned an NJAC Honorable Mention accolade in 2018. Following her graduation from Stockton, Gustave accepted an offer to further her education and volleyball career overseas.
In September, Gustave departed the U.S. and flew to the United Kingdom where she will be based for the next 12 months as she continues to play volleyball while pursuing her master's degree.
🗓️ View the full schedule of upcoming athletic events here.
WE'RE HERE TO HELP
COVID-19 Information
VAX UP!: 💉AtlantiCare will hold COVID-19 vaccine clinics in West Quad 103 beginning next week. Details are in the Return to Campus FAQunder the "COVID-19 Vaccine Requirement" drop-down menu, and by then clicking "Where can I get vaccinated?" The clinics will be held 8 a.m.-noon, Jan. 10; 3-6 p.m., Jan. 11 & 12; 2-5 p.m., Jan. 25, Feb. 1-2.
👉 Employees who get a booster vaccine are encouraged to add that information to their vaccination status through the portal on the Stockton website at go.stockton.edu/employee.
Information on leave time allowed if a child's school closes is on the Return to Campus FAQ link for faculty, staff and student workers.
OSPREY NOTES
Day of Scholarship 2022: Call for Applications
Day of Scholarship applications are being accepted now through Feb. 25 and can be submitted by visiting here.
Day of Scholarship 2022 will be held in-person and virtually from 9 a.m.-1 p.m., Thursday, April 7. If you have any questions, email Ronnie Maiorino at ronnie.maiorino@stockton.edu.
Read the SCOSA January Newsletter
Read the Stockton Center on Successful Aging (SCOSA)'s January newsletter for interesting upcoming events and newly added programming.
---

Stockton memories, past and present . . .
"I entered Stockton as an older student at the age of 45. I enjoyed my two years there. Learned much from the professors and the students. I remember professors Isreal Posner, David Lester and Will Jaynes among others who made learning such a good experience. I graduated with a high GPA and was accepted by Rutgers for graduate studies at age 47. Never too late to learn something new. Thanks for good memories. Congratulations on your 50th."
- Loretta Van Dine '91
Have a memory you'd like to share in celebration of Stockton's 50th anniversary? Submit it here.
UPCOMING EVENTS