Stockton News - Jan. 6, 2023
WHAT WE'RE TALKING ABOUT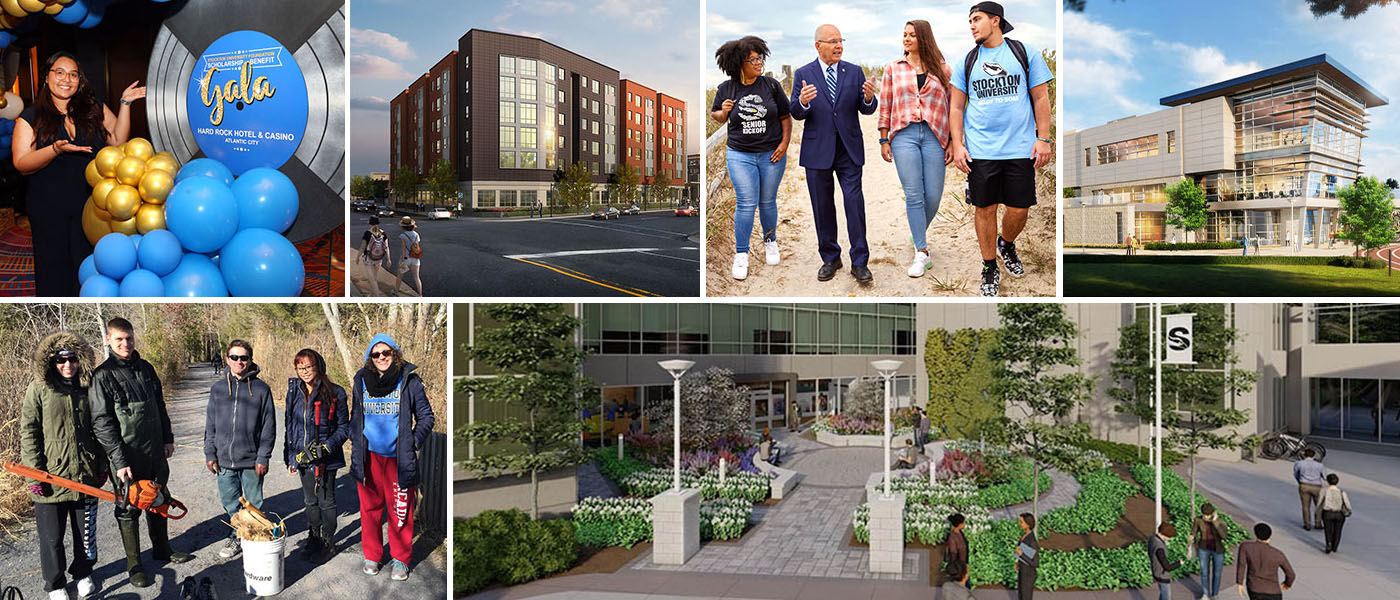 Looking Ahead in 2023
The upcoming year promises growth, celebrations and new beginnings. Stockton has a lot to look forward to in 2023, including the opening of the Multicultural Center, improvements to athletic facilities, new alumni clubs and more.
---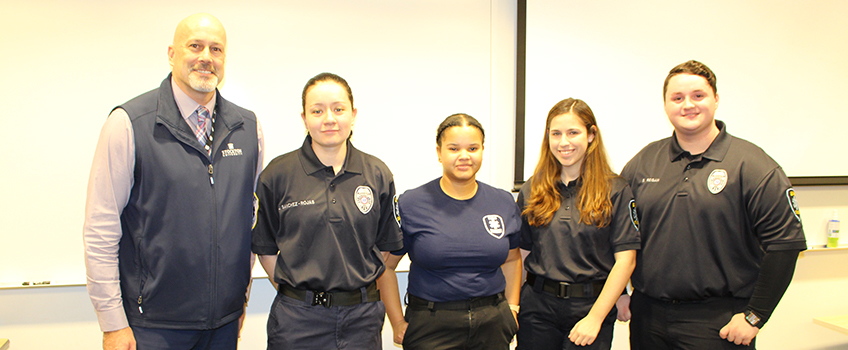 Students Resuscitate Stockton EMS Group
The COVID-19 pandemic put the Stockton University Emergency Medical Services organization on life support.
But the student-run squad was resuscitatedthis fall — thanks to a small group of new recruits.
At the start of 2022, graduate student Geldy Nunez was the organization's only member.
"When we were shut down out of nowhere in spring 2020, we didn't know how to respond," said Nunez, who graduated with a bachelor's degree in Criminal Justice in 2021 and is studying to get her masters in the same subject. "We tried to do training over zoom. But it's just not feasible when you are trying to show how you stop someone from bleeding if you don't have something to train on."
---
Stockton and Monmouth Partner on Coastal Zone Management
Students interested in pursuing an advanced degree in Coastal Zone Management at Stockton have another point of entry through a new agreement with Monmouth University.
Stockton launched a graduate program in Coastal Zone Management in 2020. Through the new articulation agreement, up to five qualified students earning bachelor's degrees in Biology or Marine and Environmental Biology and Policy from Monmouth may be admitted to the Coastal Zone Management program.
"We are very excited to enter into this agreement and welcome Monmouth University students interested in coastal zone management to our program," said Amanda Norvell, dean of the School of Natural Sciences and Mathematics at Stockton.
FRAME-WORTHY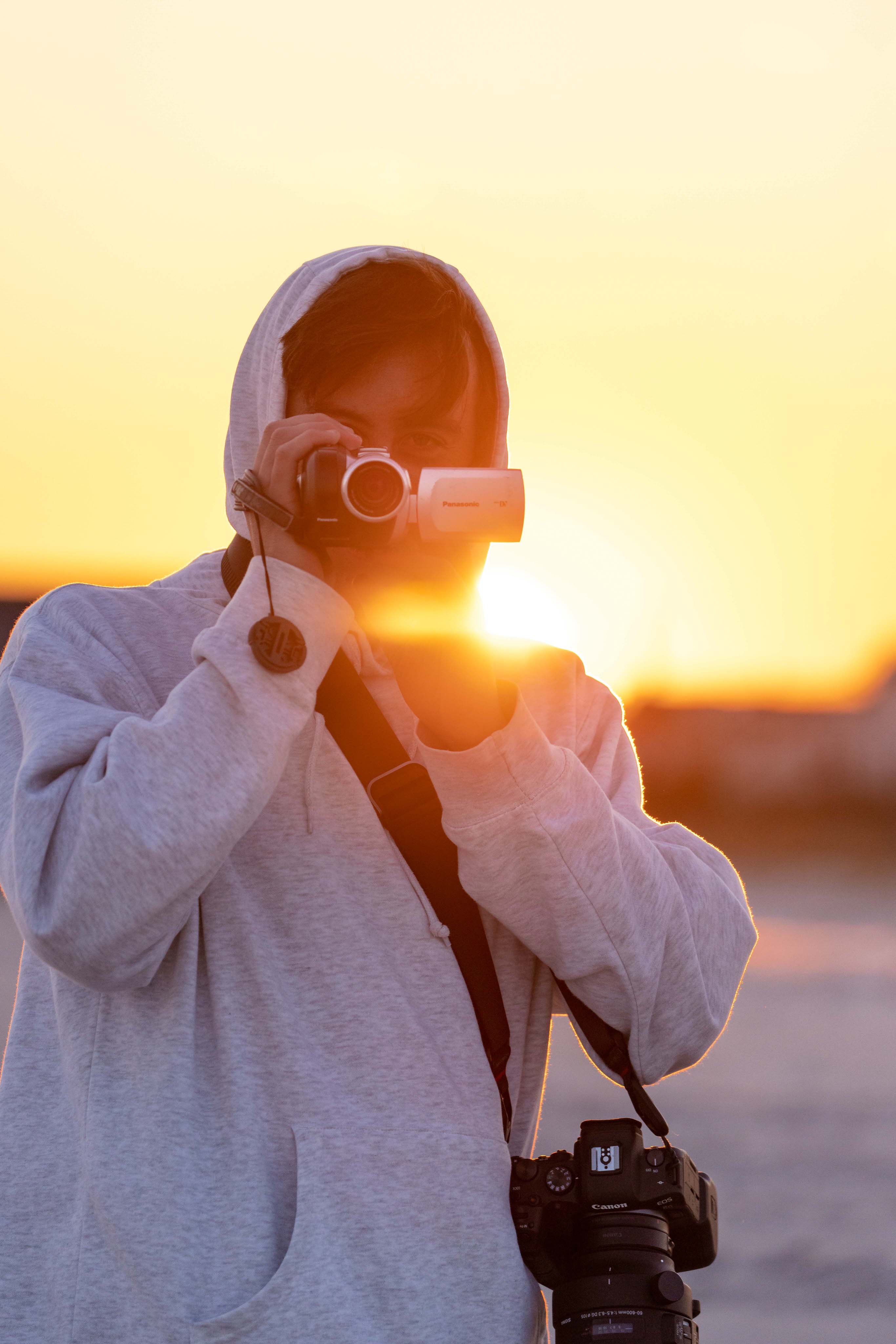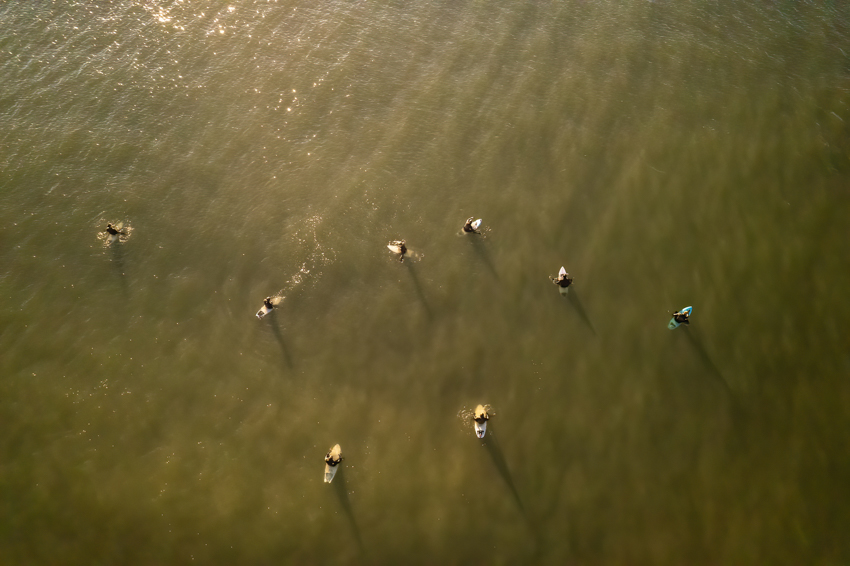 Picture Stockton...Surf Club from Land, Air and Sea
Patrick Marino, a senior Communications Studies major, set his focus on the Stockton Surf Club to create a visual story with views from land, air and sea.
At the start of 2021, Marino, already an avid surfer, started a surfing streak that lasted 400 days, logged 550 hours of water time and inspired him to invest in a water housing that would allow him to bring his camera into the lineup. As a photography intern for the Office of University Relations and Marketing, he chose to merge photography and surfing to dive into his major.
His goal was to capture unique perspectives of a group of students who rise earlier than the sun and brave the elements to start their day catching waves in the ocean. Marino tracked swells and weather conditions while coordinating schedules with members of the club throughout the fall semester.
He needed the right swell direction, offshore wind and surfers who didn't have a morning class.
WHAT'S TRENDING

@ #STOCKTONU

Instagram: Looks like @stocktondining and @einsteinbros are cooking up something for 2023...
Facebook: In case you're missing Fred, here's a watercolor by Jack Swenson, a double major in Environmental Science and Visual Arts, to bring you a sunset view.
Twitter: The I-Wing Gym is getting a new glossy coat over break.
FROM THE SIDELINES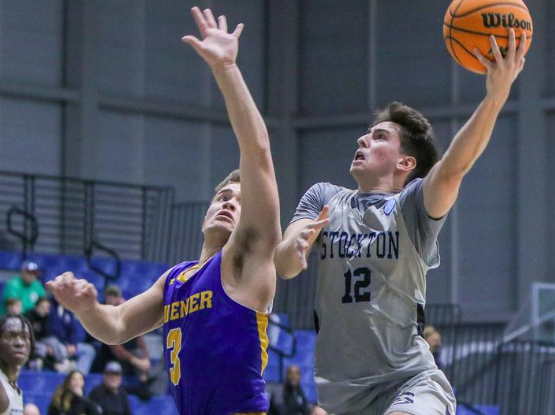 Stockton Pulls Away in Second Half for 90-72 Win Over TCNJ
The men's basketball game broke open a close game on Jan. 4 by outscoring The College of New Jersey 46-31 in the second half for a 90-72 road victory. The Ospreys sank eight three-pointers in the second stanza.
DJ Campbell shot 5-10 (50%) from three-point range and scored a game-high 25 points to go with eight rebounds, four assists and three steals. Campbell has scored over 20 in nine of Stockton's 12 games.
The women's team played a solid first half but, unfortunately was outscored by 20 points in the second half, resulting in a 59-34 setback in a conference game at The College of New Jersey (9-4, 4-2). The Lions shot a blistering 65% after halftime.
---
🗓️ View the full schedule of upcoming athletic events here
IN MEMORIAM

🕊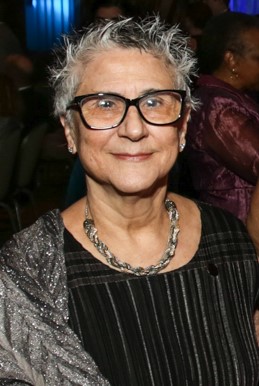 President Kesselman shared the following message in an email on Jan. 1:
It is with a heavy heart that I inform you of the passing of Dr. Elizabeth Elmore, professor of Economics. Following a lengthy illness, Betty passed away this past Wednesday, Dec. 28, 2022. Betty has been with Stockton for fifty years, having begun as a faculty member in September 1972. She was a Stockton treasure who always had time to share a story and laugh, and she never hesitated to ask probing questions when discussing issues of significance.
Betty was a wonderful colleague who was deeply committed to our students and her colleagues. Back in the late '70s and early '80s, she was among the first faculty members to teach in the eight-week EOF Summer Program, and I recall her completely engaged in all activities, from jogging around Lake Fred with the students, faculty, and staff every morning to being involved in evening and weekend cocurricular activities. In more recent years, Betty has been the Director of the Stockton Center for Economic and Financial Literacy.
Betty and her husband of 52 years, Dr. Richard Elmore, have also been significant philanthropists to Stockton. Richard worked in several roles at Stockton from 1975-1987, including the inaugural Director of the Community Justice Institute. In addition to their commitment to Stockton, both have been dedicated to their beloved alma mater, Notre Dame.
Dr. Elizabeth Elmore will be sorely missed by those of us who had the privilege and honor of working with her. Information concerning arrangements and a memorial service will be forthcoming.
UPCOMING EVENTS