Stockton News - Feb. 25, 2022
WHAT WE'RE TALKING ABOUT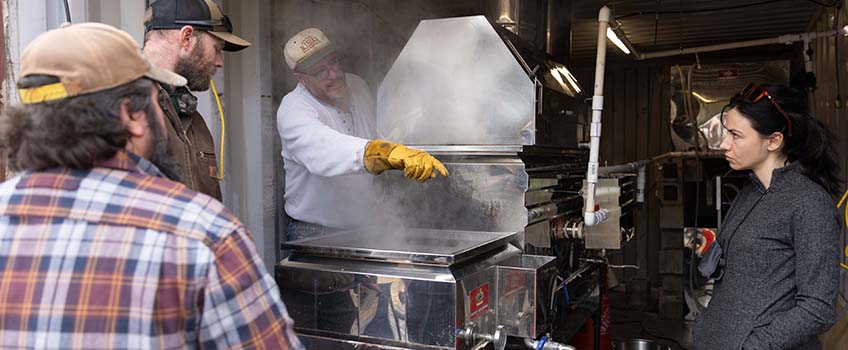 Stockton Maple Project Expands
At Stockton University, where there is smoke, likely there is South Jersey maple syrup coming to a boil. Sap is being made into syrup by the gallons after what began as 40 trees tapped on the Stockton University campus has expanded to 400. Still more trees were tapped by private homeowners throughout South Jersey and Philadelphia.
At Stockton's sugar shack, an evaporator fueled with split wooden logs inside a Vermont cast iron stove provides the intense heat needed to boil the sap down into syrup.
The Stockton Maple Project took a big step off campus this year with the addition of seven hubs where private property owners are also converting sap into syrup.
---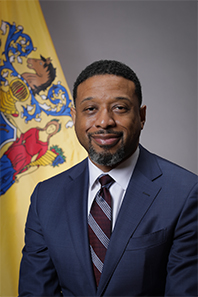 Brian Bridges to Speak at Commencement
New Jersey Secretary of Higher Education Dr. Brian K. Bridges will be the keynote speaker at the Stockton University Commencement Ceremony on May 13 at Jim Whelan Boardwalk Hall in Atlantic City.
The Stockton Board of Trustees on Feb. 23 approved an honorary Doctor of Public Service degree for Bridges, which will be presented at Commencement.
In its resolution, the board noted that "Dr. Bridges exemplifies a commitment to public service through the promotion of equitable access to higher education, as well as promoting resiliency in higher education institutions amidst the pandemic."
STOCKTON UNIVERSITY ATLANTIC CITY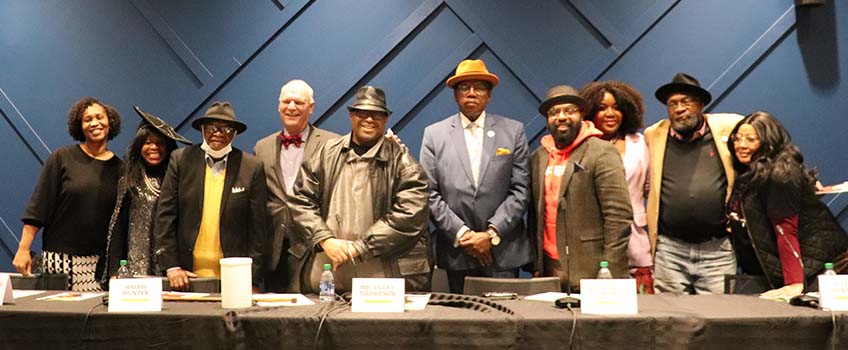 Stockton Pays Tribute to Nina Simone
Singer and songwriter. Musician and arranger. Notable Civil Rights activist. The High Priestess of Soul. Eighty-nine years after Nina Simone was born, the Rhythm and Blues Preservation Society (RBPS) in Atlantic City and Stockton University's Africana Studies program hosted a panel on Feb. 21 at the Stockton Atlantic City campus celebrating her life and legacy.
The panel discussion, "Celebrating the Life of Nina Simone," was created after an Instagram post that Perry Thompson, president and CEO of the RBPS, made about Simone for Black History Month. He contacted Professor Donnetrice Allison, chair of the Africana Studies program, to collaborate on the event.
---

Stockton AC Summer Experience: Live, Work, Learn
The Stockton Atlantic City Summer Experience, a new summer program, aims to orient students to summer job opportunities in Atlantic City through a joint partnership between Stockton University and the Atlantic City hospitality industry. It provides area businesses with Stockton students seeking paid employment opportunities, FREE summer housing at Stockton Atlantic City campus, and four credits toward graduation. In addition, the program entices prospective future employees (from among our graduates) to discover career options within Atlantic City's growing hospitality industry. The intent is to have students participate in the program over multiple summers for consistency and to increase student exposure, understanding and appreciation for the breadth of career opportunities in the Atlantic City area.
For more information about the opportunity, visit www.stockton.edu/acsummerx. You can also contact Brian K. Jackson, COO, Stockton Atlantic City, at (609) 761-1203 or by email at brian.jackson@stockton.edu.
---
🎬 Catch a Movie at Stockton University Atlantic City
This spring semester, the entire Stockton community is invited to enjoy eight feature films, free food and drinks as part of "AC Campus Movie Nights: Cinema in the City."
Attendees are asked to bring their Stockton IDs. Movies will be shown at 8 p.m. in the Stockton University Atlantic City residential classrooms B119/120 on the following dates: Feb. 26, "Harriet;" March 10, 12, "In the Heights;" March 24, 26, "Eternals;" April 7, 9, "Encanto;" and April 21, 23, "Parasite."
For more information, contact Stephanie Clineman at Stephanie.Clineman@stockton.edu.
FRAME-WORTHY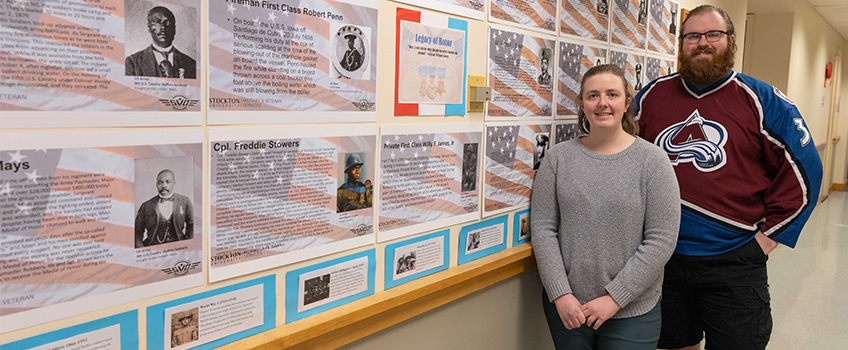 F-Wing Offices Bring Black History to the Hallway Walls
Ana Edmondson, director of Student Transition Programs, wanted to celebrate Black History Month at Stockton University by bringing more visibility to African American stories, artwork, people and history. She decided to decorate the walls and bulletin boards in the lower F-Wing hallway and invited the neighboring offices to do the same.
The result is a variety of exhibits curated by Transition Programs, the Military and Veteran Success Center, the Educational Opportunity Fund, the Women's, Gender & Sexuality Center and the Office of Student Conduct.
"The collaboration has certainly brightened up the hallway and attracted visitors to our shared space," said Edmondson.
WHAT'S TRENDING

@ #STOCKTONU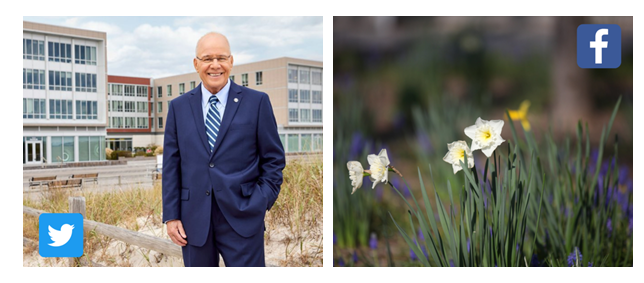 Twitter: Congratulations to President Harvey Kesselman on being named to the @ROINJNews Higher Education Power List 2022.
Facebook: If you see this, STOP SCROLLING! Now, soften your forehead, unclench your jaw, remove your tongue from the roof of your mouth and relax your shoulders. Take three deep breaths: inhale in four counts, hold for four counts, then exhale in eight counts.
FROM THE SIDELINES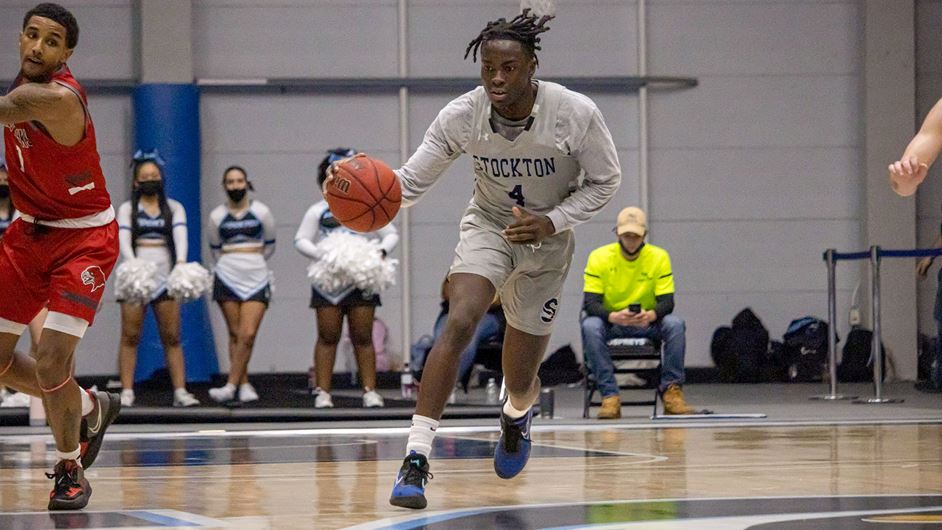 Stockton Advances to NJAC Championship with 92-78 Win
Stockton University (23-4) advanced to the NJAC championship game for the third straight season with a 92-78 winover Montclair State (14-10) on Feb. 24. DJ Campbell led a quartet of Ospreys in double figures with 28 points, tying his career high.
Stockton came out firing in the first half, turning a 13-10 lead at the 16:28 mark into a 36-12 advantage just over eight minutes later. In the middle of the 23-2 run was Kadian Dawkins, who tallied seven points, with Campbell and Jonathan Azoroh adding five and four points respectively.
📰In the News:
Jessie Klenk Chosen Stockton's NJAIAW Woman of the Year
Stockton University senior Jessie Klenk was chosen as the NJAIAW Woman of the Year for the Ospreys. Klenk is a three-sport athlete at Stockton who competes in cross country, indoor track & field and outdoor track & field. She has collected eight career NJAC all-conference honors to date.
The New Jersey Association of Intercollegiate Athletics for Women celebrates one honoree from each high school, junior college and senior college in the state. The program recognizes the outstanding achievements of female collegiate athletes in New Jersey. This year holds special significance as it marks the 50th anniversary of Title IX.
Stockton Qualifies For NFHCA Academic Team Award
The Stockton University field hockey team qualified for an NFHCA Division III National Academic Team Award from the National Field Hockey Coaches Association. In order to be recognized teams must have produced a grade point average of 3.0 or higher during the Fall 2021 semester.
Stockton earned the NFHCA National Academic Team Award for the 11th consecutive year and 16th time in the last 18 seasons. The Ospreys were one of 148 NCAA Division III teams in the nation to qualify for the distinction. All seven NJAC teams made the list.
🗓️ View the full schedule of upcoming athletic events here.
WE'RE HERE TO HELP
COVID-19 Information
🧪 FREE COVID TESTING: Free COVID-19 testing for the public at the Chris Gaupp residence hall is again available from 7 a.m. to 7 p.m. daily through a new vendor, Praxis. The site at the Carnegie Center in Atlantic City is open from 12-5 p.m. on Thursdays, Saturdays and Sundays. COVID-19 screening for unvaccinated employees is still held at Pomona House.
💉 BOOSTER REQUIREMENT: Employees are now required to receive a COVID-19 booster dose. Proof should be submitted by Feb. 28 or within two weeks of becoming eligible. Use the Employee tab in the Portal to update your booster status or submit to Joyce.Wilson@stockton.edu in the Office of Human Resources so that your status can be confirmed. Should you have any questions, contact Mamta.Patel@stockton.edu.
😷 MASK UP: The University requires masks be worn indoors, regardless of vaccination status; KN95 or N95 masks are most effective, followed by paper medical masks and must be worn to cover both the nose and mouth as tightly as possible. Cloth masks have been less effective. KN95 and surgical masks are available at the Campus Center Information Desk, Wellness Center, Division offices, the library and off-site Stockton locations.
💉 VAX UP!: AtlantiCare will hold COVID-19 vaccine clinics in West Quad 103 through March. Boosters are available. Details and dates are on the COVID-19 website.
Resources for Faculty and Staff
🧠 Stockton provides faculty and teaching staff with professional development, training, teaching ideas, resources and individual consultations via the Center for Teaching and Learning Design. Upcoming events include: Show Up & Write with FAWN sessions, Formative Assessment: Collecting and Incorporating Midsemester Feedback on March 2.
Visit here for more information on upcoming professional development events being offered.
OSPREY NOTES
Read the SCOSA March Newsletter
Read the Stockton Center on Successful Aging (SCOSA)'s March newsletter for interesting upcoming events and newly added programming.
State Aid Renewal Deadline April 15
All students who have previously filed a FAFSA are required to file the 22-23 FAFSA before April 15 to be considered for state financial aid programs for the 2022-2023 academic year.
Eligible students who miss this deadline could miss out on free money from programs including the Tuition Aid Grant (TAG), the Educational Opportunity Fund (EOF) and the new Garden State Guarantee (GSG), which offers eligible students a $0 net price for tuition and fees.
Students who receive the Stockton Promise Grant must also file by April 15 to be considered for the grant in the 22-23 academic year.
Remember, the state won't wait! Students can apply at fafsa.gov.
---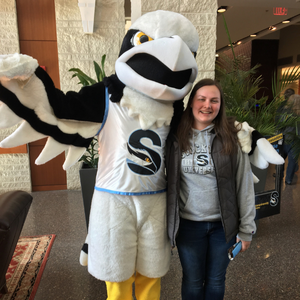 Stockton Sentiments and Memories . . .
"Stockton University has so many things to offer current students, faculty/staff, alumni and the surrounding community. I chose to attend Stockton to learn about my field of study. I was given so much more than just studying at a college or university. The campus itself features so many outdoor spaces for studying or simply walking around to explore nature. Anytime I was given the time in a day to walk around Lake Fred on the Galloway campus or walk down to the beach on the Atlantic City campus, I did. I will miss walks around campus now that I will soon be a Stockton alum. I look forward to visiting campus in the future to take the same walks I took in my undergrad journey. Stockton offers lots of clubs and organizations to join to get more involved on campus. So many faculty and staff members have a true caring for their students. Professor Mary Lou Galantino is one particular person who made an impact on my college career. She sent out a request to students in the Holistic Health Minor during the COVID-19 pandemic to see if anyone would like to revamp the Stockton Holistic Health Club. I was hesitant at first however, I said yes! This opportunity helped me grow as a student and a leader while encouraging others to learn more. I am so grateful I chose to attend Stockton University!"
- Olivia London '21
Have a memory you'd like to share in celebration of Stockton's 50th anniversary? Submit it here.
UPCOMING EVENTS