Stockton News - Feb. 24, 2023
WHAT WE'RE TALKING ABOUT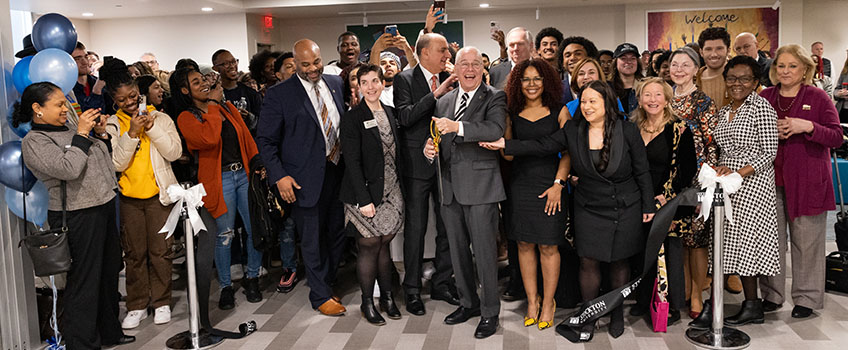 New Multicultural Center a Hub for Inclusion
Stockton reaffirmed its commitment to strengthen diversity, equity and inclusion at the institution with the opening of a Multicultural Center on Feb. 22 at the Galloway campus.
"This center is not just a physical space; it is also a reminder that we must all do what we can to ensure Stockton remains a welcoming community for all," President Kesselman told a crowd of more than 200 students, faculty, staff and community members who gathered in the new space.
"Our arms are open to everyone," said Ray Ciccone, chair of the Board of Trustees. "In 2020, the Board of Trustees adopted a resolution dedicated to equity, social justice and inclusion. This center is the physical embodiment of that resolution."
The Multicultural Center "will serve as a vibrant hub and resource for the entire campus community. One that places the identities and experiences of diverse and historically marginalized groups at its very center," Kesselman said.
Pictured, Jovin Fernandez, inaugural director of the Multicultural Center, shares her enthusiasm with attendants.
📸 View more photos from the event on Flickr.
📰 In the News: The Press of Atlantic City
---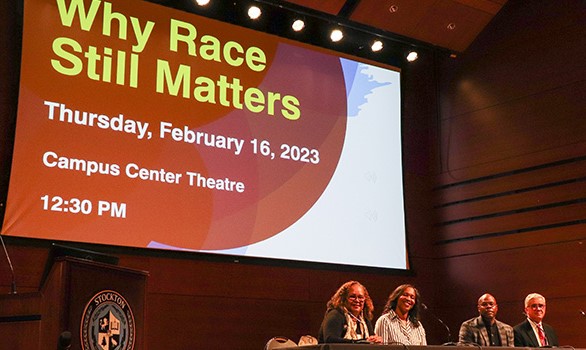 Embedded in the Fabric of America: Why Race Still Matters
Faculty members from the Africana Studies, Education and Political Science programs hosted a panel discussion centering on the idea of race and racism in the Campus Center Theatre on Feb. 16.
The panel discussion, "Why Race Still Matters," was moderated by Patricia Reid-Merritt, distinguished professor of Social Work and Africana Studies. After introducing the panelists, Reid-Merritt gave a historical perspective on how race and racism developed over time and continue to "shape our experience here in (the United States of) America."
"Race is embedded in the fabric of American culture," Reid-Merritt said. "And for those, even today, who are raising questions about why we're still talking about race, it's because we cannot not talk about race. It is one of those things that determine the quality of your life, where you might be located and the positions or statuses of your life."
STOCKTON UNIVERSITY ATLANTIC CITY
Board Approves Naming Kesselman Hall at Atlantic City Campus
In acknowledgement of President Kesselman's life-long dedication to Stockton, including its expansion in Atlantic City, the Board of Trustees approvednaming a building in his honor.
The Atlantic City Residential Complex, located at 3701 Boardwalk, will be renamed Kesselman Hall "in recognition of Dr. Kesselman's unwavering commitment to the University's mission and tireless advancement of the University's values," reads the resolution approved at the Feb. 22 board meeting.
"Dr. Kesselman is synonymous with Stockton University. His commitment to our students first mission, dedication to inclusive student success and championing of equitable funding make Stockton what it is today," said Ray Ciccone, chair of the Board of Trustees.
Kesselman has spent more than four decades at Stockton, beginning as a student in the inaugural class in 1971 and continuing with roles as a teacher, administrator and president since 2015. He will retire as president on June 30.
---
Noyes Museum to Develop Senior Arts Programs
A new $10,000 grantfrom the New Jersey State Council on the Arts will give the Noyes Museum of Art at Stockton the opportunity to provide new visual arts courses for senior citizens in Atlantic City.
The grant is part of the council's Creative Aging Initiative in which $220,000 was given out to 22 New Jersey organizations. The Noyes' grant is the only one awarded in Atlantic County.
"Arts education and lifelong learning have longstanding priorities at the State Arts Council," said Samantha Clarke, the council's program officer for arts education & lifelong learning. "We look forward to providing new opportunities to reach older adults through the Creative Aging Initiative grant, and we're especially excited to be working with both arts organizations and community-based organizations in this important work."
SPOTLIGHT ON: CHRISTINA JACKSON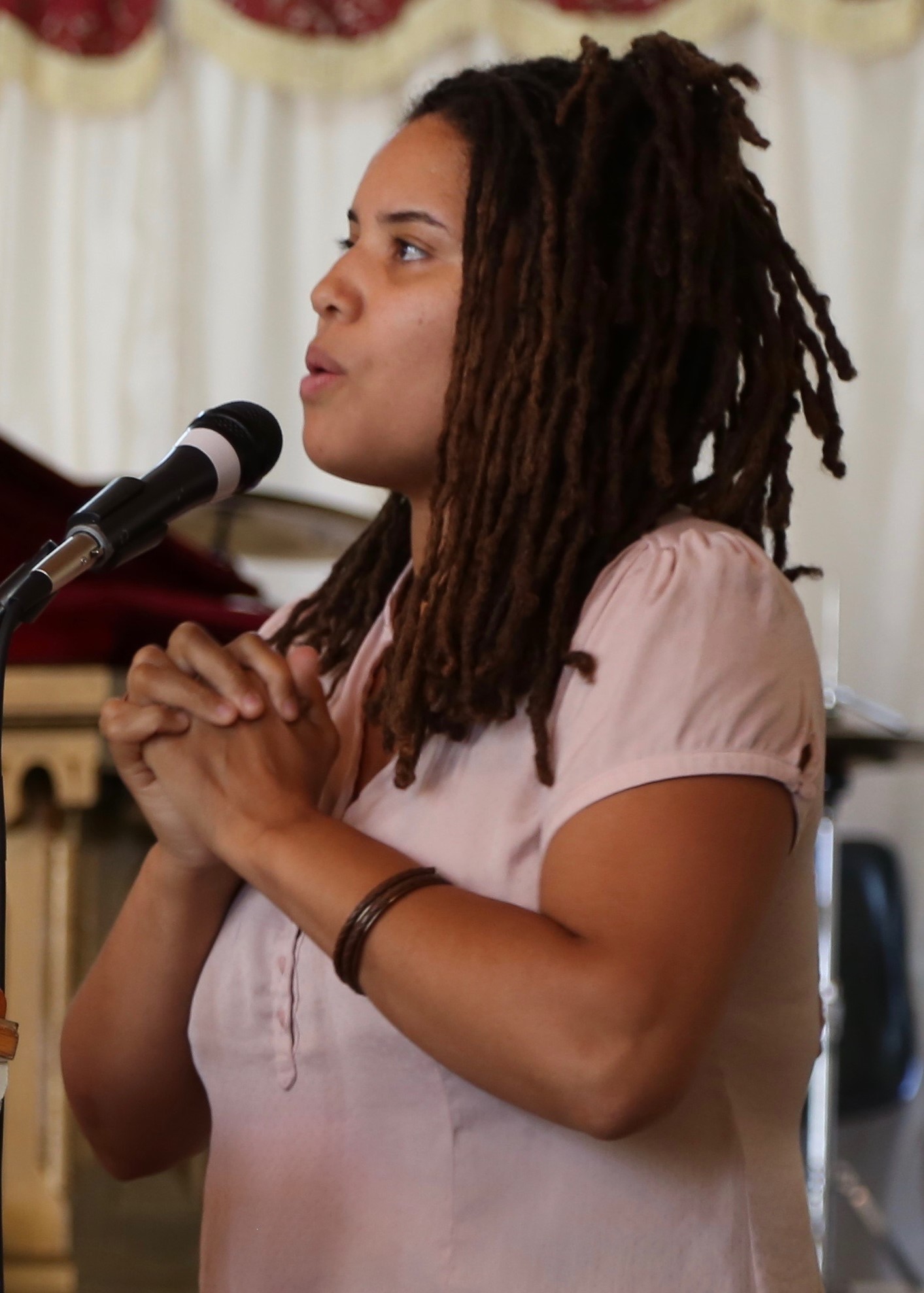 Christina Jackson, associate professor of Sociology, was recently quoted in a Courier Post article that explored how social justice movements of today will be taught in Black History Months of the future.
"It's important for me to be included in this piece to shine a light on the power of mutual and equitable community-university relations, among other things," Jackson reflected. "My answer in the article comes from the relationship built between the Sociology and Anthropology program, the Office of Community Engagement and Service-learning, two local churches and the Black Lives Matter Atlantic City showing the potential of the relationships we can build differently than before."
If you are unable to view the article, you can access it here.
FRAME-WORTHY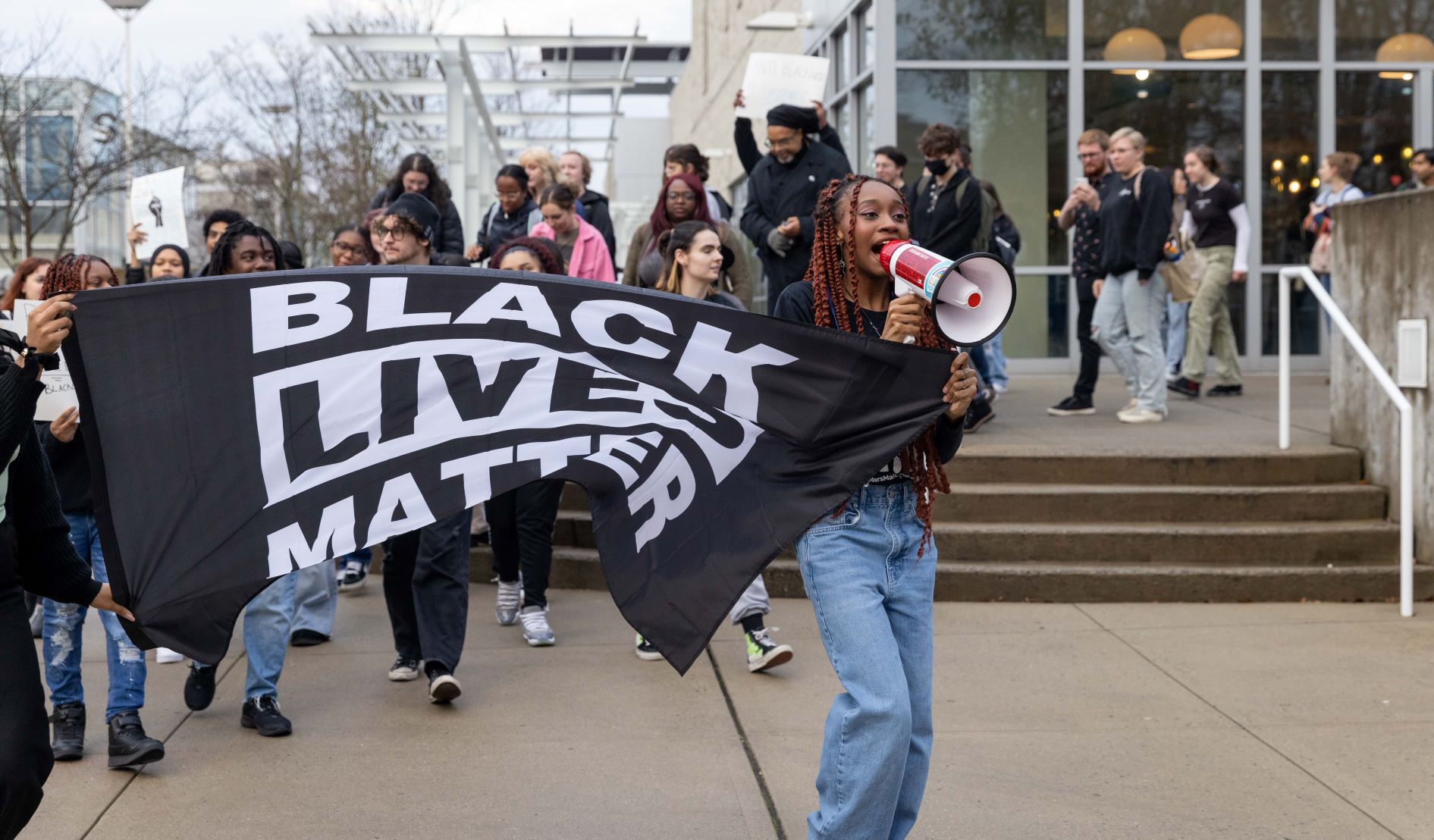 'Rain or Shine,' Black Lives Matter
"Today, we honor all Black lives, including Black queer people, Black women, Black individuals with disabilities, and so on. We must not cherry-pick which Black lives to support, because feminism is not feminism unless it's intersectional," Yamirah Williams, president of the Coalition for Women's Rights, said.
A group of multicultural student organizations gatheredin the Campus Center Coffeehouse for a Black Lives Matter March on Thursday., Feb. 16.
The march was organized by the Coalition for Women's Rights, also known as Women's Co, and co-sponsored by the African Student Organization, Caribbean Students Association, Los Latinos Unidos, TogetHER, First Ospreys Club, Queer & Trans People of Color Society and Stockton Socialists.
WHAT'S TRENDING

@ #STOCKTONU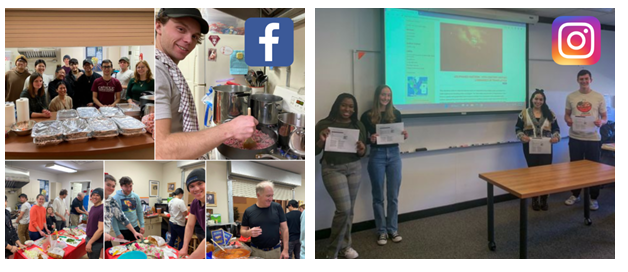 Facebook: Science majors worked with the Newman Club Catholic Campus Ministry to cook the results of a research project to help feed the homeless. Physics Professor Joseph Trout and Katelyn Brink, a math major, used tomatoes to study the urban heat island effect.
Instagram: It's time for another #OspreyShoutout and for this edition, it's a whole class!
FROM THE SIDELINES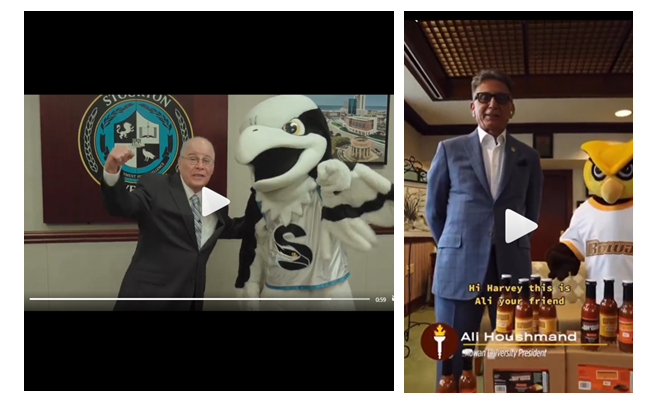 President Brings the Heat on Social for Sweet NJAC Victory
Stockton is pulling out all the taps in hopes of a sweet NJAC victory for the Ospreys today, after their tight victory over Montclair on Feb. 21. ICYMI, yesterday President Kesselman took to social media with wingman Talon to challenge Rowan's President Houshmand. If the Ospreys win, Houshmand will send over some of his homemade hot sauce, and if the Rowan Profs take the victory, Stockton has to pony up some of our 🍁 maple syrup.
Watch the game live here (🕖 7 p.m.), and let's get ready to enjoy some 🌶️ hot sauce!
---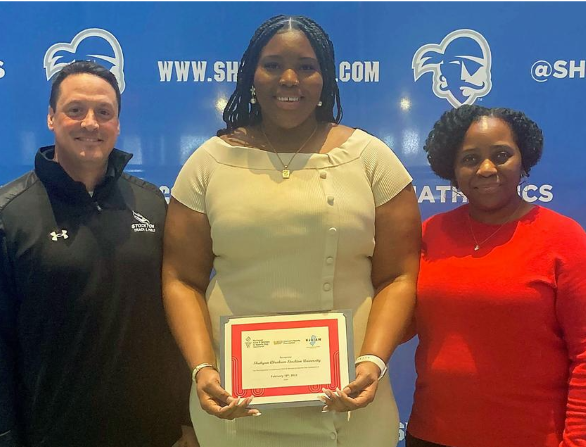 Abraham Chosen Stockton's NJAIAW Woman of the Year
Stockton senior Shahyan Abrahamwas chosenas the NJAIAW Woman of the Year for the Ospreys. Abraham is a two-sport athlete who competes in indoor track & field and outdoor track & field at Stockton.
The New Jersey Association of Intercollegiate Athletics for Women recognizes the outstanding achievements of female athletes in New Jersey by celebrating one honoree from each high school, junior college and senior college in the state. The winners were acknowledged with a reception at Seton Hall University on Feb. 18.
---
Stockton Wins First of the Season 18-11
The Stockton women's lacrosse team evened their record with a convincing 18-11 win over Susquehanna University on Feb. 22. Freshman Aubrey Giordano scored seven goals with an assist for eight points. The win gave head coach Denise Roessler her first victory at Stockton.
Stockton potted the first three goals of the game, two coming from Isabella Marinello before the River Hawks got on the board. A pair of markers by Mary Meduri and another by Marinello offset two scores by the visitors to give the Ospreys a 6-3 lead after one frame.
---
🗓️ View the full schedule of upcoming athletic events here.
🕊 IN MEMORIAM: ANNE POMEROY
President Kesselman shared the following message in an email on Feb. 24:
Like all of you, I am deeply saddened by today's news of the passing of Dr. Anne Pomeroy. As I reflect upon her extraordinary contributions, I thought about what it means to be a faculty member at Stockton. These fundamental responsibilities include teaching (including General Studies), research and scholarship, keeping abreast of developments in one's field, assessing the achievement of student learning, precepting, collaborating with colleagues and participation in program and extracurricular activities, participation in university organizations such as the Faculty Assembly/Senate, Union, task forces and other committees. Simply stated, I know of no one who consistently fulfilled all these responsibilities more ably and passionately than Anne.
Anne was an individual of immense integrity, kindness, and humility. I had the privilege of working closely with her during her tenure as President of the SFT. As much as I admire and respect all our SFT presidents, quite frankly Anne stands alone. She was a relentless negotiator who knew when to push and when to pull back. She cared deeply for the constituency she represented but not at the expense of her loyalty to Stockton. She loved her students, and they loved her. She loved all of us, and we loved her. Thanks, Anne, for having chosen Stockton to be your home.
OSPREY NOTES
Read the SCOSA March Newsletter
Read the Stockton Center on Successful Aging (SCOSA)'s March
newsletter
for interesting upcoming events and newly added programming.
UPCOMING EVENTS
Spring Professional Development Opportunities
🎭 Spring Programming at the PAC
📅 February is Black History Month
Now-May 31: "The Armenian Genocide, One Family's Story" exhibit
Feb. 28:Black Men in Tech, Diversi-Tea Series: Black History Month Virtual Discussion
March 2: Criminal Justice Lecture series, Black Women in Hospitality,"Teaching While Black" screening
March 2-4: 🩰 Spring Dance Concert
March 6:Arnold Schwarzenegger
March 10: 🌿Destination Cannabis webinar, 📼🎵 Young Alumni 80s Dance Party
March 11:34th Annual Pinelands Short Course, Shirat Hayem Speaker Series
March 18: 🍀 Tartan Terrors
March 24:Frankie Negrón
March 25: "Who Hijacked My Fairytale?" with Kelly Swanson
March 26:Discover Stockton Day