Stockton News - Friday, Feb. 21, 2020
WHAT WE'RE TALKING ABOUT
Record 27 Students Interning in Washington, D.C.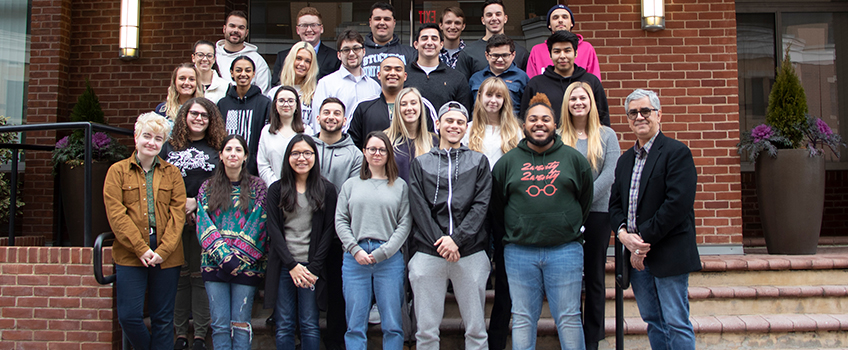 A record 27 Stockton University students are spending the Spring 2020 semester in the nation's capital as part of The Washington Internship program.
The program, operated by The Washington Center, gives Stockton students the opportunity to live, work, and study in the Washington D.C., metropolitan area. Students intern at government agencies and non-profit organizations that match their academic and career interests.
Stockton has participated in the program since the mid-1970s, and more than 1,300 students have spent a semester in the nation's capital.
---
Discussion Explores Latinx Identity and Norms
What makes up a Latino man? Is it the way he talks? Where he comes from? How about the house he owns, the job he works or how many women he's slept with in his lifetime? These were the questions at the center of the panel discussion, "The Many Caras (Faces) of Manhood: Perspectives on Latino Identity and Norms," on Feb. 11.
Moderator Angel Hernandez, associate director of EOF at Stockton University, opened the evening with an anecdote about his own experiences and questions growing up in Elizabeth, N.J. as a gay Cuban man, hitting at the heart of the night's conversation: "Am I American enough? Latino enough?"
STOCKTON UNIVERSITY ATLANTIC CITY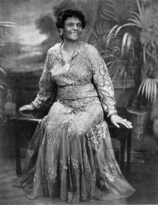 Legacies of Sara Spencer Washington, Jacob Lawrence Celebrated
Stockton University will celebrate the lives of two prominent Atlantic City natives, Sara Spencer Washington and Jacob Lawrence, with special programs in February at the John F. Scarpa Academic Center in Atlantic City, 3711 Atlantic Ave.
Watch the award-winning documentary The Sara Spencer Washington Story, a film by Royston Scott, from 1-2 p.m. Sunday Feb. 23 in the Fannie Lou Hamer Event Room.
Stockton Professor of Art History Kate Ogden and Ralph Hunter, Sr. Founder of the African American Heritage Museum of Southern New Jersey, will discuss the life and legacy of artist Jacob Lawrence from 6-7 p.m. Monday, Feb. 24, also in the Fannie Lou Hamer Event Room.
---
Catch a Movie at Stockton Atlantic City
"AC Campus Movie Nights: Cinema in the City" is featuring "Selma" at 8 p.m., tonight, and "Just Mercy," Friday, Feb. 28, in the Stockton University Atlantic City residential classrooms B119/120. Attendees are asked to bring their Stockton IDs.
SPOTLIGHT ON
Latourette Receives Distinguished Presentation Award for Outstanding Scholarship
Audrey Wolfson Latourette, Distinguished Professor of Business Law at Stockton University, was awarded the "Pacific Southwest Academy of Legal Studies (PSWALSB) in Business Distinguished Presentation Award" at the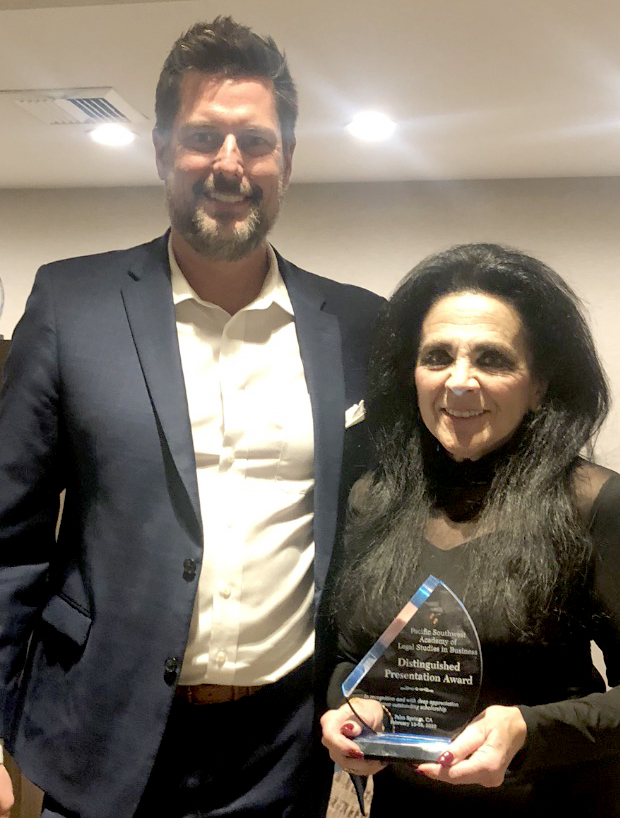 ir annual conference, Feb. 13-17, in Palm Springs, California. This award is given in recognition of outstanding scholarship.
"In light of the excellent presentations offered by my fellow scholars, I am so very honored to have received this award," Latourette said.
Her presentation, "The First Amendment on University Campuses," specifically addressed the high esteem with which the U.S. Supreme Court regards the college campus as serving as both the marketplace of ideas and as necessary for the preservation of democracy. It further noted the manner in which attempted repression of First Amendment rights on such campuses abound via the heckler's veto, disinvitations of speakers, designated speech zones on college campuses, and speech codes that are vague and overbroad. Noted constitutional law experts urge that "the purpose of higher education is to expose students to different and challenging ideas."
The PSWALSB conference attendees include professors from Pace University, University of Michigan, Rhode Island College, California State University, Long Beach & Northridge, Pepperdine University, University of Maryland, University of San Diego, Oregon State University, Utah State University, Rutgers University and Seattle University School of Law, among many others.
PHOTO: Latourette pictured with Doug Hume, J.D., who served as the Program Chair of the PSWALSB this year.
FRAME-WORTHY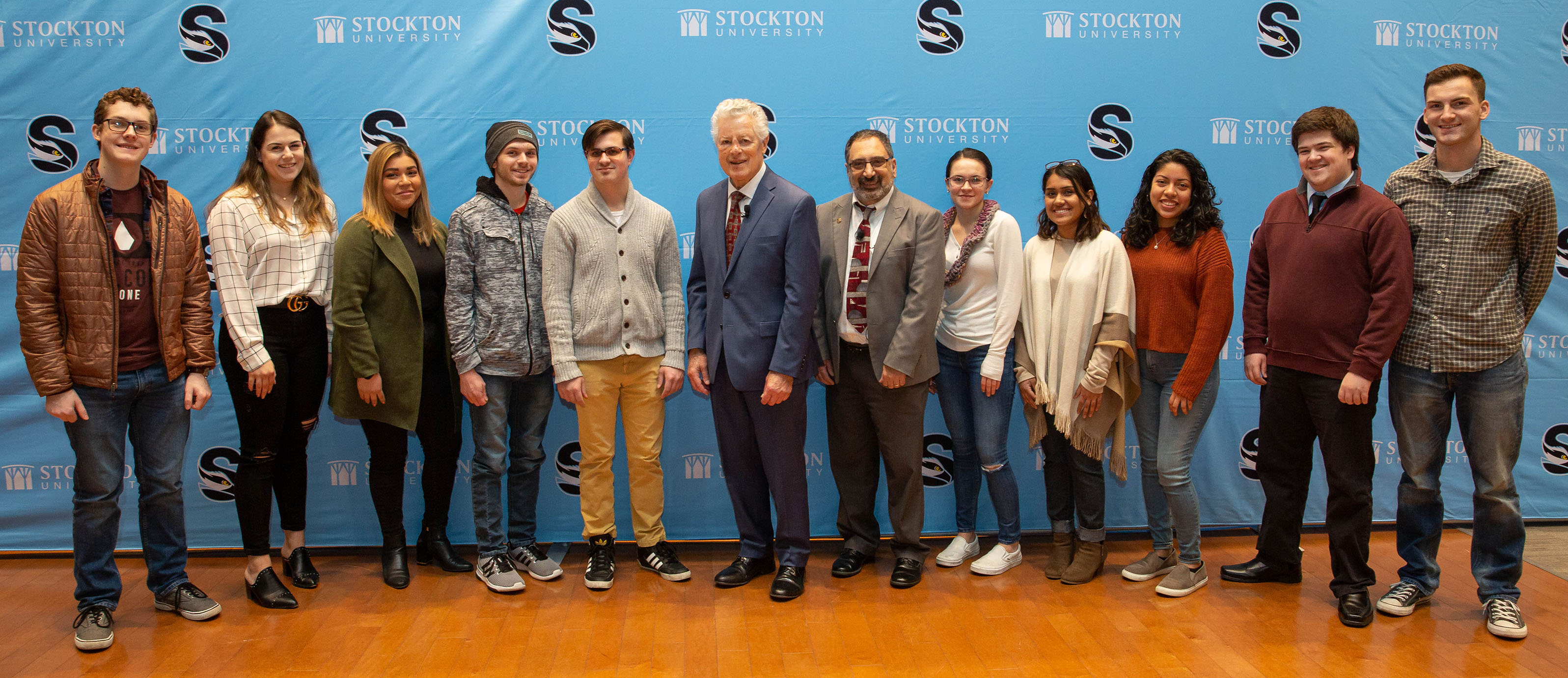 Florio Urges Students to Get Engaged and Involved
Former Gov. Jim Florio told Stockton University political science students that if they want to change government, they have to personally become "engaged and informed."
"A participatory democracy requires it," Florio said during a talk sponsored by the William J. Hughes Center for Public Policy in the Campus Center Event Room on Feb. 20.
Florio, author of the book "Standing on Principle," talked about issues that continue to concern him, including climate change, gun violence, pharmaceutical and health care prices, the state of the New Jersey public pension system and budget, and the state's infrastructure.
WHAT'S TRENDING #STOCKTONU
BIG NEWS – we've been a university for FIVE years! 🎉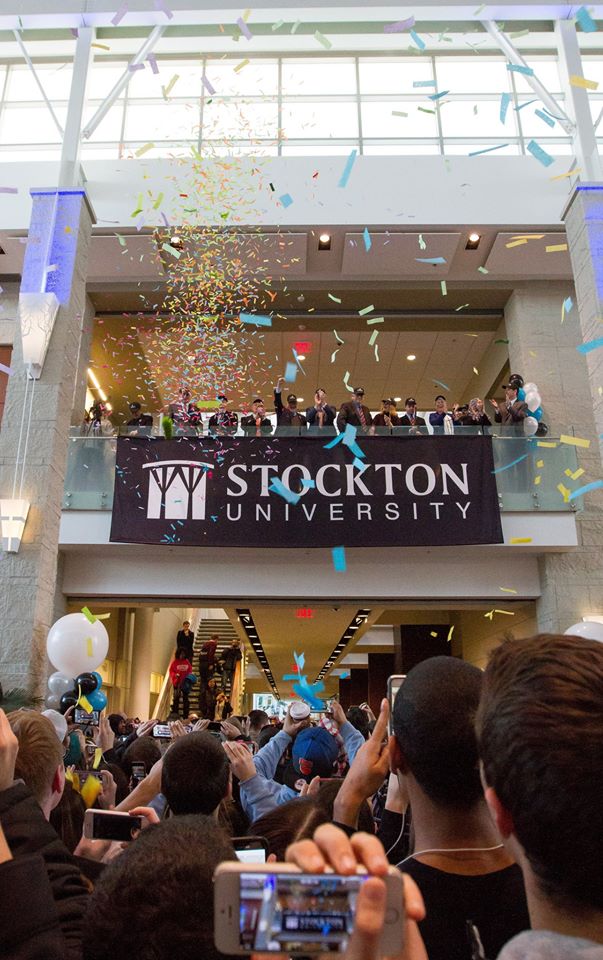 Facebook: #TransformationTuesday: A lot has happened in the past 5 years since Stockton College became a university.
Below are a few of Stockton's highlights. Keep the list going by adding your accomplishments!
🌊 After a groundbreaking in 2017, Stockton University Atlantic City opened in 2018 to offer beachfront living and learning year-round.
🔬🧬The Unified Science Center II and the John F. Scarpa Health Sciences Building now complete the Academic Quad in Galloway.
🎓 Commencement moved to Boardwalk Hall in Atlantic City.
🏀 Former head basketball coach Gerry Matthews collected his 600th career victory making him the winningest coach in New Jersey men's college basketball history.
💉 Stockton University at Manahawkin expanded to offer more opportunities to students studying Nursing.
📚 John F. Scarpa pledged $8 million to the Stockton University Foundation--the largest gift in the university's history.
☕️ Stockton University Military and Veteran Services and The Women's, Gender & Sexuality Center at Stockton University both have new lounge spaces in F-Wing.
Twitter: As freshman Ginelle Vargas aged out of the foster care system, the odds of attending college were stacked against her. Now she's defying them at #StocktonU, reclaiming her story and inspiring others along the way: https://bit.ly/2uYwXGF
FROM THE SIDELINES
Stockton Finishes Regular Season with 64-52 Victory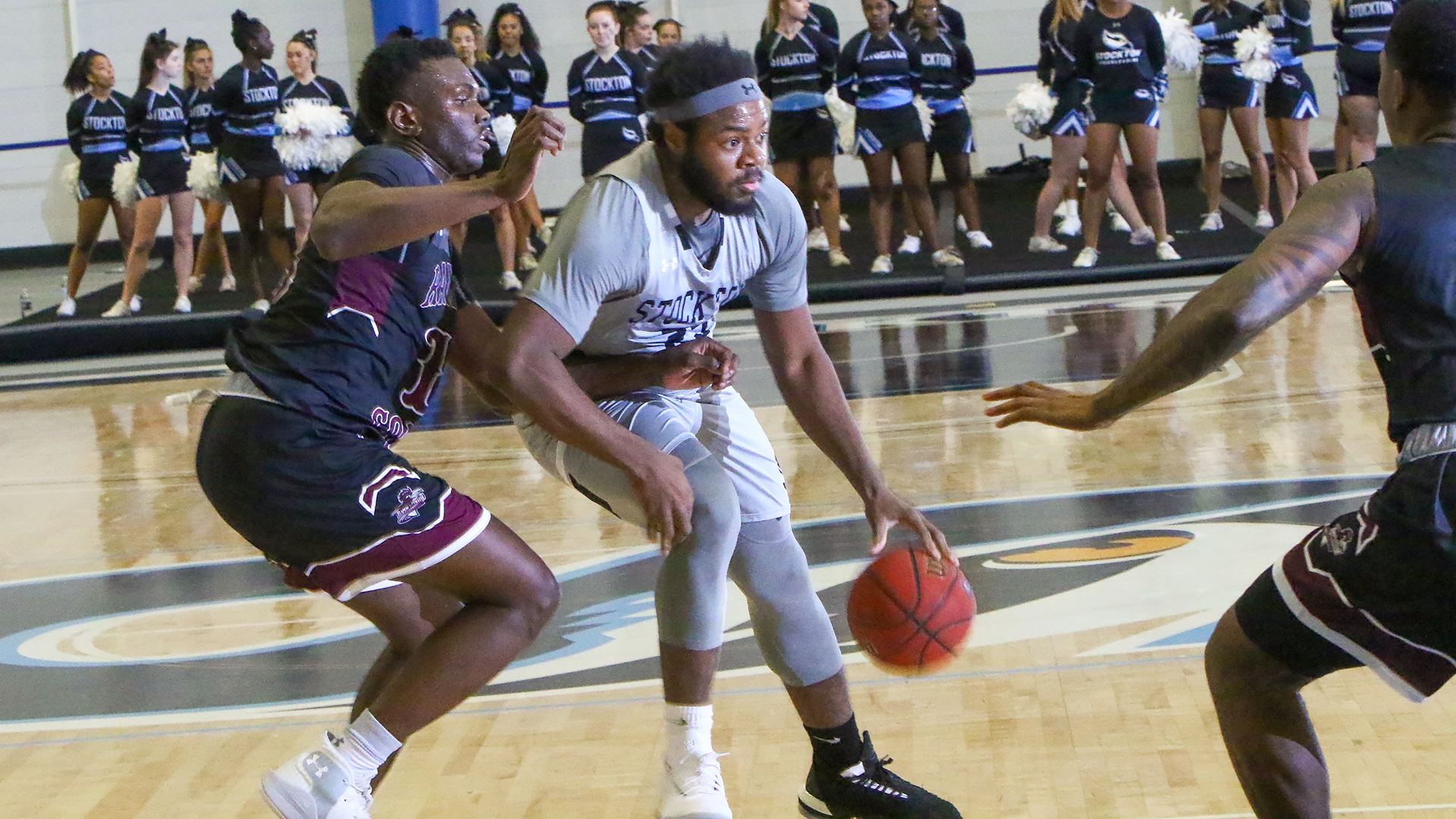 The Men's Basketball team finished up the regular season on a high note, as the Ospreys downed Rutgers-Newark by a 64-52 score on Wednesday night. Othniel Nyamekye topped the squad with a season-high 12 points. Stockton won for the fourth straight game.
🏀 Stockton will have a first-round bye in the NJAC Tournament and will host a semi-final 7 p.m. next Wednesday, Feb. 26, against an opponent to be determined.
The Women's Basketball team also finished strong, capturing its season finale against Rutgers-Newark on Feb. 19.

Play ball!
Spring sports are starting, with the baseball team taking the field this week. Come out for some sunshine and mild temperatures to watch them play (home) the Penn College Wildcats at 11:30 a.m. and 2 p.m. tomorrow, Feb. 22. Be sure to keep an eye on the schedule, as more spring sports teams start to play!
🎬Episode 7 of the Athletics DocuSeries highlights Club Sports and Intramural Sports programs at Stockton.
OSPREY NOTES
ITS Monthly Tech Training Tip: Hiding Courses in Blackboard
Information Technology Services is sharing monthly tech training tips with the Stockton community. February's tip focuses on an easy way that Blackboard allows you to show courses that are only relevant to you, hiding the rest. Learn more here.
A Conversation on Title IX with Daniel Swinton
The campus community is invited to attend "A Conversation on Title IX with Daniel Swinton, Esq.," vice president of the Association for Title IX Administrators, on Tuesday, Feb. 25 in the Campus Center Event Room. There are two opportunities to attend the one-hour discussions: 11:30 a.m.-12:30 p.m., or 12:30-1:30 p.m. The event is sponsored by The Office of Institutional Diversity and Equity (Title IX Office).
Spring Semester FAFSA Fridays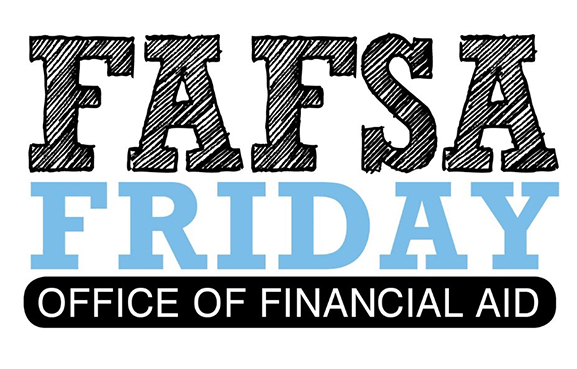 Do you have students looking for help with their financial aid application? The Office of Financial Aid is hosting "FAFSA Fridays" from 1-3 p.m. every Friday from Feb. 7-March 6, and March 27-April 10, in F210 to assist students with the financial aid process. Encourage your students to file their FAFSA applications today to avoid missing important deadlines including the April 15 deadline for State Aid. Students who file their FAFSA after these deadlines may miss out on aid for which they may be eligible.
UPCOMING EVENTS
Celebrate Black History Month at Stockton University! A number of events are taking place during the month of February.
Upcoming events hosted by the Office of Development and Alumni Relations
Wednesday, Feb. 26: Board of Trustees meeting
Friday, Feb. 28: Rowing and Growing with the Ospreys Fundraiser
Sunday, March 1:Spring Open House
Thursday, March 5: Career and Internship Fair, Costantelos Memorial Lecture
Thursday, March 12:Transfer Admission Day at Manahawkin
Saturday, March 14: Pinelands Short Course
Monday, March 23: SWLC Speaker Series: Distinguished Women. Distinctive Voices