Stockton News - Feb.18, 2022
WHAT WE'RE TALKING ABOUT
What's Old is New Again in Special Collections
The Richard E. Bjork Library Special Collections has reached a milestone with its 100th donation of historical materials.
The Paul W. Schopp Collection of South Jersey History, donated by south Jersey historian Paul W. Schopp, is described as a collection of culture, history, people and place.
"We are excited to have reached this milestone of 100 collections donated to Special Collections," said Heather Perez, Special Collections Librarian and University Archivist at Stockton. "Each of the 100 represents some aspect relating to South Jersey history, culture, people, and place."
---
Magazine Recognizes Student Affairs at Stockton
Stockton University has been named one of "The Most Promising Places to Work in Student Affairs," by "Diverse: Issues In Higher Education."
The 2022 list of the 15 recognized universities plus eight honorable mentions will be included in the March 3 issue of the national magazine, which reports on diversity in higher education. The publication's research uses a web-based survey approach to examine categories such as family friendliness, salary/benefits and professional development opportunities, with a focus on workplace diversity, staffing practices and work environment.
Stockton Vice President for Student Affairs Christopher Catching said the recognition reflects Stockton's historical commitment to providing an environment for excellence for a diverse student body, including those from underrepresented communities. That commitment begins with the employees and is reflected in student success.
---
Ospreys Rescue Beached Horseshoe Crabs
"It was an eerie sight," said Elizabeth Parsons, who discovered more horseshoe crabs than she could easily count stranded on the beach about a mile from Stockton University Atlantic City. She noticedthe crabs on an unseasonably warm February day.
"It made my heart sick," said Parsons, a Stockton Psychology and Education graduate who teaches graphic design at Atlantic City High School.
With only an hour of daylight remaining, she overturned as many as she could and carried them down to the water, but she wanted to do more.
STOCKTON UNIVERSITY ATLANTIC CITY
Food Insecurity Gets Personal for Health Care Class
Students researched food insecurity in Professor Trina Gipson-Jones' Teamwork & Collaboration in Health Care class in the fall. But they got a personal understanding of the impact of not having access to healthy food when they interviewed several Atlantic City residents about their own experiences.
"I learned about food insecurity in class, but I didn't really see it until I talked to the elders and saw how it impacts them," said student Jessica Caiazzo during a special panel discussion on Food Security hosted by the Stories of Atlantic City Intergenerational Storytelling Project and Gipson-Jones' class.
---
🎬 Catch a Movie at Stockton University Atlantic City
This spring semester, the entire Stockton community is invited to enjoy eight feature films, free food and drinks, as part of "AC Campus Movie Nights: Cinema in the City."
Attendees are asked to bring their Stockton IDs. Movies will be shown at 8 p.m. in the Stockton University Atlantic City residential classrooms B119/120 on the following dates: Feb. 24, 26, "Harriet;" March 10, 12, "In the Heights;" March 24, 26, "Eternals;" April 7, 9, "Encanto;" and April 21, 23, "Parasite."
For more information, contact Stephanie Clineman at Stephanie.Clineman@stockton.edu.
WHAT'S TRENDING

@ #STOCKTONU

Twitter: Valentine's views on the #StocktonU campus 💙
Instagram:Alize Thompson wanted to explore her interest in social justice to change the narrative.
Facebook: LET'S GO OSPREYS! Support our women's team on Saturday at 5 p.m. in Big Blue as they face off against Rutgers-Camden in the first round of NJAC playoff games.
FROM THE SIDELINES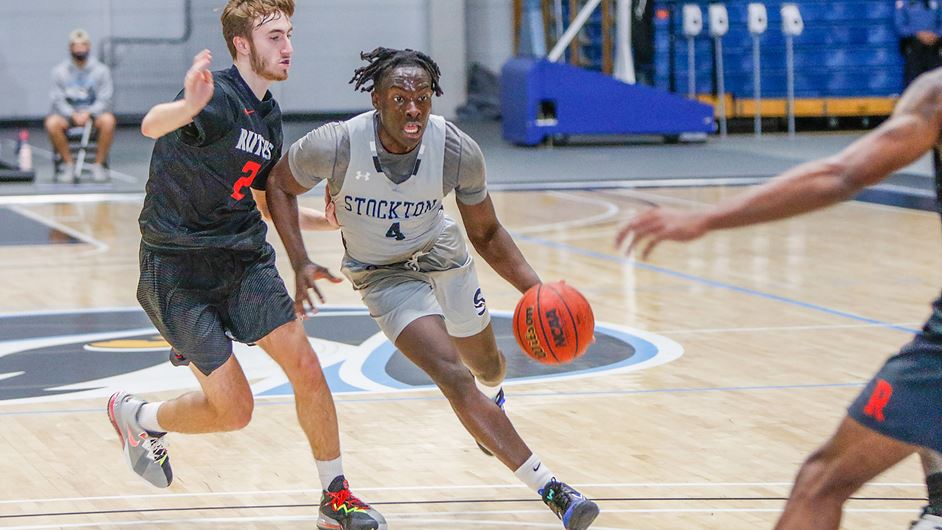 Stockton Rolls to 89-70 Win in Regular Season Finale
Stockton capped the regular season in style as the Ospreys rolled to an 89-70 victory over New Jersey City on Feb. 16. Stockton finished the season in sole possession of first place in the conference.
The Ospreys also ended the regular season ranked first in Region IV by the NCAA, and their 21 wins are already the most since 2015-16 and most in Scott Bittner's six seasons as head coach.
Stockton enters the NJAC Tournament as the No. 1 seed, and the Ospreys will have home-court advantage throughout. Stockton will begin by hosting the winner of the 8/9 game on Tuesday, Feb. 22, at 7 p.m. in the quarterfinal round.
📰 In the News:The Press of Atlantic City
Andrus & Freire Qualify as NFHCA Scholars of Distinction
Field Hockey: Stockton University field hockey teammates Kelsey Andrus and Rhian Freire were recognized as NFHCA Division III Scholars of Distinction by the National Field Hockey Coaches Association.
The requirement for this recognition is a cumulative grade point average of 3.90 or higher through the Fall 2021 semester.
Stockton's 50 Greatest Athletes, Part 3
Stockton Athletics has a rich history that dates back practically to the inception of Stockton University. Osprey teams and student-athletes have achieved success at the highest levels of NCAA Division III, winning national championships and earning All-American honors. Thousands of student-athletes have worn a Stockton uniform as the intercollegiate athletics program has grown to its current plateau of 19 sports.
🗓️ View the full schedule of upcoming athletic events here.
🕊 IN MEMORIAM
Peter Straub, dean, School of Natural Sciences and Mathematics, shared the following in a Feb. 16 email:
It is with deep sadness that I report the passing of Dr. Jaime Cromartie at his home last night. Jaime graced our faculty for over 42 years helping to develop the Environmental Sciences Program, its curriculum and a generation of students. On his retirement in 2017, the ENVL faculty requested and the University conferred Emeritus status on Dr. Cromartie. Jaime was active in causes he was passionate about including biodiversity, native plants, the Pinelands, the Greater Egg harbor Watershed and the Ecological Society. He was a consummate professional, a compassionate teacher and a well-respected scientist. We will miss him and pray for his family, Alice, Ben and Robert and their extended family to find peace.
WE'RE HERE TO HELP
COVID-19 Information
🧪 FREE COVID TESTING: Free COVID-19 testing for the public at the Chris Gaupp residence hall is again available from 7 a.m. to 7 p.m. daily through a new vendor, Praxis. The site at the Carnegie Center in Atlantic City is open from 12-5 p.m. on Thursdays, Saturdays and Sundays. COVID-19 screening for unvaccinated employees is still held at Pomona House.
💉 BOOSTER REQUIREMENT: Employees are now required to receive a COVID-19 booster dose. Proof should be submitted by Feb. 28 or within two weeks of becoming eligible. Use the Employee website in the Portal to update your booster status or submit to Joyce.Wilson@stockton.edu in the Office of Human Resources so that your status can be confirmed. Should you have any questions, contact Mamta.Patel@stockton.edu.
The State Health Benefits Program OptumRx will cover the cost of over-the-counter in-home COVID-19 diagnostic tests for active and non-Medicare eligible members of the State Health Benefits Program. Details can be found here. Free home tests from the U.S. government can also be ordered here.
😷 MASK UP: The University requires masks be worn indoors, regardless of vaccination status; KN95 or N95 masks are most effective, followed by paper medical masks and must be worn to cover both the nose and mouth as tightly as possible. Cloth masks have been less effective.
If you forget to bring a mask, surgical and KN95 masks are available in the Wellness Center, the Campus Center Information Desk, the Richard E. Bjork Library, the John F. Scarpa Academic Center Information/Security Desk in Atlantic City and in most division office suites throughout the Galloway and Atlantic City campuses.
💉 VAX UP!: AtlantiCare will hold COVID-19 vaccine clinics in West Quad 103 through March. Boosters are available. Details and dates are on the COVID-19 website.
Resources for Faculty and Staff
🧠 Stockton provides faculty and teaching staff with professional development, training, teaching ideas, resources and individual consultations via the Center for Teaching and Learning Design. Upcoming events include: Show Up & Write with FAWN sessions, Week of Teaching , Feb. 14-18; and Technology and Pedagogy, Feb. 23.
Visit here for more information on upcoming professional development events being offered.
OSPREY NOTES

Visit the Imagery Guide for Available Campus Photos
Campus architecture photos, nature scenes and general Stockton photos are available for University use by visiting University Relation and Marketing's Imagery Guide.
Imagery is an effective tool used to tell a story. Stockton's photography is distinctive, showcasing our values and allowing a viewer to engage with our brand.
Professional photography should be used whenever possible. Stockton's Flickr account is a valuable resource for imagery. Photography less than 300 dpi at actual printed size should not be used.
State Aid Renewal Deadline April 15
FAFSA renewal students (those students who have filed a FAFSA in years prior) need to file the 22-23 FAFSA before the April 15 state deadline to be considered for State Aid. Eligible students who miss this deadline could miss out on up to $7,500 in free money.
Remember, the State Won't Wait! Students can apply at fafsa.gov.
Day of Scholarship 2022: Call for Applications
Day of Scholarship applications are being accepted now through Feb. 25 and can be submitted by visiting here.
Day of Scholarship 2022 will be held in-person and virtually from 9 a.m.-1 p.m., Thursday, April 7. If you have any questions, email Ronnie Maiorino at ronnie.maiorino@stockton.edu.
---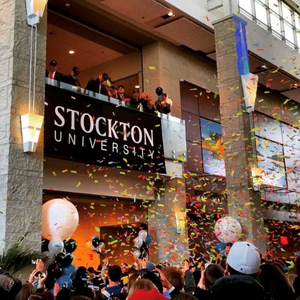 Stockton memories, past and present . . .
On this day in 2015, Stockton became a university.
Michael Janusz '15 '18 remembers the day well.
"Giving back has always been important to me. For a few semesters during my undergraduate career, I assisted Rabbi Geller in visiting residents at Seashore Gardens who were on hospice. Haphazardly, I rang in university status with this amazing mensch as Rabbi Geller and I walked into the Campus Center to find the celebration happening. It was a day and moment that I will forever have an extremely vivid memory of," said Janusz.
Have a memory you'd like to share in celebration of Stockton's 50th anniversary? Submit it here.
UPCOMING EVENTS