Stockton News - Friday, Feb. 14, 2020
WHAT WE'RE TALKING ABOUT
Julie Coker Receives $100,000 from Justin Bieber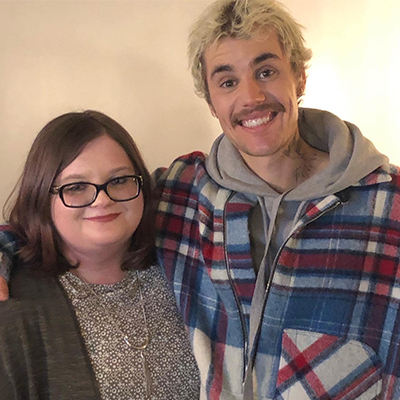 Stockton University senior Julie Coker of Union Beach in Monmouth County has the best autograph from Justin Bieber – his signature on the bottom of a giant $100,000 check, which he presented to her live on MTV on Feb. 7 to honor her work on mental health awareness with Active Minds.
"I'm still in shock," Coker said Monday as she prepared to staff the Active Minds table in front of the Stockton library. "The check is in my room at home, but I still feel like it almost didn't happen."
The story drew massive amounts of media attention including People.com, Billboard, Asbury Park Press, Fox 29, Courier Post, New York Post, CBS 3 and the Philly Voice.
---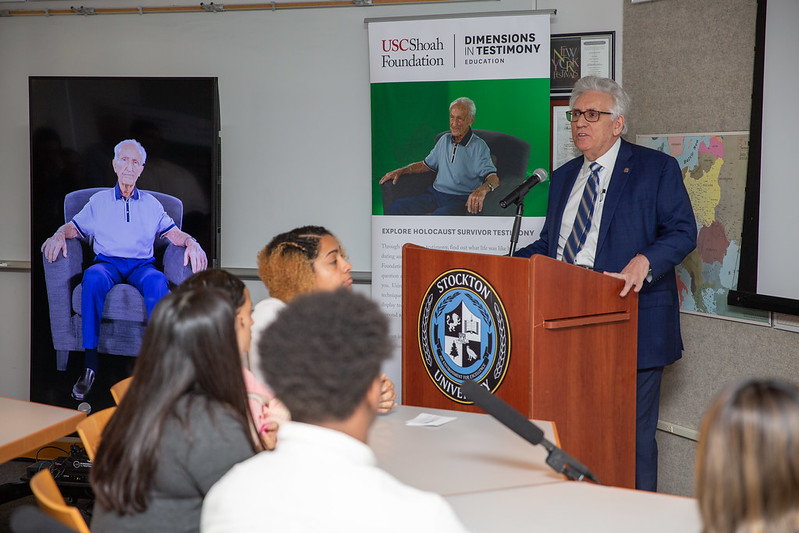 Holocaust Center Launches Interactive Biography
Pleasantville High School senior Ernest Howard knew he was looking at a taped video of Holocaust survivor Edward Mosberg, 94, of Parsippany, N.J.
But when Mosberg answered his question about what food was served in the Mauthausen Concentration Camp, Howard admits he was amazed.
"I felt like he was looking right at me while he was talking," Howard said during a demonstration of the Dimensions in Testimony Interactive Biography Program on Feb. 12 at the Sara and Sam Schoffer Holocaust Resource Center at Stockton University.
News 12 New Jersey and the Press of Atlantic City covered the demonstration.
---
Freshmen Connect with Upperclassmen, Alumni in New Conversation Series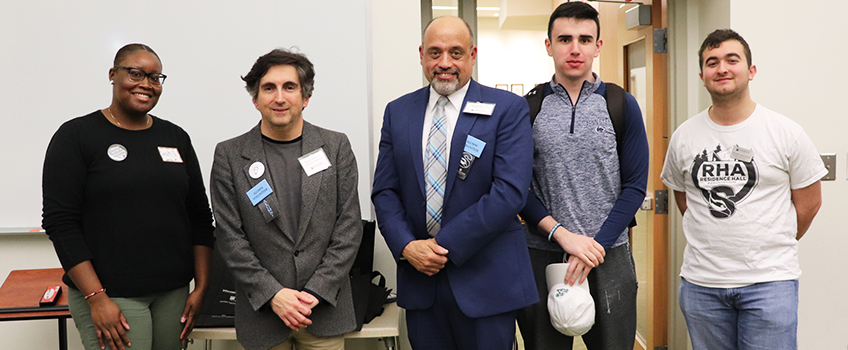 Calling all freshmen! Do you want insider tips on how to succeed at Stockton? Connect and learn from upperclassmen and alumni at "When I Was in Your Seat!," a new biweekly conversation series.
The first discussion featured a panel of two alumni and three upperclassmen Feb. 4. Nordia Johnson, coordinator of Student Transition Programs, kicked off the conversation with questions ranging from what panelists wish they knew as freshmen to the importance of being engaged with the Stockton community.
STOCKTON UNIVERSITY ATLANTIC CITY
Catch a Movie Feb. 21 at Stockton Atlantic City
"AC Campus Movie Nights: Cinema in the City" is featuring "Selma" at 8 p.m., Friday, Feb. 21, in the Stockton University Atlantic City residential classrooms B119/120. Attendees are asked to bring their Stockton IDs
SPOTLIGHT ON
Jackson Discusses Key Issues in Black Community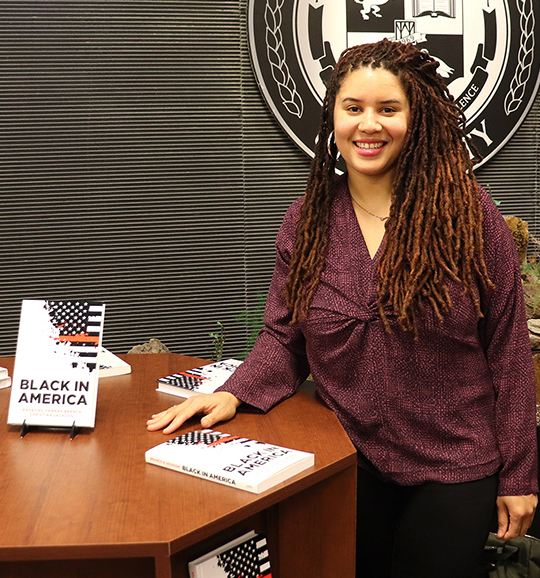 Christina Jackson, assistant professor of Sociology at Stockton University, discussed topics relevant to the Black community during her book talk on Feb. 11 in the campus bookstore, where students and faculty listened intently.
The discussion focused on the book, "Black in America-The Paradox of the Color Line,'' she co-authored with Anna Branch, vice chancellor for Diversity, Inclusion, and Community Engagement and a professor of Sociology at Rutgers University – New Brunswick.
The piece explores the sociological overview of the Black experience in America over key issues such as politics, the criminal justice system, housing, social movements and identity in a period with consistent deep inequality in the Black community. These issues are often obscured with colorblind logic and language. Jackson contributed her research in Atlantic City and San Francisco on urban spaces, politics, identity and social movements within the Black community to the piece. She refers to herself as an ethnographer, which means she immerses herself in the communities she studies to better guide her research.
FRAME-WORTHY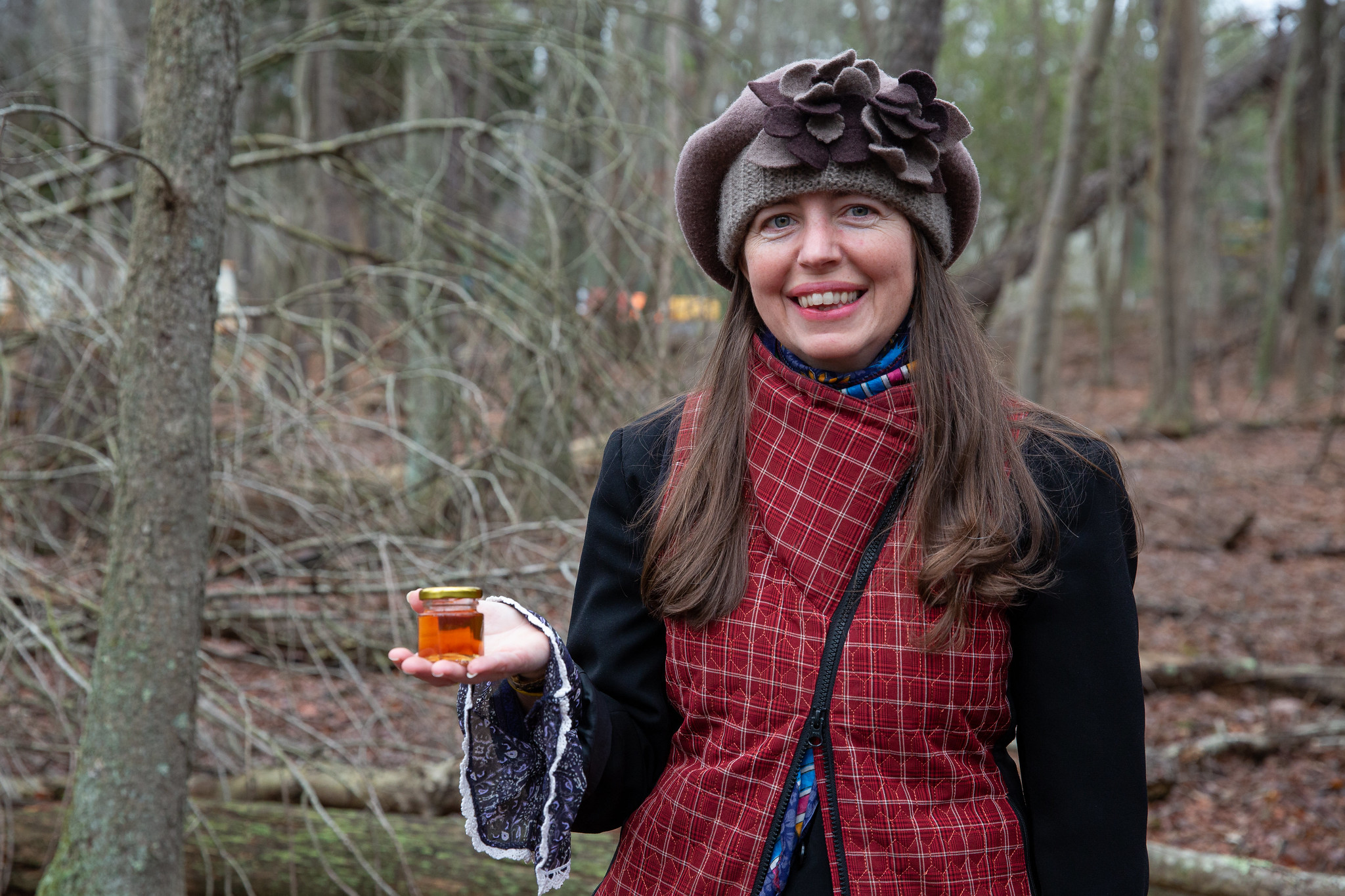 How Sweet it is …
Stockton got sappy this week, just in time for Valentine's Day.
A team of faculty members has been awarded a three-year United States Department of Agriculture grant to promote maple sugaring in the South Jersey region through research and community outreach.
The Stockton grant involves using modern technologies such as reverse osmosis, and vacuum assist pumps to implement an extensive sapping system on Stockton's 1,600 main campus. Initial sample tapping began in February on red maples, which have a lower sugar content than sugar maples, but are plentiful in South Jersey.
In addition, the grant is establishing a community outreach program of traditional sapping methods on individual properties in the South Jersey area.
Professor of Mathematics Judith Vogel (pictured), has been making her own syrup on her property in the Wading River section of Bass River Township for a few years.
CBS 3, the Press of Atlantic City, 6 ABC, The SandPaper, NJ.com and NJ 101.5 are a few of the media outlets that covered the sweet story.
See more photos here.
WHAT'S TRENDING #STOCKTONU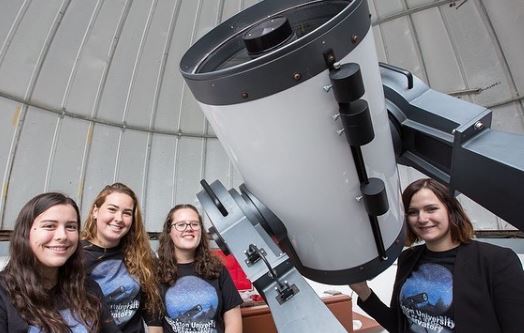 Instagram: #StocktonU scientists are studying the ocean depths to outer space. For International Day of Women and Girls in Science, we shared a few scenes from the field with Stockton #WomenInSTEM.
FROM THE SIDELINES
Esports Team Wins Tournament, Awarded Scholarship Money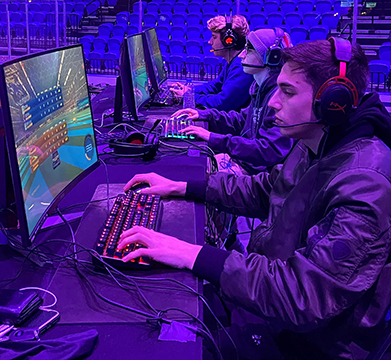 After qualifying through online play over the last few weeks including a final win over Central Connecticut College, Stockton's Rocket League Esports team consisting of Alex Lee, Vincent Nelson and Geno Copertino attended the Alpha North Esports "Battle of the Colleges" on Feb. 8 at the Adirondack Bank Center in Utica, New York.
The team competed against many other schools who qualified for the tournament including Penn State University, Syracuse University, University of Rochester, Farmingdale State College, Molloy College, Randolph Macon College and Long Island University.
MORE FROM THE HIGHLIGHT REEL:

The Women's and Men's Basketball teams play Montclair State University (away) on Feb. 15. For upcoming sports games, check out the schedule. Go Ospreys!
OSPREY NOTES
A Conversation on Title IX with Daniel Swinton
The campus community is invited to attend "A Conversation on Title IX with Daniel Swinton, Esq.," vice president of the Association for Title IX Administrators, on Tuesday, Feb. 25 in the Campus Center Event Room. There are two opportunities to attend the one-hour discussions: 11:30 a.m.-12:30 p.m., or 12:30-1:30 p.m. The event is sponsored by The Office of Institutional Diversity and Equity (Title IX Office).
Spring Semester FAFSA Fridays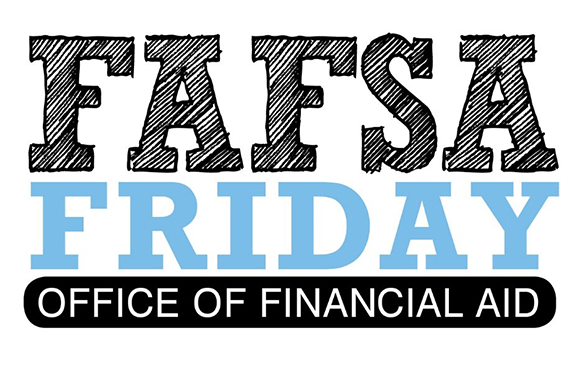 Do you have students looking for help with their financial aid application? The Office of Financial Aid is hosting "FAFSA Fridays" from 1-3 p.m. every Friday from Feb. 7-March 6, and March 27-April 10, in F210 to assist students with the financial aid process. Encourage your students to file their FAFSA applications today to avoid missing important deadlines including the April 15 deadline for State Aid. Students who file their FAFSA after these deadlines may miss out on aid for which they may be eligible.
UPCOMING EVENTS
Celebrate Black History Month at Stockton University! A number of events are taking place during the month of February.
Upcoming events hosted by the Office of Development and Alumni Relations
Wednesday, Feb. 26: Board of Trustees meeting
Friday, Feb. 28: Rowing and Growing with the Ospreys Fundraiser
Sunday, March 1:Spring Open House
Thursday, March 12:Transfer Admission Day at Manahawkin
Saturday, March 14: Pinelands Short Course