Stockton News - Feb.11, 2022
WHAT WE'RE TALKING ABOUT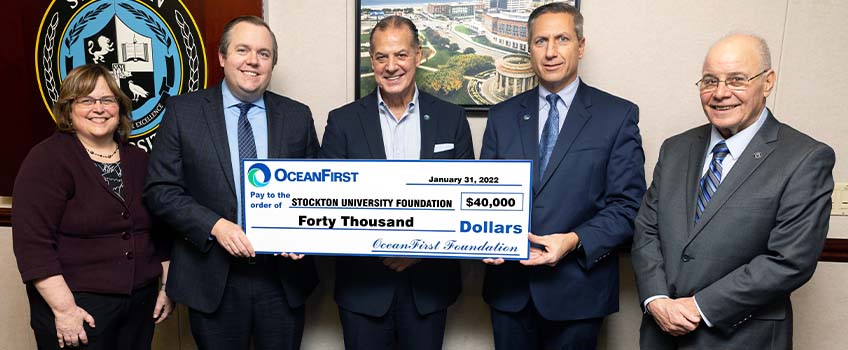 OceanFirst Foundation Supports Scholarships
For the fifth year, the OceanFirst Foundation has contributed to the Stockton University Foundation scholarship fund, presenting $40,000 to Stockton President Harvey Kesselman for the 2021-22 academic year.
"This really makes a difference to our students," Kesselman said. "I know from the letters we receive from them how grateful they are for the support. OceanFirst is one of our most significant donors and I appreciate their commitment to the students in this region."
---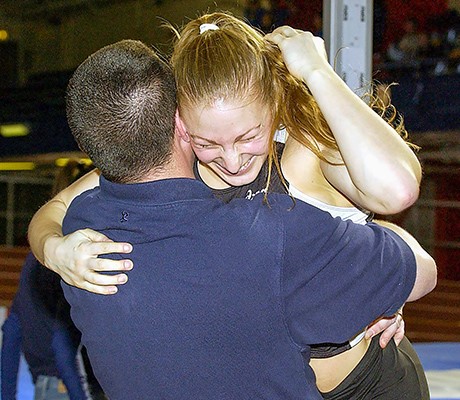 Track & Field Program Has Produced Seven National Champions
It's not easy to become a national champion. Stockton's track and field program has nurtured seven in its history, each making their mark on their sport and on Stockton. Four of them won two national championships apiece for a total of 11 NCAA titles in school history.
Todd Curll has been a track and field coach at Stockton University for more than 25 years and is in his 19th season as the head women's track and field coach. He had the pleasure of coaching Stockton's first female NCAA Division III Champion, Kim Marino Kryscnski.
Marino Kryscnski was the first to clear 13 feet at an NCAA Division III championship meet, vaulting 13' 1¾" at the 2003 NCAA Division III Outdoor Championships. She won the indoor title that year as well. A gymnast, she had dabbled in pole vault against boys in high school, then was recruited at Stockton by coach Bill Preston, who saw her wearing a gymnastics t-shirt.
STOCKTON UNIVERSITY ATLANTIC CITY
🎬 Catch a Movie at Stockton University Atlantic City
This spring semester, the entire Stockton community is invited to enjoy eight feature films, free food and drinks, as part of "AC Campus Movie Nights: Cinema in the City."
Attendees are asked to bring their Stockton IDs. Movies will be shown at 8 p.m. in the Stockton University Atlantic City residential classrooms B119/120 on the following dates: Feb. 12, "Straight Outta Compton: The Story of N.W.A.;" Feb. 24, 26, "Harriet;" March 10, 12, "In the Heights;" March 24, 26, "Eternals;" April 7,9, "Encanto;" and April 21, 23, "Parasite."
For more information, contact Stephanie Clineman at Stephanie.Clineman@stockton.edu.
FRAME-WORTHY: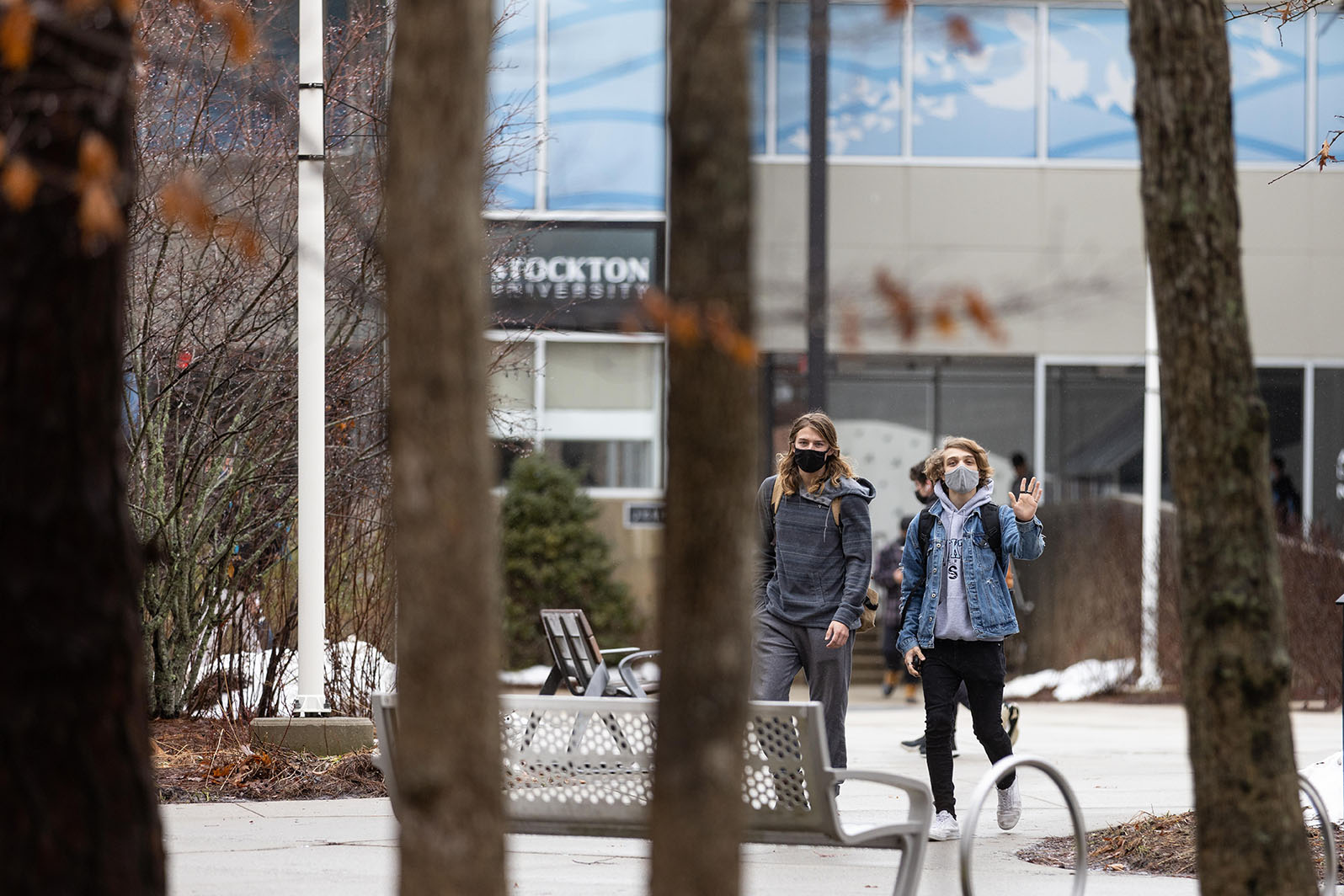 Students got a chance to enjoy some milder weather days on campus; a taste of 🌼spring was in the air no matter what the groundhog predicted last week. Although... it looks like Old Man Winter ❄️ is stopping by this weekend.
WHAT'S TRENDING

@ #STOCKTONU

Twitter: #WildlifeWednesday: What a catch!
Instagram:Gaby understood the assignment 👏 Congratulate & welcome her to the Osprey family! 🦅
Facebook: In case you need to see this today: in 33 days, the sun will set at 7:02 p.m.
FROM THE SIDELINES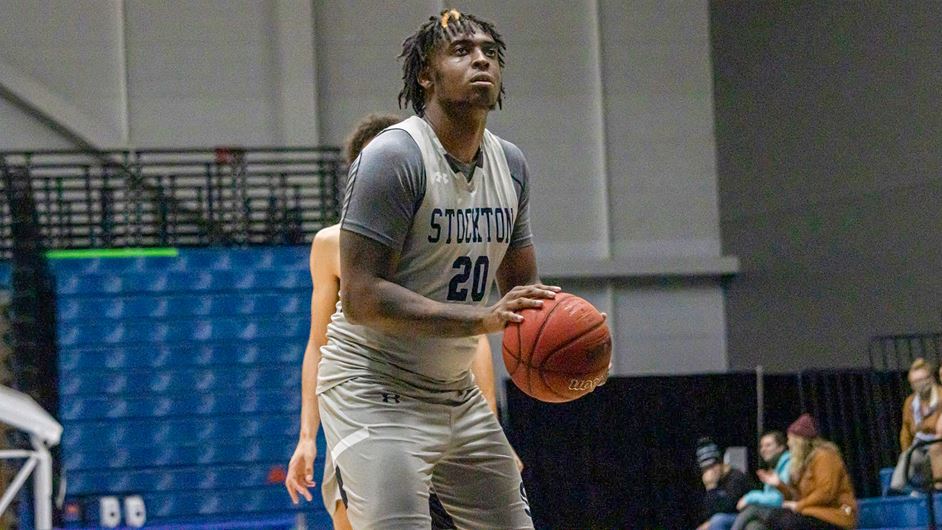 Stockton Dominates Kean, 72-49
Stockton University (19-4, 13-3 NJAC) rolled to a 72-49 victory over Kean University (13-8, 8-8 NJAC) that was the third straight win and eighth in the last nine games for the Ospreys on Feb. 9. All 16 players in uniform saw action for Stockton.
Kadian Dawkins led the way with a game-high 16 points plus four rebounds and four assists. DJ Campbell tossed in 15 markers and grabbed a career-high 12 rebounds for a double-double.
🏀 Stockton will play its final two regular-season games on the road, starting with a matchup against Rutgers-Newark, which is one game back of the Ospreys in the NJAC standings, on Feb. 12 at 8 p.m.
📰 In the News:The Press of Atlantic City
🏑 15 Field Hockey Players Earn NFHCA Academic Honors
Fifteen of the 22 Stockton University field hockey players qualified for the NFHCA Division III National Academic Squad by posting cumulative grade point averages of 3.30 or higher through the Fall 2021 semester. The 15 Ospreys were among over 2,300 qualifiers from 161 Division III teams that were recognized by the National Field Hockey Coaches Association.
Stockton's 50 Greatest Athletes, Part 2
Stockton Athletics has a rich history that dates back practically to the inception of Stockton University. Osprey teams and student-athletes have achieved success at the highest levels of NCAA Division III, winning national championships and earning All-American honors. Thousands of student-athletes have worn a Stockton uniform as the intercollegiate athletics program has grown to its current plateau of 19 sports.
🗓️ View the full schedule of upcoming athletic events here.
WE'RE HERE TO HELP
COVID-19 Information
🧪 FREE COVID TESTING: Free COVID-19 testing for the public at the Chris Gaupp residence hall is again available from 7 a.m. to 7 p.m. daily through a new vendor, Praxis. The site at the Carnegie Center in Atlantic City is open from 12-5 p.m. on Thursdays, Saturdays and Sundays. COVID-19 screening for unvaccinated employees is still held at Pomona House.
💉 BOOSTER REQUIREMENT: Employees are now required to receive a COVID-19 booster dose. Proof should be submitted by Feb. 28 or within two weeks of becoming eligible. Use the Employee website in the Portal to update your booster status or submit to Joyce.Wilson@stockton.edu in the Office of Human Resources so that your status can be confirmed. Should you have any questions, contact Mamta.Patel@stockton.edu.
The State Health Benefits Program OptumRx will cover the cost of over-the-counter in-home COVID-19 diagnostic tests for active and non-Medicare eligible members of the State Health Benefits Program. Details can be found here. Free home tests from the U.S. government can also be ordered here.
😷 MASK UP: The University requires masks be worn indoors, regardless of vaccination status; KN95 or N95 masks are most effective, followed by paper medical masks and must be worn to cover both the nose and mouth as tightly as possible. Cloth masks have been less effective.
If you forget to bring a mask, surgical and KN95 masks are available in the Wellness Center, the Campus Center Information Desk, the Richard E. Bjork Library, the John F. Scarpa Academic Center Information/Security Desk in Atlantic City and in most division office suites throughout the Galloway and Atlantic City campuses.
💉 VAX UP!: AtlantiCare will hold COVID-19 vaccine clinics in West Quad 103 through March. Boosters are available. Details and dates are on the COVID-19 website.
Resources for Faculty and Staff
🧠 Stockton provides faculty and teaching staff with professional development, training, teaching ideas, resources and individual consultations via the Center for Teaching and Learning Design. Upcoming events include: Show Up & Write with FAWN sessions and Week of Teaching, Feb. 14-18.
Visit here for more information on upcoming professional development events being offered.
OSPREY NOTES
State Aid Renewal Deadline April 15
FAFSA renewal students (those students who have filed a FAFSA in years prior) need to file the 22-23 FAFSA before the April 15 state deadline to be considered for State Aid. Eligible students who miss this deadline could miss out on up to $7,500 in free money.
Remember, the State Won't Wait! Students can apply at fafsa.gov.
Day of Scholarship 2022: Call for Applications
Day of Scholarship applications are being accepted now through Feb. 25 and can be submitted by visiting here.
Day of Scholarship 2022 will be held in-person and virtually from 9 a.m.-1 p.m., Thursday, April 7. If you have any questions, email Ronnie Maiorino at ronnie.maiorino@stockton.edu.
---

Stockton memories, past and present . . .
"It was an honor and a privilege to be the first Stockton student to sing the national anthem before all men's home basketball games in the 1980-81 seasons."
- James Drinkard '81
Have a memory you'd like to share in celebration of Stockton's 50th anniversary? Submit it here.
UPCOMING EVENTS