Stockton News - Friday, Feb. 7, 2020
WHAT WE'RE TALKING ABOUT
Stockton Earns Carnegie Community Engagement Classification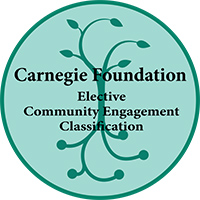 Stockton University has again been selected to receive the Carnegie Foundation for the Advancement of Teaching's Classification for Community Engagement.
The Carnegie Foundation recognizes Stockton as among the institutions "making significant strides in finding ways to engage with community partners, building on community assets, and addressing a wide array of community challenges."
The classification is based on documentation and data collection provided by the university demonstrating its ongoing investment in community engagement.
---
Census 2020 Lecture Series Begins Feb. 12
The American Democracy Project/Political Engagement Project at Stockton University will host workshops on topics relating to the 2020 Census.
Every 10 years, the United States Census counts each resident of the country. The information collected during the Census is used in many important ways, including determining funding states receive from federal programs and representation in the U.S. Congress and state legislatures.
STOCKTON UNIVERSITY ATLANTIC CITY
Stockton Launches New Summer Business Academy
High School students interested in careers in business and entrepreneurship are invited to participate in a new one-week summer academy at Stockton University.
The Summer Entrepreneurship and Business Academy (SEBA) for rising high school juniors will run from July 19-25. Participants will live on the Stockton Atlantic City campus, work with Stockton professors and business leaders, and take field trips to businesses in the Atlantic City and Philadelphia areas including South Jersey Industries, Borgata, The Federal Reserve Bank and AtlantiCare.
---
Catch a Movie TONIGHT at Stockton Atlantic City
"AC Campus Movie Nights: Cinema in the City" is featuring "Queen & Slim" at 8 p.m., TONIGHT, Feb. 7, in the Stockton University Atlantic City residential classrooms B119/120. Attendees are asked to bring their Stockton IDs.
SPOTLIGHT ON
K-9 Team New Jersey's Top Dog at National Event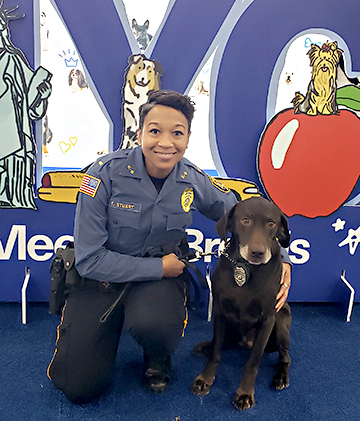 Stockton University Lieutenant Tracy Stuart and K-9 Hemi were the only K-9 team from New Jersey and a university agency, at the American Kennel Club's Meet the Breeds event on Jan. 26 in New York City.
Lt. Stuart and Hemi, introduced as the 2019 United States Police Canine Association (USPCA) champions, participated in two sets of police canine demonstrations at the event, which drew over 2,000 attendees.
"It was truly an honor to represent N.J. K-9 teams, my agency, and Stockton University. The public not only had the opportunity to experience how skilled these working dogs are first-hand, but they also got to meet them and see that they can be extremely social and silly," said Stuart.
FRAME-WORTHY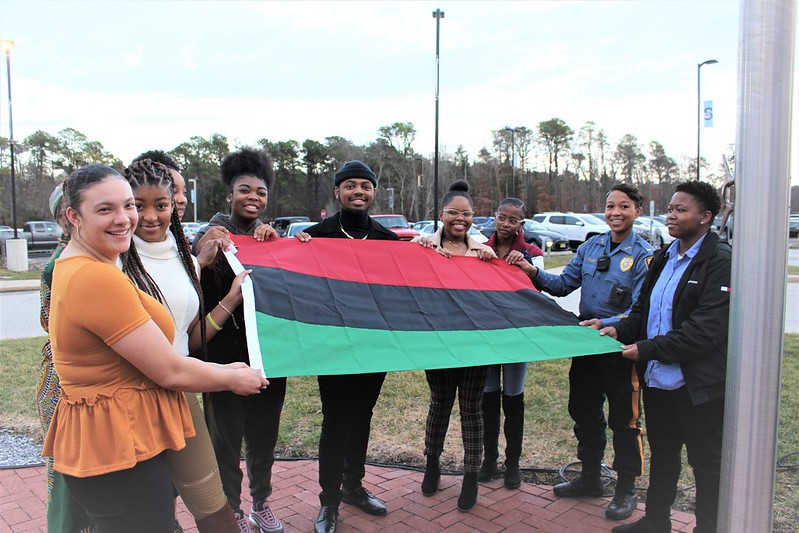 Flag Raising Kicks Off Black History Month at Stockton
The United Black Students Society kicked off Black History Month with the annual Pan-African flag raising on Feb. 4 at the Arts and Sciences Building circle.
President Amaiya Roundtree of Neptune, said the group gives members a voice and a presence on campus, and a way to connect with other African-American students.
Vice President for Student Affairs Christopher Catching and Professor of Communications and Africana Studies Donnetrice Allison also spoke. Catching said there are many events scheduled for the month and he invited everyone to participate and learn.
WHAT'S TRENDING #STOCKTONU
The Asian Student Alliance hosted an Instagram takeover to celebrate the Chinese Lunar New Year.
FROM THE SIDELINES
Stockton Runner Dominique Tye Volunteers in Peru During Break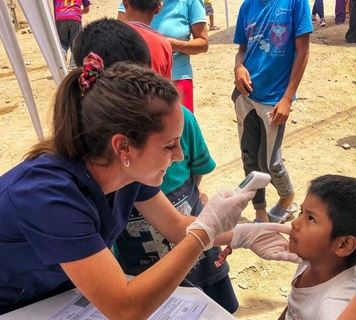 Stockton University junior Dominique Tye, a member of the Osprey women's cross country and track & field teams, spent eight days in South America during winter break. Tye and her roommate Paige Blake, both of whom are student workers in the Stockton Athletics office, took part in a MEDLIFE service-learning trip to Lima, Peru.
MORE FROM THE HIGHLIGHT REEL:

Meet Jordan Taylor, #20 and a forward on the Men's Basketball Team during this Instragram interview.

The Women's and Men's Track & Field teams compete at the Ursinus Frank Colden Invitational on Feb. 8. The Women's and Men's Basketball teams play New Jersey City University (away) on Feb. 8. For upcoming sports games, check out the schedule. Go Ospreys!
OSPREY NOTES
A Conversation on Title IX with Daniel Swinton
The campus community is invited to attend "A Conversation on Title IX with Daniel Swinton, Esq.," vice president of the Association for Title IX Administrators, on Tuesday, Feb. 25 in the Campus Center Event Room. There are two opportunities to attend the one-hour discussions: 11:30 a.m.-12:30 p.m., or 12:30-1:30 p.m. The event is sponsored by The Office of Institutional Diversity and Equity (Title IX Office).
Spring Semester FAFSA Fridays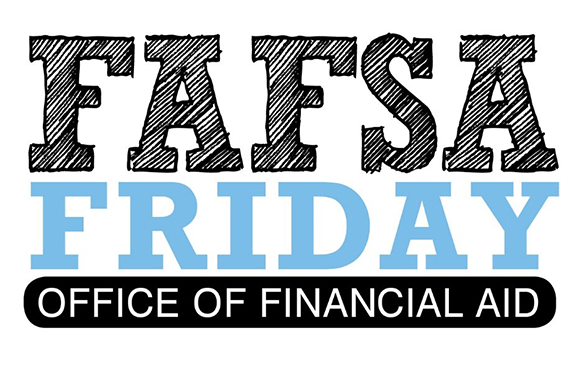 Do you have students looking for help with their financial aid application? The Office of Financial Aid is hosting "FAFSA Fridays" from 1-3 p.m. every Friday from Feb. 7-March 6, and March 27-April 10, in F210 to assist students with the financial aid process. Encourage your students to file their FAFSA applications today to avoid missing important deadlines including the April 15 deadline for State Aid. Students who file their FAFSA after these deadlines may miss out on aid for which they may be eligible.
UPCOMING EVENTS
Upcoming events hosted by the Office of Development and Alumni Relations
Tuesday, Feb. 11: Book Discussion with Christina Jackson
Thursday, Feb. 13: Transfer Admission Day at Manahawkin
Wednesday, Feb. 26: Board of Trustees meeting
Friday, Feb. 28: Rowing and Growing with the Ospreys Fundraiser
Sunday, March 1:Spring Open House
Thursday, March 12:Transfer Admission Day at Manahawkin
Saturday, March 14: Pinelands Short Course