Stockton News - Feb. 5, 2021
WHAT WE'RE TALKING ABOUT
MLK Day of Service Succeeds Live and Online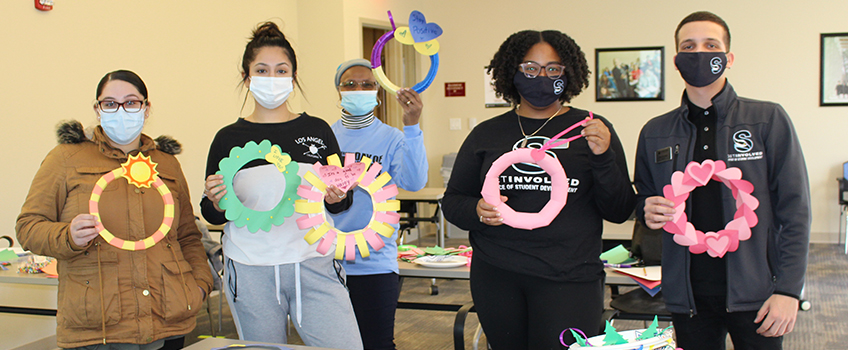 It took only about a half hour for members of the Student Veterans Organization and men's lacrosse team to pack up 50 boxes of items to send to members of the military as part of Stockton University's 17th annual Martin Luther King Day of Service on Jan. 30.
So the students moved from the Campus Center to G-Wing, where they helped make some of the 120 door wreaths for residents at Seashore Gardens.
"Everyone has just been so great and cooperative," said Paige Richards, AmeriCorps Changebuilder Coordinator at Stockton who coordinated the event.
"They just showed up and said, 'we'll go anywhere, just tell us where you need us.' This could not have happened without their dedication."
---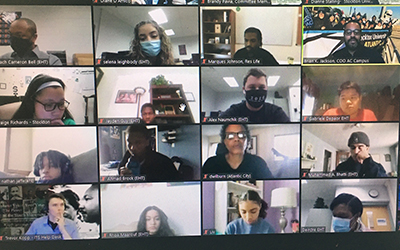 MLK Panel Addresses Youth Voting Power
We are all historians, Ralph E. Hunter, Sr. told more than 60 area high school students at the 6th Martin Luther King, Jr. high school panel discussion hosted by Stockton University on Feb. 4.
"What you do today, will be part of history," said Hunter, founder of the African American Heritage Museum of Southern New Jersey, as he recalled attending the March on Washington in the 1960s with Martin Luther King, Jr.
He encouraged the students to get involved in their communities, saying they should "learn from the past, live in the present and look to the future."
Summer Business Academy Offering Scholarships
The Stockton University School of Business is partnering with area school districts to offer scholarships to its new summer business academy for rising high school juniors.
Stockton recently reached an agreement with the Asbury Park School District to provide five spots in the 2021 Summer Entrepreneurship and Business Academy (SEBA) to students from Asbury Park High School. The University is also working with other area school districts, including Atlantic City and Pleasantville, to attract students with an interest in business and entrepreneurship.
WE'RE HERE TO HELP
Resources Available to Staff, Faculty
There are many resources and best practices being made available to staff and faculty working remotely that can be found by visiting Information Technology's website.
🧠 In addition to assistance with the technology available from ITS, Stockton provides faculty and teaching staff with professional development, training, teaching ideas, resources and individual consultations via the Center for Teaching and Learning Design.
🧪 Stockton will offer FREE COVID-19 testing to students beginning Wednesday, Feb. 3, and to employees beginning Wednesday, Feb. 17, at the Lodge at Lakeside. Go to Stockton University Testing to select a date and time to be tested and register on the Visit-Health portal. Appointment selections prior to February 17 are not permitted. Faculty and staff MUST complete the registration on the Visit-Health portal prior to arriving at their testing appointment. The anticipated testing time is 3 to 5 minutes. Staff and faculty can expect their results in 24-72 hours.
👉 Visit the Spring 2021 Campus Operations website for up-to-date information on procedures and guidelines the University is implementing to continue to keep students, staff and faculty safe.
💉 New Jersey has developed a website for residents to pre-register to receive the COVID-19 vaccine.
🔴 Pledge Reminder: Faculty, staff and students should complete the Stockton Health Pledge daily, even if you are not coming to campus. The pledge is emailed daily to your Stockton email and assists us in monitoring the health of our community. If you are feeling ill, do not come to campus, notify your manager, and see your doctor if necessary.
Stockton is compiling notices of confirmed positive COVID-19 cases in a dashboard on the Coronavirus home page. The dashboard is updated on regular work days.
FRAME-WORTHY
❄ Snowy Semester Start ❄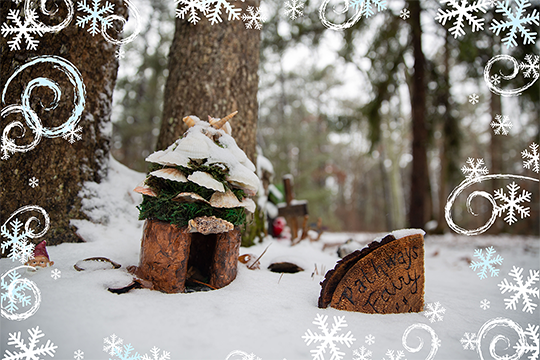 Old Man Winter made a showing at the beginning of the week, decorating the campus with a dusting of snow on Monday and Tuesday, Feb. 1 and 2. Pictured is a whimsical fairy house on one of the paths at the Galloway campus.
📸 Picture Stockton is a weekly feature on Instagram where we share views of the Stockton experience through the eyes of our Ospreys, faculty and staff included! Show us Stockton through your eyes by tagging your photos with #PictureStockton on Instagram.
👀: We want to see Stockton through your eyes.
📸: Capture images of campus, your friends, classes, and Osprey life.
📲: Tag #PictureStockton on Instagram.
WHAT'S TRENDING @ #STOCKTONU
Twitter: Associate Professor of Social Work Dr. Maya Lewis reflects on Inauguration Day. #StocktonVoices

Instagram: #WildlifeWednesday: Whooooo is looking forward to Superb Owl Sunday? Wildlife photographer Katie Case, a Sociology and Anthropology alumna, shared these superb owl photographs to celebrate the occasion.
Facebook: These Ospreys are big shots now!
FROM THE SIDELINES
Leon Named Stockton's NJAIAW Woman of the Year Honoree
Stockton University senior Charlotte Leon was chosen as the NJAIAW Woman of the Year for the Ospreys. On Feb. 3, Leon was honored as part of a virtual awards ceremony presented by the New Jersey Association of Intercollegiate Athletics for Women. The event was held in conjunction with the 35th Annual National Girls & Women in Sports Day.
🏀 Osprey Outlook: Men's Basketball Preview
🏀 Osprey Outlook: Women's Basketball Preview
👀 Watch the home games via livestream here.
OSPREY NOTES
Read the Fund Times
The Fund Times is the Office of Research and Sponsored Programs' monthly publication dedicated to keeping Stockton's faculty and staff up to date on activities related to grant seeking, internal awards, external funding opportunities, IRB, workshops and news and information for federal, state and private sponsors. Read February's issue here.
State Aid Renewal Deadline April 15
FAFSA renewal students (those students who have filed a FAFSA in years prior) need to file the 21-22 FAFSA before the April 15 state deadline to be considered for State Aid. Eligible students who miss this deadline could miss out on up to $7,500 in free money.
Remember, the State Won't Wait! Students can apply at fafsa.gov.
Roster Verification Reminder for Faculty
As the spring semester is quickly approaching, faculty are reminded to confirm student attendance at the beginning of each course after the add/drop period. The Office of Financial Aid will use this information to make adjustments to student financial aid disbursements based upon the confirmed number of credits.
Each instructor will be responsible for verifying student attendance or participation in an academic activity. For online courses, faculty are reminded to include an assignment or discussion activity during the drop/add period so that the student's attendance can be confirmed.
The link to complete Roster Verification can be found under the faculty tab within the goStockton portal.
For more information and a list of frequently asked questions, visit here.
Submit Applications for Day of Scholarship 2021
Day of Scholarship applications are being accepted now through March 1, and can be submitted by visiting here.
Day of Scholarship 2021 will be held virtually from 9 a.m.-1 p.m., Thursday, April 8. If you have any questions, email Ronnie Maiorino at ronnie.maiorino@stockton.edu
UPCOMING VIRTUAL EVENTS
Upcoming Events Hosted by the Office of Development and Alumni Relations
Feb. 1-18: High School Diploma Test Preparation
Feb. 4-25:Music of African Americans
Feb. 6: Poetry Readings in the Maple Forest
Feb. 25: International Faculty and Staff Network Meet and Greet
Upcoming Continuing Studies offerings: Retirement Planning, Online Leadership Series: Leadership and Team Building Through Active Learning; and Social Worker Continuing Education Series: Breaking Free from Eating Disorders After Surviving Trauma and Abuse