Stockton News - Feb.4, 2022
WHAT WE'RE TALKING ABOUT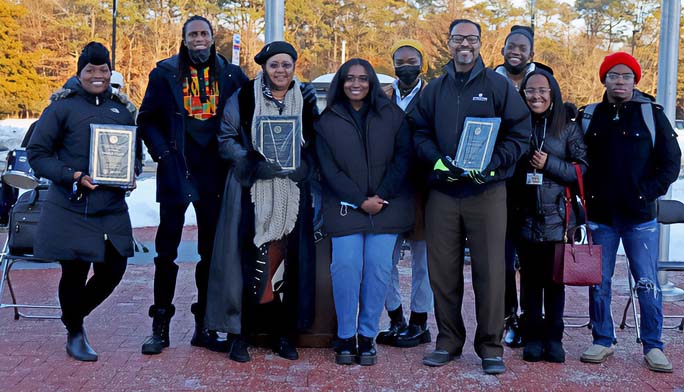 Flag Raising Launches Black History Month
The Unified Black Students Society raised the red, black and green Pan-African flag in a ceremony Tuesday, Feb. 1, marking the start of activities for Black History Month at Stockton University.
"Although a lot has been accomplished, we still have a lot left to do," U.B.S.S. president Alexsandra Panton told the crowd that braved the nippy weather and snow outside the Arts and Sciences Building.
Three members of the Stockton community were honored by U.B.S.S. for their work and commitment to Stockton and the Black community. They were Distinguished Professor of Social Work and Africana Studies Patricia Reid-Merritt, Stockton Atlantic City Chief Operating Officer Brian Jackson, and Assistant Director of Student Development Shedia Laguer.
📸 View more photos here.
Below, find a photo from 1993 where students celebrated the start of Black History Month with a libation ceremony.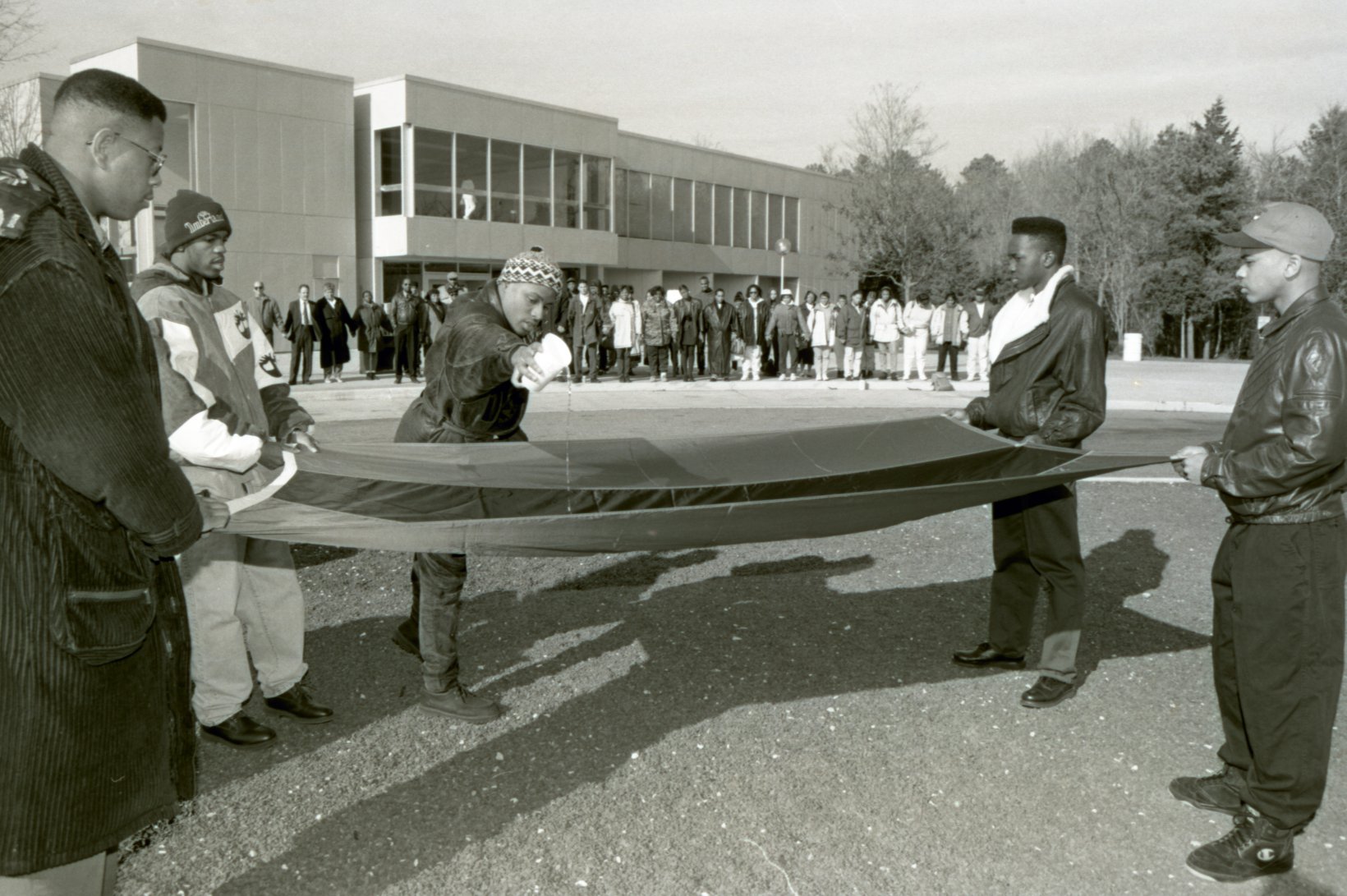 ---
New Disc Golf Course Opens on Galloway Campus
Bailey Otto, a senior Nursing major, came up with 18 reasons to get Ospreys outside to explore the pinelands of Stockton's Galloway campus.
A new 18-hole disc golf course winds through the woods off Pomona Road and is adjacent to the Observatory, recreational fields and Get FIT Trail.
Otto worked with Student Senate to get funding for the baskets and the Office of Facilities Management and Plant Operations to implement the course.
Otto began playing disc golf as a freshman at Southern Regional High School where he started a club and helped to establish a course on school grounds.
STOCKTON UNIVERSITY ATLANTIC CITY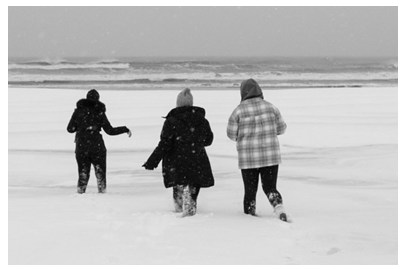 ❄️ Snow & Sand
Esther Pierrelouis, an Exercise Science major, found herself at a new school, in a new town, holding a camera that she bought from a friend with the goal of starting a new hobby during the pandemic.
Her shutter clicks have taken her on adventures including a blizzard beach walk at the Atlantic City campus.
Learn more about Esther and view her portraits in her #PictureStockton feature.
🎬 Catch a Movie at Stockton University Atlantic City
This spring semester, the entire Stockton community is invited to enjoy eight feature films, free food and drinks, as part of "AC Campus Movie Nights: Cinema in the City."
Attendees are asked to bring their Stockton IDs. Movies will be shown at 8 p.m. in the Stockton University Atlantic City residential classrooms B119/120 on the following dates: Feb. 10, 12, "Straight Outta Compton: The Story of N.W.A.;" Feb. 24, 26, "Harriet;" March 10, 12, "In the Heights;" March 24, 26, "Eternals;" April 7,9, "Encanto;" and April 21, 23, "Parasite."
For more information, contact Stephanie Clineman at Stephanie.Clineman@stockton.edu.
FRAME-WORTHY: 🖼️🦅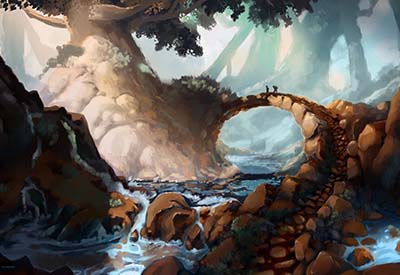 Alumni Artists Featured in Exhibition
Thirty-seven alumni are featured in the Visual Arts Alumni Triennial Exhibition at the Stockton University Art Gallery through April 5.
A reception to meet the artists will be held from 1-3 p.m. on Saturday, March 5.
Stockton Professor of Art History Kate Ogden was the juror for the exhibition. She selected 103 pieces of art of various media, including drawing, painting, photography, and graphic design/visual communication.
The 37 alumni selected for the exhibition graduated from Stockton between 1984 and 2020. Those graduating from the Studies in the Arts/Visual Arts program with a BFA, BA, or as a minor were eligible to enter. Selected artists include alumni Gary Schenck of Toms River, N.J.; Eric Sung of Providence; and Teresa Johnson Horowitz of Cary, N.C.
Pictured: Digital painting by Schenck.
WHAT'S TRENDING

@ #STOCKTONU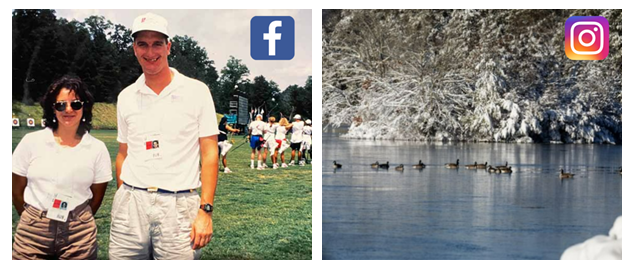 Facebook: Did you know #StocktonU's new Provost Leamor Kahanov was an athletic trainer at the 1996 Atlanta Olympic Games?
Instagram: There's snow place like #StocktonU. Stay warm, Ospreys.
FROM THE SIDELINES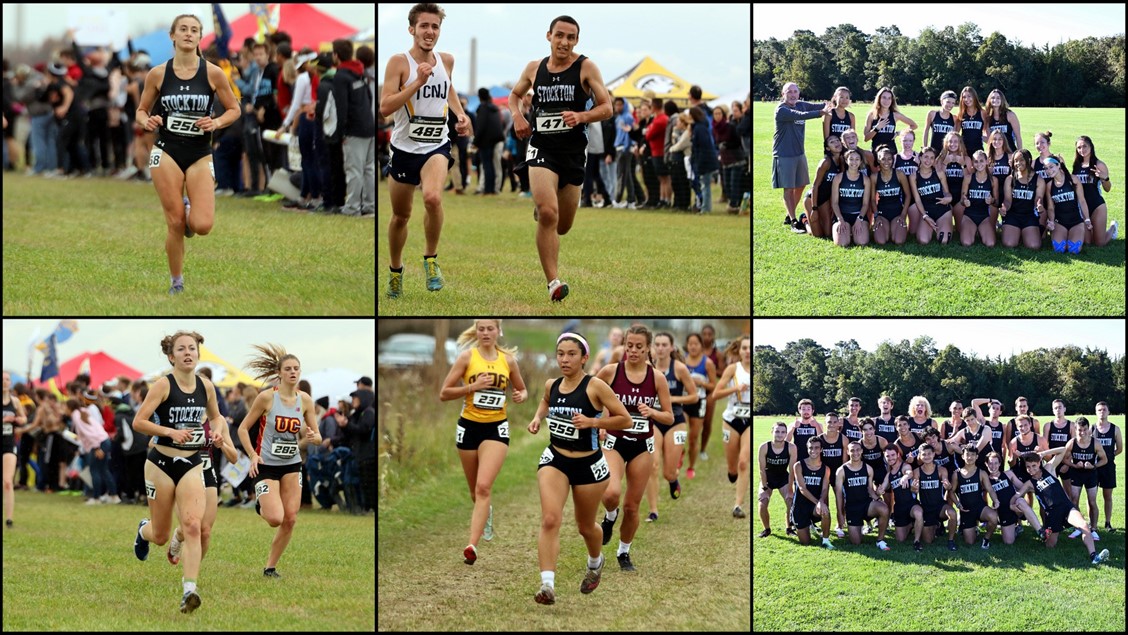 Cross Country Teams Earn USTFCCCA Academic Honors
The Stockton University men's and women's cross country teams each qualified for All-Academic Team status from the United States Track & Field and Cross Country Coaches Association (USTFCCCA). To qualify as a USTFCCCA All-Academic Team, a squad must have a cumulative team GPA of 3.10 or higher.
Stockton men's runner Sam Tenenbaum, and women's teammates Olivia Harris, Jessie Klenk and Amanda Logie notched recognition as USTFCCCA All-Academic Athletes individually.
📰 In the News: The Press of Atlantic City
Stockton Roars Past Lions in Fourth Quarter
Stockton University (9-11, 7-7 NJAC) rallied by outscoring The College of New Jersey (9-10, 6-6 NJAC) 20-8 in the fourth quarter for a 44-37 victory on the road on Feb. 2. The Ospreys shot 6-11 (54.6%) from the floor and 8-10 (80%) at the line in the final period.
Freshman Madison LaRosa led Stockton with a game-high 16 points. LaRosa went a perfect 6-6 at the line, all in the fourth quarter. Sophomore Emma Morrone contributed 13 points and a game-high nine steals.
Swedlund Named Inside Lacrosse Preseason All-American
Stockton University senior Luc Swedlund was chosen as a Men's DIII Preseason All-America Honorable Mention by Inside Lacrosse.
Swedlund became the fourth Osprey to receive the honor, joining Colin Wharton (2018-19), Tommy Gallo (2019) and Eugene Isola (2013).
Swedlund has been one of the most prolific goal scorers in NCAA Division III during his career. In 2019, he led the nation in goals per game (4.76) and set school records with 100 goals and 118 points. He also ranked sixth nationally in points per game (5.62).
🗓️ View the full schedule of upcoming athletic events here.
WE'RE HERE TO HELP
COVID-19 Information
💉 BOOSTER REQUIREMENT: Employees are now required to receive a COVID-19 booster dose. Proof should be submitted by Feb. 28 or within two weeks of becoming eligible. Use the Employee website in the Portal to update your booster status or submit to Joyce.Wilson@stockton.edu in the Office of Human Resources so that your status can be confirmed. Should you have any questions, contact Mamta.Patel@stockton.edu.
The State Health Benefits Program OptumRx will cover the cost of over-the-counter in-home COVID-19 diagnostic tests for active and non-Medicare eligible members of the State Health Benefits Program. Details can be found here. Free home tests from the U.S. government can also be ordered here.
😷 MASK UP: The University requires masks be worn indoors, regardless of vaccination status; KN95 or N95 masks are most effective, followed by paper medical masks and must be worn to cover both the nose and mouth as tightly as possible. Cloth masks have been less effective.
If you forget to bring a mask, surgical and KN95 masks are available in the Wellness Center, the Campus Center Information Desk, the Richard E. Bjork Library, the John F. Scarpa Academic Center Information/Security Desk in Atlantic City and in most division office suites throughout the Galloway and Atlantic City campuses.
💉VAX UP!: AtlantiCare will hold COVID-19 vaccine clinics in West Quad 103. Details are in the Return to Campus FAQunder the "COVID-19 Vaccine Requirement" drop-down menu, and by then clicking "Where can I get vaccinated?" The clinics will be held 11 a.m.-2 p.m., Feb. 7; 2-5 p.m., Feb. 10; 11 a.m.-2 p.m., Feb. 14, 21; 2-5 p.m., Feb. 24; 11 a.m.-2 p.m., Feb. 28; 2-5 p.m., March 3; 11 a.m.-2 p.m, March 7; and 2-5 p.m., March 10.
Resources for Faculty and Staff
🧠 Stockton provides faculty and teaching staff with professional development, training, teaching ideas, resources and individual consultations via the Center for Teaching and Learning Design. Upcoming events include: Show Up & Write with FAWN sessions, Introduction to Zotero: Collecting, Organizing and Citing Sources on Feb. 11, and Week of Teaching, Feb. 14-18.
Visit here for more information on upcoming professional development events being offered.
💻 Information Technology Services shared the following tech tip that explains removing Teams meetings from Outlook web invites.
OSPREY NOTES
Save the Date: President's Bi-Annual Address to Staff Feb. 18
President Kesselman will host his Bi-Annual Address to Staff from 10-11 a.m. on Friday, Feb. 18, in the Campus Center Theatre of the Galloway campus.
State Aid Renewal Deadline April 15
FAFSA renewal students (those students who have filed a FAFSA in years prior) need to file the 22-23 FAFSA before the April 15 state deadline to be considered for State Aid. Eligible students who miss this deadline could miss out on up to $7,500 in free money.
Remember, the State Won't Wait! Students can apply at fafsa.gov.
Day of Scholarship 2022: Call for Applications
Day of Scholarship applications are being accepted now through Feb. 25 and can be submitted by visiting here.
Day of Scholarship 2022 will be held in-person and virtually from 9 a.m.-1 p.m., Thursday, April 7. If you have any questions, email Ronnie Maiorino at ronnie.maiorino@stockton.edu.
---

Stockton memories, past and present . . .
"My photography class with Joel Sternfeld was one of the most entertaining and enlightening classes I have ever experienced. I think of it often and have always wanted to thank him for his passion for photography and for passing it on."
- Angela Pratico Sturdivant '80
Have a memory you'd like to share in celebration of Stockton's 50th anniversary? Submit it here.
UPCOMING EVENTS