Stockton News - Feb. 3, 2023
WHAT WE'RE TALKING ABOUT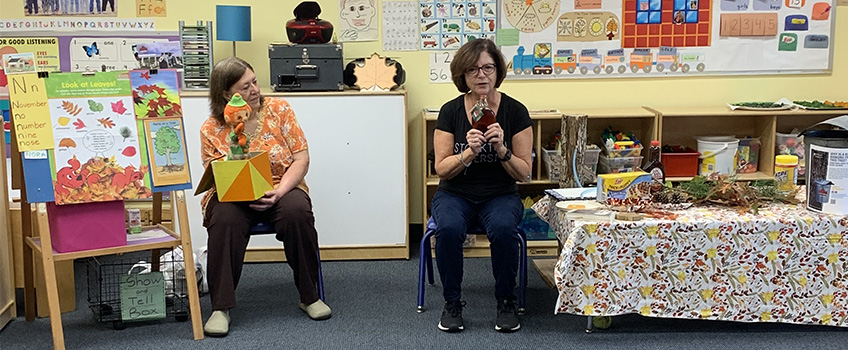 Maple Project Sweetens Learning at Local Schools
Growing up in Absecon, Debby Sommers loved being outside.
"I loved nature as a kid, but we didn't call it that. It was just going outside," said the retired Galloway Township Middle School science teacher. "We fished and crabbed and watched turtles lay their eggs and ducks bring their babies up so we could feed them Cheerios."
But she said she wasn't taught about the Pine Barrens or environmental science until she went to college.
"It wasn't until I went to Stockton that I fell in love with environmental science and learned to appreciate the unique ecosystems we live in," said the 1977 graduate.
Part of that unique ecosystem is the Stockton Maple Project. The program began three years ago and is funded by two United States Department of Agriculture grants totaling more than $900,000 to promote maple sugaring in South Jersey.
📰 In the News: The Press of Atlantic City
---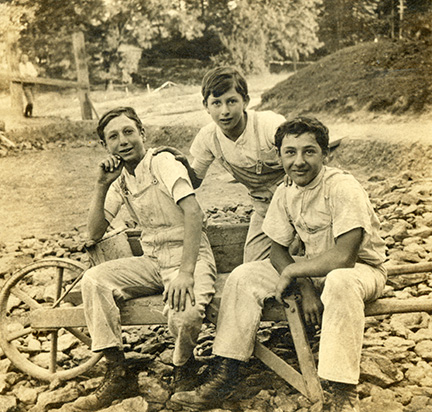 Center to Preserve Jewish Farming History Receives Grant
The Alliance Heritage Center will use a new grant to create a public digital database of its collection documenting the history of Jewish farming in southern New Jersey.
The New Jersey Historical Commission recently awarded more than $300,000 to 14 organizations to explore under-represented history in the state, including $24,500 to the Alliance Heritage Center at Stockton University.
The goal of the Alliance Heritage Center is to preserve the history of the first successful Jewish farming village in the United States, the Alliance Colony in Pittsgrove Township, Salem County.
---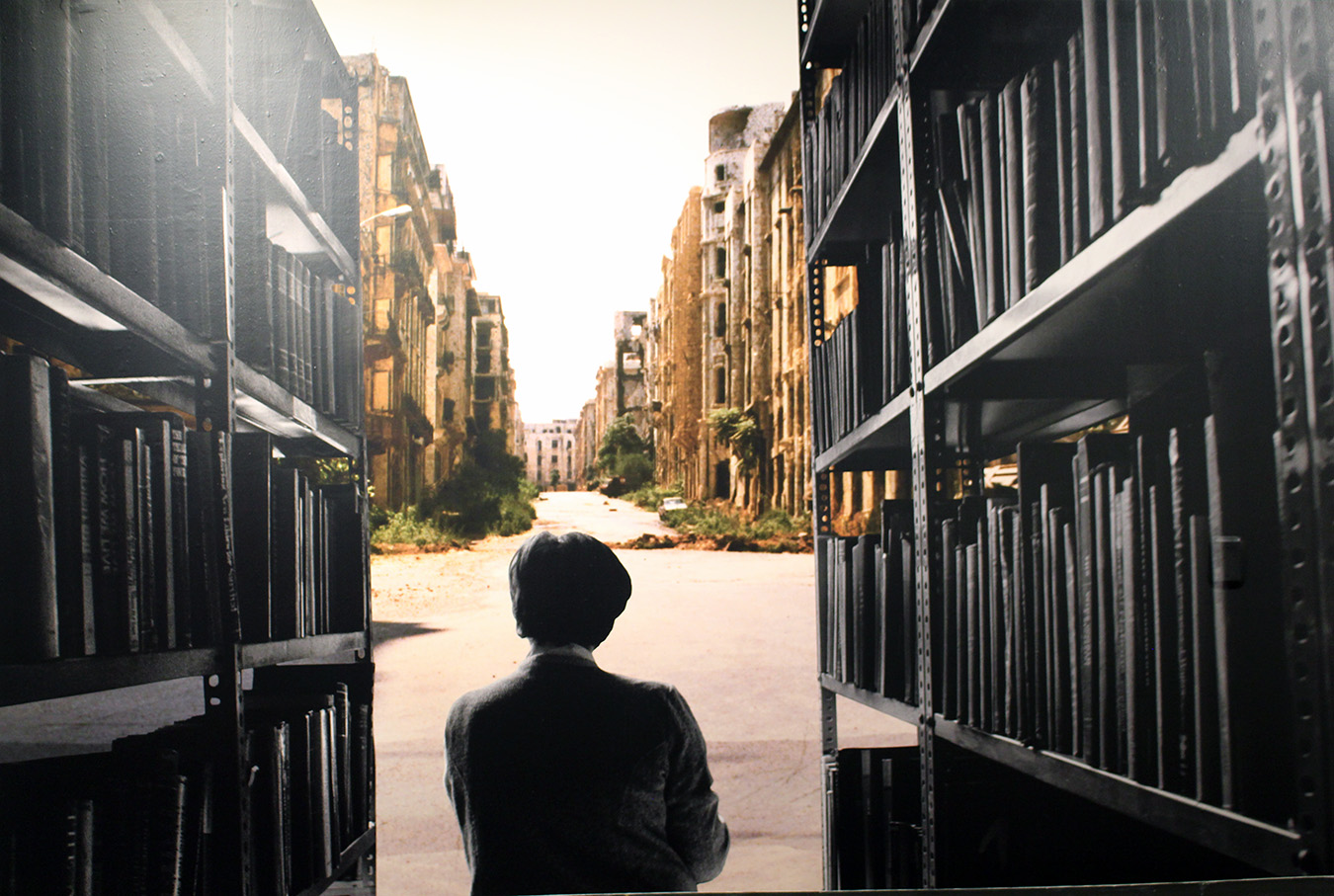 Art Gallery Welcomes Disruption & Punk for Spring Semester
The Stockton Art Gallery welcomes two new exhibitions for the spring semester, one focusing on the punk music scene in South Jersey and Philadelphia and the other on the impact of borders on our lives.
In the upper gallery, "Shortest, Fastest, Loudest" focuses on the art of South Jersey and Philadelphia punk. The exhibition was curated by Justin Gray, Stockton's visual arts studio supervisor, and Ryann Casey, Stockton's art gallery exhibition coordinator, and features the work of more than 20 artists connected to and inspired by the local punk scene. The exhibition highlights an array of mediums, including illustration, sculpture, photography and street art, as well as a massive flyer wall and zine library.
📰 In the News: The Trentonian, New Jersey Stage
---
President Kesselman Tapped for International Education Initiative
President Kesselman was appointed to a new international council that will forge connections among education leaders from across the globe.
The Association of International Education Administrators (AIEA) recently established the Presidential Ambassadors Council, whose members will meet regularly with the AIEA board, serve as a resource to AIEA members, present at AIEA conferences and promote international education by writing articles and opinion pieces and by providing peer mentorship to other institutional leaders.
FRAME-WORTHY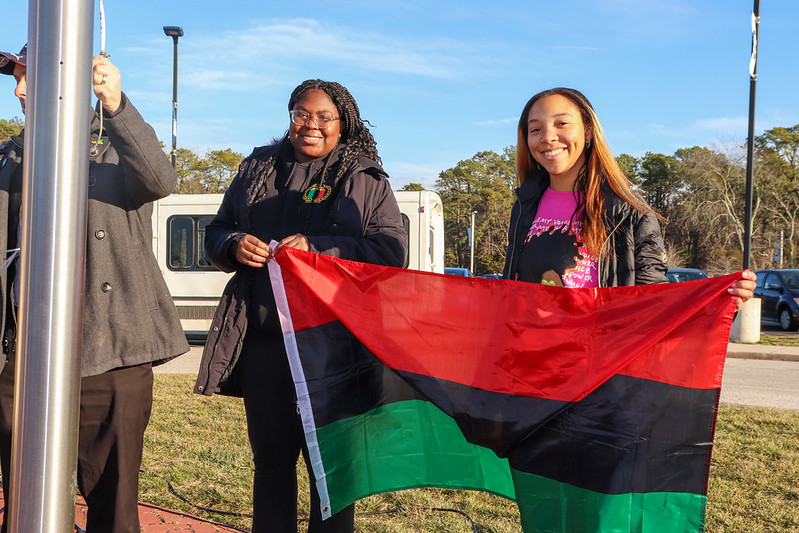 Annual Flag Raising Encourages Students to Celebrate Black History
"Part of (Carter G. Woodson's) mission was to make sure that not only Black people learn about themselves, but for everyone to learn about the contribution of Black history and culture because it is foundational to this country. There would be no country without it."
Donnetrice Allison, professor and chair of the Africana Studies program, delivered a powerful speech during the Unified Black Students Society's (UBSS) annual Black History Month flag-raising on Feb. 1 in the Arts and Sciences Circle.
She explained how the month stemmed from African-American historian Woodson's Negro Education Week, which sought to explore the various contributions and accomplishments of people of African descent.
The lack of education surrounding African-Americans in history – even at historically Black colleges and universities – troubled Woodson as it "limits a people's progress and ability to move forward if you tell them that they are less than or suggest that they and their forefathers did nothing to contribute to this nation we call America."
📸 View more photos from the event on Flickr.
WHAT'S TRENDING

@ #STOCKTONU

Instagram: There's snow place like #StocktonU ❄️🦅
Twitter: Ospreys on #StocktonU's rowing teams are busy putting together ~125 ergs for the hundreds expected to flood the @ACConvention for the @usrowing Atlantic City Indoor National Championships this weekend.
Facebook: On this day in 2013, Stockton University in Hammonton at Kramer Hall officially opened its doors. Ten years later, Stockton is part of the cultural hub of historic Downtown Hammonton and provides students the opportunity to advance their careers through various graduate and continuing studies offerings.
FROM THE SIDELINES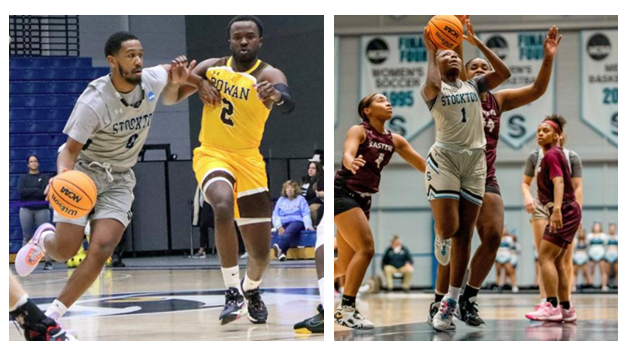 Ospreys Finish Strong Against Rutgers-Newark
The men's basketball team trailed for most of the Feb. 1 game but closed with a 21-9 run to prevail 75-71 over host Rutgers-Newark (6-15, 4-10) in the third straight road game for the Ospreys. The victory was the fourth in a row for Stockton.
Kyion Flanders led the Ospreys with team highs of 19 points and seven rebounds. Flanders netted 15 counters in the second half. Kadian Dawkins shot 7-10 (70%) from the field and scored 15 points.
The women's team also made a strong showing, breaking out to a 22-7 lead and going on to a 67-54 victory over Rutgers-Newark. The win was Stockton's third in the last four games and equaled last year's total for the entire season.
Adriyana Jennings paced the Ospreys with another outstanding performance as she recorded her 11th double-double of the season. Jennings scored a game-high 14 points and grabbed a career-high 18 rebounds to lead Stockton to a 52-32 advantage on the glass.
---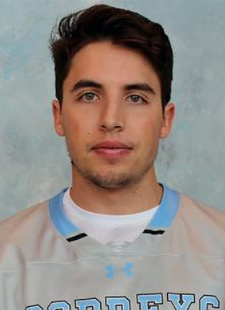 Poli Receives Third Preseason Honor
Stockton senior Dante Poli was namedto the USILA Preseason All-America Second Team by the United States Intercollegiate Lacrosse Association. The honor was the third of the preseason for Poli.
He was previously selected to the USA Lacrosse Magazine Preseason All-America Third Team and the Inside Lacrosse Preseason All-America Fourth Team. Poli will lead Stockton into the Coastal Lacrosse Conference in the new league's inaugural season.
---
🥍 Four Ospreys Receive Preseason All-America Honors
Four Stockton men's lacrosse players were recognizedas a pair of publications announced their NCAA Division III Preseason All-America teams in advance of the 2023 season, which begins next month.
Dante Poli headlined the quartet with accolades from both organizations. Poli was selected to USA Lacrosse Magazine's Preseason All-America Third Team and the Inside Lacrosse Preseason All-America Fourth Team.
Tyler Horvath and Brendan Scanlon were named Preseason All-America Honorable Mention by USA Lacrosse Magazine. Luc Swedlund was tabbed Preseason All-America Honorable Mention by Inside Lacrosse.
---
🗓️ View the full schedule of upcoming athletic events here.
IN MEMORIAM 🕊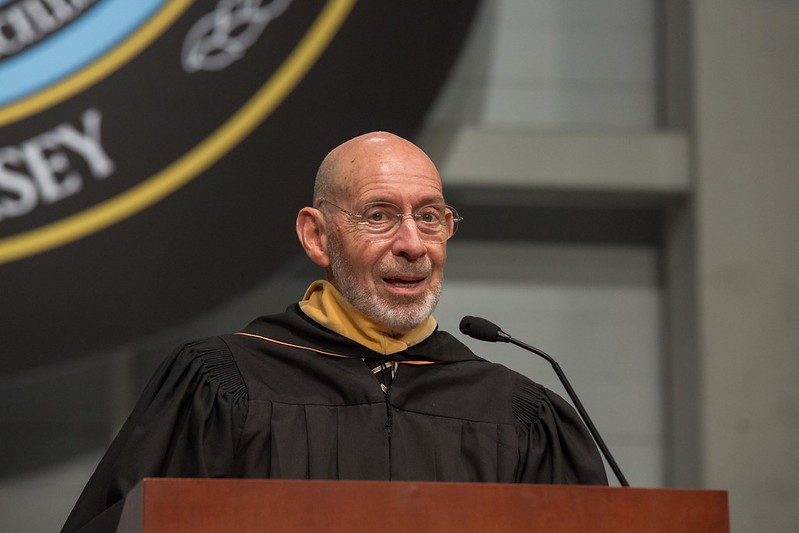 President Kesselman shared the following message in an email on Jan. 31:
It is with the heaviest of hearts that I inform the Stockton community of the passing of William T. Daly, Distinguished Professor Emeritus of Political Science, earlier this afternoon. Simply stated, Bill was the embodiment of the founding vision of Stockton, and his articulation of and unwavering commitment to the Stockton Idea will remain a part of who we are for as long as there is a Stockton University.
I know of no one in Stockton's history who was a better teacher and preceptor than Bill. Back at our opening in 1971, Bill was the face of Stockton to the external community as he offered courses at the Mayflower Hotel that were open to the public. These courses drew hundreds of students and community members. In fact, throughout his entire career at Stockton, Bill offered several different courses that would consistently enroll more than one hundred students, and he amazingly memorized the names of each one of those students by the end of the first week of classes.
Bill was the quintessential preceptor. He linked everything he taught to tangible outcomes that reinforced the importance of liberal arts and general education, while showing students how those learned skills and knowledge would help them in their future careers. He was always available to students who needed guidance and support, from early morning to late at night. Alumni regularly reached out to Bill for advice when they were deciding to make life changes. Quite frankly, no one in Stockton's history has been a more dedicated preceptor for our students. No one.
I could say so much more about what Bill meant to Stockton and to me personally but will refrain from doing so at this time so others can share their memories.
Bill's loving family, Nancy and their daughters Beth and Kit have been with him during these last few months. They will provide information concerning arrangements soon.
May our beloved teacher, preceptor, mentor, and colleague rest in peace. He has earned it.
OSPREY NOTES
NOTICE: 2023 Annual Tuition Hearing
Each year before adopting a tuition and fee schedule, the University is required by New Jersey statute to hold a tuition and fee hearing. The hearing is intended to provide the Board of Trustees with an opportunity to hear the views of the University community.
This year feedback will be solicited via a Qualtrics survey that can be accessed here, now through Feb. 8. Your feedback is important to us and will help inform fiscal year 2024 budgetary decisions.
---
Priority Deadline March 1 for FAFSA
Get it done by March 1! Did you know that some financial aid programs, including Federal Work Study, have limited funding? Please encourage your students to file their 23-24 FAFSA by March 1 to be considered for all programs with limited funding.
Students can file at fafsa.gov by logging in with their FSA ID and Password. For more information as well as helpful tips and tricks, visit stockton.edu/fafsa
---
Read the SCOSA February Newsletter
Read the Stockton Center on Successful Aging (SCOSA)'s February newsletter for interesting upcoming events and newly added programming.
UPCOMING EVENTS