Stockton News - Dec. 17, 2021
WHAT WE'RE TALKING ABOUT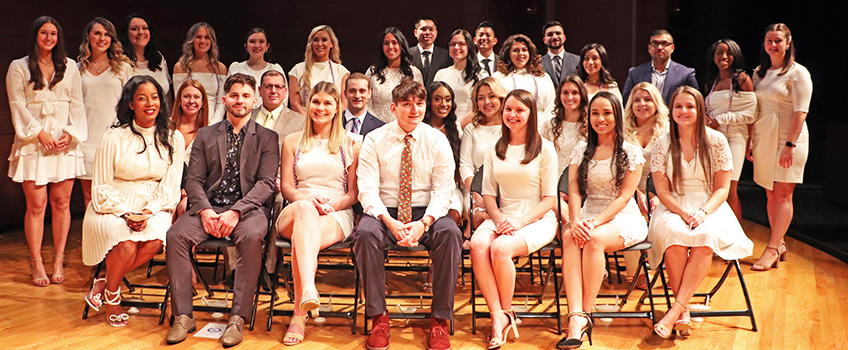 Accelerated Nursing Students Pinned
Thirty students in the Accelerated Bachelor of Science in Nursing program received their pins in a ceremony at the Campus Center Theater on Dec. 10.
"Congratulations on finishing a 15-month intense academic journey during a pandemic," said Associate Provost for Academic Affairs AmyBeth Glass.
She noted that the graduates adapted to new technology, but that for this next generation of health care providers, change will be inevitable.
"Embrace these challenges," Glass said.
Dean of the School of Health Sciences Brent Arnold said the pandemic has emphasized the importance of frontline health care workers like themselves.
---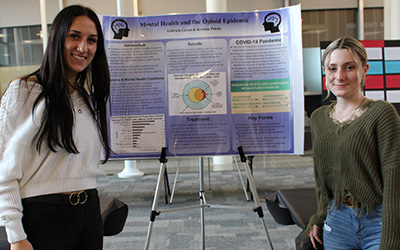 Pop-Up Museum Educates on Opioid Epidemic
While mental health is at an all-time low, the drug epidemic is at an all-time high, with more than 100,000 overdose deaths between April 2020-21, according to the Centers for Disease Control and Prevention.
Gabriela Grossi and Kristina Palella, Stockton University students, were shocked to see how drug addiction skyrocketed during the pandemic. But as students in Associate Professor of Business Studies Kerrin Wolf's Drug Epidemics class, they helped raise awareness of drug addiction with a pop-up Opioid Epidemic Museum in the C-D atrium.
---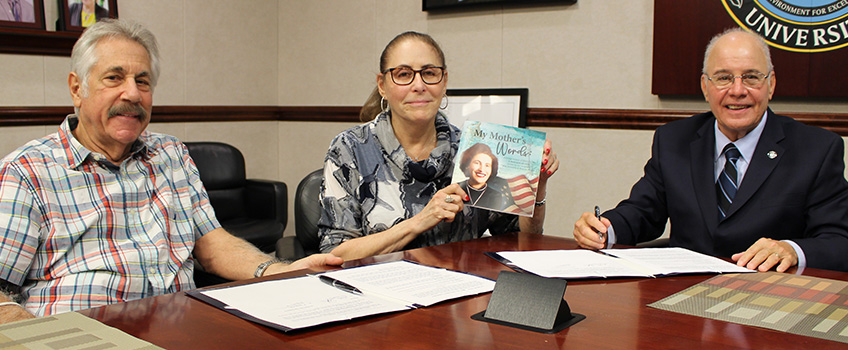 Daughter Shares Mother's Holocaust Lessons
Helen Fassler had an anecdote for every life situation.
A Holocaust survivor, she shared her stories with family not just so the history would be preserved, but also because of the gratitude she felt at being able to immigrate to America.
"I heard her stories my entire life," said her daughter, Rita Fassler Stromfeld of Linwood. "I thought it was normal, but my friends would say 'you should write that down.'"
---
Symposium Addresses N.J. Food Access and Equity
New Jersey needs to bolster food access and equity to underserved communities as well as heighten awareness about farming, nutrition and the resources available to help people, speakers said at the first N.J. State of the Food System Symposium hosted Dec. 3 by the New Jersey Food Democracy Collaborative (NJFDC) and Stockton University.
Douglas Fisher, N.J. Department of Agriculture Secretary, said the state has 10,000 farms and hundreds of major food processors and infrastructure for shipping. "But improvements are needed regarding how we distribute food to the underserved communities," Fisher said.
FRAME-WORTHY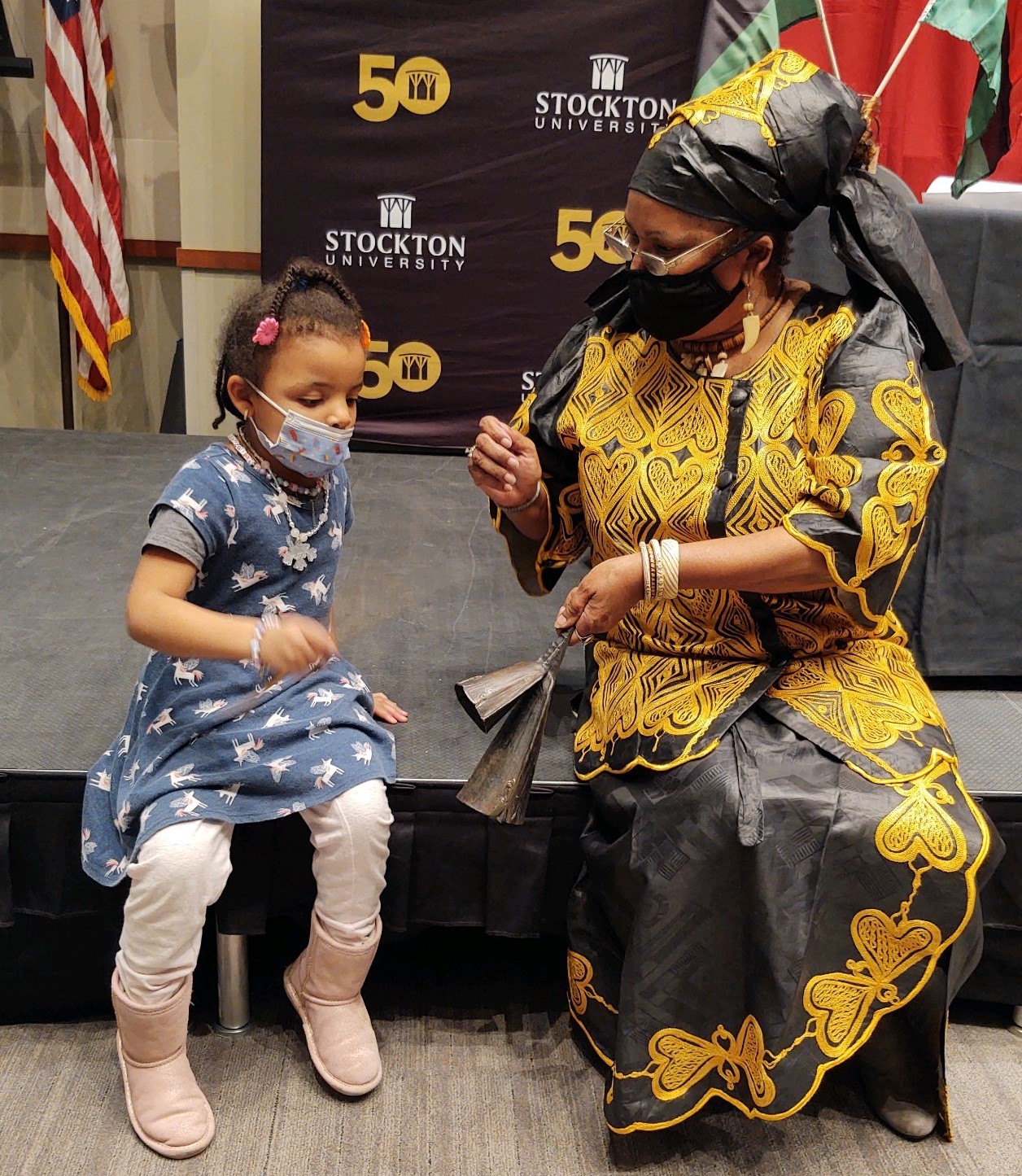 Pre-Kwanzaa Celebration Brings Community Together
On Dec. 3, students, faculty, staff, parents and community members attended Stockton's 46th Annual Pre-Kwanzaa Celebration, sponsored by Unified Black Students Society (UBSS) and the Africana Studies Program.
Pictured, Patricia Reid-Merrit, Distinguished Professor of Africana Studies and Social Work and program coordinator, teaches four-year-old Jayla (Donaldson) Grasty how to play the African go-go bell.
WHAT'S TRENDING @ #STOCKTONU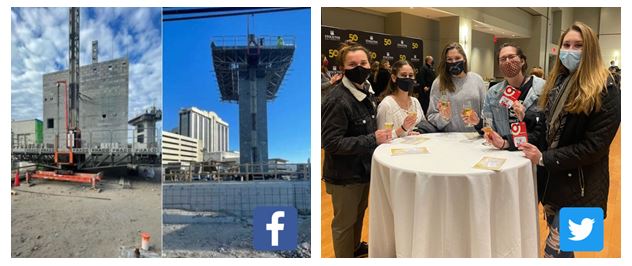 Facebook:#TransformationTuesday: Phase II of Stockton AC is on the rise!
Twitter:Congratulations to all Ospreys finishing their degree requirements this month! Students toasted their success at the Dec. 9 Grad Toast. Cheers to you, graduates, and your future success! 🥂
FROM THE SIDELINES
Stockton's 50 Greatest Athletes, Part 1
Stockton Athletics has a rich history that dates back practically to the inception of Stockton University. Osprey teams and student-athletes have achieved success at the highest levels of NCAA Division III, winning national championships and earning All-American honors. Thousands of student-athletes have worn a Stockton uniform as the intercollegiate athletics program has grown to its current plateau of 19 sports.
In conjunction with the 50th anniversary of Stockton University, Stockton Athletics has chosen its 50 greatest athletes. Here is part one, with the honorees listed alphabetically.
Palumbo Named to Synapse Sports All-Rookie Team
FIELD HOCKEY: Stockton University freshman Alexandria Palumbowas named to the All-Rookie Team by the website Synapse Sports. The recognition added to NJAC First Team and NFHCA All-Region IV Second Team accolades that Palumbo previously received.
Palumbo produced an outstanding freshman season in which she scored 10 goals for 20 points, both second on the Ospreys. The rookie became the seventh different Stockton player in program history with a double-digit goal total in a season. Palumbo also tied for the team lead and fourth in the NJAC with three defensive saves.
🗓️ View the full schedule of upcoming athletic events here.
WE'RE HERE TO HELP
COVID-19 Information
NEW: Information on leave time allowed if a child's school closes is on the Return to Campus FAQ link for faculty, staff and student workers.
👉 Employees who get a booster vaccine may now add that information to their vaccination status through the portal on the Stockton website at go.stockton.edu/employee.
Learn more about booster shots and scheduling:
OSPREY NOTES
Add Your Photo to Stockton's 50th Anniversary Mural
A Polaroid snapshot, an image on your phone's camera roll or a page from a photo album could become part of a large-scale mural on the Galloway campus that celebrates Stockton's first 50 years. Hundreds of images from our archives and submitted by you will be curated into an interactive collage that will reveal a bigger picture coming to the Campus Center in March 2022. The rest of the details are a surprise.
A photo of your time at Stockton may seem like a passing moment, but collectively it helps us tell Stockton's story.
The committee is looking for images of students, faculty and staff in the community, in class and at work as well as images of alumni events, student organizations, Greek Life, Student Senate, Faculty Assembly/Senate and staff unions.
Submit your photo here.
Celebrate Diversity: December Issue of the Stockton CCDIE Digest
The latest issue of the Celebrate Diversity Digest is available now, featuring articles about campus diversity, equity, inclusion and social justice initiatives. Read the full issue here.
Day of Scholarship 2022: Call for Applications
Day of Scholarship applications are being accepted now through Feb. 25 and can be submitted by visiting here.
Day of Scholarship 2022 will be held in-person and virtually from 9 a.m.-1 p.m., Thursday, April 7. If you have any questions, email Ronnie Maiorino at ronnie.maiorino@stockton.edu.
---

Stockton memories, past and present . . .
"I loved my time at Stockton (RSCNJ at the time!)- my classes, the environment, and the campus made me feel at home. Stockton helped me to find my voice: I joined clubs, forged lifetime friendships and was a founding sister of ZTA. Although my life took me in a different direction and I wound up transferring, I will always reflect fondly on my time at Stockton; it helped put me on the path of true self-discovery."
- Melissa Alwin
Have a memory you'd like to share in celebration of Stockton's 50th anniversary? Submit it here.
UPCOMING EVENTS