Stockton News - Dec. 16, 2022
WHAT WE'RE TALKING ABOUT

Pop-Up Museum Focuses on People Behind the Addiction
Steven Rivera was a freshman at Coastal Carolina University when he received the call that changed his entire perspective on life.
"My dad called me and told me that my uncle I was really close to passed away from an overdose," Rivera recalled. "I was standing in the pouring rain. I remember it like it was yesterday."
The senior Criminal Justice major had no idea how much of a hold addiction had on his family.
"My mom was like, 'Oh, that's nothing,' and told me everything else with her, my aunt, my uncle. It changed the way I look at everything."
Rivera, along with many of the students in the Drug Epidemics course, had no clue how bad the opioid epidemic is in the United States prior to the class. According to Joe Faldetta, course instructor and director of Prevention Services at Cape Assist, 100,000 lives were lost in 2021 to addiction.
---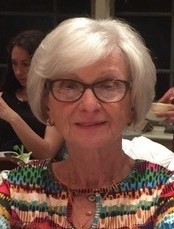 New Classroom Honors Local Holocaust Survivor
Students taking courses in a new classroom at the Sara and Sam Schoffer Holocaust Resource Center at Stockton will learn the story of an inspirational Holocaust survivor from South Jersey. The room, dedicated by Norman and Micki (Kosden) Massry, honors the legacy of Micki's mother, Claire.
"Claire came to this country in 1950 after living in London, having fled from occupation in Czechoslovakia in 1938," said Gail Rosenthal, director of the Center. "She came to the United States as a teenager and had to adapt to a new way of life. Our students will hear Claire's story and be inspired to overcome the obstacles in their own lives."
---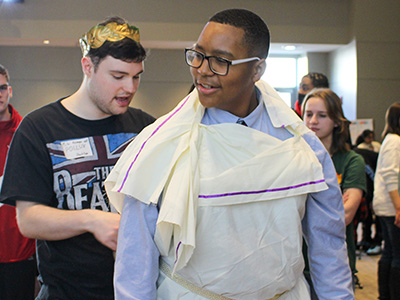 Local High Schoolers Learn the Classics
About 200 high school students came to Stockton for a day full of ancient Latin and Greek on Dec. 12.
Latin Day was developed by Katherine Panagakos, assistant professor of Classics, to introduce Stockton's Classics program to area high school students studying Latin. Students in both her Latin and Ancient Greek classes run the stations that the high school students visited.
Stations included the return of the classics, like learning ancient and modern Greek, traditional toga tying and ancient Roman board games, and new additions, such as ancient divination, learning mythology and trivia through Kahoot.
---
📊 Lack of local news = less civic engagement: The decline in local news coverage has left many in New Jersey feeling unprepared to make informed voting choices or to get involved in civic activities, according to a Stockton poll released Dec. 15.
STOCKTON UNIVERSITY ATLANTIC CITY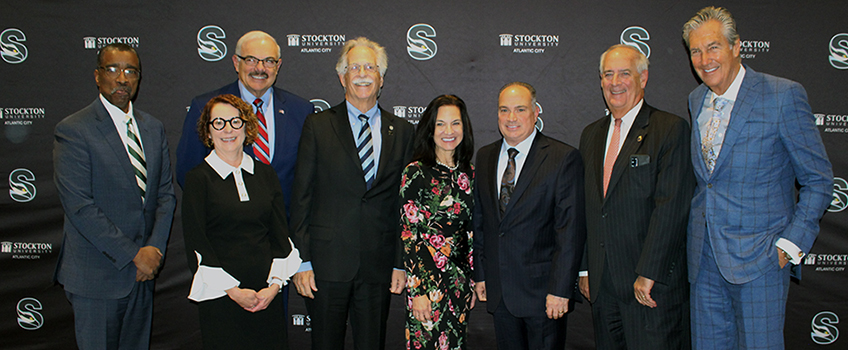 Panel Celebrates 45 Years of Legalized Gaming
There may be some debate whether the arrival of casinos in Atlantic City 45 years ago has completely fulfilled its promise, but there's no doubt gaming has completely transformed the resort and will continue to do so in the future.
That was the primary message from a panel discussion titled "Celebrating 45 Years: Legalized Casino Gaming in New Jersey" that was held Dec. 8 at Stockton's Atlantic City campus by the Lloyd D. Levenson Institute of Gaming, Hospitality and Tourism (LIGHT).
"There are a tremendous amount of people who have made a life for themselves that they otherwise wouldn't have had an opportunity to do by working in an industry that provides jobs with salaries and things that they never expected in the town that existed here in 1977," said Michael C. Epps, currently a solicitor for the city, but was the first Atlantic City native to serve as a New Jersey Casino Control Commission (CCC) member.
SPOTLIGHT ON: TARA WILLIAMS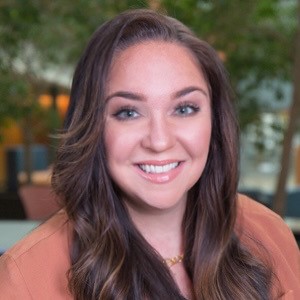 Tara Williams has been part of the Stockton community since 2006 when she began as assistant director of Alumni Relations and the Annual Fund. In 2009, she joined the team in Graduate Admissions and has been there ever since, taking on different roles and responsibilities, and currently serves as the director of Graduate Admissions.
Williams was recently selected as a 2023 Lead New Jersey (LNJ) Class Fellow. Each year the program accepts a new cohort of Fellows, and they engage in a year of networking events, learning sessions, seminars and other educational opportunities that culminate with a graduation ceremony in December.
"Lead New Jersey opens challenging possibilities to a highly select group of Fellows to learn the cutting-edge issues that shape our lives, to link directly with talented leaders who are making improvements around New Jersey, and to lead as a champion of their own most cherished ideas and values," Williams said.
FRAME-WORTHY🩺🦅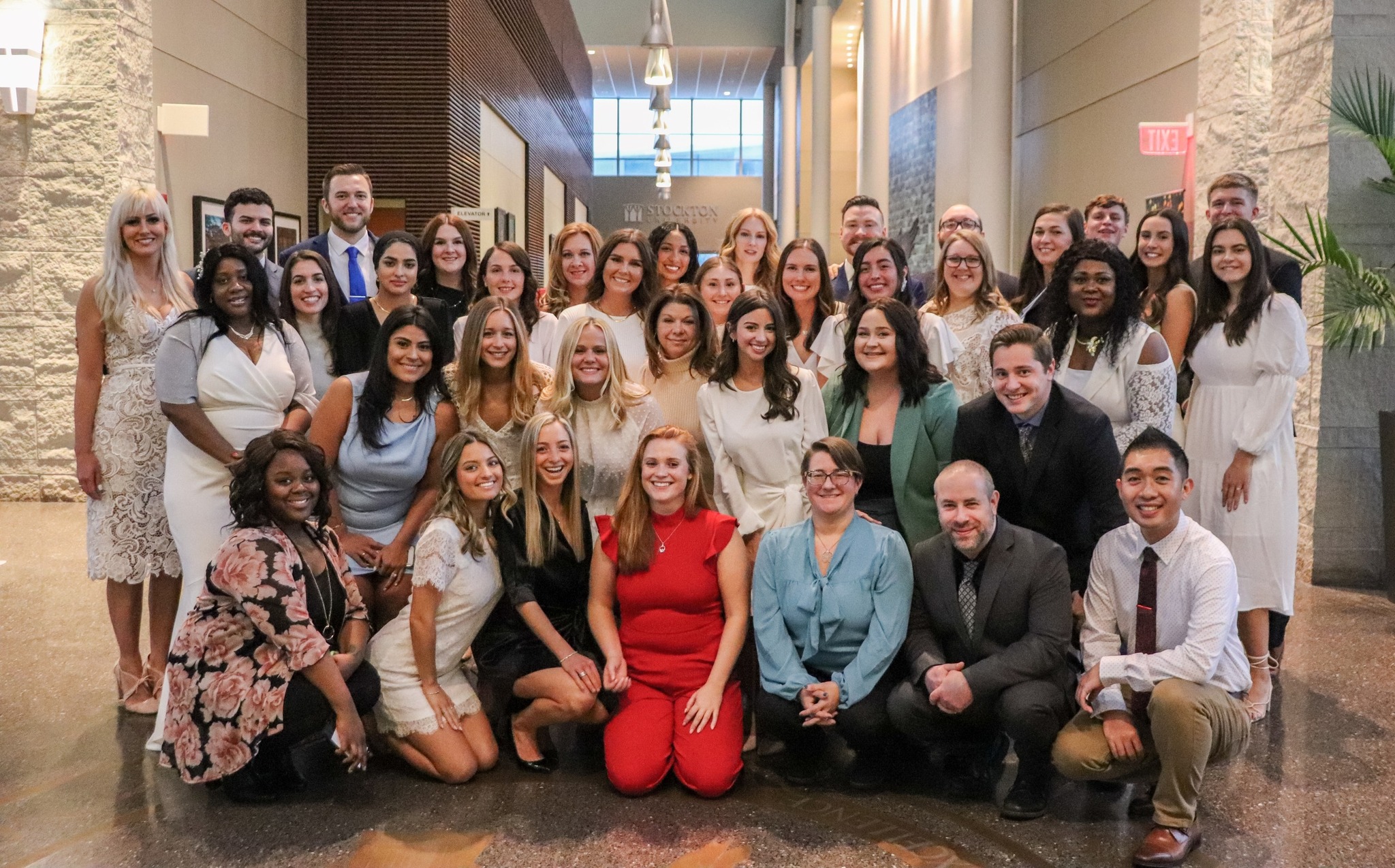 Congratulations to the 39 Ospreys in our Accelerated Bachelor of Science in Nursing program who received their pins and took the pledge Thursday, Dec. 15.
WHAT'S TRENDING

@ #STOCKTONU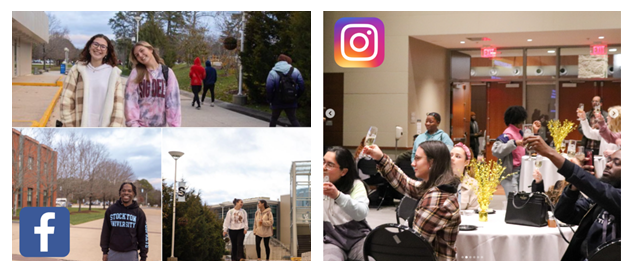 Facebook: You're in the home stretch!
Instagram: Cheers to our December graduates! 🥂 Last week's #GradToast had food, fun, prizes and heartwarming words of encouragement for our Ospreys leaving the nest.
FROM THE SIDELINES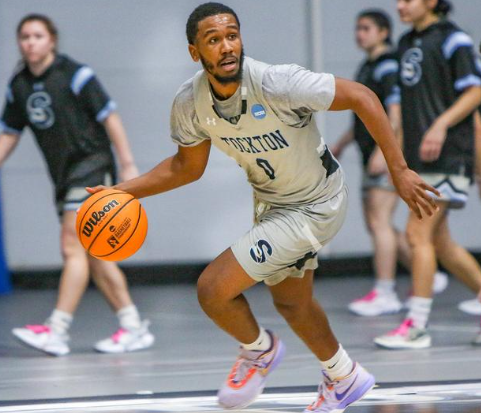 Stockton Extends Win Streak with 76-63 Win
The men's basketball team ran their winning streak to five straight games with a 76-63 victory over William Paterson University on Dec. 10. DJ Campbell topped all players with 21 points on the day.
Stockton took an early lead, but a 7-0 run by the Pioneers erased it to give the visitors an 11-8 edge at 12:34 of the first half. William Paterson extended the lead to six at 23-17 with 8:19 remaining before the Ospreys scored 20 of the next 25 points to take a 37-28 advantage into the locker room.
---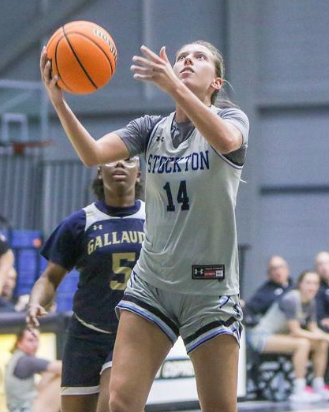 Stockton Holds Back Pioneers 51-38
The women's basketball team used a smothering first half defense tocapturea 51-38 win over William Paterson University on Dec. 10. Freshman Lauren Winant led the Ospreys with career highs of 11 points and eight rebounds in the game.
Stockton opened a 16-10 lead after one quarter as Adriyana Jennings scored five points in the frame. The Ospreys extended the margin to 33-18 after 20 minutes of play, holding down the Pioneers on 4-14 (28.5%) shooting.
---
🗓️ View the full schedule of upcoming athletic events here
OSPREY NOTES

Tune into the December episode of Stockton Now at 11 a.m. on Saturday, Dec. 17 on 101.3 FM, 101.9 FM or 1310 AM. The episode will also air on WLFR Monday afternoon. This month's episode includes conversations with President Kesselman on his decision to retire in 2023; Jovin Fernandez, director of the Multicultural Center, talking about the center and what she envisions in the space; and Matthew Bonnan, professor of Biology, shares his music written during his sabbatical.
If you missed previous episodes, you can listen online at the Stockton Now archive page.
UPCOMING EVENTS
🌱 Dec. 17: Cannabis Aid Event
❄️Dec. 24-Jan. 2: Holiday Break
Jan. 13-16:29th Annual Winter Poetry & Prose Getaway
Jan. 16: MLK Day of Service
📚 Jan. 17:Spring Semester begins
---
🎨 ICYMI: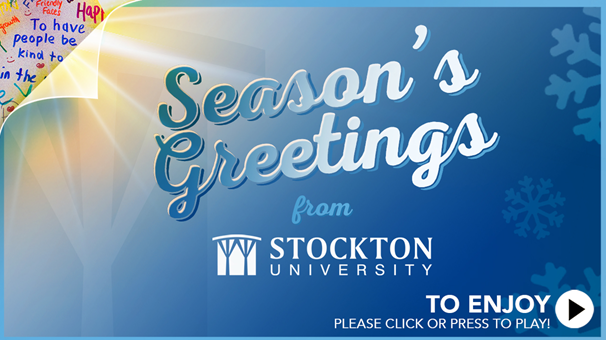 Please submit your office or department's holiday greetings to UniversityRelations@stockton.edu to be included on the holiday messages website.