Stockton News - Friday, Dec. 13, 2019
WHAT WE'RE TALKING ABOUT
LoBiondo Exhibit Highlights Congressman's Career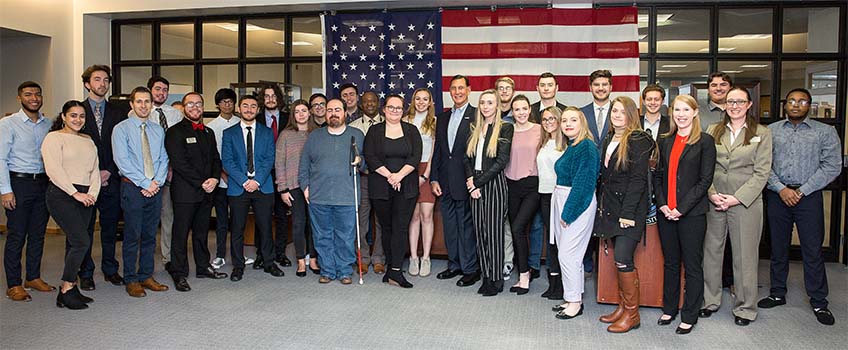 Stockton University student Michael Ortiz of Millville is majoring in social work and is interested in how public policy is developed.
He said his work on an exhibit of how retired U.S. Rep Frank LoBiondo developed overwhelming bipartisan support for a Bulletproof Vest Grant law was a real-life lesson in effective governing.
"To see how he worked to get the job done was inspirational," Ortiz said at the opening of a new exhibitat Stockton dedicated to LoBiondo's career.
The exhibit, using items from the collection LoBiondo gifted to Stockton, highlights 10 themes from his 35-year career in public service: Background, Aviation, John's Law, Bulletproof Vest Grants, Intelligence, 9/11, Coast Guard, Envrionment, Challenge Coins and Relationships in Congress.
The exhibit was prepared by 32 students in Assistant Professor of Political Science Claire Abernathy's "President and Congress" class.
The Press of Atlantic City covered the opening of the exhibit.
PHOTO: Retired U.S. Rep Frank LoBiondo, center, with the class that created the exhibit.
---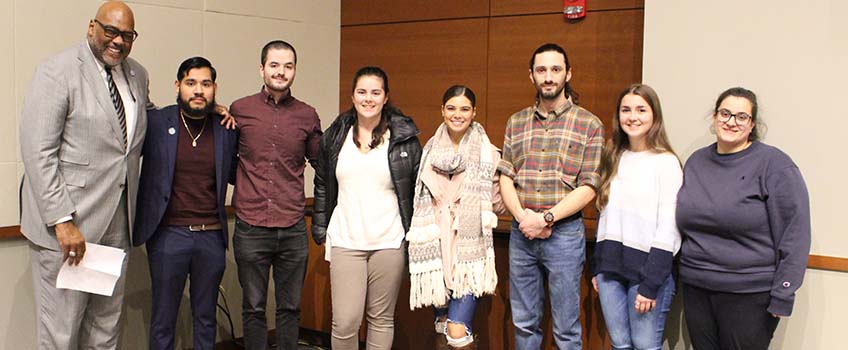 Eight Students Receive Research Fellowships at Board Meeting
Eight students have been awarded Stockton Board of Trustees Fellowships for Distinguished Students for projects of a research or creative nature.
The recipients of the awards for the winter break/spring 2020 semester were recognized at the Dec. 4 board meeting. They are Christian Adams, Vivian Cho, Donald T. Fuorry, Kevin Gil-Clara, Shanna Asta, Brooke Galliano, Jalynn Pagano and Christian Triantafillou.
Additionally, President Harvey Kesselman and the Board of Trustees also honored two members of the Stockton community, Adriana Rodriguez-McAllister and Dr. Damon Greene, who assisted victims at the shooting at the Pleasantville High School football game last month. Read more highlights from the meeting here.
PHOTO: Assistant Vice President Stephen Davis with seven of the eight students who received Fellowships for Distinguished Students.
STOCKTON UNIVERSITY ATLANTIC CITY
Stockton Singers Share Talents in A.C. Shows
The Highest Priase Gospel Choir, a Stockton club dedicated to worship through the art of song, sang backup for Mariah Carey at her "All I Want for Christmas" concert on Dec. 7 at the Hard Rock Hotel and Casino in Atlantic City.
Carey's agent contacted Stockton after learning there were several notable singing groups on campus while searching for a gospel choir for the show.
Stockton's School of Arts and Humanities shared photos of the performance in a Facebook post.
On Dec. 8, members of the Stockton Oratorio Society, under the direction of Beverly Vaughn, professor of music, performed the Christmas portion of George Federic Handel's "Messiah" at the Borgota Event Center. This was the 16th biennial performance of the piece.
The choir included Stockton students, community members and local choirs.
The Press of Atlantic City shared a preview of the performance.
SPOTLIGHT ON
SCOSA Time to Tell Manahawkin Memoir Writers Publish Anthology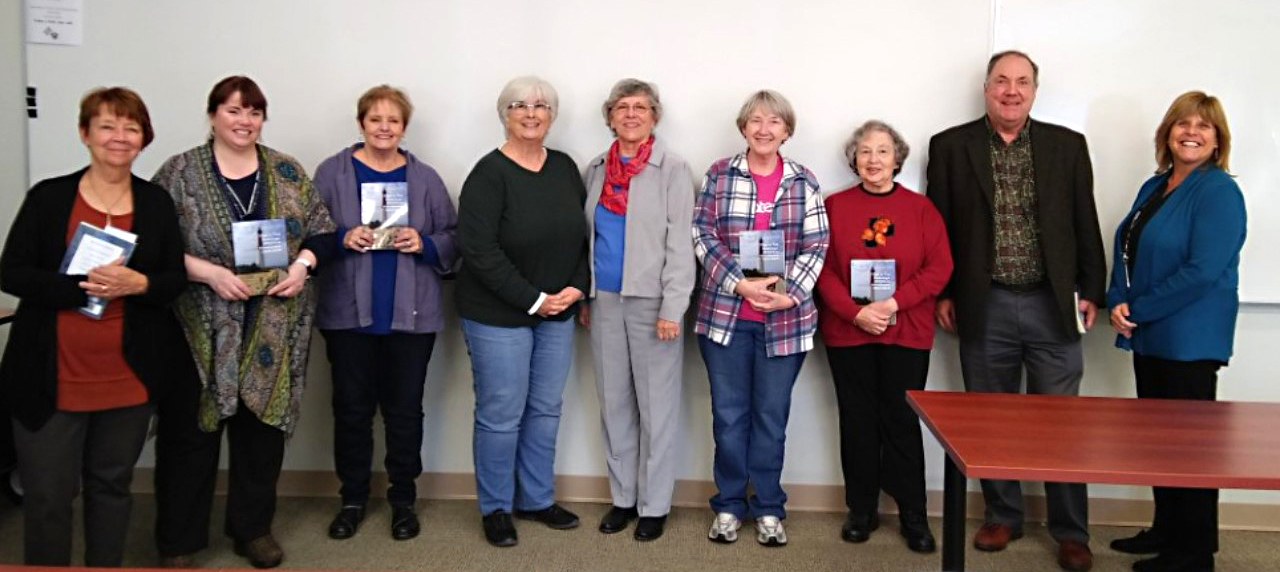 Stockton Center on Successful Aging (SCOSA) and Stockton at Manahawkin staff celebrated the publication of an anthology on Nov. 4 that included pieces by eight members of SCOSA's Time to Tell group.
Under the direction of Gina Maguire, professional services specialist at SCOSA and adjunct professor of Gerontology, the authors worked together for the past few years honing, editing and compiling their writing for the anthology. The recent celebration included readings from the book and discussions of future works.
"I developed the Time to Tell program in 2011 with Anita Beckwith (former SCOSA staff), a combination of James Birren's Guided Autobiography work and my own genealogical studies," said Maguire. "This anthology includes four years of memoir writing from eight women. These stories are not only deeply personal, but also speak to the larger audience."
PHOTO: Pictured from left to right: Mary Blakeslee, Maguire, Regina "Sue" Hofer, Cathy Cowing, Caroline Jordet, Shawn Cseh, Norma Hochman, David Burdick, director of SCOSA and professor of Psychology; and Michele Collins-Davies, director of Stockton University Manahawkin.
FRAME-WORTHY
Students' Sustainability Marketing Videos Offer Green New Ideas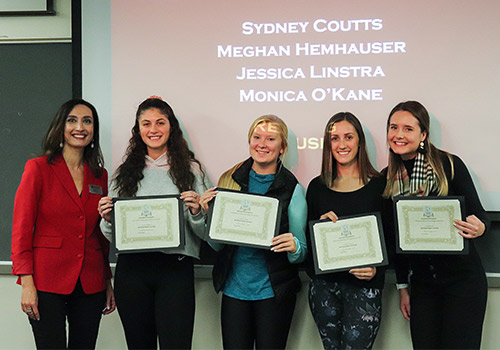 What's the most sustainable way to pack a sandwich?
Students Monica O'Kane, Jessica Linstra, Sydney Coutts and Meghan Hemhauser's video, titled "Reusing," showed how individual actions matter in a video that won first prize at the Sustainability Marketing Video Awards on Dec. 10.
Every year, students in Assistant Professor of Business Studies Naz Onel's Sustainability Marketing class create videos relating to different aspects of sustainability and present them at a free, open to the public showcase, where audience members vote for their favorite.
View the first place and second place videos on Stockton's YouTube channel.
WHAT'S TRENDING #STOCKTONU
Facebook: Stockton's Resiliency Project shares personal stories of mental health to show others that they are not alone. This year, three brave students have broken the silence with the hope that their voices will decrease stigma and help prevent suicide
Facebook: Don't lose your marbles over exams and final projects. Build a giant marble track instead. Students were invited to join Professor of Art Jedediah Morfit and his class in the creative and stress relief activity on Dec. 11. This Instagram highlight shows the final piece.
FROM THE SIDELINES
Men's Basketball Leads Start to Finish in Fourth Straight Win, 93-72
Stockton University (6-2) shot 48.3 percent from three-point range and led from start to finish in a 93-72 victory over Rowan University (3-4), their fourth straight win. Five Stockton players scored in double figures, including Kyion Flanders who scored a career-high 22 points.
MORE FROM THE HIGHLIGHT REEL:

The Women's and Men's Basketball teams play William Paterson University (home) on Dec. 14. For upcoming sports games, check out the schedule. Go Ospreys!
OSPREY NOTES
NJECC Campaign Underway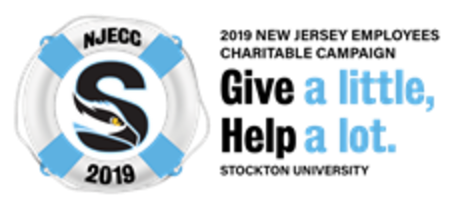 The New Jersey Employees' Charitable Campaign is underway and runs through Dec. 31, supporting over 800 charities.
If you plan to make a gift through payroll deduction, you can register and donate through the NJECC online giving portal or fill out a paper pledge form. If you plan to make a one-time donation, please fill out a paper pledge form. Email stocktonnjecc@stockton.edu or stop by Human Resources (J115) to request a paper pledge form.
UPCOMING EVENTS