Stockton News - Dec. 10, 2021
WHAT WE'RE TALKING ABOUT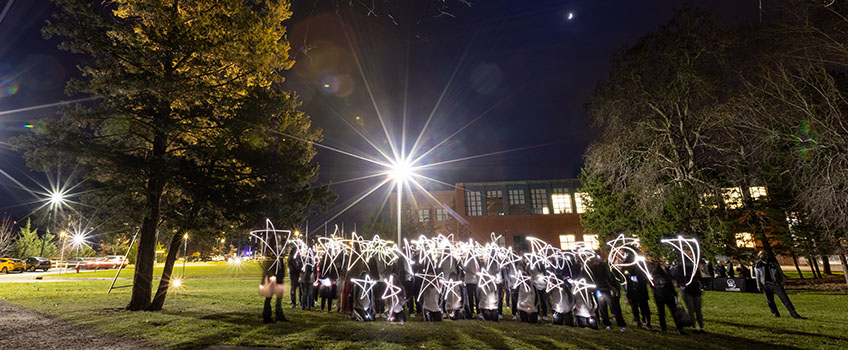 A New "Tree-dition" Takes Root by Lake Fred
🌲 Stockton has a new winter "tree-dition."
On Dec. 9, 1970, a small cedar sapling was planted on the Galloway campus as part of the groundbreaking ceremony for the new Stockton State College.
On Dec. 8, 2021, students, faculty and staff gathered at the site as a plaque was unveiled commemorating the event at the first "Winter Tree-dition."
Guests sipped hot chocolate and cider, and bundled up in black and gold Stockton 50th anniversary scarves, as Student Senate President Brianna Bracey, President Harvey Kesselman and Board of Trustees Chair Raymond Ciccone unveiled a plaque, which will be installed by the tree located near Lake Fred behind the Arts and Sciences building.
---
Perskie Family Expands Scholarship Endowment
The Hon. Steven P. and Barbara Perskie of Margate, and their children and spouses, Joseph and Pamela Perskie, David and Amy Perskie, and Bethany Perskie and Jason Shelly, have expanded a Perskie scholarship endowment at Stockton University.
The newly named Perskie Family Endowed Scholarship will incorporate and increase funds from the Marvin D. Perskie Memorial Scholarship that Perskie endowed in 1982 in honor of his uncle, a former state Assemblyman.
📰 In the News:Downbeach.com
---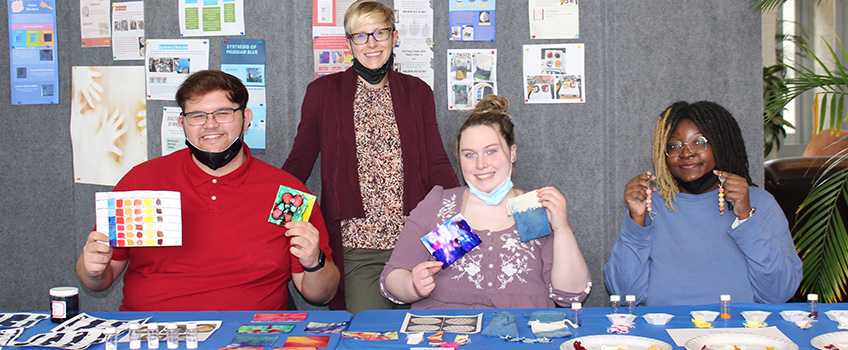 Students Learn the Chemistry of Art
Chemistry can be a daunting subject for some, but Stockton University Professor Sarah Gray has taken on the challenge to make it not only interesting but fun for her students.
Gray developed the course Chemistry in Art, which teaches the fundamentals of chemistry while creating beautiful works. For the end of the semester projects, students held a showcase on Dec. 2 in the Campus Center to show the projects and explain what they learned.
---
LIGHT and Tourism Association Launch New Certificate Program
The Lloyd D. Levenson Institute of Gaming, Hospitality and Tourism (LIGHT) at the Stockton University School of Business is partnering with the New Jersey Tourism Industry Association (NJTIA) to offer a new online certificate program designed for employees looking to advance in the industry.
The program is scheduled to launch in January and includes four core courses and a series of electives. All are available online. Participants can work at their own pace, taking individual courses or earning the certificate by completing the full series.
STOCKTON UNIVERSITY ATLANTIC CITY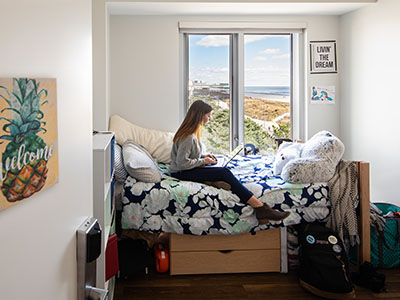 Discount Offered on Summer 2022 Courses
Stockton University is offering a special summer tuition and housing package for students who want to live, learn and earn at the Jersey shore this summer.
Stockton will offer a 20% discount on undergraduate tuition and fees during the 2022 summer sessions for students who live in the Stockton Atlantic City Residential Complex for the summer.
The Board of Trustees approved the discount at the Dec. 8 meeting.
The goal is to give college students the opportunity to live and work in the Atlantic City area during the summer while also continuing their education.
FRAME-WORTHY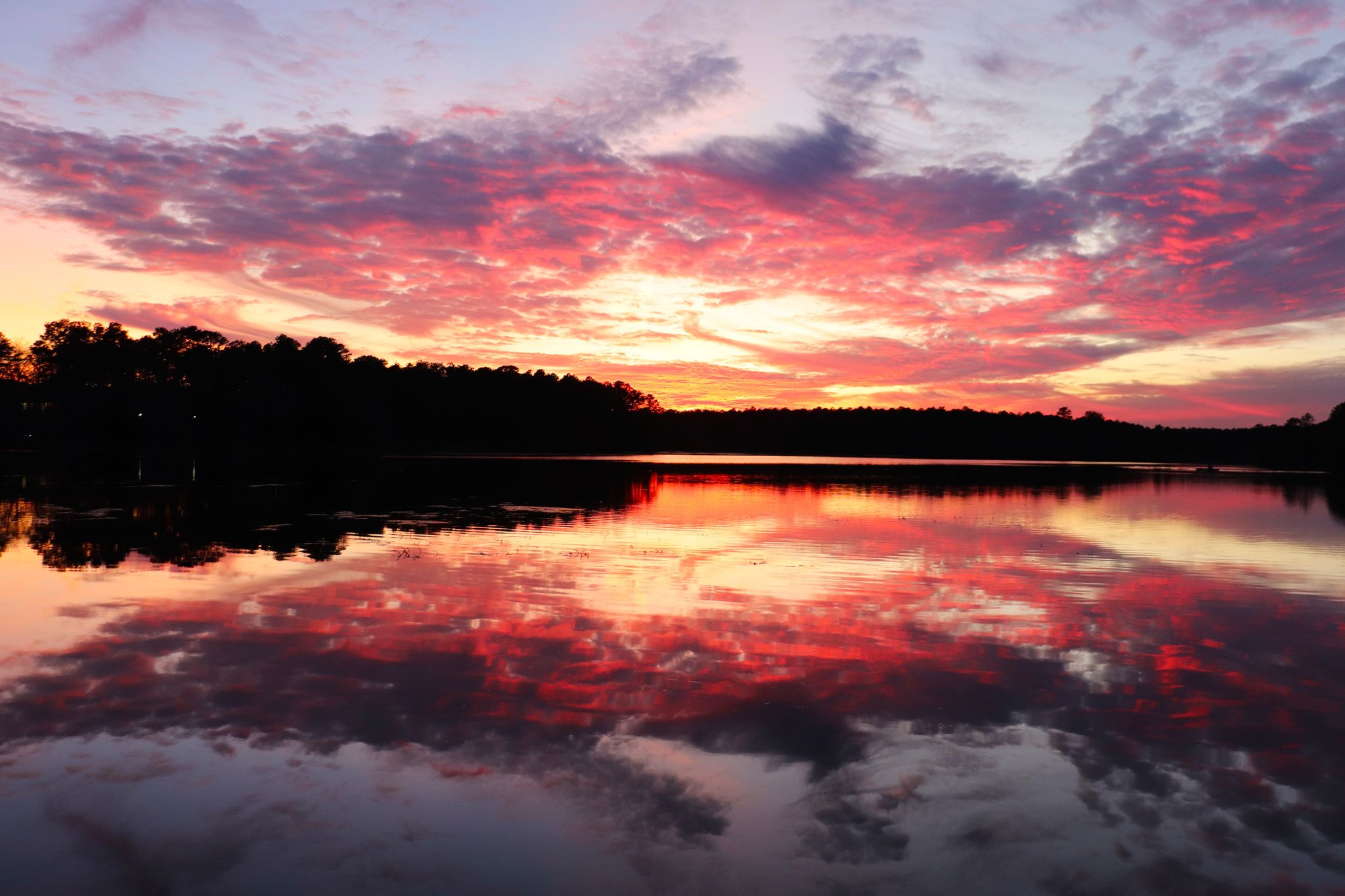 ✨Sugar Plum, Cranberry Hues Dance Over Lake Fred
Last night's (Dec. 8) sunsetwas a treat...can we stay in this moment for a while? 😍
WHAT'S TRENDING @ #STOCKTONU

Facebook:#StocktonTBT: On this day in 1970, Stockton planted a cedar tree at a groundbreaking ceremony to symbolize the start of a new college and the growth ahead.
Twitter:The Ospreys are on fire! Our men's basketball team has only one loss! While our women's team got off to a rocky start, they've rallied to win 3 of the last 4 games.
Instagram:Vakaz Akram aspires to serve as a Registered Nurse Anesthetist in the U.S. Navy.
FROM THE SIDELINES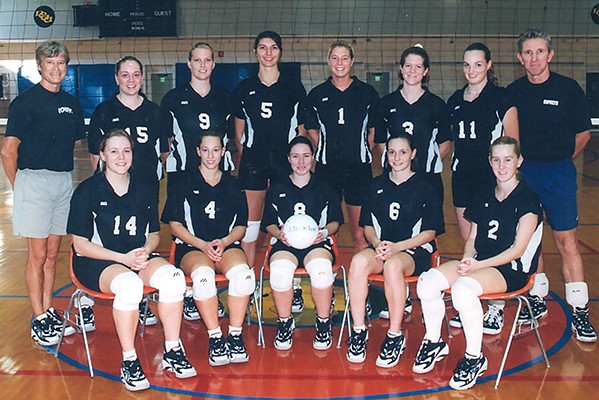 Volleyball Program Has Impressive History of Success
Volleyball is a sport that doesn't always get a lot of headlines or isn't often put in the spotlight. But with the addition of great players over the years, combined with talented coaches, Stockton has built a winning program worthy of attention.
The volleyball team has advanced to the NCAA Tournament 12 times, the first time in 1999. It has also won New Jersey Athletic Conference championships 14 times, including eight in a row from 2008 to 2015.
Stockton Athletics Hall of Famer Sue Newcomb was an important piece of the puzzle. Newcomb coached four women's sports teams at Stockton during a time when Stockton was in its formative years in sports. In fact, she was the first head coach in the history of all four sports she coached -- volleyball, softball, field hockey and women's basketball. With volleyball, she won 362 matches, a New Jersey Athletic Conference title and an ECAC title in her 23 seasons.
---
🏀 Men's, Women's Basketball Teams Have Victorious Week
The Men's Basketball Team remained unbeaten in NJAC play with a convincing 75-55 victory over The College of New Jersey (5-3, 2-2 NJAC) on Dec. 8. Luciano Lubrano led a trio of Ospreys in double figures with a game-high 20 points.
The Women's Team shared in the winning night, using strong defense late in the game to pull out a 58-55 victory over The College of New Jersey. Freshman Madison LaRosa led a trio of Ospreys in double figures with 16 points. The win by Stockton snapped an eight-game losing streak to the Lions
🗓️ View the full schedule of upcoming athletic events here.
WE'RE HERE TO HELP
Resources Available to Staff, Faculty
📧 Add Yourself to Stocktalk: Stocktalk is an email discussion forum where Stockton employees are able to share a number of topics including birth announcements and obituaries; scholarly tips, tricks and recommendations; approved survey announcements and faculty/staff book releases.
If you would like to join the Stocktalk Distribution Group to receive Stocktalk emails, log into your Outlook account in your web browser and follow the following steps located under "Adding/Removing Yourself From Distribution Groups."
SUPPORT4U: A variety of counseling, referral and consultation services are available to Stockton employees and household members through the Employee Assistance Program. Learn more here.
COVID-19 Information
📍The COVID-19 screening facility has moved to the house at 237 Pomona Road in Galloway (formerly Free to Be), located next to the intramural fields on Pomona Road/Route 575. The hours of operation and the COVID-19 screening facility location in Atlantic City will remain the same.
👉 Eligible employees who get a booster vaccine may now add that information to their vaccination status through the portal on the Stockton website at go.stockton.edu/employee.
OSPREY NOTES
Reverse Advent Calendar Donations for Food Pantry
The Osprey Pantry, in collaboration with Mu Sigma Upsilon Sorority, Inc. and Lambda Sigma Upsilon Latino Fraternity, Inc., is holding another Reverse Advent Calendar donation drive this season to help stock the shelves. View this list of items most needed to serve as a guide.
📦 If your office is interested in participating, emailMonica Viani, program supervisor, to arrange a box to be sent over for the collection. On the last day of the calendar, Dec. 17, someone will come pick up the items you collected.
Additionally, there will be a collection box set up outside the Event Services Office (241), located on the second floor of the Campus Center.
Day of Scholarship 2022: Call for Applications
Day of Scholarship applications are being accepted now through Feb. 25 and can be submitted by visiting here.
Day of Scholarship 2022 will be held in-person and virtually from 9 a.m.-1 p.m., Thursday, April 7. If you have any questions, email Ronnie Maiorino at ronnie.maiorino@stockton.edu.
---

Stockton memories, past and present . . .
"Some of the best memories I have are from my years at Stockton. It was truly an experience that I will always cherish. Who can forget the Lake Pam scenery?"
- Bill Nittinger '87
Have a memory you'd like to share in celebration of Stockton's 50th anniversary? Submit it here.
UPCOMING EVENTS
Upcoming Events Hosted by the Office of Development and Alumni Relations
Office of Continuing Studies offerings
Dec. 10-11:The Nutcracker
📚 Dec. 13-17: Finals Week
Dec. 14: Alumni Conference on Diversity, Equity & Inclusion
Dec. 18:Christmas in Killarney
❄️ Dec. 24-Jan. 2: Holiday Break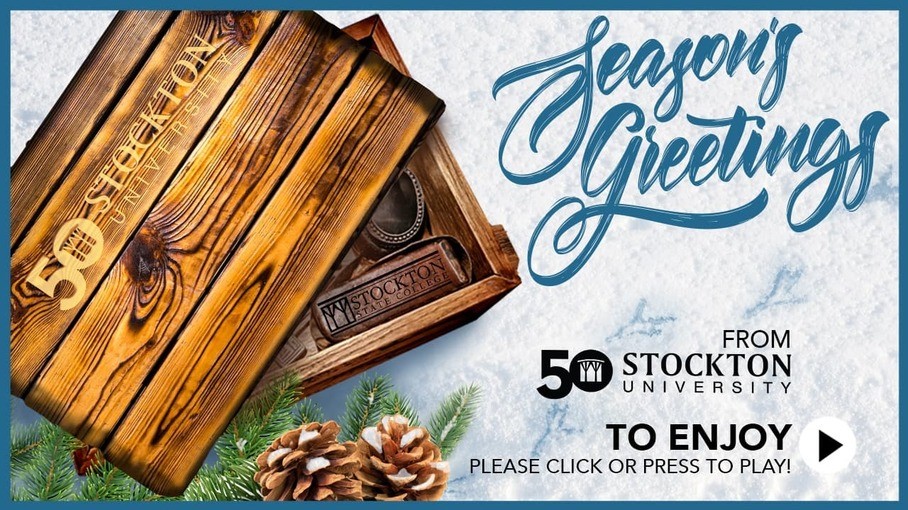 ❄️ Please submit your office or department's holiday greetings to UniversityRelations@stockton.edu to be included on the holiday messages website.