Stockton News - Friday, Dec. 6, 2019
WHAT WE'RE TALKING ABOUT
John F. Scarpa Gives $8 Million to Stockton
Entrepreneur and philanthropist John F. Scarpa has pledged $8 million to the Stockton University Foundation. It is the largest gift in the university's history.
The gift from The John F. Scarpa Foundation, courtesy of John and Jana Scarpa, will target two primary initiatives, Stockton's expansion of academic programs in Atlantic City and the Health Sciences program at the mainland campus, and create an unrestricted fund for other university needs.
In appreciation of this landmark generosity, Stockton will name two buildings as follows: the John F. Scarpa Academic Center on the Atlantic City campus and the John F. Scarpa Health Sciences Center on the Galloway campus.
The Press of Atlantic City, The Philadelphia Inquirer, Diverse Issues in Higher Education, NJ Biz and Downbeach.com covered the story.
---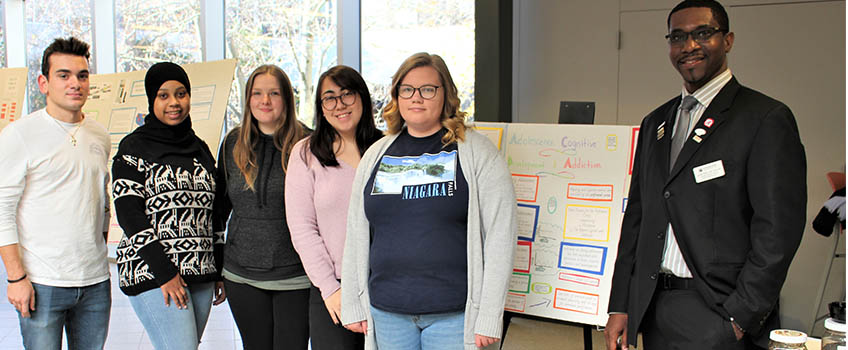 Students Explore Addictions and Related Dangers in Classes
The health risks of smoking have been known for decades. The potential dangers of vaping are just starting to get public notice.
Students in Associate Professor of Nursing Larider Ruffin's Smoking & Vaping Class shared research they did on the topics as part of National Great Smokeout Day on Nov. 21.
"Vaping is common, I see it everywhere," said student Katie Doxsey of Marlton, an education major. "It's much more popular than cigarettes."
Additionally, 25 students in a new class, "Drug Epidemic," presented an
"opioid museum" exhibit
as their final project, that included posters and artifacts on key aspects of the epidemic. The class is taught by Assistant Professor of Law
Kerrin Wolf
and Assistant Professor of Health Science
Michele Previti
who collaborated to bring multiple views to the course.
PHOTO: Associate Professor of Nursing Larider Ruffin, right, with students, shared their projects to raise awareness of the impact of smoking and vaping.
---
Students Shine at Senior Art Exhibition
Alana Reichfeld's grandmother, Louise Gardecki, has spent her entire 88 years in the small town of East Kingston in upstate New York with a population of just a few hundred people.
A photography major at Stockton, Reichfeld is sharing her grandmother's life through her senior art show in the Stockton Art Gallery through Dec. 10.
STOCKTON UNIVERSITY ATLANTIC CITY
Catch a Movie Tonight at Stockton Atlantic City
"Fall Cinema in the City" is featuring "Hustlers" at 8 p.m., TONIGHT, Dec. 6, in the Stockton University Atlantic City residential classrooms B119/120. Attendees are asked to bring their Stockton IDs.
SPOTLIGHT ON
Latourette's Article Cited as Part of 150th Anniversary of Women Practicing Law

Audrey Wolfson Latourette, Distinguished Professor of Business Law at Stockton University, recently had her law article, "Sex Discrimination in the Legal Profession: Historical & Contemporary Perspectives," cited by Aon as part of a collection in Celebrating Women's History Month: America's First Women in Law. This volume was produced to celebrate the fact that 2019 marks the 150th anniversary of women practicing law in the U.S.
"This is a remarkable achievement because Aon services clients worldwide with respect to insurance and brokerage services, including risk management insurance, human resource consulting, outsourcing and workforce productivity solutions," said Alphonso Ogbuehi, dean of the School of Business.
"It is always rewarding to see one's scholarship cited by other authorities, such as law reviews," Latourette said. "To have an international company recognize my work as a part of its celebration of the 150th anniversary of women's admittance to the legal profession in this country is indeed an honor."
FRAME-WORTHY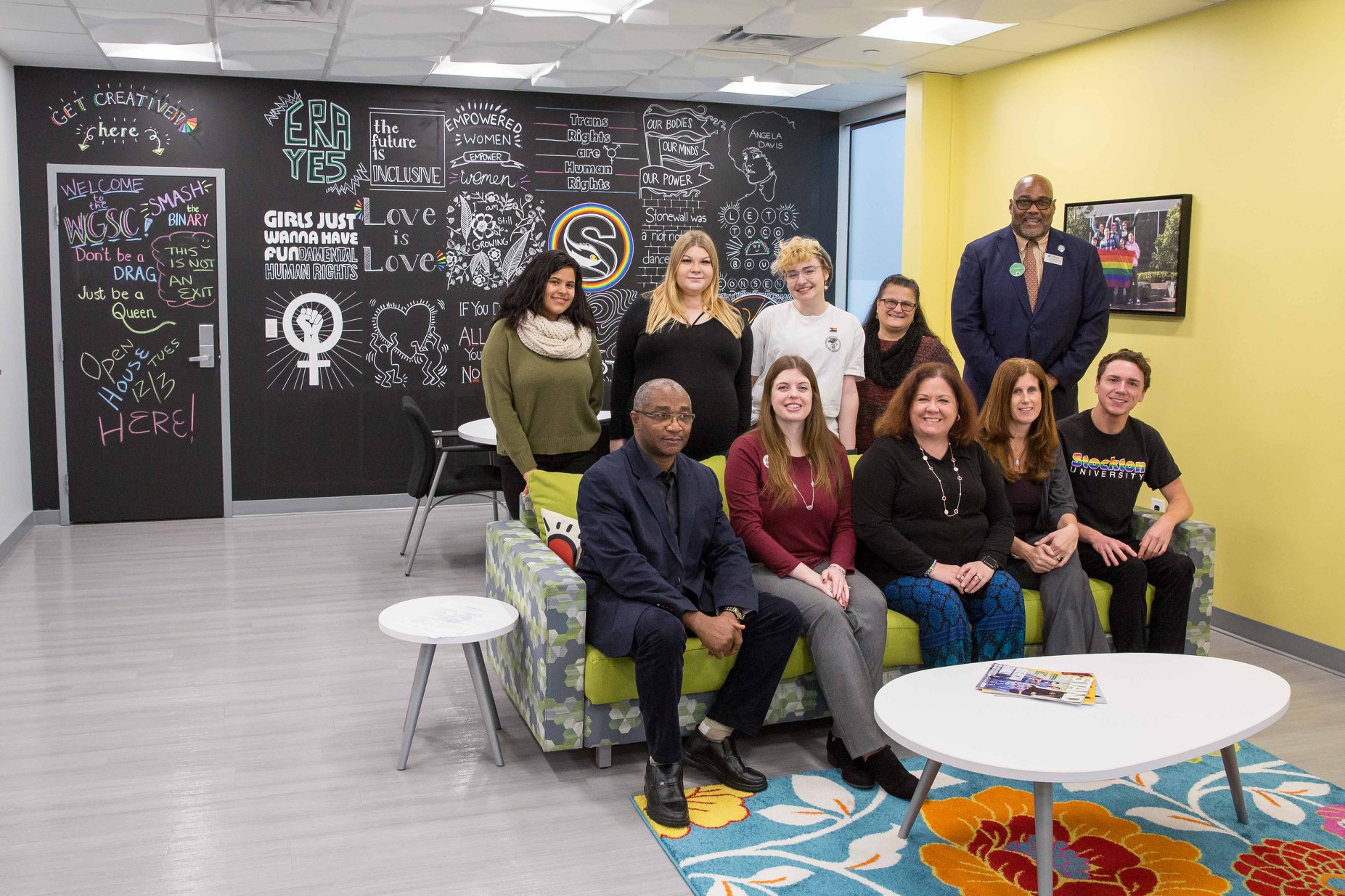 Women's, Gender and Sexuality Center Relocates, Expands
Laurie Dutton points to the message engraved on the door of the new Women's, Gender and Sexuality Center lounge: "All Are Welcome Here."
"This is a center by and for the students," said Dutton, the center's director. "It is a safe space, it supports diversity and inclusion and it is not just for women. It is open to anyone who wants to learn about feminist thinking."
A ribbon-cutting for the new center, in F-103, was held on Tuesday, Dec. 3.
President Harvey Kesselman said students provided the original impetus to have a center, which he called a symbol of what is important to the University.
This tweet highlights Meghan Casper, the artist who created the chalk mural in the center.
WHAT'S TRENDING #STOCKTONU
The Stockton University Equestrian Club horsed around, hosting an Instagram takeover on Dec. 3.
Twitter: Stockton Esports Rocket League team ranks second in the nation by Collegiate StarLeague.
FROM THE SIDELINES
Osprey Student-Athletes Host Sit-Down Volleyball Tournament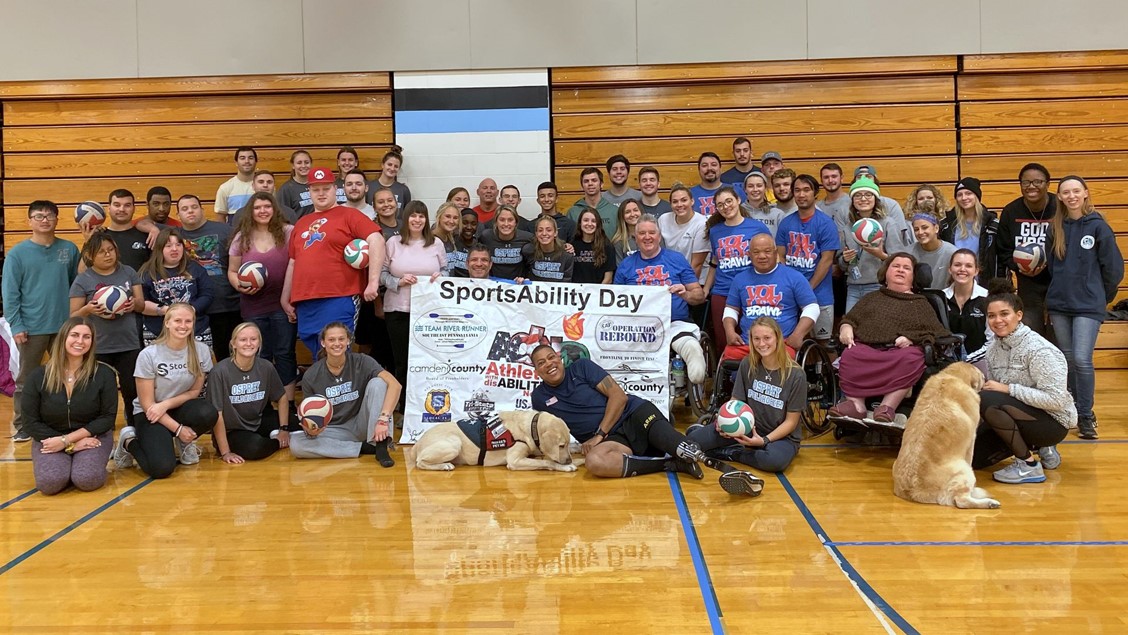 Stockton University student-athletes Dana Bibeault and Nicole Petrovich teamed up with the Athletes with Disabilities Network Northeast Chapter and the Arc of Atlantic County to host a sit-down volleyball tournament in I-Wing Gym on November 8.
Bibeault, a thrower on the Stockton women's track & field team, and Petrovich, an infielder on the Osprey softball team, are minoring in Disability Studies and organized the event as part of their Disability Cultures & Advocacy class. Members of the Stockton field hockey and track & field teams also participated in the tournament.
MORE FROM THE HIGHLIGHT REEL:

The Women's and Men's Basketball teams play Ramapo College (away) on Dec. 7. For more upcoming sports games, check out the schedule. Go Ospreys!
OSPREY NOTES
NJECC Campaign Underway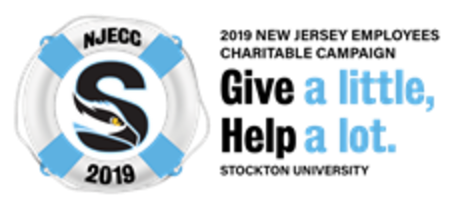 The New Jersey Employees' Charitable Campaign is underway and runs through Dec. 31, supporting over 800 charities.
If you plan to make a gift through payroll deduction, you can register and donate through the NJECC online giving portal or fill out a paper pledge form. If you plan to make a one-time donation, please fill out a paper pledge form. Email stocktonnjecc@stockton.edu or stop by Human Resources (J115) to request a paper pledge form.
UPCOMING EVENTS