Stockton News - Dec. 2, 2022
WHAT WE'RE TALKING ABOUT
Stockton Manahawkin Celebrates 10th Anniversary
It didn't take long for Stockton to have adirect impacton the southern Ocean County community when its Manahawkin location opened ten years ago.
Just a few weeks after opening its doors at 712 East Bay Ave. in 2012, the instructional site faced its first major challenge to "meet students where they live" — Superstorm Sandy.
"We really hit the ground running because Sandy took us all by surprise," said Michele Collins-Davies, the director of Stockton University at Manahawkin.
The storm devasted Long Beach Island and the surrounding communities on the mainland, and Stockton became a source of hope and support for many residents.
"Having Stockton here as a trusted resource that people knew was huge," said Lori Pepenella, CEO of the Southern Ocean County Chamber of Commerce.
---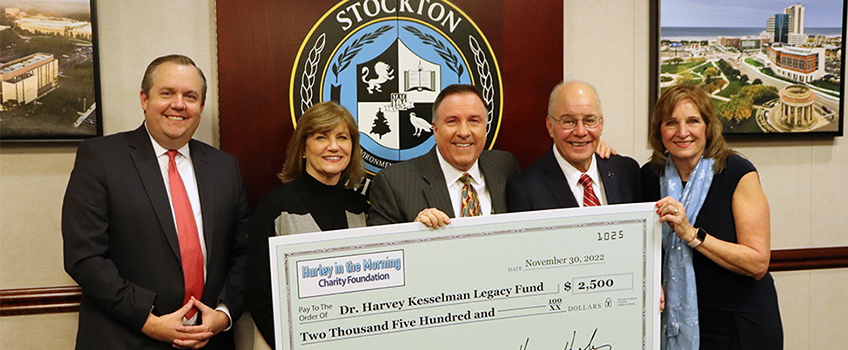 Harry and Margie Hurley Create Kesselman Legacy Scholarship
As a prominent local radio host for more than 30 years, Harry Hurley knows the impact that Stockton and President Harvey Kesselman have had on Atlantic City and South Jersey.
With Kesselman retiring as president in June 2023, Hurley wanted to create something "that would be a legacy to Dr. Kesselman for his entire body of work from student to president."
Hurley and his wife, Margie, donated $2,500 on Nov. 30 through the Hurley in the Morning Charity Foundation to create the Dr. Harvey Kesselman Legacy Scholarship at Stockton, which will be awarded to students starting next academic year.
Hurley hopes the donation will also encourage others to give in honor of Kesselman. Go to stockton.edu/kesselmanfundto contribute.
---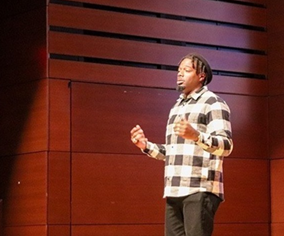 Series Builds Awareness of Power-Based Personal Violence
The topics of consent and interpersonal violence (IPV) are too big for just one perspective. So, Tierra Houston of the Women's Gender and Sexuality Center (WGSC) brought three speakers to Stockton this month to share a range of viewpoints.
Through the state-funded GEER II Grant, Houston has been empowered to, essentially, empower students of color with knowledge surrounding power-based personal violence (PBPV). PBPV is an umbrella term that encompasses domestic and interpersonal violence, stalking, sexual assault and more.
SPOTLIGHT ON: KEITH DIENER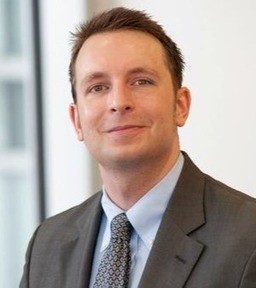 Keith Diener, associate professor of Business Law and Ethics at Stockton, recently published his first book, "The Lawyer's Guide to Business Ethics." It examines the social, ethical, personal and economic forces influencing lawyers' work, explains the rules of professional conduct, and presents real-life ethical dilemmas to enhance learning and assist in finding appropriate outcomes.
Diener, who has taught at Stockton for eight years, said due to COVID-19 delays, it took several years to complete the project.
When asked what he hoped a reader would walk away with after finishing the book, he stated, "That you can simultaneously be a successful lawyer and a good person."
WHAT'S TRENDING

@ #STOCKTONU

Facebook:Physics lessons aren't always equations on the whiteboard. Sometimes you have to design and launch paper airplanes to see how flight works. Professor Neil Aaronson and his class did just that in the I-Wing Gym.
Twitter:SNEAK PEEK of your favorite holiday performance!
Instagram:One week to go, Ospreys, you've got this!
FROM THE SIDELINES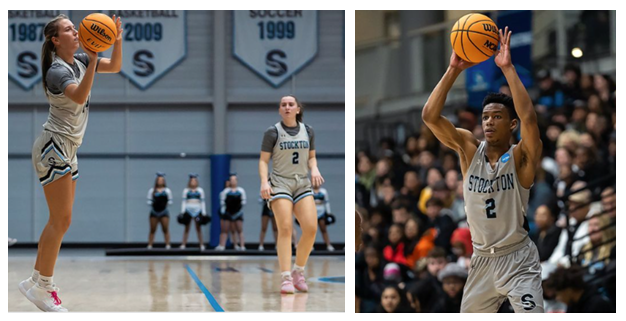 🏀 Men's, Women's Basketball Teams Run by Rutgers-Camden
The men's basketball team used a smothering defense in the first half and cruised to a 75-57 winover Rutgers-Camden on Nov. 30. Kyion Flanders scored the first basket of the game and, in doing so, reached the 1,000-point mark for his career. Flanders is the 32nd player in Stockton history to achieve the milestone.
The women's team earned their second straight victory with a 63-30 final over Rutgers-Camden on the same night. Madison Dulude led the Ospreys with her second career double-double of 11 points and a career-high 12 rebounds to go with a game-high four steals.
📰 In the News:The Press of Atlantic City
---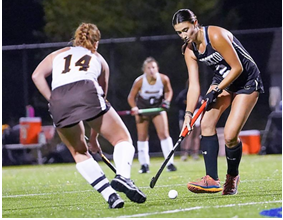 Palumbo Chosen NFHCA All-Region for Second Time
Sophomore field hockey player Alexandria Palumbo was chosen to the NFHCA All-Region IV Second Team by the National Field Hockey Coaches Association for the second straight year.
Palumbo became the first Osprey in the program's 20-year history to earn two NFHCA All-Region accolades. The midfielder started all 15 games in which she played this fall, leading the team in goals (6), points (14) and defensive saves (6). Her six defensive saves tied the second-highest total in program history.
---
🗓️ View the full schedule of upcoming athletic events here
'ROLE' CALL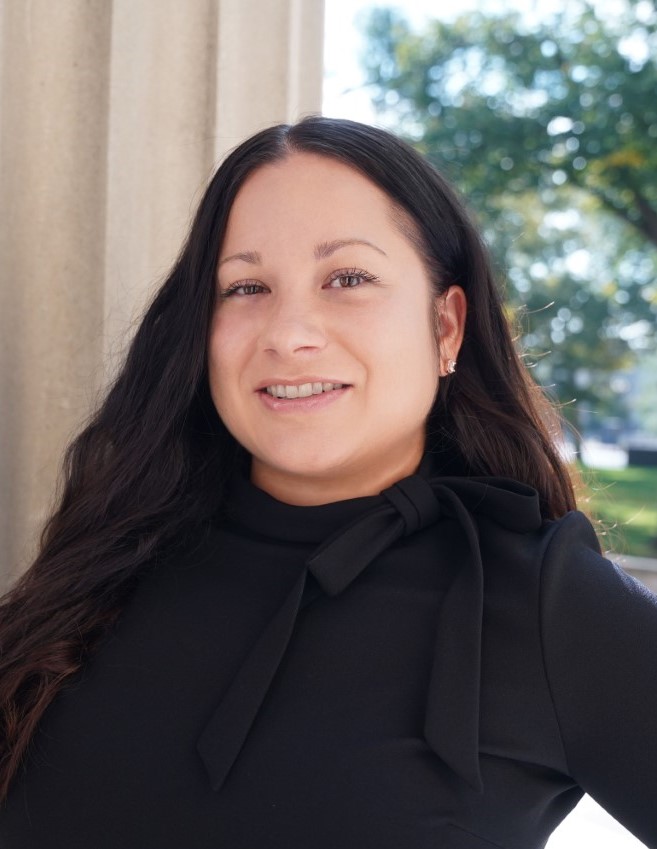 Jovin M. Fernandez joined the Division of Student Affairs as the inaugural director of the Multicultural Centeron Nov. 7. In her new role, she will cultivate campus counterspaces to support the engagement, belonging, and development of African American, Latinx, Asian and Native American students. Additionally, she will provide educational opportunities for all students to advocate for social and racial justice on campus and in their communities. She brings 10+ years of experience in higher education spanning Career Services, Admissions, Housing and Residence Life, and Student Activities. She joins us from Rutgers University-Camden, where she worked with the Rutgers Future Scholars program to help provide college access opportunities to Camden City youth.
Though she is new to the Division of Student Affairs, she is no stranger to the Stockton community. She is currently pursuing an Ed.D. in Organizational Leadership from Stockton and expects to graduate in May 2024. While working on her doctorate, she also served as a graduate assistant and president of the Organizational Leaders in Action (OLA) doctoral student group. She holds a master's degree in Organizational Leadership from Rider University and a bachelor's degree in Sociology and Criminal Justice from Bloomfield College.
OSPREY NOTES
Fall Issue of Celebrate Diversity Digest Released
The Fall issue of Celebrate Diversity Digest is available, featuring new resources and a variety of articles on diversity, inclusion and equity topics, including:
Emotional Support Animalson Campus

LGBTQ Voicesat Stockton

Kiaraa Fulton '22 and Loukaia Taylor '22 on the Fusion Experience

Alumni Perspective on Diversity Leadership from Ike Ejikeme, '16, '19

Tribute to Kevin Locke, 2022 Unity Day presenter

Interview with Professor Linda Wharton on the recent Dobbs case overturning Roe v. Wade and Planned Parenthood v. Casey
The Digest is a publication of the Committee on Campus Diversity & Inclusive Excellence.
---
Read the SCOSA December Newsletter
Read the Stockton Center on Successful Aging (SCOSA)'s December newsletter for interesting upcoming events and newly added programming.
UPCOMING EVENTS