Stockton News - Friday, Aug. 16, 2019
WHAT WE'RE TALKING ABOUT
CRDA Grant Provides Arts Programs for A.C. Youth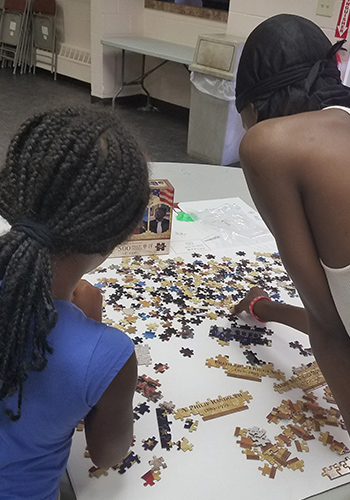 Stockton University is offering free art programs in August for Atlantic City residents ages five to 18.
The programs will provide instruction and opportunities for children to develop skills in art, problem solving and teamwork during the late summer.
"Within the Atlantic City community, there is a dearth of arts – or any kind of programming for children in the month of August," said Emily Sramaty, liaison for event planning and promotion for the School of Arts and Humanities at Stockton.
The Press of Atlantic City featured the story.
---
Study Shows Naloxone, Quick Response, Saves Lives
A large majority of opioid overdose victims in Atlantic County who received naloxone from an emergency responder survived the overdose, according to a study by Stockton University.
The study also showed that a majority of overdose victims during the study timeframe were male (71%) and white (73%).
In early 2018, Stockton collaborated with the Atlantic County Prosecutor's Office to analyze information on 311 overdose victims to garner a better understanding of the county's opioid overdose statistics.
The Press of Atlantic City, New Jersey 101.5 FM Radio and NJBIZ.com covered the story.
STOCKTON UNIVERSITY ATLANTIC CITY
University District Banners Take Flight in Atlantic City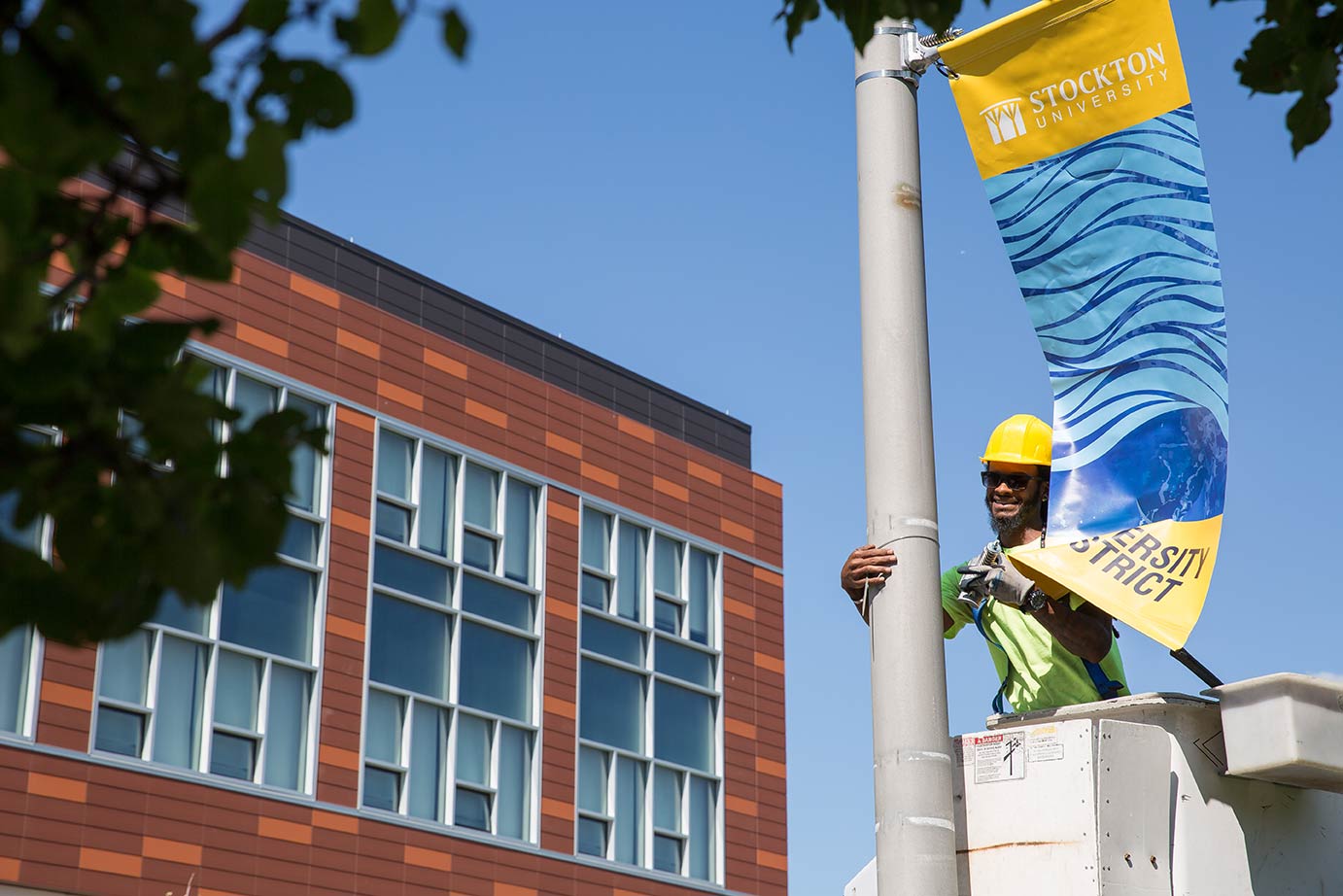 Welcome to Atlantic City's University District. The installation of about 75 banners along a number of blocks surrounding Stockton's campus began this week with help from the NJ Casino Reinvestment Development Authority's Special Improvement Division.
"This is a way for us to celebrate this beautiful neighborhood as well as hopefully encourage people and businesses to move in," said Brian Jackson, chief operating officer for Stockton Atlantic City.
Check out a map of where the banners will be located.
---
Dive into 'Explore the Ocean' Lecture Series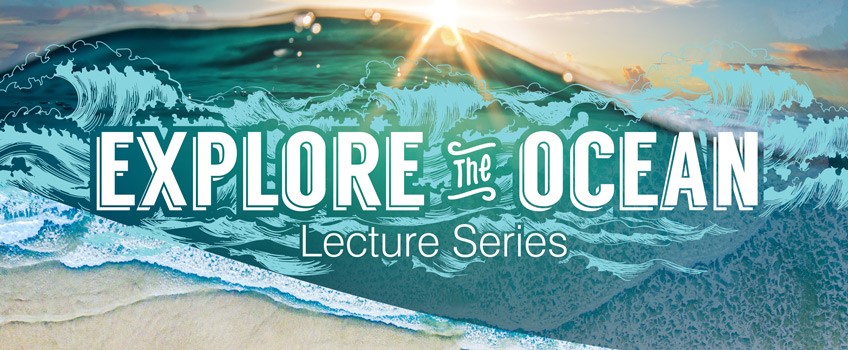 Get your feet wet with the Stockton University Office of Continuing Studies' new "Explore the Ocean" lecture series from 6-7:30 p.m. every Tuesday from Aug. 6-27 at Stockton Atlantic City, 3711 Atlantic Ave.
The series will cover topics like current exploration research, underwater robotics, and the marine life of the Atlantic Ocean and Atlantic City's surrounding waterways. Experts from Stockton's Marine Science program and Coastal Research Center will be providing "life-long learning" lectures and discussion sessions directly from their research and areas of specialization.
SPOTLIGHT ON
Hornbeck's Research Receives NSF Grant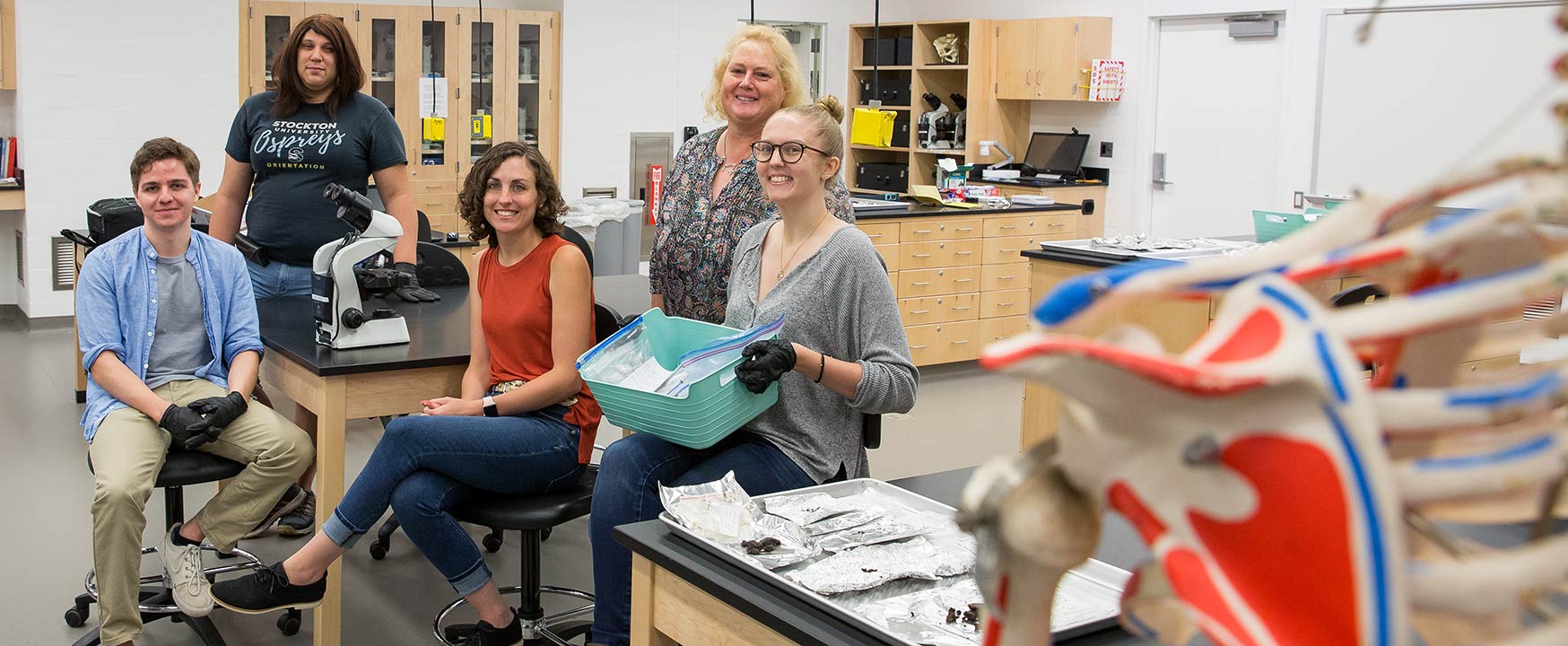 Bobbi Hornbeck '08, adjunct faculty of Sociology and Anthropology at Stockton, spent 18 days this summer in the remote western Aleutian Islands of Alaska. What was she doing? Hornbeck, a lifelong resident of Cape May, was busy collecting data for her research project, "Aleut Monumentality: Hunter-Fisher-Gatherer Transformations of the Rat Islands Group of the Western Aleutian Islands, Ala."
In April, Hornbeck learned she was awarded a $19,067 grant from the National Science Foundation (NSF) for the project, with additional funding from the NSF's Arctic Research Support and Logistics Program through the Office of Polar Programs to cover her logistical costs.
FRAME-WORTHY: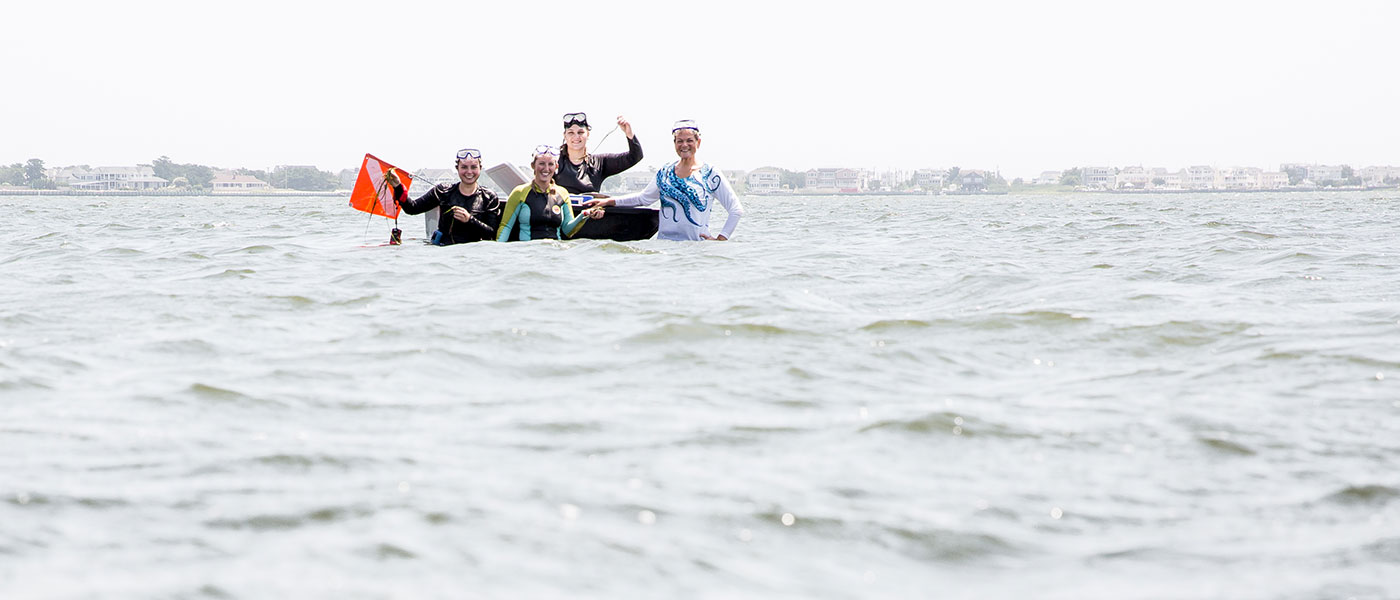 Picture Stockton...Diving into Seagrass Study
An underwater meadow of seagrass that supports marine life and helps to stabilize the coastline has been declining. Elizabeth Lacey, associate professor of Marine Science, has been overseeing a long term seagrass study on the Barnegat Bay for the past five years with grant funding from the Barnegat Bay Partnership.
"The future of the bay's fauna, including recreationally and commercially important fish and invertebrate species, will be determined by the resilience of this vegetation in the face of changing water quality," said Lacey.
WHAT'S TRENDING #STOCKTONU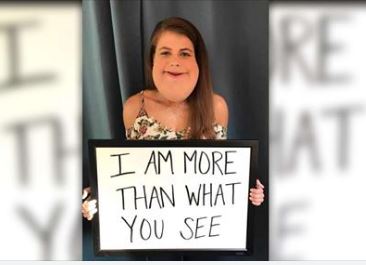 Facebook:Kennedy Hubbard, a 2019 Psychology graduate, spent her first eight months in the pediatric intensive care unit at A.I. duPont Hospital for Children| Nemours for a rare condition called lymphatic malformation (LM). This summer, she is back at the hospital as an intern where she's setting an example for other LM kids and demonstrating that anything is possible. TODAY featured her story.
---
Instagram Highlight: Ospreys! No matter where you live or when you graduated, your unique Stockton experience is what makes us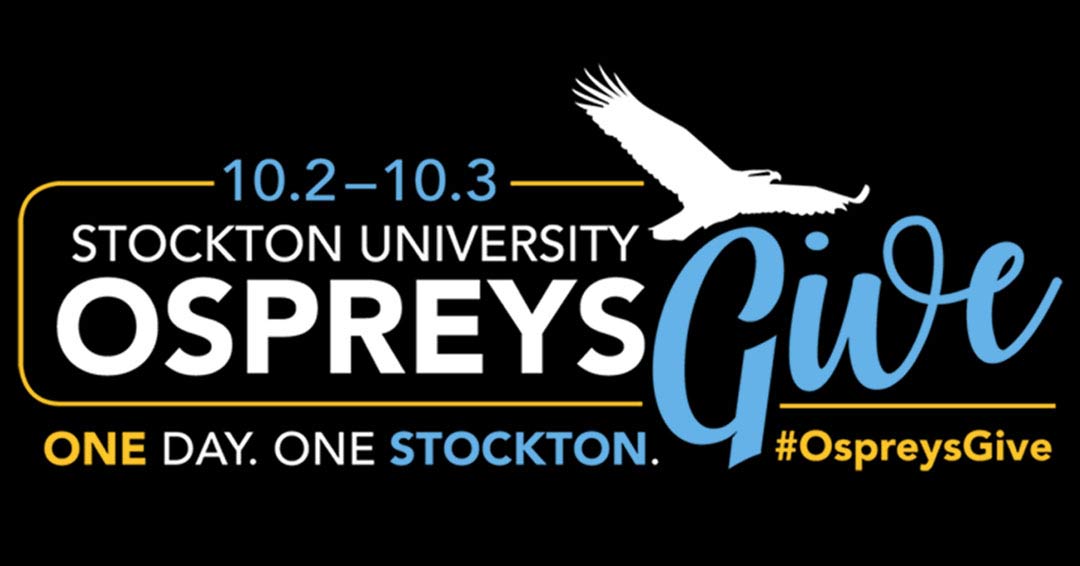 the University we are today. On October 2, join Stockton University Alumni and your fellow Ospreys to become ONE Stockton for #OspreysGive – Stockton University's Giving Day.
FROM THE SIDELINES
Stockton Fifth In NJAC Men's Soccer Coaches Poll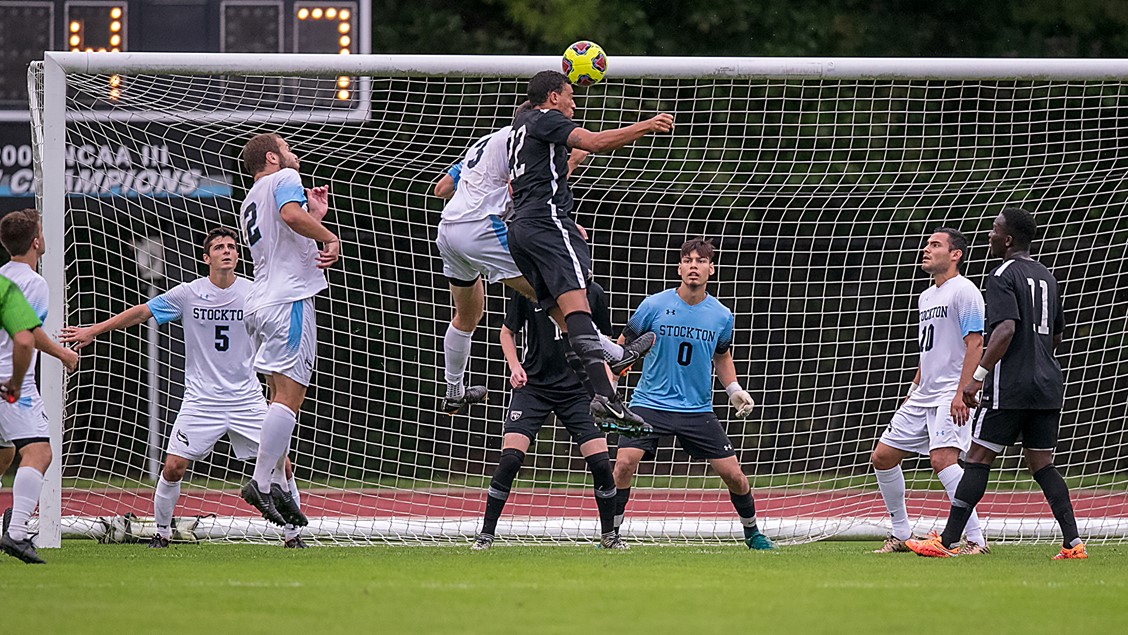 The Stockton University men's soccer team was picked fifth in the NJAC preseason coaches poll. Head coach Greg Ruttler enters his fifth season with a record of 43-27-12.
The Ospreys return three 2018 all-conference players in Christian Bik, an NJAC Second Team selection, and NJAC Honorable Mention performers Larry Abanilla and Michael Lescano.
Stockton will begin the 2019 season at the Drew Fall Festival Aug. 30-31. The Ospreys will face New Paltz in the first round at 1 p.m. on Aug. 30, and play in either the consolation game or championship game of the tournament on Aug. 31.
'ROLE' CALL

Stockton Athletics has added a coach with a national championship on his resume with the hiring of Nick McDonough as Head Women's Cross Country/Assistant Track & Field Coach. McDonough brings 23 years of college coaching experience, highlighted by an NCAA Division III national championship in men's cross country while at New York University.
McDonough spent 16 years (1998-2014) as the head cross country and track & field coach at NYU, steering the Violets to great success on the national stage. He helmed the men's cross country team to the NCAA title in 2007 after a runner-up finish at the NCAA Championships in 2006.
McDonough led the NYU women's cross country team to sixth place at the NCAA meet in 2013, and his 2004 and 2007 men's indoor track & field teams each finished 10th at the NCAA Championships. Overall, he coached 42 All-Americans and his student-athletes set 85 school records in track & field.
OSPREY NOTES
Reminder: Normal Work Hours Begin Next Week
As a reminder, please note that regular work schedules resume Monday, Aug. 19. Be sure to update your webpages and other communications to reflect this change.
Don't Forget to Renew Vehicle Parking Registration
Everyone is required to register their vehicle(s) for the 2019-20 academic year by Sept. 3. The online system may self-propagate the fields once your license plate has been entered. Please have your vehicle information for reference. For more information about parking, visit https://stockton.edu/parking.
Beachgoers, Be On the Lookout
Heading to the beach this weekend? Keep an eye out for Stockton's banner plane!

The banner will be flying this Sunday from Cape May to Surf City.
Last 'Salute to Stockton' Lecture Aug. 23 with Beverly Vaughn
Stockton University faculty and staff members explored topics such as Holocaust denial and the United States naturalization process during the 22nd annual "Salute to Stockton" educational summer lecture series at Shirat Hayam Synagogue in Ventnor, 700 N Swarthmore Ave.
The final lecture, "...And the walls came tumblin' down," presented by Beverly Vaughn, professor of Music, will be held at 7 p.m. on Friday, Aug. 23, as part of the Sabbath service.
The lecture is free and open to the public.
Continuing Studies Offers a Variety of Courses this Summer
The University's Office of Continuing Studies is hosting a variety of classes for personal and professional enrichment, ranging from mindfulness and yoga to French and photography this summer. Learn more by visiting stockton.edu/cs.
UPCOMING EVENTS
Upcoming events hosted by the Office of Development and Alumni Relations
Wednesday, Aug. 21: Stockton Atlantic City Airshow Viewing & BBQ
Tuesday, Aug. 27: Transfer Admissions Day at Manahawkin
Wednesday, Aug. 28: "The Bystander: Then and Now" lecture at Manahawkin
Now-Sunday, Oct. 6: "100 Faces of War," a traveling exhibition from the Smithsonian