Stockton News - Aug. 13, 2021
WHAT WE'RE TALKING ABOUT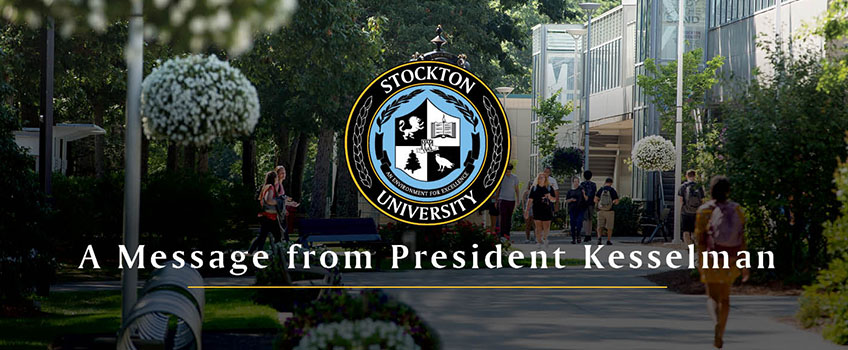 Important Update on Fall Term
President Kesselman issued the following statement on Aug. 11:
Stockton University is actively preparing for the Fall 2021 term to provide students, faculty and staff with the best possible campus experience while maintaining a healthy and safe environment.
As we plan for a traditional start, current public health conditions related to COVID-19 compel us to adjust our preparation efforts, including the following health and safety protocols:
The COVID-19 vaccine is now mandated for all Stockton students; SFT staff, faculty and faculty librarians; managers and TES employees
Effective August 16, Stockton will reinstate mask requirements for everyone
Effective Sept. 1, when on campus, unvaccinated students and employees (including those with medical and religious exemptions), will be required to complete ongoing temperature and symptom checks at a location to be determined and will be subject to routine COVID-19 testing and other mitigating interventions. Additional details will be forthcoming.
Read entire message here.
---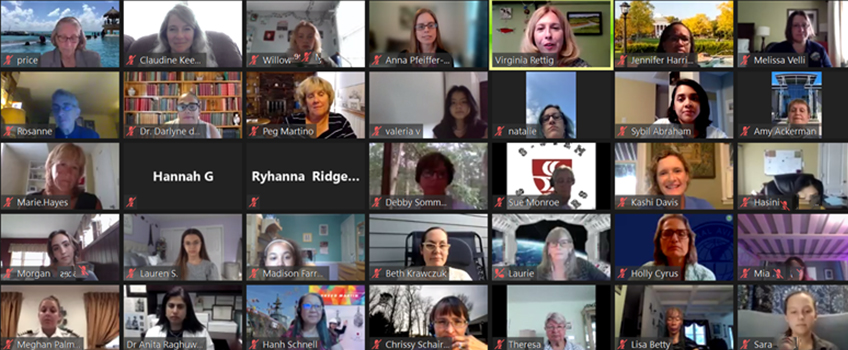 Tech Trek 2021 a Virtual STEM Experience
Forty-seven rising ninth graders from 19 counties in New Jersey did not get to "trek" to Stockton for the annual Tech Trek weeklong summer STEM camp for girls, but they still got a lot of "tech" through virtual classes, projects and field trips.
Co-sponsored in New Jersey by the American Association of University Women and Stockton University, the popular program was cancelled last year by the pandemic. This year the camp was virtual, and each girl received a box full of camp supplies, including robotics, chemistry, biology, art and forensic kits, which were packed by AAUW volunteers and Stockton staff, then delivered to AAUW meeting places around the state where volunteers picked them up and delivered them to the campers.
---
Hughes Center to Honor 4 S.J. Hospitals
The William J. Hughes Center for Public Policy at Stockton University will salute the efforts of frontline workers at four South Jersey hospitals on the coronavirus pandemic with a special Hughes Center Honors award.
The Hughes Center Honors recognizes and celebrates individual New Jersey leaders who make important commitments to public service. For the first time, the Honors program will include awards to local institutions when the Excellence in Community Leadership Award is presented to four hospitals at the awards program at the Stockton Campus Center Event Room Nov. 10: AtlantiCare, Shore Medical Center, Cape Regional Health System and Inspira Health.
SPOTLIGHT ON: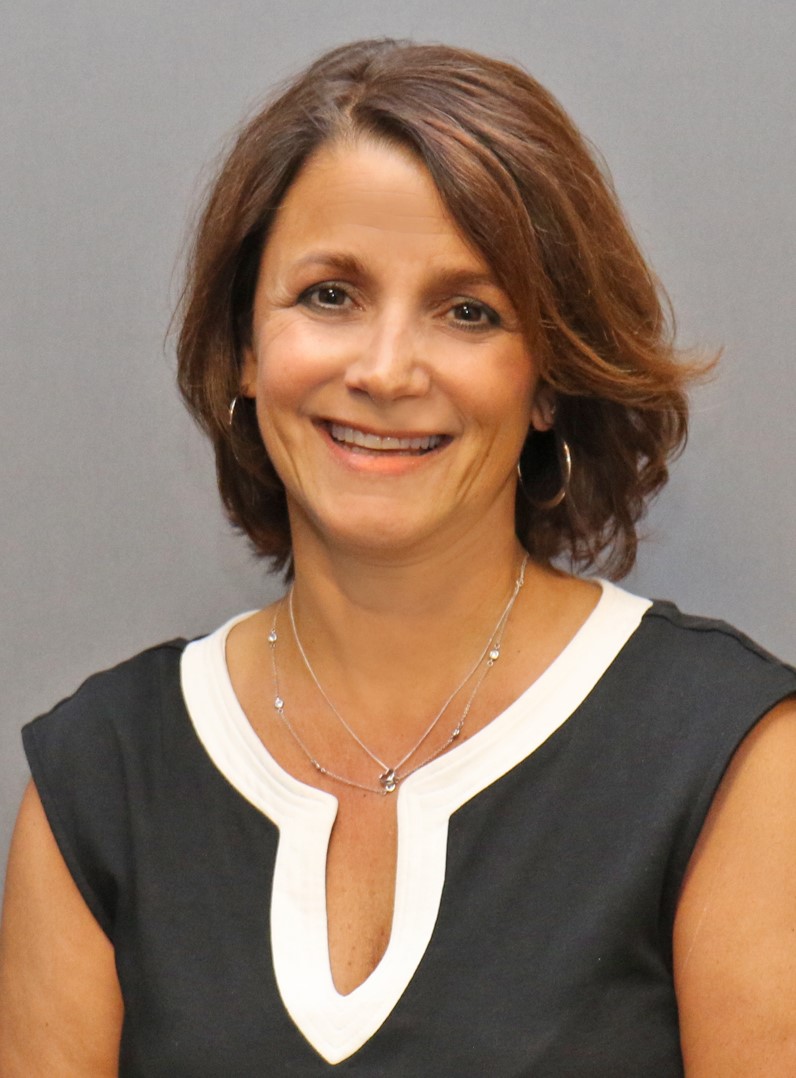 Albano Recognized for Outstanding Achievement in Hospitality, Tourism Education
Donna Albano, professor of Hospitality and Tourism Management Studies, was recently awarded the Stevenson W. Fletcher Achievement Award by the International Council on Hotel, Restaurant and Institutional Education (ICHRIE).
The award recognizes an individual educator or trainer for outstanding achievement in contributing innovative ideas, methods or programs that have advanced teaching, learning or practice in the field of hospitality and tourism education.
"It is an honor to be recognized by my colleagues in the International Council on Hotel, Restaurant and Institutional Education," Albano said. "I have been a member for over 20 years and consider my work for the organization meaningful and impactful as we work together in this global and multicultural community of hospitality and tourism professionals."
The award, formally called the ICHRIE Achievement Award, was renamed in 1994 to honor Steven W. Fletcher, former program head of Hotel, Restaurant and Travel Administration at the University of Massachusetts-Amherst.
Albano was formally recognized during a virtual conference, July 26-30.
FRAME-WORTHY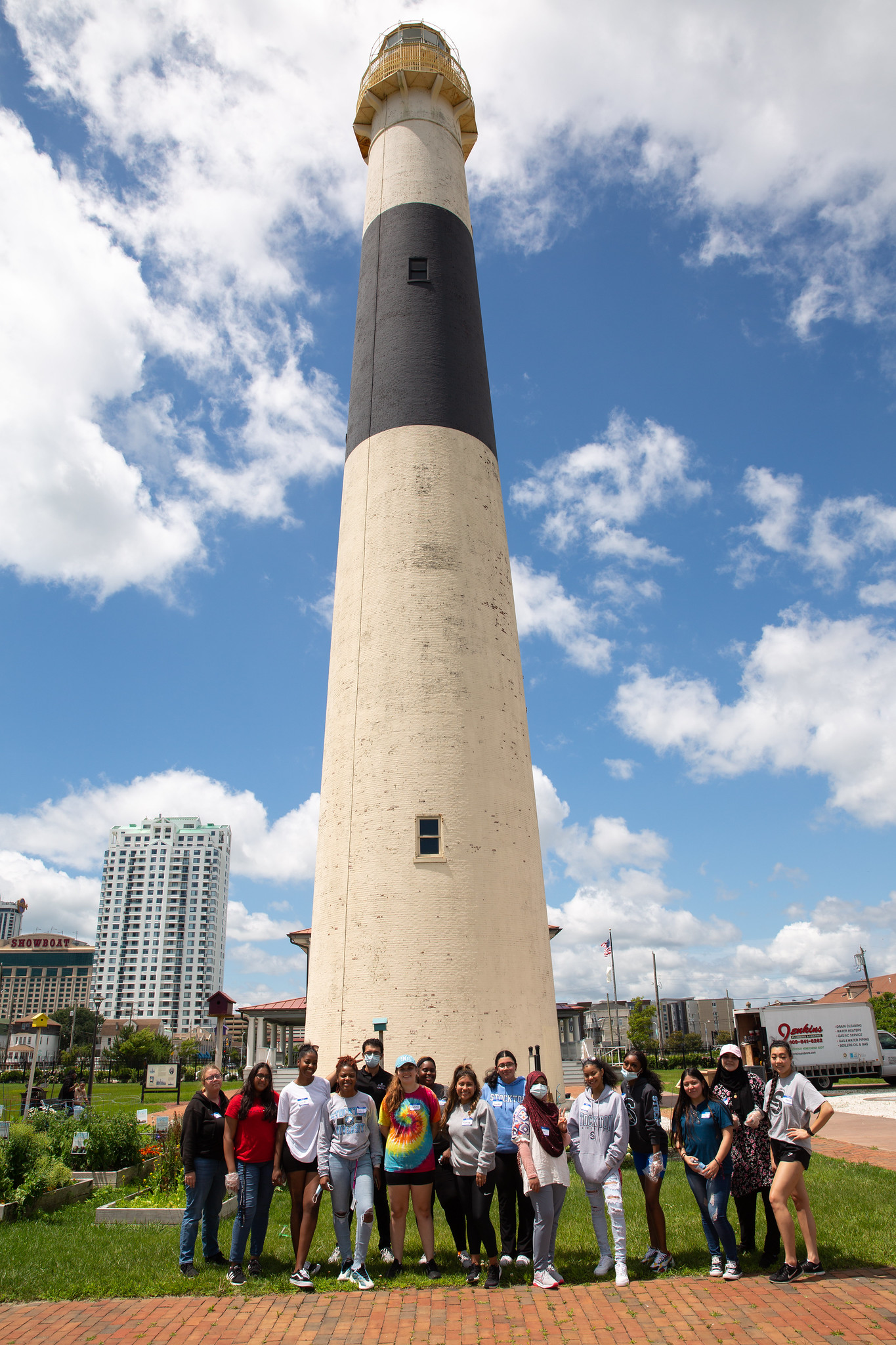 EOF Fosters Friendships, Community Engagement
The EOF Summer Academy offers more than just a jumpstart on academic classes and an introduction to campus resources.
The 130 EOF scholars also built relationships with one another and the community through a variety of service projects, including cleaning up the grounds of the Absecon Lighthouse and organizing an event for the community, a tour of the African American Heritage Museum of Southern New Jersey, making no-sew blankets for the Southern New Jersey Perinatal Cooperative, assembling coloring books for Eastern Service Workers Association and creating origami ornaments for residents of Seashore Gardens Living Community.
View more photos on Flickr.
WHAT'S TRENDING @ #STOCKTONU

Twitter: When Gianna Graw '18 began the process of donating a kidney, she never imagined her act of kindness would spark a bi-coastal chain of four kidney transplants.
Facebook: Tag a vendor you'd like to see at the University Weekend Street Fair.
Instagram: Chris Catching, vice president for Student Affairs, on #WhyIVaxxedUp
FROM THE SIDELINES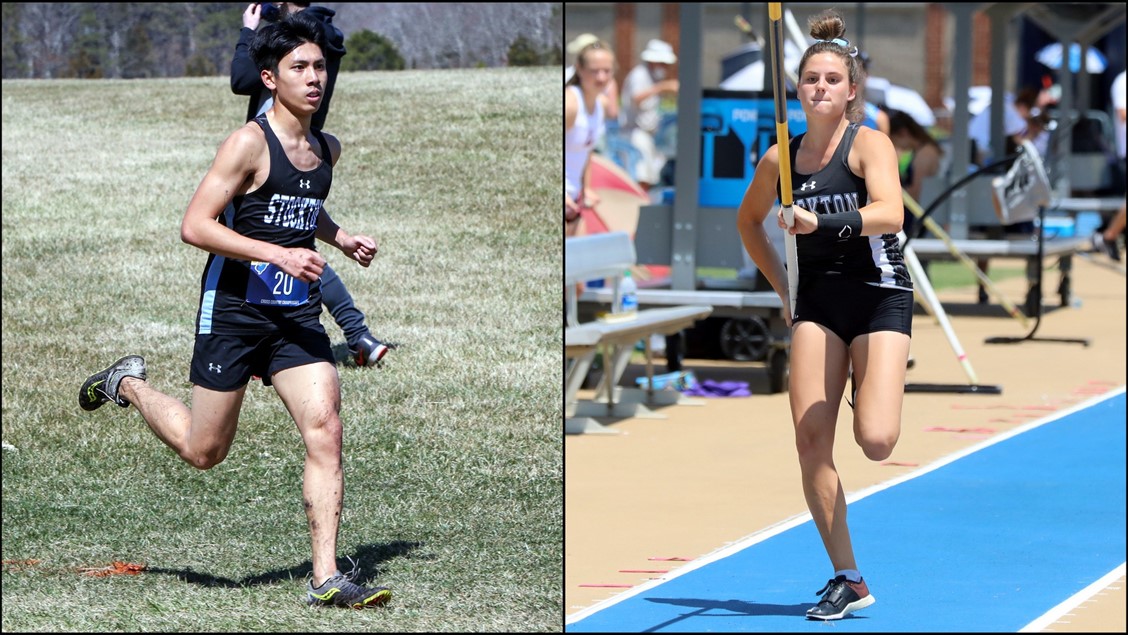 Do and Preston Voted CoSIDA Academic All-America
Two Stockton University student-athletes were voted to the CoSIDA Academic All-America Division III Cross Country/Track & Field teams on Aug. 10. Senior Daniel Do was voted to the men's First Team and junior Lauren Preston was selected to the women's Third Team by the College Sports Information Directors of America.
WE'RE HERE TO HELP
Resources Available to Staff, Faculty
The Office of Human Resources is highlighting a few opportunities for you to engage with our Employee Assistance Program (EAP) resources monthly. "Supporting Your Child's Mental Health" will be held noon-2 p.m., Thursday, Aug. 26, on Zoom. Email Lisa Lyle, Ombuds Officer, at lisa.lyle@stockton.edu by Aug. 19 to confirm your participation. Click here to view more upcoming events, and visit Stockton's EAP website for available resources.
💉 Faculty, staff and students can check with their local providers and schedule a COVID-19 vaccination appointment.
💉 Free walk-in COVID-19 vaccination clinics are scheduled on campus for the following dates: Galloway: West Quad 103: Aug. 17, 23 and 30; and Sept. 1 and 2 from 2-5 p.m. Pfizer and Johnson & Johnson vaccines will be available.
COVID-19 testing information can be found at the NJ COVID-19 Information Hub.
✈️ Travel Guidelines: International travel for students, faculty and staff is now being reviewed on a case-by-case basis and requires approval by the relevant divisional executive. Domestic travel restrictions have been lifted for faculty and staff who are fully vaccinated and have submitted their necessary vaccine documentation. Divisional executives must still approve all requests and will review to ensure that no quarantines will be required for any faculty, staff or students who are traveling upon their return.
OSPREY NOTES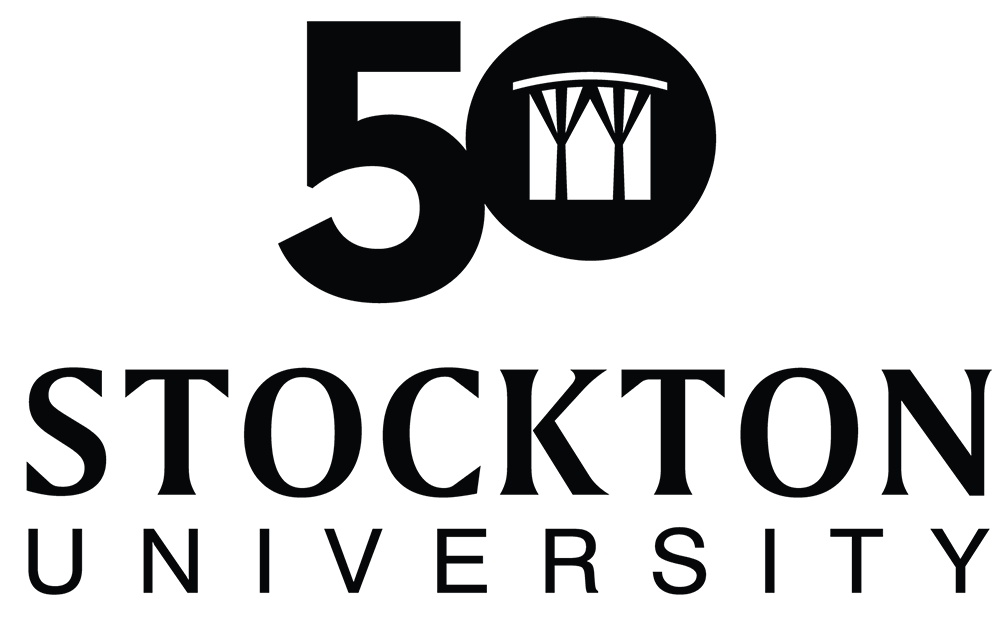 50th Anniversary Branding Available for Use
University Relations and Marketing created branding for the campus community to use in celebration of Stockton's 50th Anniversary. Here you can find 50th logos and PowerPoint templates for download, and email signatures can be found here.
FY21 Scholarly and Professional Activity Book Published
Read this year's collection of Scholarly and Professional Activity from Stockton's faculty and staff.
REMINDER: 2021 Summer Schedule Ends on Aug. 13
The summer schedule four-day workweek will end on Friday, Aug. 13. Stockton will resume normal operating hours and all employees should expect to return to work five days a week beginning Monday, Aug. 16. The University is prepared to open on a normal fall schedule while following health and safety guidelines.
UPCOMING EVENTS