Stockton News - Aug. 6, 2021
WHAT WE'RE TALKING ABOUT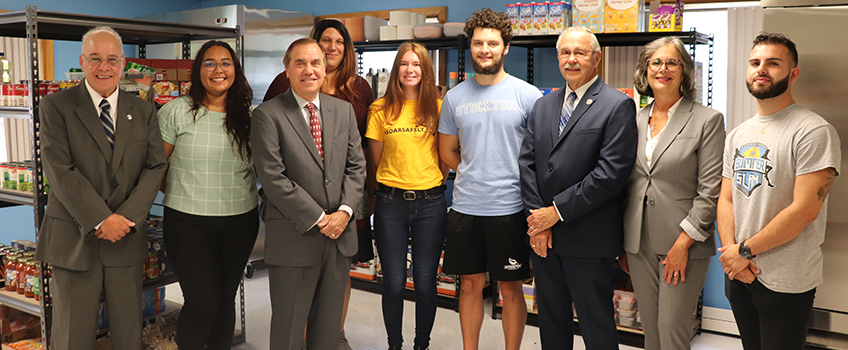 State Assemblymen Tour Expanded Food Pantry
Stockton's food assistance program should serve as a template for the rest of the state, said N.J. Assemblyman John Armato D-Atlantic, as he toured the space in the Townsend Residential Life Center (TRLC) that will house Stockton's expanded student food pantry.
Armato accompanied N.J. Assembly Speaker Craig Coughlin and Atlantic County Commissioner Caren Fitzpatrick on a tour of the University's Galloway food pantries July 30.
Coughlin, Armato and Fitzpatrick were joined by Stockton University President Harvey Kesselman, plus Dean of Students Haley Baum and Assistant Vice President of Engagement and Community Development Craig Stambaugh, who oversee the food assistance program at Stockton. They discussed Stockton's role in combating food insecurity among students and also spoke with several students who rely on the pantry about their personal experiences with food insecurity in college.
---
Rescue, Resistance and Faith Highlighted at Holocaust Seminar
Why did non-Jews help Jews hide during World War II, even at risk of losing their own lives?
Stories of rescue, resistance and faith highlighted the 4th Annual Wally and Lutz Hammerschlag Summer Educator Seminar hosted by the Sara and Sam Schoffer Holocaust Resource Center at Stockton University, via Zoom with Yad Vashem in Israel and The Jewish Foundation for the Righteous from July 27-29.
---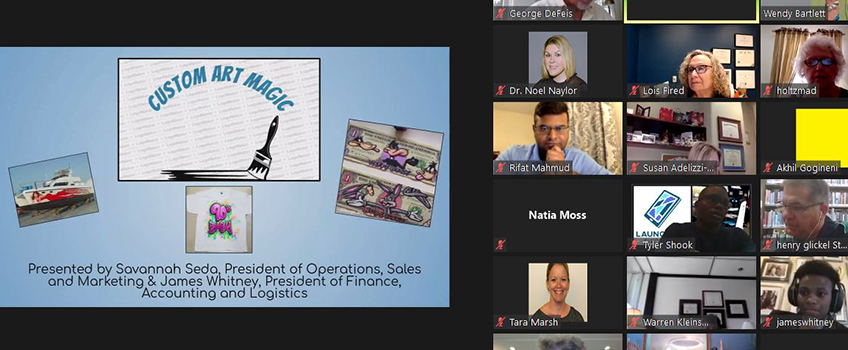 High School Students Plan Entrepreneurial Futures
A business plan for a custom art business, created by Savannah Seda from Cranford and James Whitney from Piscataway, was the winner of the Business Plan competition at the first Stockton Entrepreneurship and Business Academy (SEBA) for high school students.
The Business Plan competition was just one element of the weeklong academy from July 19-23, which also featured talks by Stockton faculty and business professionals on different areas of business.
WHAT'S TRENDING @ #STOCKTONU
Twitter: When Gianna Graw '18 began the process of donating a kidney, she never imagined her act of kindness would spark a bi-coastal chain of four kidney transplants.
Facebook: Tag a vendor you'd like to see at the University Weekend Street Fair.
Instagram: Chris Catching, vice president for Student Affairs, on #WhyIVaxxedUp
FROM THE SIDELINES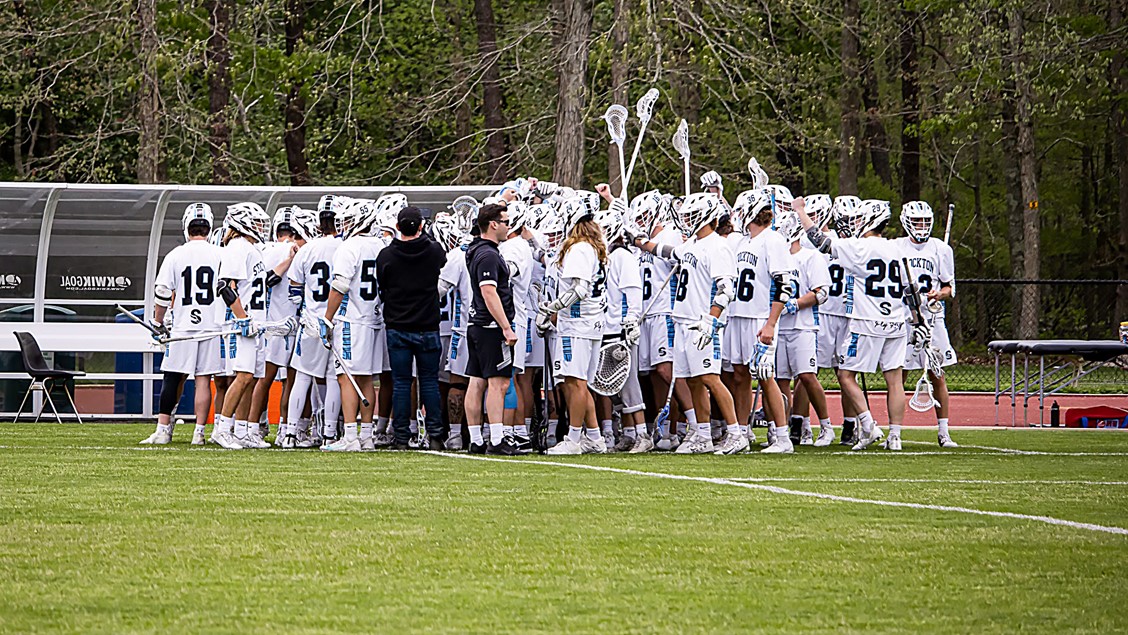 26 Ospreys Qualify for CSAC All-Academic Team
Twenty-six members of the Stockton University men's lacrosse program qualified for the Winter/Spring 2021 Colonial States Athletic Conference All-Academic Team. The CSAC All-Academic Team recognizes student-athletes who achieved a grade-point average of 3.20 or better during the Spring 2021 semester.
A total of 881 student-athletes from CSAC teams were named to the Winter/Spring All-Academic Team. Stockton is an associate member of the CSAC in men's lacrosse because the University's primary conference, the New Jersey Athletic Conference, does not sponsor men's lacrosse as a league sport.
WE'RE HERE TO HELP
Resources Available to Staff, Faculty
Vaccine Mandate: Stockton is mandating that all SFT employees (faculty, faculty librarians and professional staff) be vaccinated before Sept.1, 2021, and has entered into a Memorandum of Agreement with the Stockton Federation of Teachers Local 2275 (the Local Union), and the Council of New Jersey State College Locals, AFT, ALF-CIO (the Council) to set out the terms and conditions of that mandate. Stockton is also requiring that all Managers and TES (temporary) employees be vaccinated by September 1, 2021. All affected employees were notified of the requirement and the process via email on July 29.
Employees exempted from vaccination: Employees approved for a medical or religious exemption from vaccination must continue to wear a facial covering indoors on campus, practice physical distancing where possible, frequently wash and/or sanitize hands, submit to COVID-19 testing as needed, and cooperate with the University and health professionals for contact tracing.
💉 Faculty, staff and students can check with their local providers and schedule a COVID-19 vaccination appointment.
💉 Free walk-in COVID-19 vaccination clinics are scheduled on campus for the following dates: Galloway: West Quad 103: Aug. 10, 17, 23 and 30; and Sept. 1 and 2 from 2-5 p.m. Pfizer and Johnson & Johnson vaccines will be available.
COVID-19 testing information can be found at the NJ COVID-19 Information Hub.
✈️ Travel Guidelines: International travel for students, faculty and staff is now being reviewed on a case-by-case basis and requires approval by the relevant divisional executive. Domestic travel restrictions have been lifted for faculty and staff who are fully vaccinated and have submitted their necessary vaccine documentation. Divisional executives must still approve all requests and will review to ensure that no quarantines will be required for any faculty, staff or students who are traveling upon their return.
🎁 VAX UP and Win a Prize: Stockton is hosting a weekly drawing for prizes for all employees who have submitted their full proof of COVID-19 vaccination. This includes employees who have already submitted their proof. To submit your status, click the "Update Employee Vaccination Status" button under the employee tab in the portal, enter your vaccine type, dates of shot(s) and upload a picture/pdf of your vaccination card or proof of vaccination. A final drawing will be held on Thursday, Aug. 12 for two grand prizes: the choice of a free on-campus parking spot or two tickets to next year's Stockton Gala.
OSPREY NOTES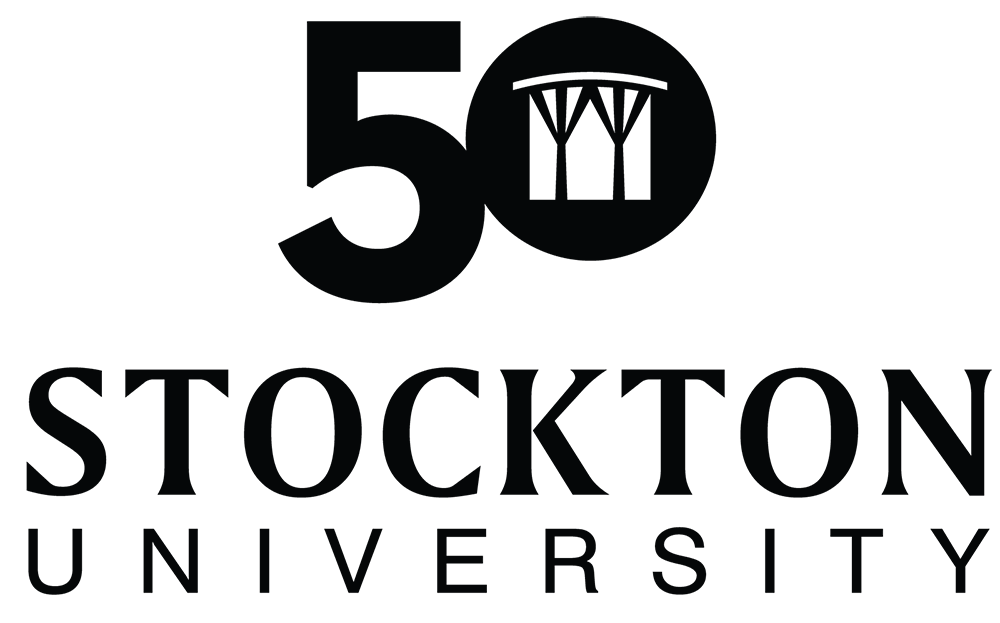 50th Anniversary Branding Available for Use
University Relations and Marketing created branding for the campus community to use in celebration of Stockton's 50th Anniversary. Here you can find 50th logos and PowerPoint templates for download, and email signatures can be found here.
REMINDER: 2021 Summer Schedule Ends on Aug. 13
The summer schedule four-day workweek will end on Friday, Aug. 13. Stockton will resume normal operating hours and all employees should expect to return to work five days a week beginning Monday, Aug. 16. The University is prepared to open on a normal fall schedule while following health and safety guidelines.
UPCOMING EVENTS