Stockton News - Aug. 5, 2022
WHAT WE'RE TALKING ABOUT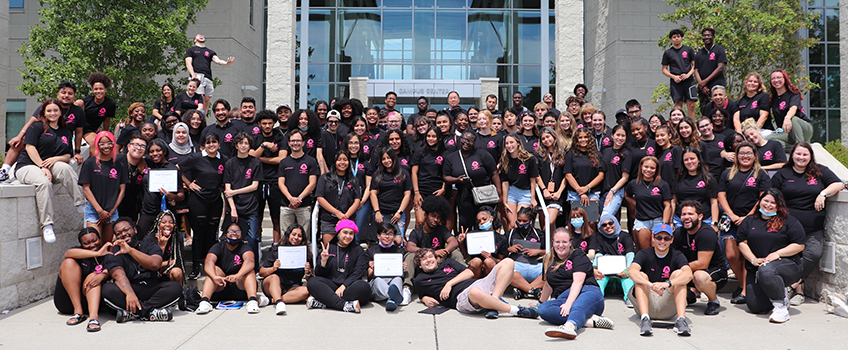 135 EOF Students Get Early Start to College Experience
Each year, the Educational Opportunity Fund at Stockton ensures meaningful access to higher education for students who come from economically disadvantaged backgrounds.
But EOF also stands for "extension of family" for many of the 135 first-year students in this year's class that graduatedon July 28 from the program's Summer Academy.
"My EOF summer experience was phenomenal," said Edwin Feria-Sera, of Atlantic City, who won the Heart of EOF award at the closing ceremony in Galloway. "I overcame a lot of challenges, got to meet amazing new people, and I'm coming out with more than friends: a family."
FRAME-WORTHY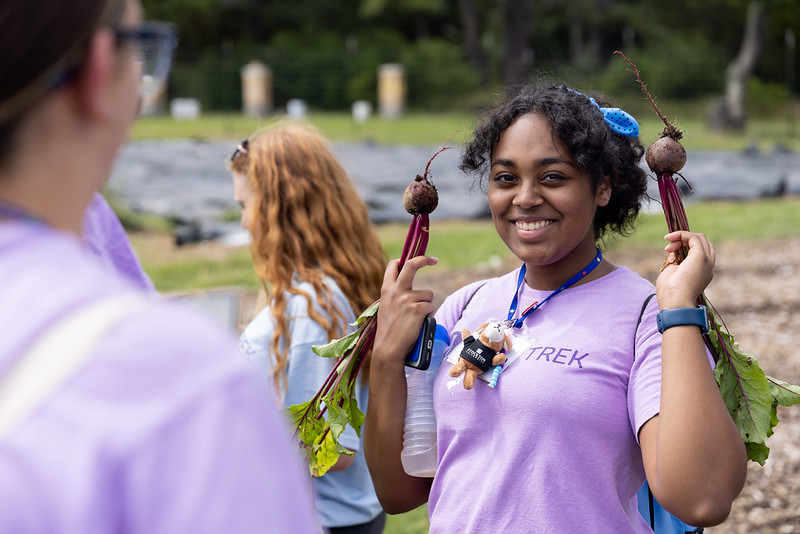 In-Person Reunion or Bust: STEMinists Take Over Stockton
Did you know that you can make eco-friendly plastic using spoiled milk? Alumni of Tech Trek learnedhow to do that and more during a week-long reunion hosted by the American Association of University Women (AAUW) and Stockton. The students were invited back to campus from July 24 to 30 to reminisce about their time at Stockton pre-pandemic and to meet and welcome the new cohort of girls who joined during 2020.
Tech Trek, a week-long empowerment program, selects female students interested in STEM (science, technology, engineering and mathematics) fields from every county in New Jersey and invites them to campus to network, learn different aspects and careers within STEM, and get lifelong mentors.
WHAT'S TRENDING

@ #STOCKTONU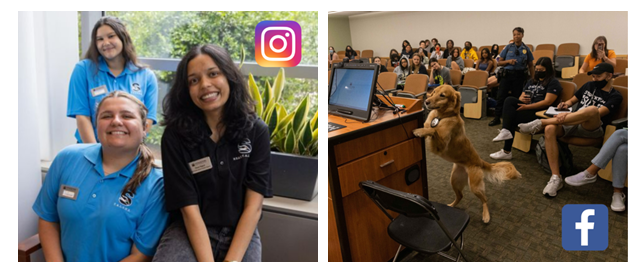 Instagram:Divya Rajput (right) felt lonely when she first came to #StocktonU. Learn how she went from being a homebody to one of the amazing TALONS new students go to for guidance by clicking the 🔗 in our bio.
Facebook: K-9 Freya knows how to work the room. She and Lt. Tracy Stuart work as a team to detect more than 20 different explosive compounds through scent recognition. CSI campers got to watch a demonstration that ended when Freya sniffed out the scent of an explosive and sat at attention next to the cardboard box containing the odor.
FROM THE SIDELINES
Stockton Names Strength & Conditioning Coach; Interim Head Rowing Coach
On Aug. 1, Stockton announcedthat Phil Aumack has been hired as Fitness Program Coordinator/Strength & Conditioning Coach. Aumack returns to Stockton after previously serving as the assistant strength coach from January 2018 through August 2021.
During his prior stretch at Stockton, Aumack implemented strength and conditioning programs for the baseball, softball, field hockey, women's tennis and cross country teams, while also assisting with strength training for the rest of Stockton's 19 intercollegiate squads.
Additionally, Chris O'Brien was named interim head rowing coach/associate director of Athletics for Athletic Development. O'Brien comes to Stockton after 16 years as head women's rowing coach at Thomas Jefferson University. He also served as assistant director of Athletics-Athletic Advancement at Jefferson.
In addition to his coaching duties, O'Brien will work in conjunction with the Office of Development & Alumni Relations on fundraising initiatives for the athletic department. He is expected to assume his roles at Stockton in late August.
OSPREY NOTES
Read the SCOSA August Newsletter
Read the Stockton Center on Successful Aging (SCOSA)'s August newsletter for interesting upcoming events and newly added programming.
UPCOMING EVENTS